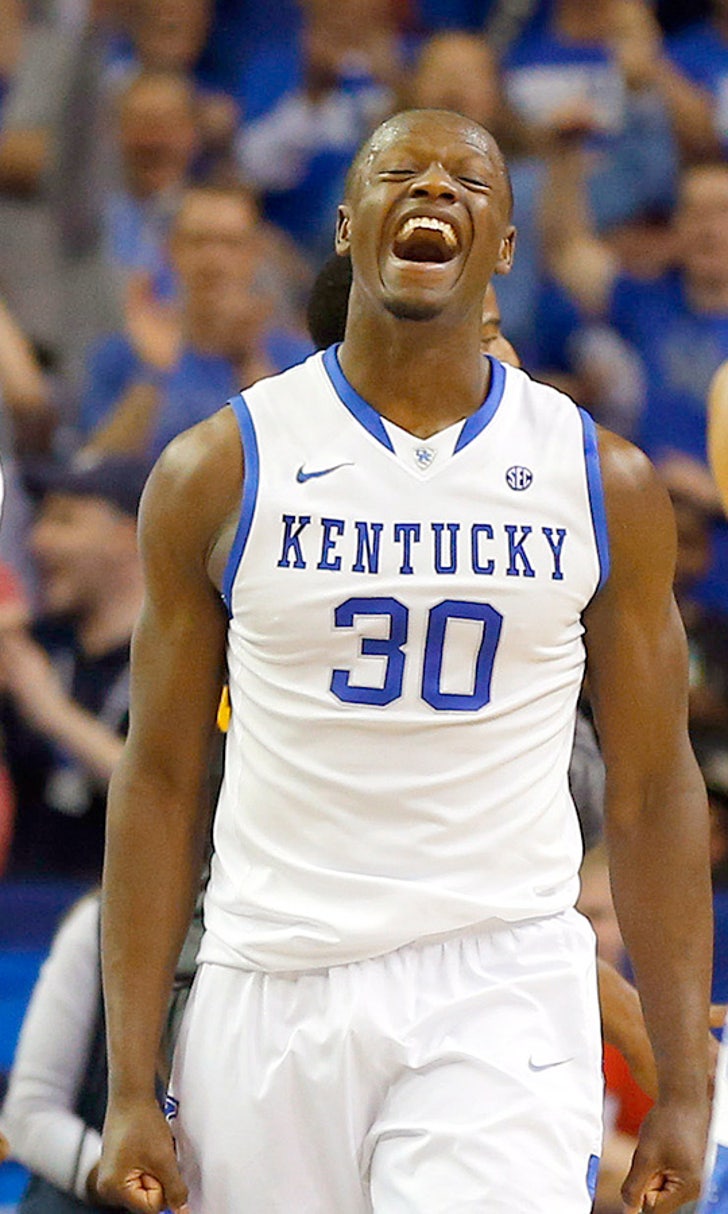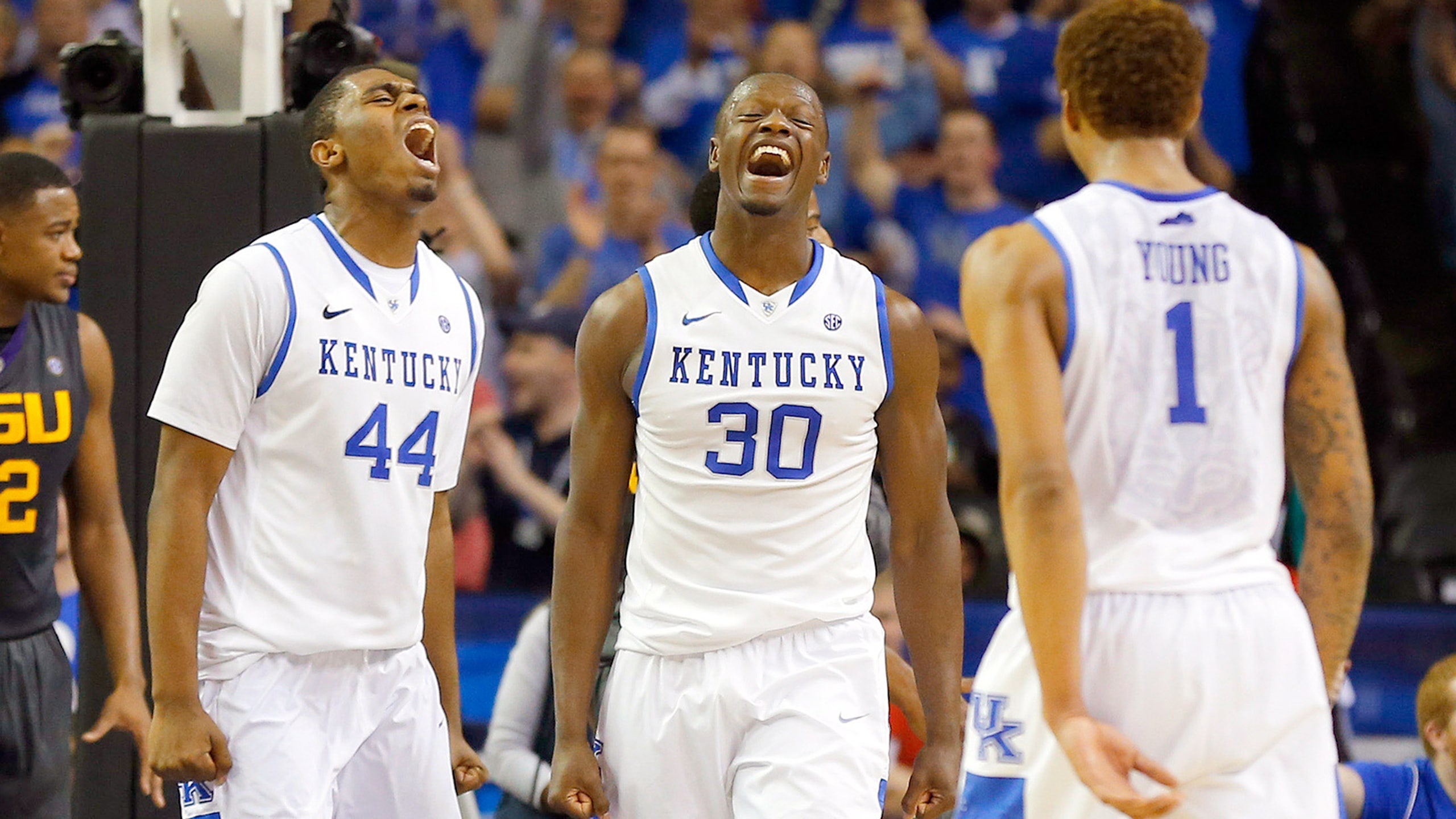 Kentucky's balanced attack helps them knock off LSU
BY foxsports • March 14, 2014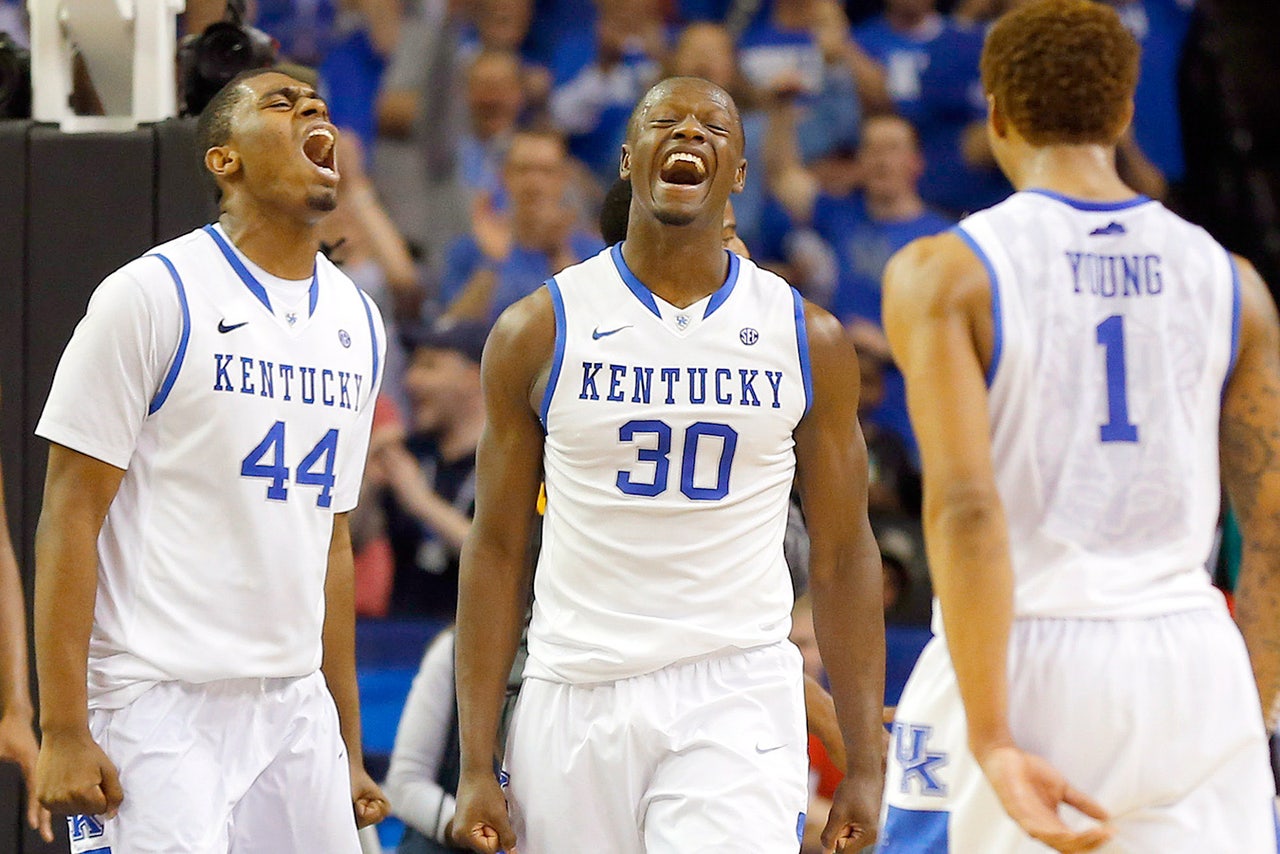 ATLANTA -- The Kentucky Wildcats knocked each other around in practice.
Then they did the same thing to LSU.
Heeding coach John Calipari's plea to find their "mojo," the talented young Wildcats pulled away to beat LSU 85-67 in the quarterfinals of the Southeastern Conference tournament Friday night, their most impressive performance in nearly two months.
James Young scored 21 points, Julius Randle had 17 points and 16 rebounds, and Willie Cauley-Stein led a dominating performance in the middle with six of Kentucky's 11 blocks. This looked more like the team that started the season ranked No. 1 and led to some to project it might be capable of a perfect season.
"We've always got a target on our backs," Cauley-Stein said. "When other teams play us, they play like it's their last game. That's the way we have to play."
To emphasize that point, Calipari changed up his practice routine heading into the tournament. He had his team go longer and harder that it normally does at this time of year. In particular, he implored his players to get more physical, believing the referees were not clamping down on rough play as much as they did earlier in the season.
"We had three days of football," Calipari quipped, "and they responded."
The day before, while LSU was beating Alabama in the second round of the tournament, the Wildcats went hard for nearly an hour at the Atlanta Hawks' NBA practice facility.
"That was our game. We got after it," Calipari said. "Now, what if someone had gotten hurt? Well, I decided to roll the dice. We weren't going to play the way we needed to play unless we did something like that."
The Wildcats (23-9) came into the tournament with three losses in their last four games, and they were facing a team they split with during the regular season -- losing in Baton Rouge and barely pulling out an overtime victory at Rupp Arena.
But this time, Kentucky took control with a 23-3 run in the first half, withstood a rally by the LSU (19-13), and pulled away down the stretch. Finally, the Wildcats looked like a team capable of making a lengthy run in the NCAA tournament.
"Let's see if we can continue on this path," Calipari said, knowing how much his one-and-done recruiting approach has irked hoops purists, "and really make some people mad."
Cauley-Stein teamed with fellow 7-footer Dakari Johnson to give the Wildcats a presence in the lane the Tigers simply could not match. Johnson had 9 points, 11 rebounds and three of Kentucky's 11 blocks.
Johnny O'Bryant III led LSU with 18 points, while Andre Stringer added 14. But the Tigers hurt themselves by making just 12 of 24 free throws, surely ruining any hopes of pulling out an NCAA bid.
"Right now, I don't really know," O'Bryant said. "Things didn't turn out the way we wanted to."
For Kentucky, Aaron Harrison had 14 points, while twin brother Andrew Harrison contributed 11 points and eight assists.
Off the opening tip, LSU's Shavon Coleman quickly silenced the Kentucky-dominated crowd at the Georgia Dome by knocking down two straight 3-pointers, leading Calipari to call a timeout just 61 seconds into the game. The Tigers built their biggest lead when Stringer's layup made it 22-14 approaching the midway point of the first half.
The enigmatic Wildcats took control from there, running the court with abandon and controlling with lane at both ends. They ripped off 12 straight points to start the run.
Cauley-Stein sparked the outburst with three blocks, each one drawing an even louder reaction from the crowd. Young scored seven points, including a thunderous dunk and a long 3-pointer, grabbed a couple of rebounds and doled out an assist. Rotating in with Cauley-Stein, Johnson did his part by pulling down four rebounds -- two of them at the offensive end.
LSU couldn't do anything right during these decisive minutes, making just 1 of 11 shots and turning the ball over five times to compound their offensive woes.
Kentucky led 42-32 at halftime, but the youthful Wildcats have a way of making any game interesting. Down by 16 points in the second half, LSU got back in the game with a 14-3 run of its own.
But O'Bryant picked up with his fourth foul with more than 13 minutes remaining and went to the bench for an extended period, making it that much tougher for LSU to complete the comeback. Kentucky was soon rolling again, pulling away from the Tigers to set up a matchup against either Georgia or Mississippi in the semifinals Saturday.
---