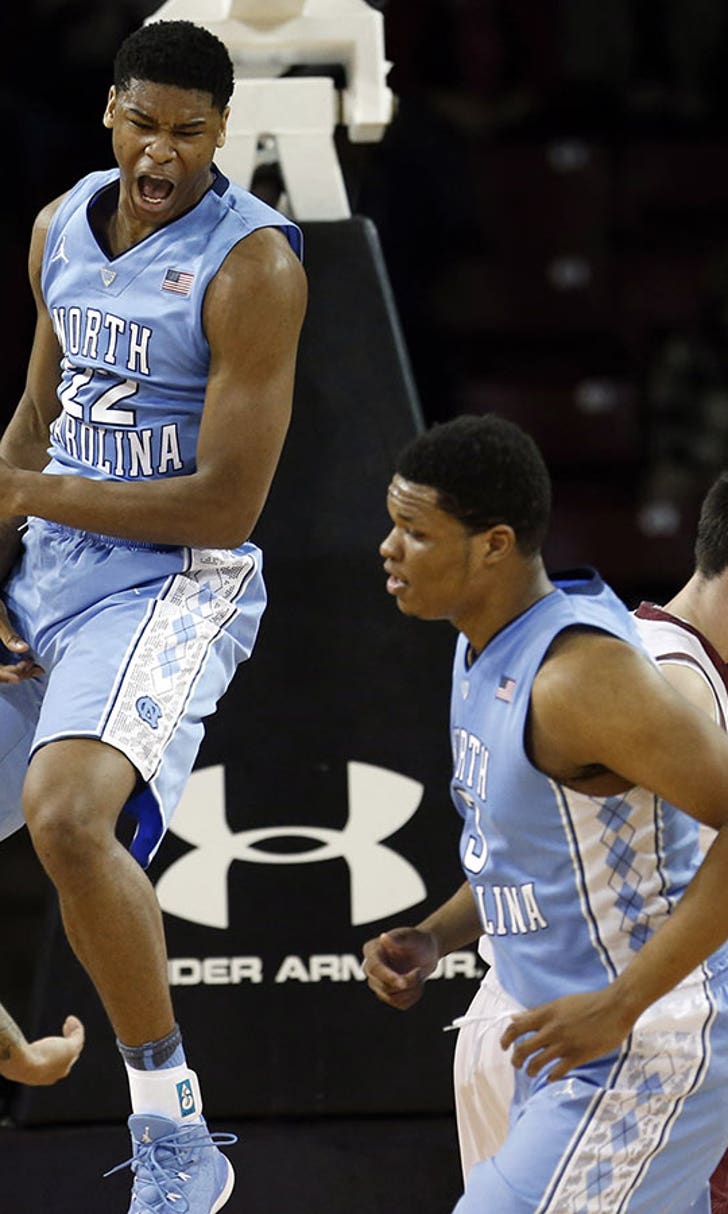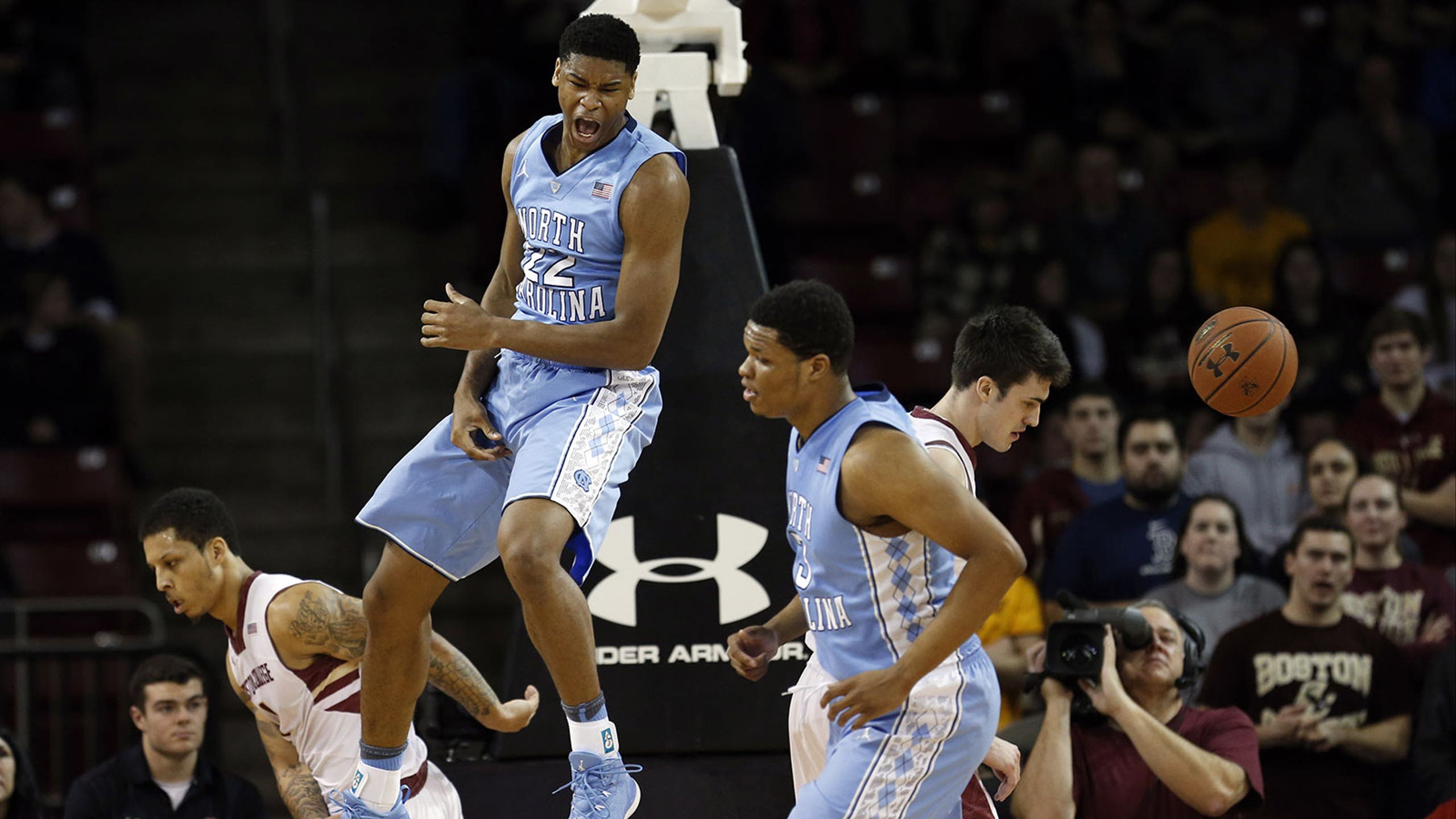 Hicks, Johnson lead No. 12 North Carolina to win vs. Boston College
BY foxsports • February 7, 2015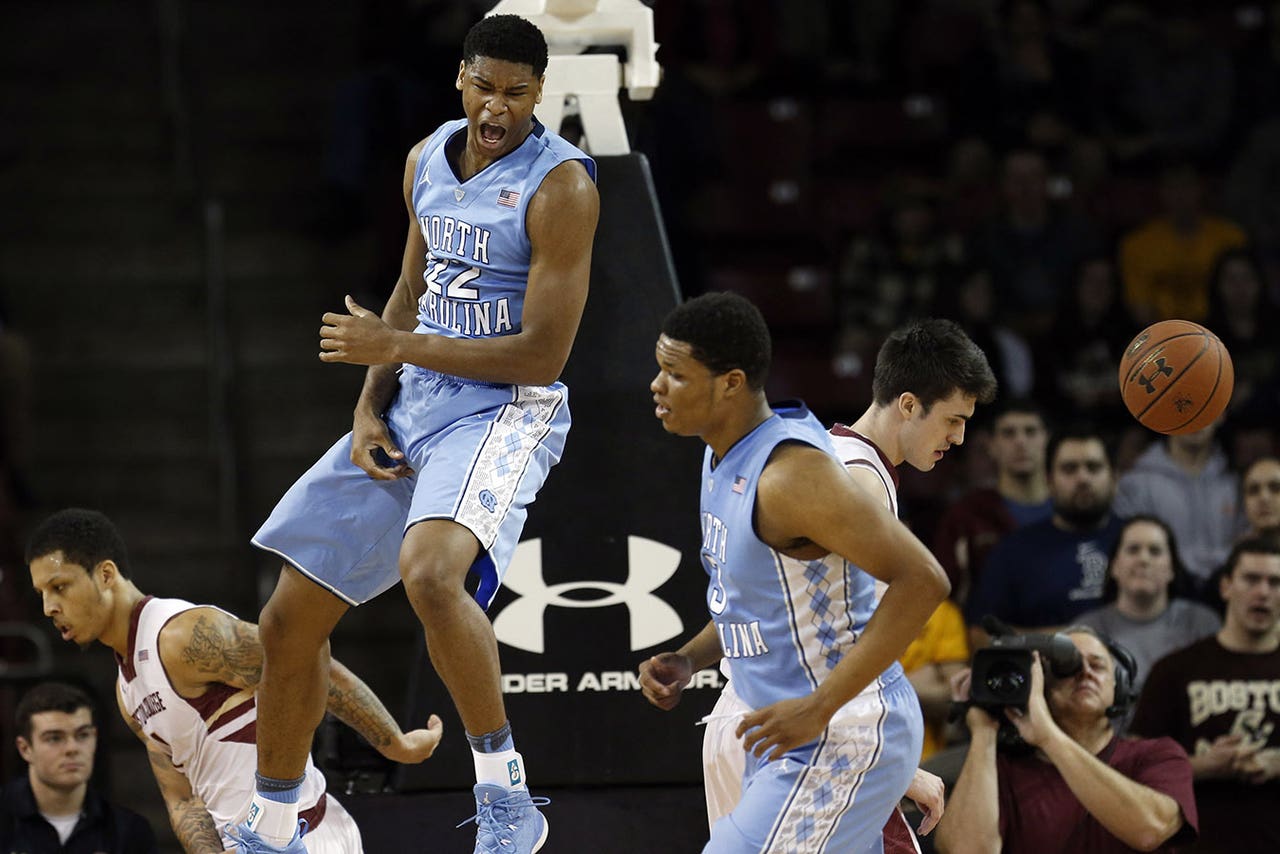 A little lineup switch brought big inside scoring and helped No. 12 North Carolina overpower Boston College.
Isaiah Hicks scored a career-high 21 points in just his second start of the season, Brice Johnson had 20 with 10 rebounds and the Tar Heels beat the Eagles 79-68 on Saturday to snap a two-game losing streak.
"We switched rotation with our bigs because we saw some things and we thought we could take advantage of it with Brice and Isaiah at the same time," guard Marcus Paige said.
"Usually he plays behind Brice and doesn't get as many opportunities offensively. Today, we played them together and he showed us he's capable of being a real threat inside," he said.
Hicks found out during pregame warmups that he'd be starting and figured he'd see the ball a lot.
"Kind of, yeah, I knew it," Hicks said. "Coming in, Coach was saying we had an advantage inside, so the bigs should be working."
Paige added 13 points, all coming in the final 11 minutes for the Tar Heels (18-6, 8-3 Atlantic Coast Conference).
Olivier Hanlan paced Boston College (9-13, 1-9) with a season-high 30 points, and Aaron Brown scored 18 with six boards.
"Isaiah, needless to say, gave us a huge game," North Carolina coach Roy Williams said. "It was a contrast of two teams. Our strength is getting the ball inside and theirs is Hanlan driving to the basket."
The Tar Heels outscored BC 46-32 in the paint.
BC coach Jim Christian knew his team played hard, but just didn't have enough in the closing minutes.
"The last five minutes is a byproduct of how much work you put in," he said. "It's a byproduct of you not wanting to lose."
Playing in front of a near-capacity crowd that was half-filled with fans wearing Carolina blue, the Tar Heels took control with a 13-3 run midway into the second half.
Hicks had a pair of baskets and the team's leading scorer, Marcus Paige, capped it with his first basket of the game, a 3-pointer from the left wing that made it 58-45 with 11 minutes to play.
The teams were tied at halftime and BC took a 38-36 edge on Brown's basket in the lane before the Tar Heels scored the next six points.
After the Eagles cut it to 45-42 on Dimitri Batten's driving shot, North Carolina went on its key run.
BC closed it to five points three times in the closing five minutes, but North Carolina hit a few baskets to stay in control.
Coming off consecutive losses to ranked teams (then-No. 10 Louisville and No. 3 Virginia), the Tar Heels played sloppily in a foul-filled opening half that didn't generate much of a flow. North Carolina had two possessions in the opening three minutes when it threw passes into the backcourt for violations.
The teams were whistled for 11 fouls apiece and combined for 15 turnovers (North Carolina had 10) and went to the locker room tied at 36 at halftime.
TIP-INS
North Carolina: The Tar Heels pounded the ball inside much of the game, especially when BC's 7-footer Dennis Clifford went to the bench with early foul trouble. They hit 20 of 27 free throw attempts.
Boston College: F Will Magarity, a 6-foot-11 forward who spells Clifford, missed his second straight game with to a concussion. He'll likely return for the next game.
TIME FOR A CHANGE
"When you lose two in a row you can't say everything's rosy," Williams said. "I wasn't going to panic. I wasn't going to jump off a building, but you had to try something different."
WHAT WAS THAT!
Johnson went up for what looked like a contested dunk with 11 minutes left in the game. TV replays appeared to show the ball going through the rim, but quickly bouncing up and back out as it hit a player's body. Play just continued.
NOT QUITE ENOUGH
"That's as hard as our team can play," Christian said. "They can't play any harder, but that's not going to win in the ACC."
UP NEXT
North Carolina: At Pittsburgh next Saturday.
Boston College: Hosts Syracuse on Wednesday.
---