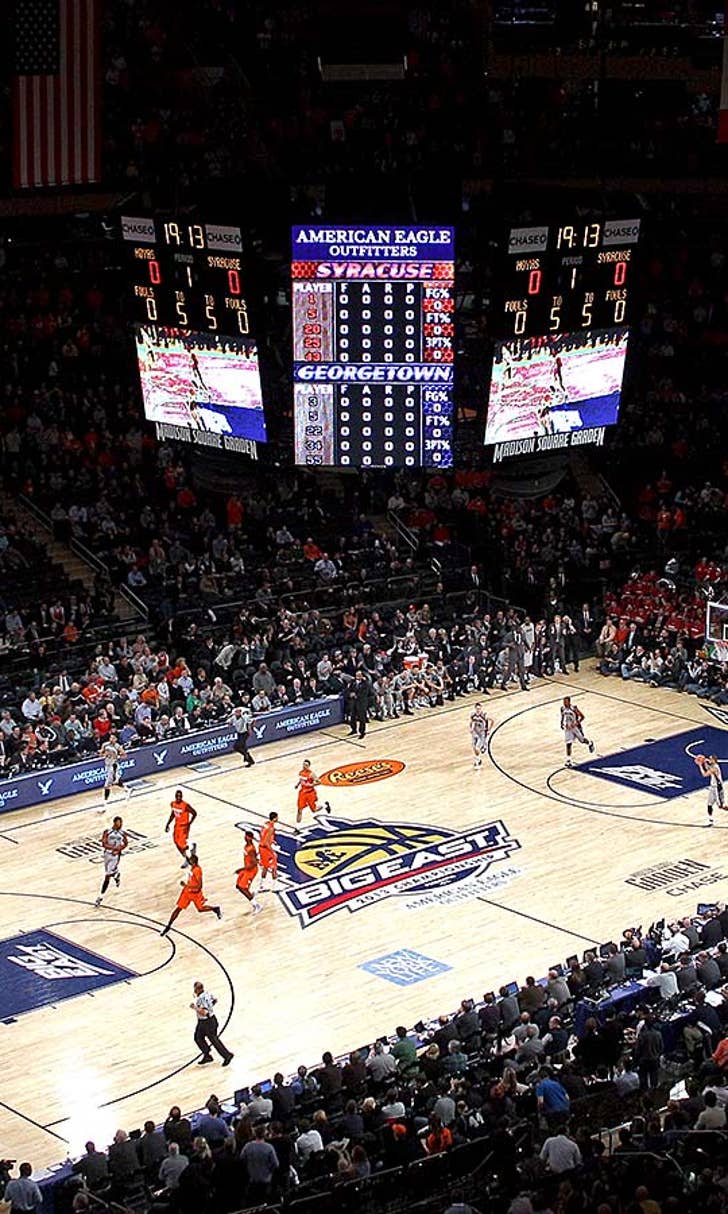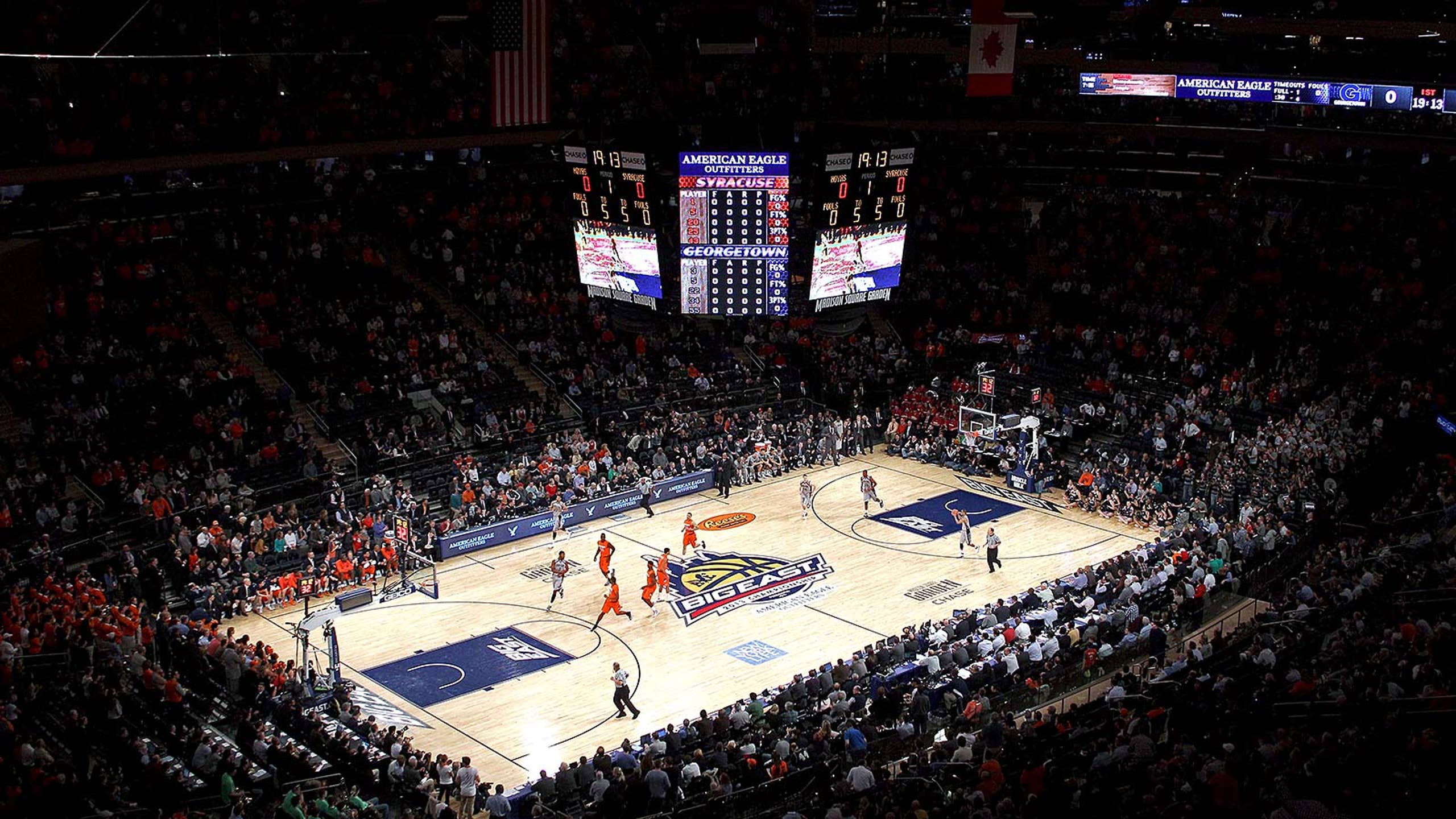 Forgrave: Big East might be deepest conference in nation
BY Reid Forgrave • December 16, 2013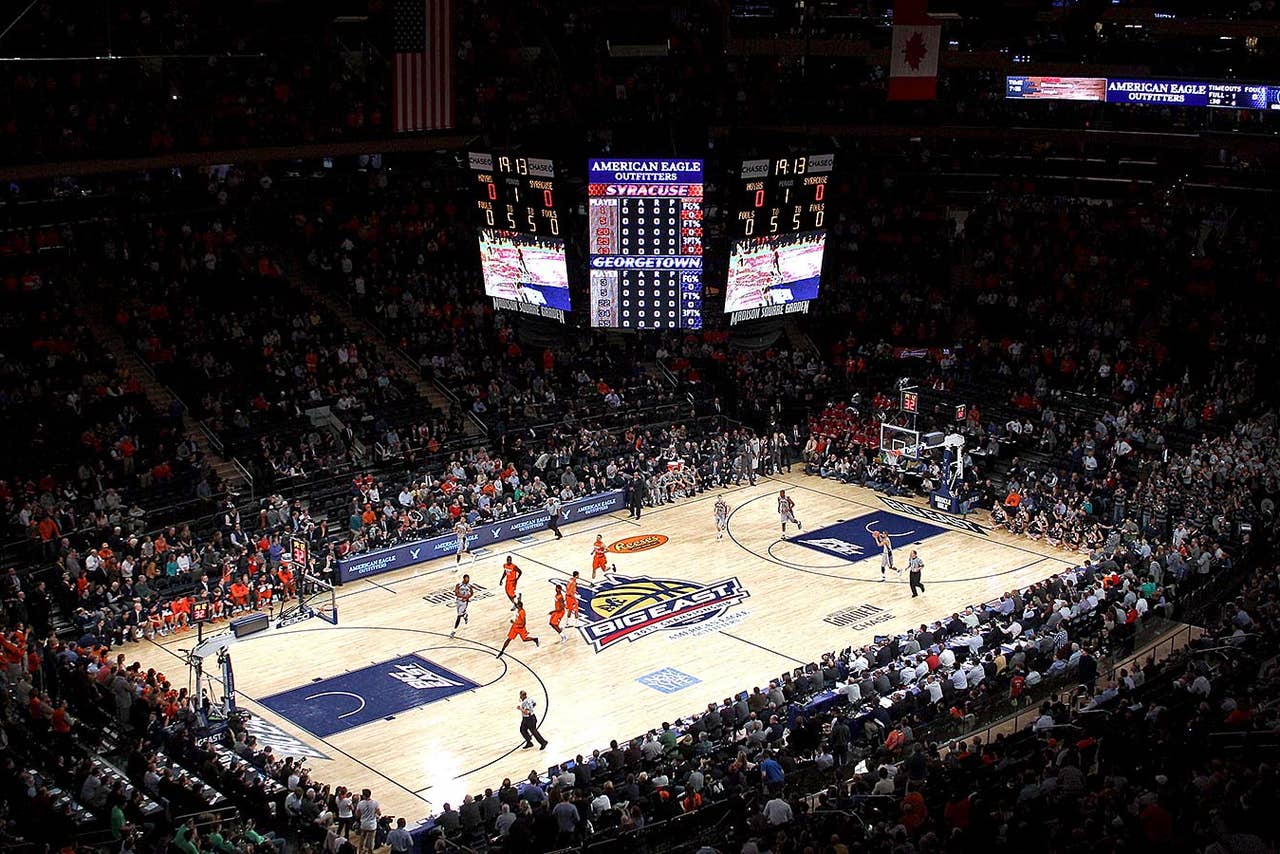 Colleges are in finals at the moment, so college basketball players are getting a bit of down time on the court in order to hit the books. What better time for our first Big East Monday exam of the season?
Here's the essay question: As we head into the beginning of conference play in the newly reconstituted Big East Conference in two weeks, how do the teams stack up
First, some context: Is the new Big East as good overall as the old Big East? Of course not. You lose national powers like Syracuse, Louisville, UConn, Pitt and Notre Dame, and there's no way you'll measure up to what you were, at least not right off the bat.
But I have a theory about the new Big East. No, it doesn't have a single dominant team that will be a guaranteed top-10 mainstay in the national polls throughout conference play (though you'd be silly to think Villanova doesn't have a shot). But I think the Big East is the deepest conference in the nation, and it would surprise me if fewer than six of the 10 Big East teams are playing in the NCAA tournament.
I can feel the heads spinning along the eastern seaboard, where the Atlantic Coast Conference entered this season billing itself as perhaps the best basketball conference ever. So just one stat to make the heads of Tobacco Road and environs spin a bit faster: The Big East is third in conference RPI. The ACC is fifth. (RPI is an obviously imperfect metric. But still.)
Tops in conference RPI is the Big 12, and while I think the upper echelon of the Big 12 is the toughest in the nation, the lower reaches of the conference reach pretty low (looking at you, Texas Tech, TCU and Kansas State). I will not argue with anyone saying the Big Ten is the nation's deepest conference, but I will point out that the bottom of the Big Ten still has a long way to go.
So there's our context. And it all leads to a very academic-sounding, on-this-hand-but-then-on-the-other-hand answer to how I see the Big East stacking up so far. Judging the top of this conference is easy so far (undefeated, top-10 ranked Villanova wears the early crown), but after that? It's all very much in flux.
And it will all change. As one Big East assistant coach told me, "There are a bunch of teams who will be better in league play because their players will understand their roles."
I contacted nearly two dozen Big East head coaches, assistant coaches and basketball program staffers to help me sift through the early power structure of the conference before Big East conference play begins on New Year's Eve with a five-game marathon on Fox Sports 1. This is what I found out.
Want to argue? Hit me up on Twitter @reidforgrave, and I'll further explain why my grade is an A and yours isn't.
1. Villanova (10-0): This one is obvious. On three consecutive days at the end of November, Villanova beat a Pac-12 team (USC), a Big 12 team (then No. 2 Kansas) and a Big Ten team in overtime (a very good, very deep Iowa team).
As head coach Jay Wright told me recently, two of those wins were essentially one-possession games, and if Villanova had lost them both instead of winning, no one would be talking about his team as the surprise team of the college basketball season so far.
Still, this team is no fluke. It returned a bevy of underrated guards, and it is a college basketball exemplar of consistency, experience and chemistry.
"They are small in stature but play with an incredible edge and togetherness," one Big East assistant coach told me. "Guards win in college basketball, and Villanova has great guard play."
Another Big East coach: "They've been able to compete with some big teams with sometimes five perimeter players on the court."
This team always has at least three guards on the floor who can make plays from anywhere. It's a matchup nightmare for more traditional teams.
"They are back to the style of play that they have had the most success with," another coach said.
While the high-level play of some Wildcats was expected -- junior wing JayVaughn Pinkston leads the team with 16.7 points per game, and sophomore guard Ryan Arcidiacono is averaging more than three assists per game and hitting the big shots -- nobody saw the huge jump made by 6-foot-6 senior guard James Bell.
Averaging virtually the same number of minutes as last year, Bell has nearly doubled his scoring average (to 16.1 points) and his rebounding average (to 7). His play has been what has lifted this team from very good to elite.
"Bell is a monster," one coach told me. "Playing with a purpose. Tough cat."
Tough Cats, all of them.
2. Creighton (7-2): I was surprised to see Creighton drop two games in a row at the Wooden Legacy event in southern California over the Thanksgiving holiday, especially coming on the heels of the Bluejays blowing out an excellent Arizona State team.
These losses, however, were an anomaly, and I fully expect Creighton to be contending for the Big East crown and be ranked in the top 25 all winter. One assistant told me Creighton joins Villanova as the two Big East teams that have stood out the most in non-conference play. This team's success rests on the play of senior Doug McDermott, one of the nation's leading scorers (and most intriguing players) at more than 25 points per game. McDermott is the reason I see Creighton going far, because he'll have far more 30-point-plus games (four so far this season) than the seven-point dud he had against George Washington, when pesky defenders pestered him into his worst shooting performance since his freshman year.
I like other things about this team, too. Grant Gibbs is a do-it-all point forward-type who has the experience -- and the chemistry with McDermott -- to have a sixth sense in directing this offense. Senior Ethan Wragge is nails from three. Point guard Austin Chatman has hardly turned the ball over this year. Head coach Greg McDermott will lose a lot to graduation after this season, including his NBA-bound son. If Creighton is going to make its mark nationally, this is the year to do it.
3. Providence (8-2): I had expected the season-ending injury to point guard Kris Dunn to impact Providence's chances in league play, but coaches I spoke with thought differently.
"It will definitely hurt, but I see them as being one of the better teams in the league," one coach told me. "They have good senior play, and when Brandon Austin returns from suspension they will be really good," said another. "Ed Cooley does a great job."
While the Friars don't have a signature win in non-conference play, they'll have a chance to get one against UMass in their final non-conference game before league play begins. Senior Bryce Cotton, averaging 18.6 points and five assists, is one of seven upperclassmen on Cooley's team. That experience might be why one coach told me he saw Providence as a team where players are seeming to accept what their roles are very early in the season. That matters. Just ask struggling freshman-dominated teams like Kansas and Kentucky.
4. Butler (8-2): Here's my "mea culpa" moment: I had counted out Butler in the first year of the new Big East. I thought everything was coming together to ensure the Bulldogs would enter a rebuilding phase and end up near the bottom of the Big East. Mastermind head coach Brad Stevens was gone. Roosevelt Jones, the heart and soul of these team, suffered a season-ending injury in the offseason. And Butler was in its third conference in as many seasons.
Shame on me. This program's amazing run of the past decade should have taught me to never, ever count out the Butler Way. Butler's only losses so far were both two-point losses: To top-5 team Oklahoma State and in overtime to a very good Louisiana State team.
"They seem to be embracing the underdog role," one coach told me. This is an example of what great coaching -- kudos, first-year head coach Brandon Miller -- and a great culture means in college basketball. One assistant coach called Butler the most impressive team in the conference considering the coaching change and the heart-breaking offseason injury to Jones. Is it too late for me to jump on the Hinkle bandwagon? Please?
5. St. John's (6-3): I spent part of my summer barnstorming through Europe with Steve Lavin's extraordinarily talented St. John's team, and what I saw was a bunch of disparate parts trying to bond as a team.
This team might be a top-10 team in the nation in pure talent. And if the Red Storm goes on a ridiculous run in conference play -- and I fully expect them to -- it won't be because one player reached down deep and found a new level of talent. It'll be because all this silly talent finally found a way to fit together. It'll be because two weeks in Europe meant players bonding in a way they hadn't before bonded.
"They are slowly coming together, and they have a collection of arguably the best athletes in the league," one coach told me.
Yes, they have three losses so far, but look at those losses. One was a five-point loss over the weekend to second-ranked Syracuse. Another was the season-opening loss to Wisconsin, a team that's now ranked in the top 5. (The third, an overtime loss to Penn State, still has me scratching my head.)
De'Angelo Harrison, averaging 19.1 points, is one of the most dynamic scorers in the Big East. ("He got it," one coach told me.) Chris Obekpa is again leading the nation in blocks. Sophomore Jakarr Sampson is showing why he was so highly recruited out of high school. Can they pull together and play good team basketball?
"A lot of pieces that just don't fit," one coach said. "(But) if they can put it all together, they will be tough to beat."
There's evidence that this team is starting to turn the corner after nearly beating Syracuse. Ranked 50th in the nation in RPI, a solid first month in conference play could start chatter about a return to St. John's glory years.
6. Xavier (8-3): Like St. John's, this is another hugely talented team that could take off in league play. There's no more exciting player to watch in the Big East than point guard Semaj Christon, a sophomore who is averaging 15.5 points and 3.8 assists per game in what I expect to be his last college season before heading to the NBA.
Xavier lost three games in three days in the Battle4Atlantis in the Bahamas. Those were understandable losses, to USC, to Tennessee (whom Xavier had beaten earlier in the season), and to Iowa in overtime. Then Xavier beat crosstown rival Cincinnati over the weekend. Watch out. This team could win the Big East.
"Xavier will be ready because of its schedule," one Big East coach told me. "They're deep enough to compete with anybody."
Transfer Matt Stainbrook is nearly averaging a double-double after shedding tons of weight while sitting out last season, and Xavier coaches have told me they could see athletic freshman Jalen Reynolds eventually having a Montrezl Harrell-like impact on this team.
7. Georgetown (6-2): You lose a guy like Otto Porter -- maybe the single most valuable player to his team in all of college basketball last season -- and you'll need a period of adjustment. That's what Georgetown is going through. No team ran its offense more through one player than the Hoyas did last year with Porter.
Now, Georgetown looks to have one of the nation's top backcourts in D'Vauntes Smith-Rivera and Markel Starks, averaging 16.6 and 15.0 points, respectively.
A season-opening loss to Oregon was excusable. A loss to Northeastern in its third game was not. But then the Hoyas beat that speedy VCU team. What gives?
"I still think Georgetown is better than what people think and will surprise people come league play," one coach told me. "They will be back up at the top despite people jumping off the bandwagon."
That's probably true. But too much of this team's success will fall to uber-talented big man Joshua Smith, who transferred from UCLA. Do you trust a nimble near-7-footer whose weight problems affect his stamina, limiting him to less than 20 minutes per game? I don't.
8. Marquette (6-4): If Butler is the positive surprise of the Big East, then Marquette is the negative surprise. Who would've guessed a Buzz Williams-coached team would have four losses with two games left before Christmas? This is what happens when you're a team with a historically physical character, and when new officiating rules open up the college game to a more offensive-oriented style.
Marquette is 211th in the nation in points per game, including an ugly 35-point output in November against defensive power Ohio State. Cause for concern? Yes. Cause for panic? No.
"They will be better than what they have played," one coach told me. Said another: "People have counted them out because they haven't made a ton of non-conference headlines. They will get their deal on track."
I have faith in Williams, so I tend to agree. There's not a bad loss in their four losses, but Marquette needs to start getting some good wins -- starting this weekend against New Mexico and then New Year's Eve against Creighton.
9. DePaul (6-4): Can Oliver Purnell do at DePaul what he had earlier done at Dayton and Clemson, and engineer a full program turnaround? If there's a time to do it, it's this year. It's Purnell's fourth year at DePaul, and Purnell has yet to post a winning season.
There's plenty of potential on this team, plus some senior leadership. Seniors Cleveland Melvin and Brandon Young are each averaging around 16 points and want to make their stamp on DePaul as two guys who helped turn the program around. Freshmen Billy Garrett Jr. and Tommy Hamilton IV, a point guard and a big, provide a nice foundation for the future here.
You can't be excited about an early-season loss to Southern Miss, though a win over a Pac-12 team, Oregon State, provides a bit of hope. I hope Purnell gets a chance to keep building at DePaul. He has the track record at turning programs around, and the restart of the Big East ought to give Purnell a bit of a restart of his coaching clock. But if he doesn't find some success this season, I'm not sure how much longer he'll have.
10. Seton Hall (7-4): One assistant coach told me Seton Hall will surprise people in conference play.
"They have good pieces," he said, "and will be a different team when they're healthy."
Leading scorer Sterling Gibbs, a sophomore transfer from Texas, can flat-out play, averaging more than 16 points. The injuries have affected things, including having some bad losses, but the injuries ought not linger long. Senior Fuquan Edwin, averaging just short of 14 points, sprained his ankle a couple weeks ago. Forward Patrick Auda injured his foot five games into the season and ought to be back for Big East play. Seton Hall has beat a Big Ten team (Rutgers) and an ACC team (Virginia Tech), and the Pirates narrowly missed beating a Big 12 team (losing to Oklahoma by a point).
But their three other losses are suspect: to Mercer of the A-Sun, to Farleigh Dickinson of the NEC and to St. Peter's of the MAAC. (Two of those teams have overall losing records.) I don't have much faith in Seton Hall making much noise. But then again, I didn't expect Butler to make any noise this year. There's a lot in flux in the first season of the new Big East, so if there's a year for a team we expect to be bad to turn out decent, this is it.
---