Five college coaches who should be given a bigger program
April 13, 2015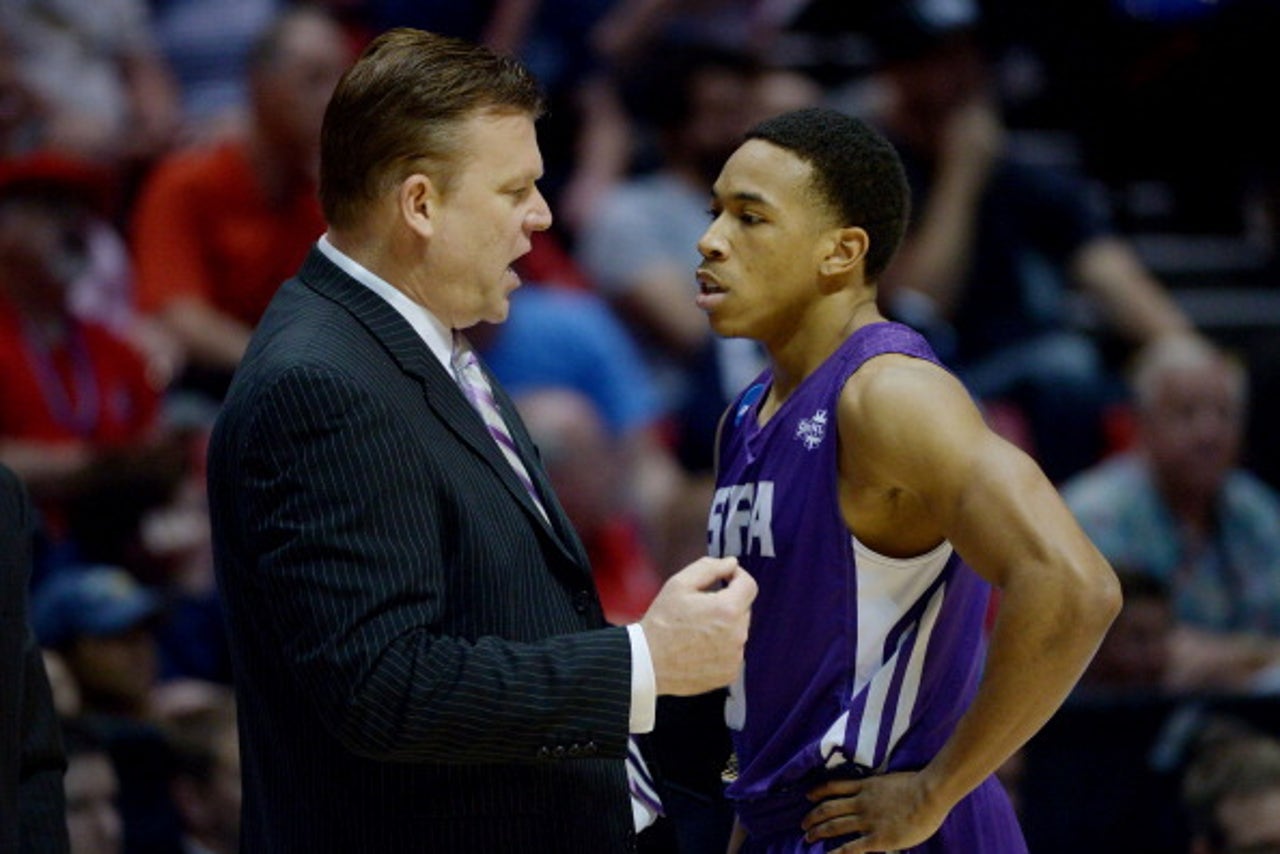 By Matt Zemek
With 351 Division I teams, college basketball has a very tall coaching ladder. There's always ample space in which to move up or down. A year ago, Frank Haith looked at his situation at Missouri and realized himself that a downward move on the ladder — from Missouri to Tulsa — was necessary. Give Haith credit for possessing and then demonstrating the self-awareness to move to a school where he could more likely meet expectations. That's not a quality easily or readily found among D-I coaches.
While some coaches — Bruce Weber and Brian Gregory — will most likely join Haith and move down the ladder in the next 15 to 18 months, several other coaches are probably a year or two away from moving up that same ladder… and have earned their heightened status in the sport. With the 2014-2015 season a fresh memory (it won't be as fresh in July when football media days begin, so we're hitting this topic now…), here are the five coaches who deserve to make that upward move sooner rather than later:
5 – MIKE YOUNG, WOFFORD
Wofford had never made the NCAA tournament six years ago. Now, the Terriers have reached the Big Dance four times in the past six seasons under Young, whose teams haven't won a round-of-64 game but have put the rest of the Southern Conference at their feet. The ability to win repeat conference championships twice (2010 and '11; 2014 and '15) speaks to Wofford's success on multiple levels. This program has made breakthroughs, but it has also been able to win with a bulls-eye on its back. Young clearly knows how to keep his players focused on the task at hand, year after year. That attention to detail makes Young a coach to watch.
4 – MICHAEL WHITE, LOUISIANA TECH
Louisiana Tech hasn't made the NCAA tournament in each of the past two seasons, so why should White, its coach, be on this list? Let's start with the fact that the Bulldogs won at Oklahoma two seasons ago. Let's continue with the fact that — as is seen in much of the college basketball world — it's hard for a school such as Louisiana Tech to get high-major opponents to play games in Ruston, Louisiana. Working with those constraints, Louisiana Tech enters the Conference USA tournament having to win it in order to reach Bracketville. A close loss to Tulsa in the 2014 C-USA final wasn't good enough to put on 'dancing shoes.'
What stands out the most about White? In two straight seasons, he has gotten his players to care about the NIT. Not all coaches can do that. In two straight seasons, he has also been able to knock off an SEC team on the road in the second round of the NIT. That's an eye-grabber. (Tech won at second-seeded Georgia in 2014, and it dusted off second-seeded Texas A&M in this year's NIT. Both games involved a moderate-to-large working margin and weren't even photo finishes at the very end.)
White might not be ready for a Power 5 conference job, but a spot in The American or the Atlantic 10 could be a good fit for him in the not-too-distant future.
3 – STEVE PROHM, MURRAY STATE
Murray State is a stepping-stone job.
Mick Cronin spent three seasons there before landing at Cincinnati. Billy Kennedy spent five seasons there before moving to Texas A&M. Steve Prohm has just finished his fourth season in Murray, Kentucky, and it's clear that he has sustained the Racers' winning tradition. If the NCAA tournament was structured more fairly, Murray would have gotten a Dance card instead of UCLA and Texas.
Prohm was mentioned during the Alabama coaching search that eventually produced Avery Johnson as the Tide's new bench boss. Three SEC coaching vacancies were filled over the past month, however; if Prohm had designs on an upward move, it's probably not going to be to the SEC, and that might force him to re-evaluate his career path.
2 – BRAD UNDERWOOD, STEPHEN F. AUSTIN
Stephen F. Austin has been an enjoyable team to watch over the past few seasons. Structure, discipline, patience — those characteristics radiate from the Lumberjacks' halfcourt offense when they take the court. Brad Underwood has clearly shown that he can implement the concepts he believes in. He has achieved the fundamental coaching goal of turning sound ideas into strong results, of taking "salt and pepper shaker play diagrams" in a diner and making them come alive on the court.
Could Underwood be a Texas-based version of Bob McKillop? If I'm an athletic director in the state of Texas or any bordering state, I'm keeping an eye on Underwood if my basketball program needs a new coach in the next year or two.
1 – RANDY BENNETT, SAINT MARY'S
This is the Ben Howland of mid-major coaches.
Much as it baffled many that Howland remained on the market as long as he did before Mississippi State finally snapped him up, Bennett has not been given a chance to work his Australian recruiting pipeline at a high-major program. Bennett built Saint Mary's into a highly competitive program in the shadow of Gonzaga (enough to make the Sweet 16 with Omar Samhan in 2010). Yet, Saint Mary's still plays in McKeon Pavilion, which is a 37-year-old facility. Gonzaga built a new gym, and new West Coast Conference competitor BYU has a building with over 20,000 seats in it (the Marriott Center).
Bennett has been a wonder-worker at Saint Mary's. Yes, he committed recruiting violations and got hit for them. However, if you're good enough as a coach — think of Bruce Pearl — you will make a comeback in the business. Why Bennett doesn't seem to be held in high esteem by Mountain West or Pac-12 programs has been a head-scratcher.
Stanford and Washington could need new coaches one year from now. Don't expect Bennett to fill either one of those openings… which is a commentary on athletic directors more than him.
More from The Student Section:
---