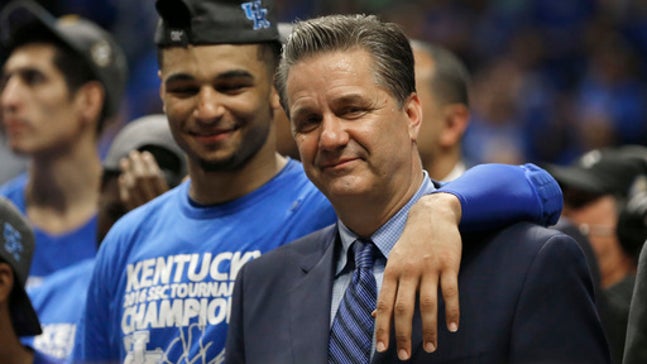 Calipari not happy with Kentucky's seeding in NCAA tourney
Published
Mar. 13, 2016 10:21 p.m. ET

LEXINGTON, Ky. (AP) Kentucky coach John Calipari had hoped winning another conference championship might boost their NCAA Tournament seeding.
Beating Texas A&M 82-77 in overtime for the Southeastern Conference Tournament title on Sunday apparently didn't make a big difference for the Wildcats, who drew the No. 4 seed in the East Region. That's pretty good, but Calipari wasn't happy that it was one spot lower than the Aggies received.
''If this is what happens, why are we playing that game?'' Calipari asked Sunday at his home after returning from the SEC tournament in Nashville, Tennessee. ''We won the game. A technical (foul) got them a game, and they get a 3 seed and we got a 4. I'm happy for A&M.''
Calipari, who has made it known he is not a fan of league tournaments, also questioned the selection process. He said the selection committee can use numbers and statistics to justify decisions and try to ''convince you that emotions don't play a part in it. OK, they don't for me, either.''
The Wildcats (26-8) will travel to Des Moines, Iowa, to take on No. 13 seed Stony Brook, which will make its first NCAA Tournament appearance. A possible second-round matchup against neighboring Indiana looms if both schools advance, renewing a regional rivalry that's been dormant since they met twice in the 2011-12 season, including the NCAA Tournament.
As Calipari looked forward to that possible matchup, he said the priority is getting past Stony Brook. He hasn't seen much of the Seawolves (26-6) but planned to learn more about them quickly with a short turnaround.
Being seeded lower than expected didn't hurt the Wildcats two years ago when they entered the NCAA Tournament unranked as a No. 8 seed. Kentucky ran off a string of upsets en route to the Final Four before losing to Connecticut in the championship game.
Whether the seeding puts a chip on the Wildcats shoulders remains to be seen, but being a target for everybody to knock off is nothing new for Kentucky.
''I'll ask them what do they think about it,'' Calipari said of the seeding. ''They'll probably say, `I don't care. Is there a sandwich anywhere?'''
Calipari's assessment seemed to ring true when the announcement came soon after the Wildcats returned. Players seemed more focused on decompressing from their OT title victory, with SEC Tournament MVP Tyler Ulis quickly falling asleep after settling down on a couch in Calipari's living room.
Senior forward Alex Poythress seemed unfazed and was looking forward to playing in this tournament after sitting out last spring with a knee injury.
''I don't know how all this stuff works, but it is what it is,'' Poythress said of the seeding. ''We've got to play all these games, so let's get them out of the way.''
---