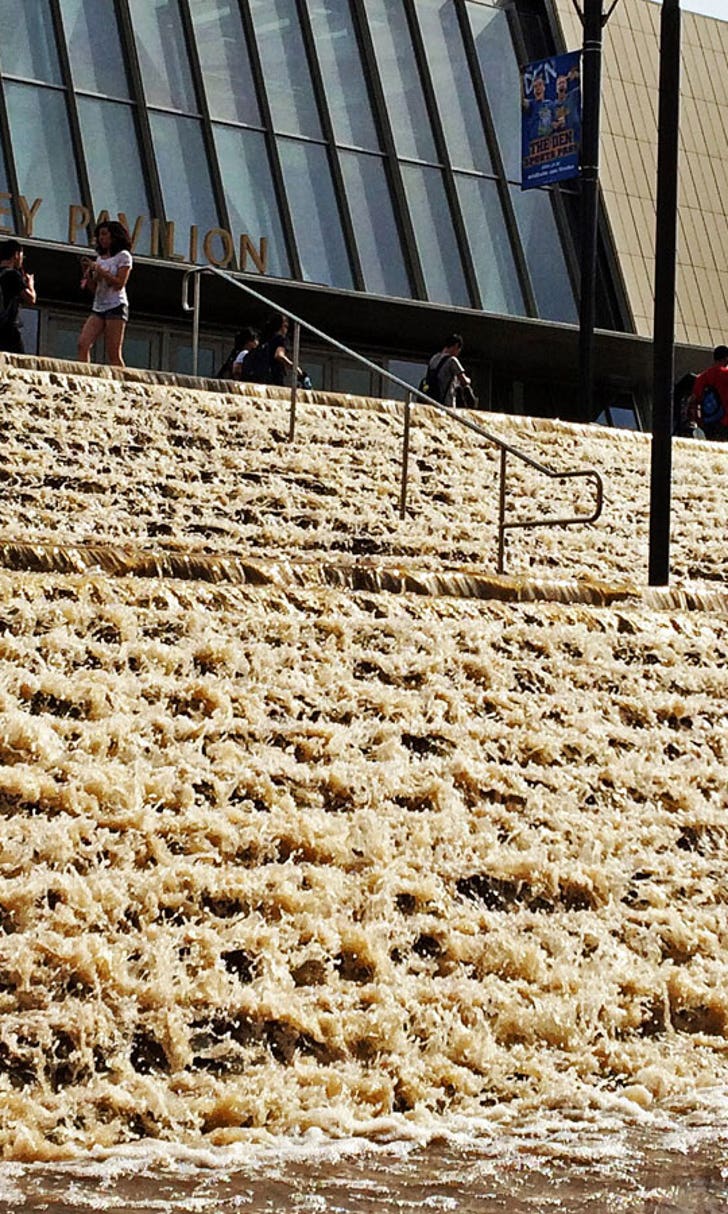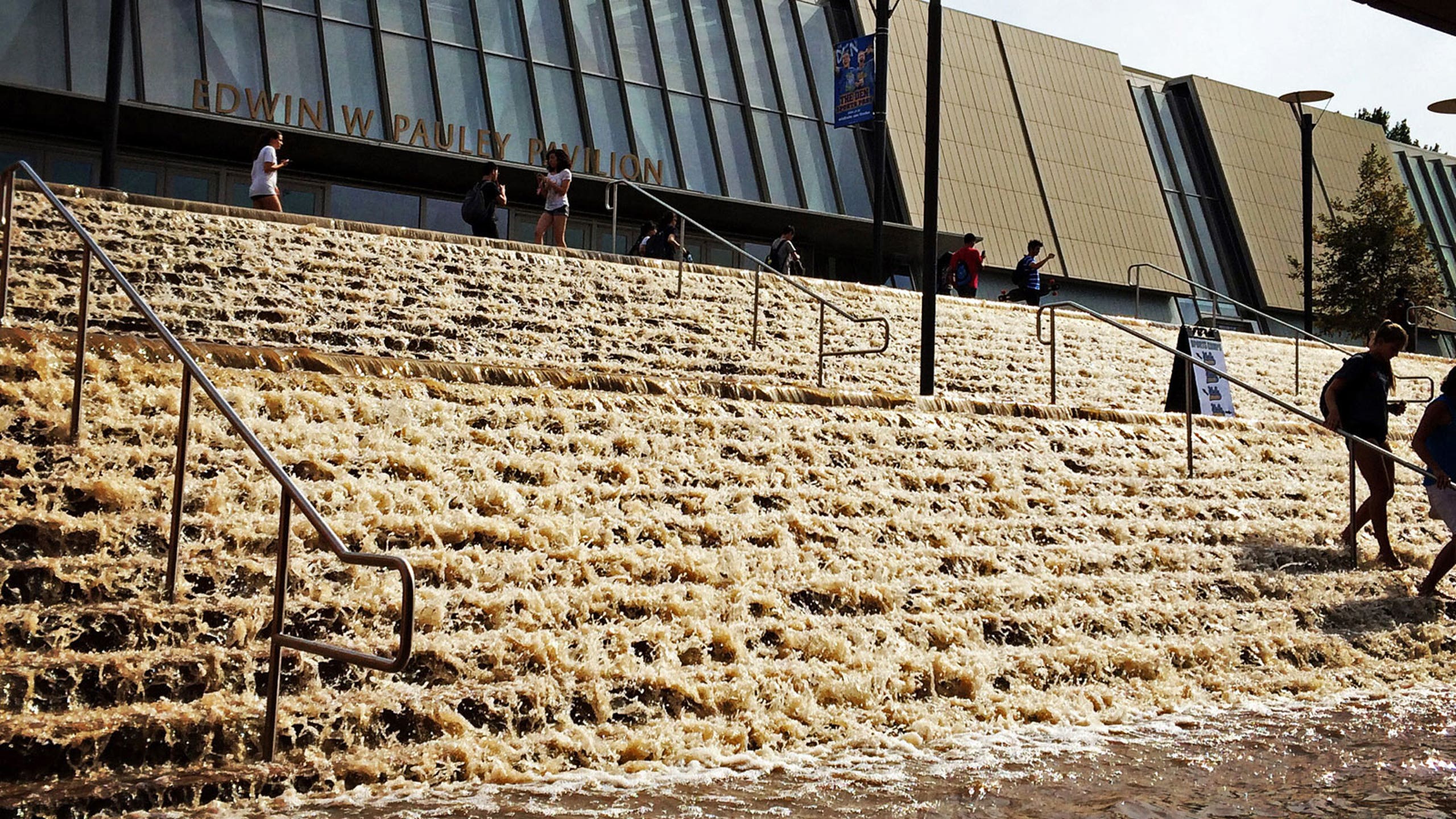 Bruins players had first-hand look at Pauley Pavilion flooding
BY Aaron Torres • August 3, 2014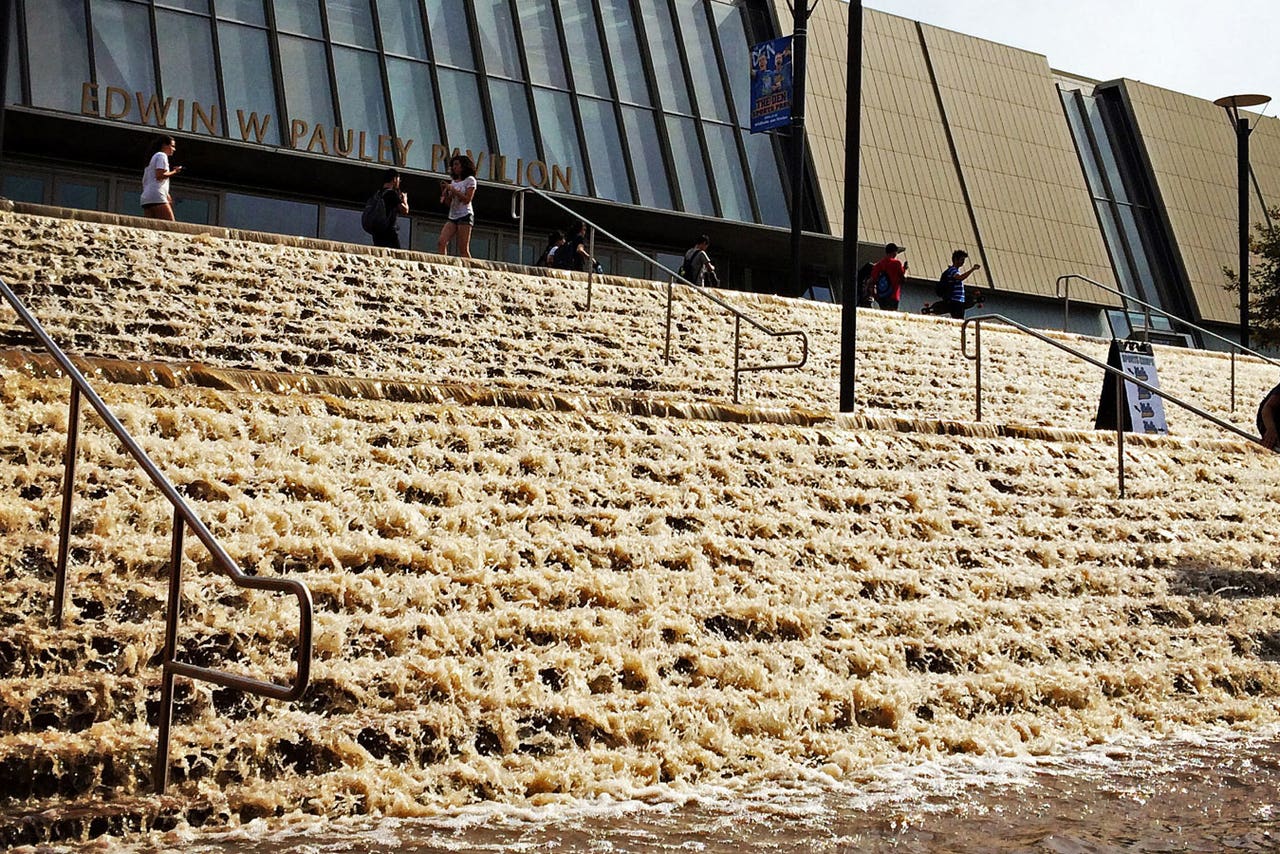 On Wednesday, a school known for its sun and sun dresses was shockingly deluged by a mini-flood after a water main broke underground. The incident left millions of gallons of water spread across campus.
As dramatic as the images were, the initial returns from UCLA aren't as bad as feared. Yes, cars are still slowly being evacuated from underground parking garages, and sure, some campus buildings -- including famed Pauley Pavilion -- need some work. Overall though, the impact could have been worse, no matter how shocking it looked at first glance.
Still, it raises the question of what it was like to be a UCLA student during the ordeal. FOXSports.com was at this weekend's Adidas Nations tournament, and had the chance to ask three members of UCLA's basketball team just that.
Wednesday started off like any other afternoon for the players. Another practice was set to begin, in a seemingly never-ending offseason full of them. And while the team was suiting up in Pauley Pavilion, they were also getting ready to trek across campus; a volleyball tournament had booted them from their home court for the afternoon.
Then, the strangest thing happened.
"We saw a little water trickling from the roof," senior Norman Powell said. "I just thought it was a leak, maybe from one of the restaurants that serves food at the arena during games."
Oh, it was no leak. And it quickly became no joke.
"Next thing we look up and water comes pouring out of the roof," sophomore guard Bryce Alford said. "Pouring. It was crazy."
At almost that exact instant, the team's strength and conditioning coach burst into the locker room with strict orders. A flood had hit campus and the team was to evacuate the building immediately. Elevators were not an option, leading to the even more surreal scene of walking up a flight of stairs as water trickled down in the other direction.
Once outside, things only got more strange.
"We got outside and Bruin Walk was flooded," Alford said of the famed campus street near the building. "Nobody knew what to do. Some people grabbed their boogie boards, some were wearing bathing suits. I've never seen anything like it."
For UCLA's basketball team however, there was no time to frolic. Once officials deemed Pauley Pavilion safe to re-enter, the players retrieved keys, wallets and other valuables they'd left behind in the haste to evacuate. None of the players interviewed lost anything valuable, and none of the three had the added concern of owning a car on campus either. They spent part of the afternoon helping those who did have cars find theirs safely.
The leak from the ruptured main eventually came to a stop and players were free to return to their hill-top dorms, which were not impacted.
A night of sleep brought a degree of normalcy back to the campus.
"The next day," Alford said, "it was like nothing had happened. You would've never known there was all this damage the day before."
The players credited the workers at the school, specifically at Pauley Pavilion, for the quick clean-up. According to Powell, the court looked "like any other court," even if it will ultimately be replaced because of the damage. School officials have said they hope to re-open the building in October and don't expect to have to move regular-season basketball games because of it.
So, safe to say, the strangest chapter in recent UCLA history is all but over.
"It wasn't really scary," Powell said, explaining that while it was bizarre, he never feared for his safety, or that of anyone else.
Still, it might've been one of UCLA's youngest players who summed it up best.  
"I've seen floods back home," said Kevon Looney, a true freshman who just arrived from Milwaukee a few weeks ago. "Coming out here, it's the last thing I ever thought would happen."
Aaron Torres is a show writer for Fox Sports Live and a contributor to FoxSports.com. Follow him on Twitter @Aaron_Torres or e-mail at ATorres00@gmail.com.
---