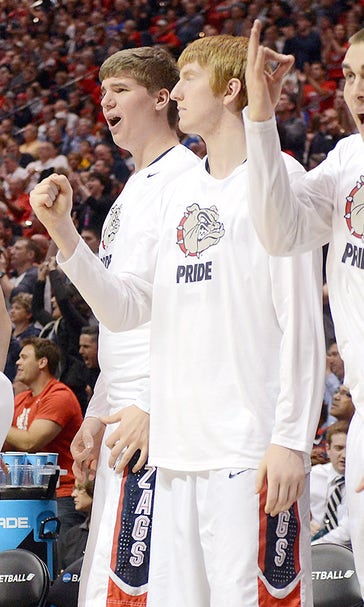 Bell leads Gonzaga over Smart and Oklahoma State
March 21, 2014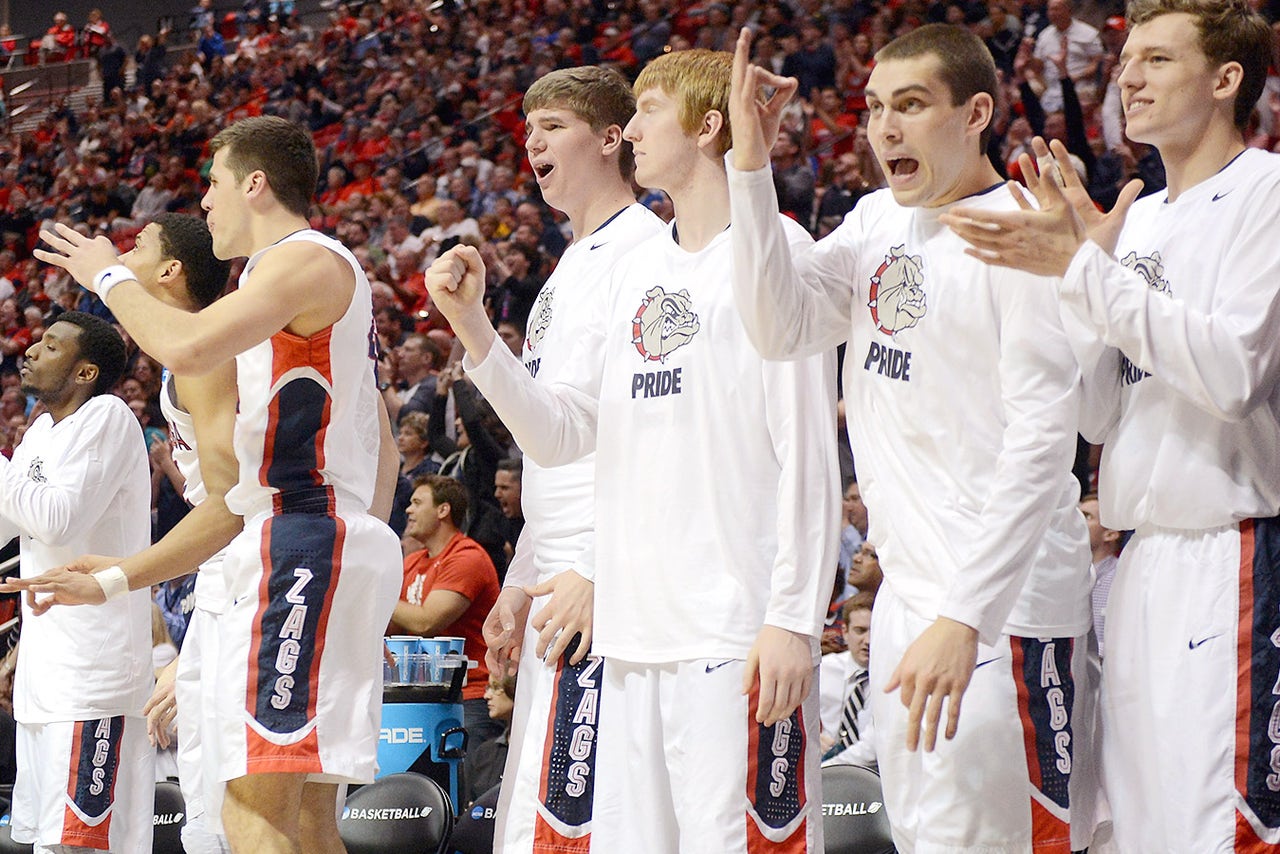 SAN DIEGO -- Tweeeeeeet!
Gonzaga and Oklahoma State players, coaches and fans no doubt left Viejas Arena with the shrill sound of the referees' whistles ringing in their ears Friday.
The refs called 61 fouls, which affected the pace and outcome of eighth-seeded Gonzaga's 85-77 win against Marcus Smart and ninth-seeded Oklahoma State in the West region of the NCAA tournament.
Kevin Pangos scored 26 points, including hitting 12 of 14 free throws, and Gary Bell Jr. added 17 for Gonzaga (29-6), which is in its 16th straight NCAA tournament and moves on to play top-seeded Arizona on Sunday.
Pangos made 10 of 10 free throws in the last 1:31. The final 3 minutes took 24 minutes to play.
The 61 fouls were seven off the record for fouls in a tournament game set by Iowa and Morehead State in a regional semifinal game in 1956.
The Cowboys were called for 33 fouls, with Le'Bryan Nash, Kamari Murphy and Leyton Hammonds fouling out. The Zags made 26 of 41 free throws. The Zags were whistled 28 times, with Sam Dower Jr. and Kyle Dranginis fouling out. The Cowboys made only 22 of 37 from the stripe.
"Especially at the end, it got a bit choppy," Pangos said. "But it was smart on their part. It prolonged the game, with empty possessions and a weird rhythm. But our team did a great job of pulling through and getting it done no matter how the tempo went."
Smart had a big effort in his final college game, with 23 points, 13 rebounds, seven assists and six steals for Oklahoma State (21-13). He was 12 of 19 from the line.
All the fouling "changed it a bit," Smart said. "I mean, you know, I can't remember the foul count, how many free throws both teams shot, but it was a good amount. And it kind of slowed the game down, gave us a chance to get back in it, but we just fell short."
Smart is projected to be a high NBA draft pick. He passed up the NBA draft last year, in large part because the Cowboys lost to Oregon in their NCAA tournament opener. The Cowboys won five of seven games coming in, a run that coincided with Smart's returning from a three-game suspension for shoving a Texas Tech fan.
Gonzaga big man Przemek Karnowski hurt the Cowboys inside, with 15 points and 10 rebounds. Dranginis scored 12.
Markel Brown scored 20 for Oklahoma State and Phil Forte had 12.
"We knew it wasn't going to be pretty," Gonzaga coach Mark Few said. "We knew we were going to have to fight and we talked about being the toughest team on the floor and you know, I think for stretches of it we were, because if you don't match OK State's toughness, you don't have a chance."
Karnowski agreed.
"We knew they are a good offensive team, especially their guards. WE just tried to make their life not easy on offense and just tried to go at them offensively, especially inside."
The Cowboys whittled a 10-point deficit down to three with 11:24 to go before Bell hit a 3-pointer for a 56-50 lead with 11:08 to go. Pangos had a steal and a layup, and Brown answered for the Cowboys. Karnowski hit the front end of a one-and-one and Pangos hit a 3-pointer for a 10-point lead with 7:46 left.
"They answered every run we made with big plays," Cowboys coach Travis Ford said. "We threw a few punches in the second half and we said to our guys, `Let's get aggressive, let's get after it.'
"Obviously we got in foul trouble which hurt us, especially with LB (Nash) not being in there and playing only 17 minutes," Ford added. "That's not the greatest scenario for us."
Gonzaga led 43-34 at halftime, getting consecutive 3-pointers from Drew Barham and Kevin Pangos in the closing minutes.
Oklahoma State coach Travis Ford was whistled for a technical foul with 11.1 seconds left. Pangos missed the first free throw and made the second. Ford had been on the refs ever since the Cowboys were whistled for six fouls and a traveling call in a span of 1:40 midway through the half.
"Obviously I was trying to get them going at the end of the first half, trying to get us a little fired up," Ford said.
Gonzaga went on an 8-2 run to take a 33-24 lead, making five of six free throws and getting a 3-pointer from Dranginis.
Oklahoma State then went on a 9-1 run to pull to 34-33. Smart had two free throws and a jumper.
Gonzaga pulled away on an inside shot by Dower, the two 3-pointers and a free throw by Pangos on the technical.
Bell made two 3-pointers in the first 50 seconds and hit two other shots to help Gonzaga take a 17-6 lead.
Smart started and ended a 10-0 run that pulled the Cowboys within one point. He was fouled by Bell while making a 3-point shot and made the free throw. Murphy hit a jumper and Brown made two free throws before Smart had a tip-in.
---