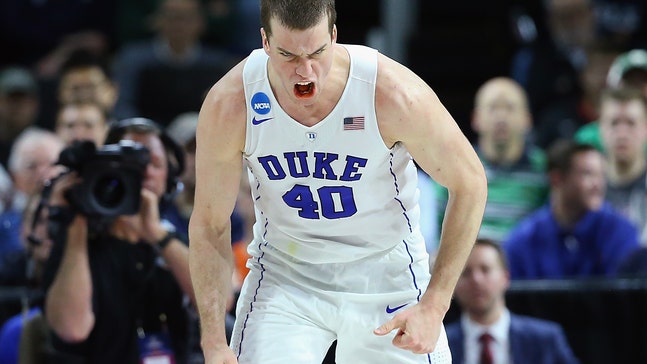 7 impressive stats about Duke's 93-point outburst at the NCAA tournament
Published
Mar. 17, 2016 3:45 p.m. ET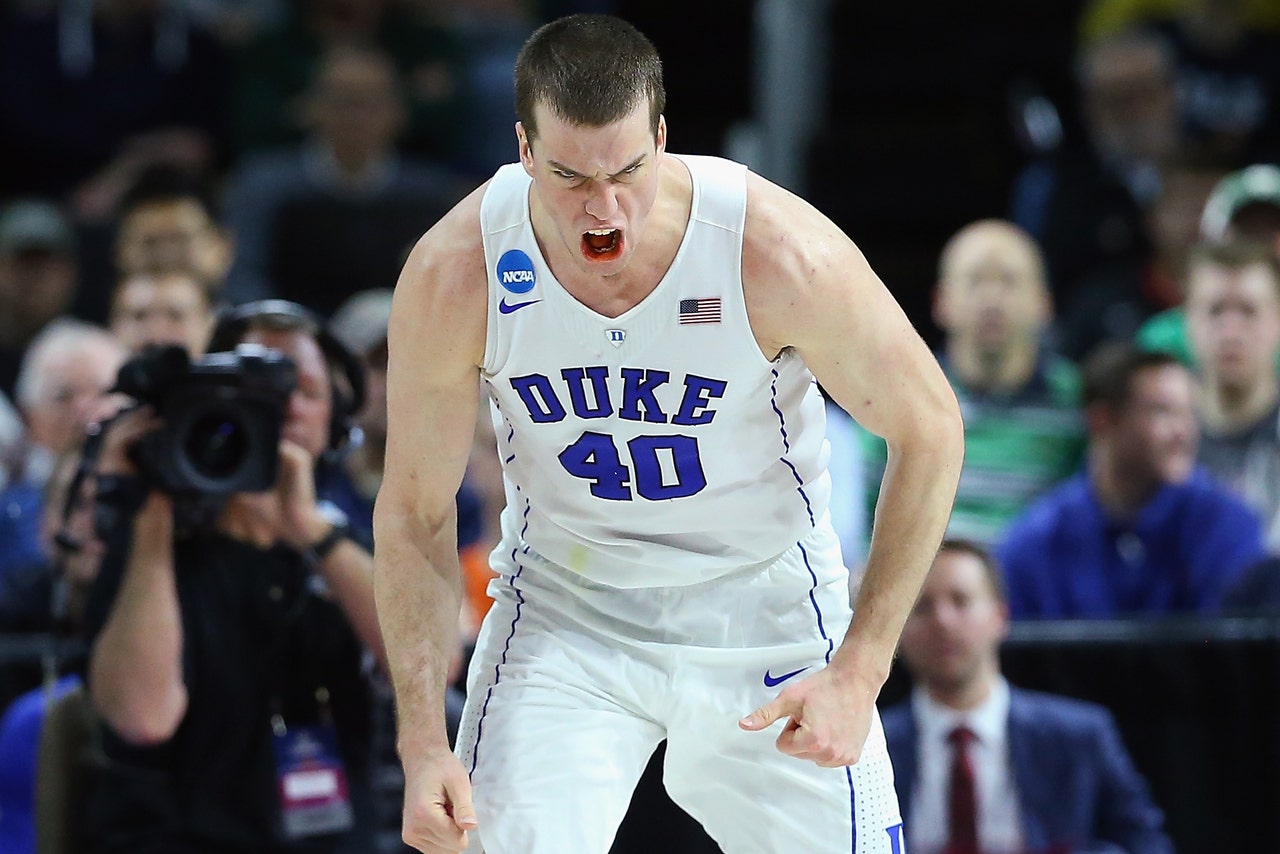 Despite a historic halftime deficit, Duke managed to hang on late to gut-out a tough first-round win over UNC-Wilmington in the first game of the NCAA tournament. The Seahawks cut the lead to two possessions multiple times late in the game, but Duke answered every call, advancing to the second round, for the 27th time in 31 years. In doing so, Duke set some recent records, snapped some streaks and otherwise had a fascinating game by the numbers. 
1. This was the first time in the Devils' last 36 tournament games they went over 90 points.
Duke scored 93 on the strength of a 53-point second half. The last time the school did that was when it dropped 90 on Seton Hall in the second round of the 2004 tourney.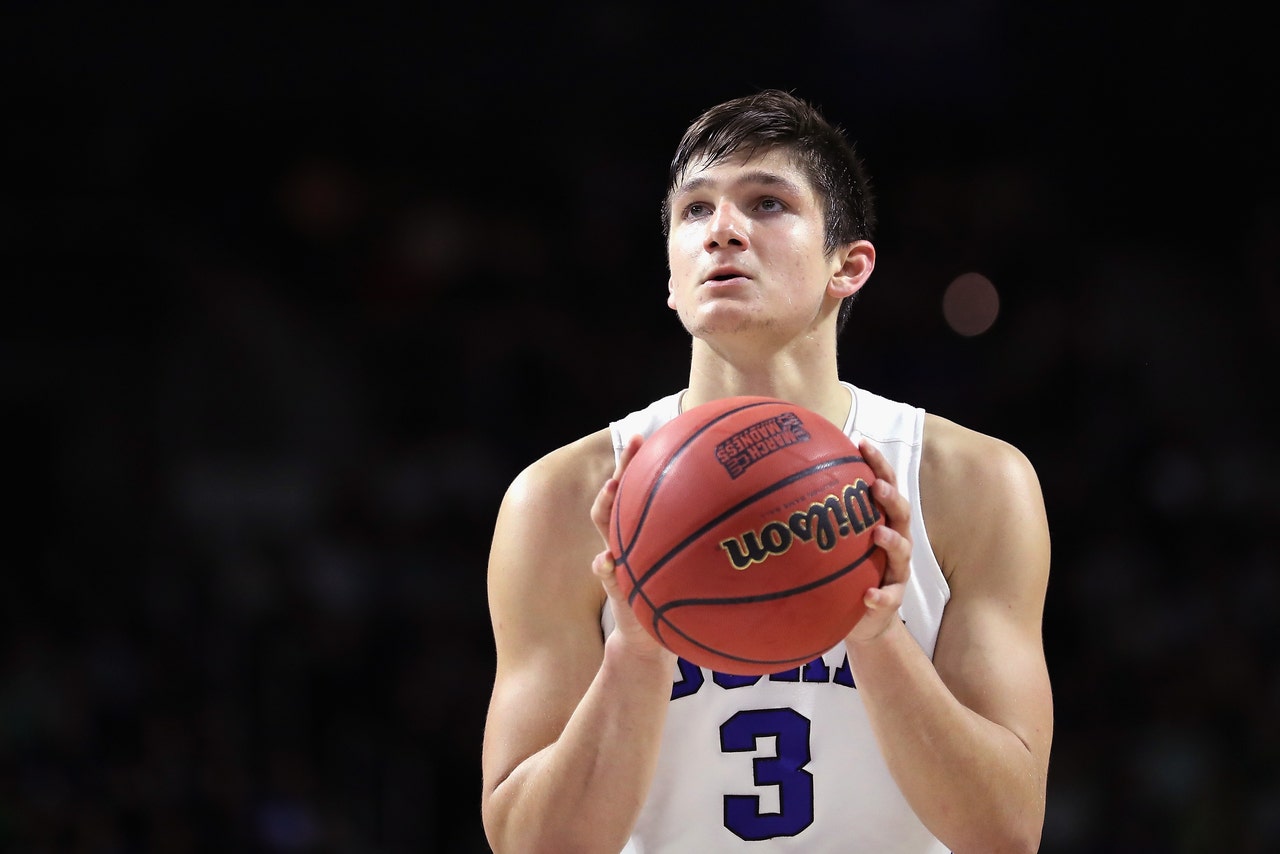 (Photo by Maddie Meyer/Getty Images)
2. The Devils shot 43 free throws. The other three teams playing early games (UNCW, Butler and Texas Tech) shot 44 free throws, combined.
Duke outshot UNCW 43-19 from the stripe. This stat, read blindly, will obviously come across as another sign that the refs are in the tank for Coach K and swung the game. I mean, with an eight-point win after all, UNCW would have won if the refs had called a few its way. Sadly, that's not accurate. Though I'd love to blame the refs and mock Coach K for the way he used to whine about Dean Smith getting all the calls and is now himself Dean Smith, it didn't go down that way. The Blue Devils' strategy was to go inside and get UNCW into foul trouble. They did and they did.
UNCW, which was one of the most foul-happy teams in the country during the regular season, was content to sit on the perimeter, scoring 33 points from beyond the arc and 38 from inside it. That's why there was such a large foul discrepancy. Oh, and Duke gets all the close ones too. (Phew, sorry, I couldn't make it through that without saying it at least once.)
3. Coach K's team, long subscribers to the "live by the three, die by the three" mantra, hit only four three-pointers.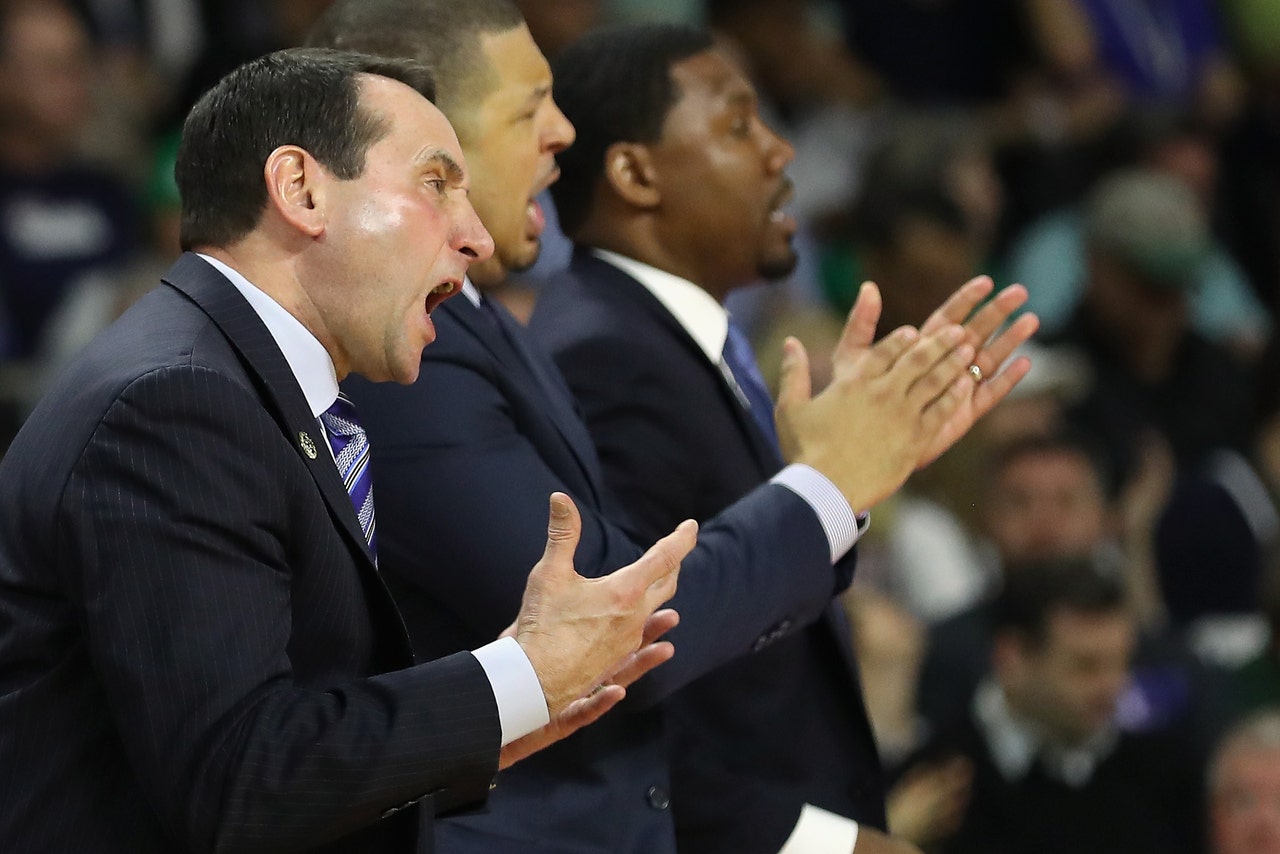 (Photo by Maddie Meyer/Getty Images)
The Devils were 4-15 (27%) which isn't very good, but that's not the point. Duke went over 90 points with just four threes! This is unexpected for any Duke team, especially one thought to be soft inside. The Devils just happened to run up against a team that was softer.
4. Duke was down 43-40 at halftime of this first-rounder, the first time in 30 years the Devils had trailed at the half in such a game.
The last time Duke was losing at halftime of a first-round game was in 1986, when Mississippi Valley State led 40-37 before Johnny Dawkins and Jay Bilas led Duke to an 85-78 win. If you're impressed by this stat, I think it's even more impressive than it looks at first glance. (If you're not impressed by this stat, your anti-Dukie blinders obscure too much. But -- respect.) Duke has lost four first-round games since '86, meaning it blew halftime leads in all those games. And then, in the other 29 games they've played since then, the Blue Devils didn't have a flat first half, whether it be in a game against a quality opponent or just coming out slow against a jacked-up lower seed. That stat's nuts.
5. UNCW cut the lead to within five or six points a total of five times with under five minutes to go in the game.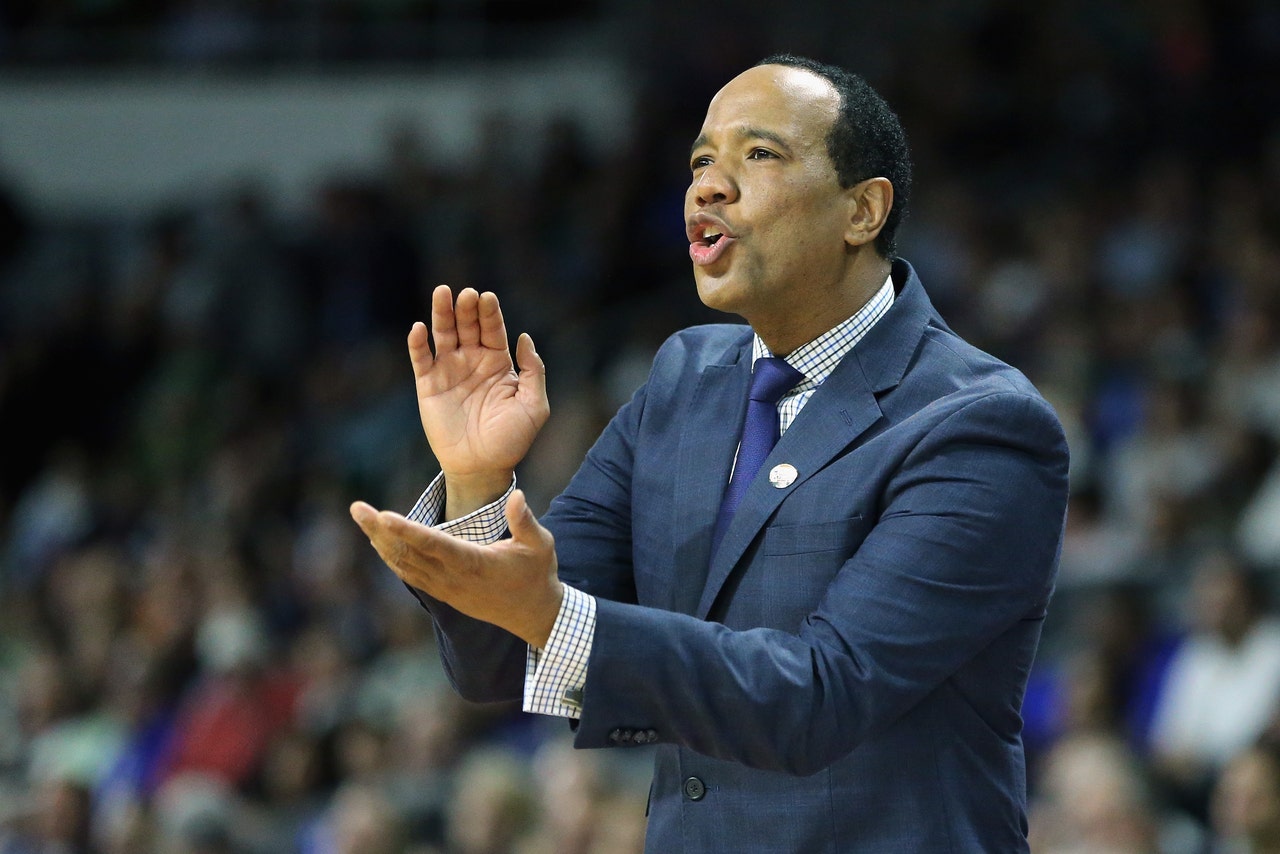 (Photo by Jim Rogash/Getty Images)
And Duke scored on its next possession on four of those occasions and got the next score every time, never allowing UNCW more than a glimmer of hope. That's how you avoid upsets and win tournament games.
6. Grayson Allen went 23/10/5, just the second time a Duke player has ever done that.
Only Roshown McLeod (not exactly the greatest company) has gone for 20/10/5 in an NCAA tournament game while wearing DUKE across his chest, doing it back in 1998.
7. Marshall Plumlee scored a career-best 23 points in the win.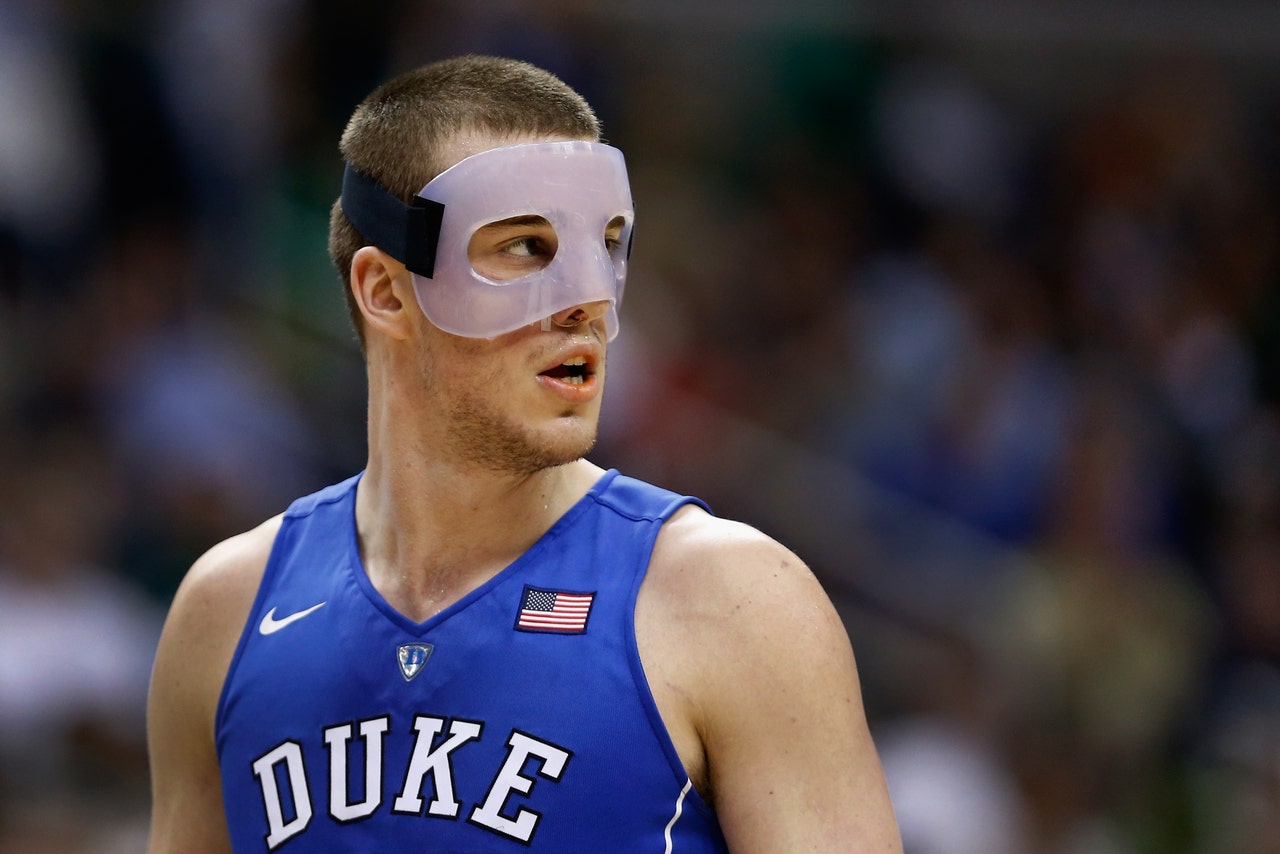 (Photo by Rob Carr/Getty Images)
Opting to leave his broken nose unprotected in the second half, Plumlee the Younger dropped 23, well over his average of 8.3 ppg this year. His previous high was a 21-point perfromance against Virginia Tech earlier this year. It marks the 103rd straight season a Plumlee brother has scored in March, dating back to Ulyseses Q. Plumlee, who dropped four points while playing on peach baskets against James Naismith.
---