Arsenal: Krystian Bielik Facing Massive Positional Dilemma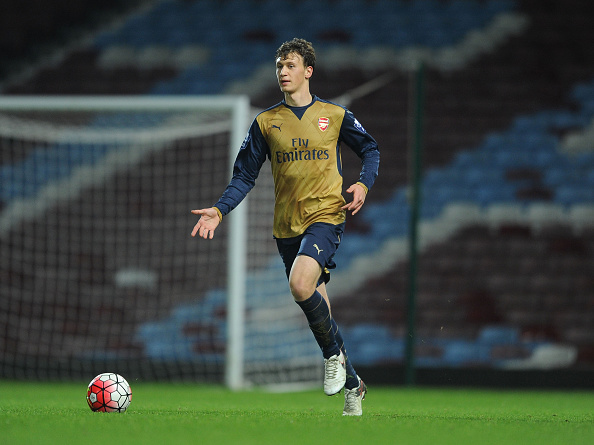 Signed as a defensive midfielder but currently used as a centre back, Krystian Bielik faces a positional dilemma at Arsenal.
Two seasons ago, Arsenal signed promising defensive midfielder Krystian Bielik from Legia Warsaw for a fee of £2.5m. This is a drop in the ocean for a club like Arsenal, but for a 17 year old, it is a sum that shows the Poland youth international has some serious potential.
Bielik was signed primarily as a defensive enforcer. Many Arsenal fans were looking to him to fill the void of the physical presence in the Arsenal midfield once he had developed enough in the youth side. At 6 foot 2 he certainly has the physique to achieve such goals.
The Polish Bruiser does seem to have made significant development, but not in the position expected of him. Bielik has operated at centre back for the Arsenal U21's for two seasons now and has been rewarded for his stellar performances with the captain's armband.
Bielik may not have made a real stamp on the first team yet but his inclusion in the pre-season touring squad to the USA suggests he is on the cusp of a breakthrough.
Yet despite all these positives, Arsenal and Bielik are at a crossroads regarding the position he will play in the future for this Arsenal side. Both Arsene Wenger and Bielik himself have stated that centre back is the position which suits Krystian the best.
But somehow, I am of the opinion that Bielik's natural physical demeanor and range of passing could provide the midfield with solidarity for years to come. This has been mentioned by co-editor Josh Sippie before but Bielik's short cameo in the woeful performance against Sheffield Wednesday last season provided fans with a snapshot of what Bielik can do in the centre of midfield.
That night, Bielik looked like he had been controlling the middle of the park at Arsenal for years, not minutes, and displayed a maturity unseen with such young players. More sporadic appearances in this position could prove Bielik is primed for a return to central midfield.
More from Pain in the Arsenal
The danger with this plan however, is that Bielik will first have to integrate into the youth team in this position first before taking a place in the first team squad. This would prolong Bielik's time in the U21 side when he really wants to be rocking up for the first team soon.
What I see happening is Bielik continuing his development at centre back and depending on positional needs at the club, him switching to the position most required. Arsene Wenger has groomed many players into changes of position before (look at Henry and van Persie for example) and at Bielik's age, he and the club still have enough time to decide.
The qualities required as are holding midfielder definitely overlap with those at centre back. So even if Bielik chooses to switch in the coming years, it won't be time wasted.
Ultimately the decision lies with Arsene Wenger and youth team coach Andries Jonker. Bielik has the natural ingredients to perform at a high level in both positions. Whether he is playing alongside Mustafi or Xhaka in five years (two who will be spearheading the team by then I hope), he has the ability to play a major role beside each player.
So what do you think Gooners? Should Bielik continue his development at centre back or is the Poland man destined for a return to his favoured central midfield position?
This article originally appeared on