Super Bowl preview: Pats TE Rob Gronkowski poses huge problems for Seahawks defense
At this rate, Rob Gronkowski will go down as one of the best tight ends in NFL history.
He led all tight ends this season with 1,124 yards on 82 receptions and scored 12 times. A big key to his success is that New England moves him around: He'll align in a traditional tight end position, in the slot, or out wide in a receiver position.
So how will the Seahawks' Legion of Boom handle the Patriots' best weapon?
The one thing that stands out on tape is that no matter where Gronkowski lines up, the teams that disrupted him — either at the line of scrimmage or within 5 yards of his release — had the most success. Gronk is a bad man and if he gets a free run off the line, bad things happen.
The Jets had a strong game plan against Gronkowski in Week 16 and they handled him well. He was targeted 10 times, but finished with six receptions for only 31 yards and his lowest yards-per-catch of the season (5.2).
The Jets harassed Gronk at the line of scrimmage as often as possible in both zone and man coverages, and that's what the Seahawks may do to minimize the damage he can cause.
"Chuck Technique" in Zone Coverages:
In zone coverage, the Seahawks can assign either a defensive end or linebacker to "chuck," or get a piece of, Gronkowski at the line of srimmage before they proceed to rush the quarterback or drop to their zone if they've got a pass-drop responsibility. This prevents Gronkowski from getting a free release into the secondary and disrupts the timing of his route.
Let's take a look at one of the techniques we may see the Seahawks use to get after Gronk on Super Bowl Sunday:
In the first photo you can see that the defensive end slid into a 6-technique to get head up on Gronkowski —€" instead of aligning wider in a 7-technique or wide-9.
In the next photo you can see that the defensive end chucks, or jams, Gronkowski to force an impeded and widened release, and then proceeds to continue his pass rush.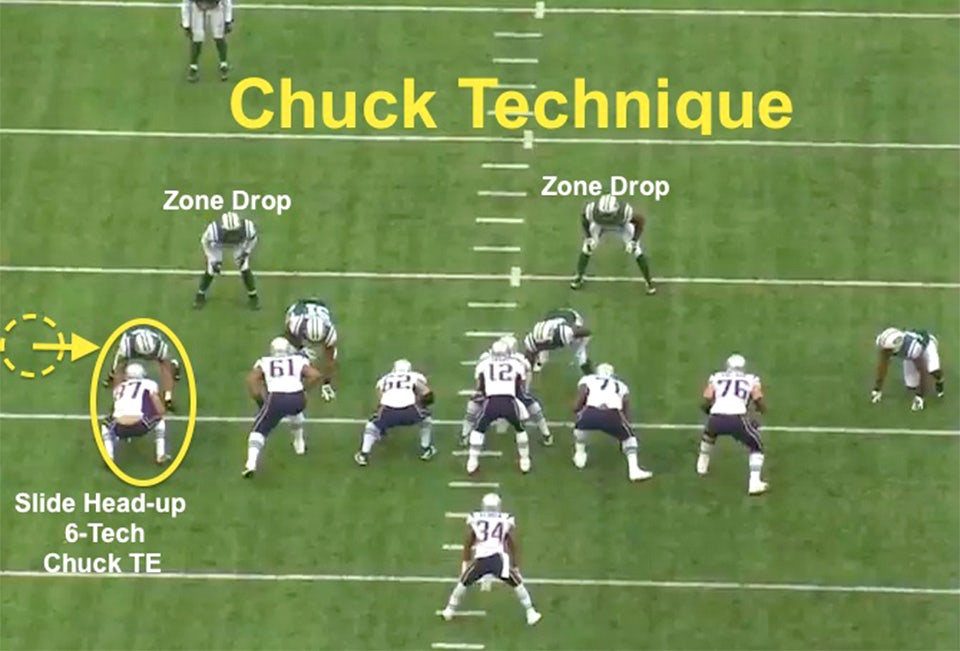 In the final photo, you can see that the zone dropper to Gronkowski's side got yet another bump on the stud tight end, and Tom Brady is forced to look elsewhere as he's already at the top of his drop — the ball must come out.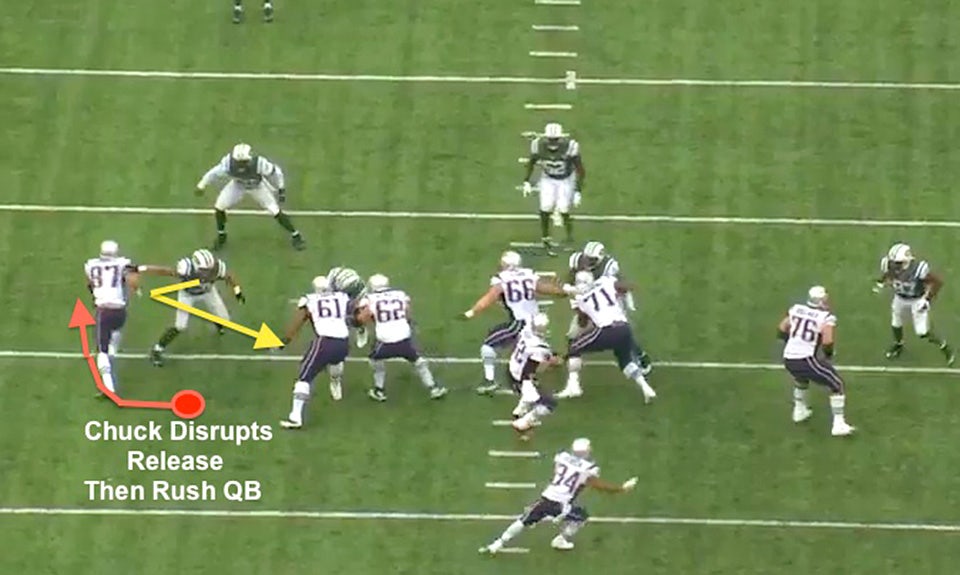 Press in Man Coverage: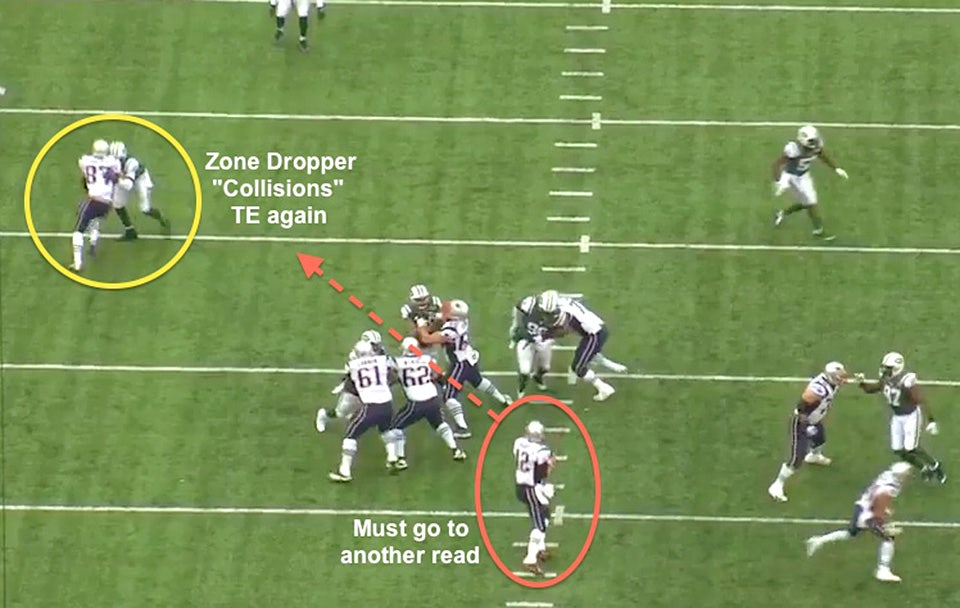 In man coverage, the Jets often used press coverage to give Gronkowski as little room to work as possible. Other teams that tried to play off-man and gave him an 8- or 9-yard cushion didn't have near the success of those teams that pressed him.
Here's how man-to-man succeeded against Gronkowski when he was out wide against Jets cornerback Marcus Williams. The Jets defensive back got his hands on Gronkowski from the snap and challenged him throughout the entirety of the play.
It caused enough of a distraction to prevent Gronk from catching a quick slant, which we've seen a bunch from the superstar, and kept Williams in position to be able to compete when the ball arrived.
But, playing press against Gronkowski doesn't mean you'll have guaranteed success as he's got incredible acceleration. If you miss him at the line of scrimmage and don't get your hands on him, you'll get burned like the Ravens' Will Hill — who is usually outstanding in coverage — did here. The bottom line is if you're going to play press on Gronk, you must get your hands on him.
The Seahawks didn't show either of these tactics on tape against some of the league's other top tight ends. In the divisional playoff game against Carolina, Pro Bowl tight end Greg Olsen didn't face press coverage vs. man or get chucked against zone, and he averaged 14.5 yards per catch on four receptions despite being targeted by Cam Newton only six times.
Philadelphia's Zach Ertz (11th among tight ends with 702 yards) ran freely on several occasions against Seattle earlier this year. Ertz would have gashed the Seahawks if Eagles quarterback Mark Sanchez was on top of his game that day.
If the Seahawks get after Gronk at the line of scrimmage, by pressing him in man coverage and chucking him in zone coverages, they'll be fine.
Sure, he'll get his catches, but being physical with him at the line will greatly minimize the chances of getting burned by Gronk.