NFL Hot Seat: 5 coaches who must win in Week 2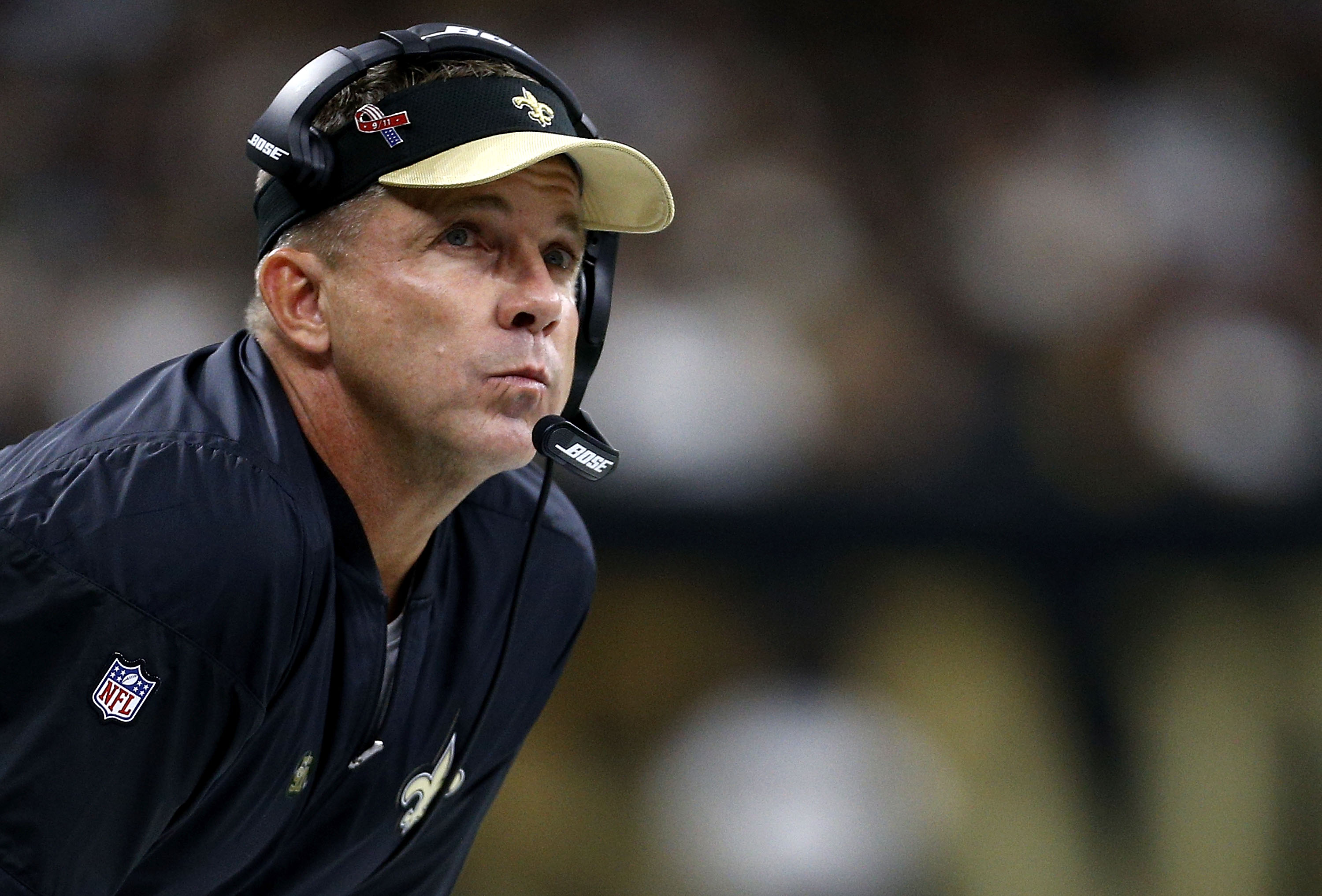 After a few surprising results to start the 2016 NFL season, there are a handful of coaches desperately trying to grab a win in Week 2.
We're just one week into the 2016 NFL regular season, and fan bases across the country are already starting to get into "everybody panic" mode after their respective teams lost in Week 1.
An 0-1 start isn't the end of the world, but losses in the first two games isn't how any team wants to start the year off. If these coaches want to keep their jobs after the end of the regular season.
5. Sean Payton – New Orleans Saints
There were rumors this past offseason that New Orleans Saints head coach Sean Payton would be coaching another NFL team this year. Although the Saints kept Payton around for 2016, an 0-2 start for 52-year-old wouldn't bode well for his long-term job security.
The Saints offense looked great in Week 1, but a two-point conversion at the end of the game helped the Oakland Raiders pull off the win in a shootout. Now, Payton will have to has his team mentally prepared to take on a New York Giants squad that showed some serious promise against the Dallas Cowboys.
Payton has always relied on his offense to carry him to the playoffs, but the defense is a serious problem once again in 2016. They'll be going against a rejuvenated Giants offense that has Odell Beckham Jr., Victor Cruz and the rising rookie Sterling Shepard. When your top cornerbacks are P.J. Williams and Delvin Breaux, good luck trying to stop that passing attack.
If that defense can't slow Eli Manning and company down enough to win, then Payton's going to start sweating a bit.
4. Gus Bradley – Jacksonville Jaguars
In all honesty, Gus Bradley and the Jacksonville Jaguars played one heck of a game against the Green Bay packers in their season opener. Unfortunately, close only counts in horseshoes and hand grenades, and the Jaguars are now 0-1.
Expectations are probably as high as they've ever been in Jacksonville. Blake Bortles is surrounding by some legitimate talent with Allen Robinson and Allen Hurns at wideout. Meanwhile, the defense is building around young guys like Dante Fowler Jr. and Jalen Ramsey.
With so much young talent on both sides of the ball, fans will quickly start blaming the coaching if the Jaguars can't start winning games. It will be even easier since fans can point to the failed 4th and 1 conversion at the end of Week 1 when Bradley and the coaching staff called a bubble screen that was quickly snuffed out.
In order to start living up to the hype, the Jaguars have to start piling up some wins, and this week's matchup against the San Diego Chargers is one that they need to have. If the defense can frustrate Philip Rivers and the receivers can get open (unlike last week), then Jacksonville should be able to win this game.
If they don't, then the Jaguars are going to have a much harder time competing in the AFC South. Then again, this is Jacksonville we're talking about. Would anyone really be surprised to see the Jaguars stink again?
3. Chuck Pagano – Indianapolis Colts
Just look at that face. That is the face of a man who is constantly frustrated by a team with sky-high expectations and a roster filled with more holes than swiss cheese that went through a shooting range.
If it weren't for Andrew Luck, the Indianapolis Colts would have been embarrassed by the Detroit Lions in Week 1 (although losing the Lions is pretty embarrassing on its own). Now, the Colts have to try and pull out a win against the Denver Broncos. The good news is that Indianapolis has had success against Denver in the past couple of years. The bad news is that the Broncos have arguably the best defense in football, and the Colts offensive line could struggle to keep Luck from getting annihilated play after play.
The defensive secondary is in shambles while Vontae Davis is injured and the biggest playmaker on that side of the ball is a 5,000-year-old Robert Mathis. If they can't slow down Trevor Siemian, then who will they be able to slow down? At this point, I'm not convinced that the defense could stop an offense run by Curtis Painter and coached by Jeff Fisher.
General manager Ryan Grigson deserves as much (if not more) blame as Pagano for this mess. The talent simply isn't there for the Colts due to missed draft picks and questionable free agency pickups. A great example of that is the 2013 draft class, with none of the players the Colts picked in that draft still on the team.
If the Colts go 0-2, fans are going to start asking Jim Irsay why he kept the two around in the first place.
2. Jay Gruden – Washington Redskins
You know your team is in great shape when your head coach is a former six-time ArenaBowl champion. Heck, Washington Redskins coach Jay Gruden is even in the Arena Football Hall of Fame! How many NFL head coaches can say that, huh?
Unfortunately, a former AFL, WFL and CFL quarterback doesn't know a whole lot about coaching an NFL defense. Even with a "lockdown" cornerback in Josh Norman, the Redskins defense gave up 38 points and 435 total yards to the Pittsburgh Steelers. Norman, meanwhile, was continuing to talk trash while his team was getting blown out and he was staying away from Antonio Brown for most of the game.
Washington will be taking on Dak Prescott and the Dallas Cowboys this week. If the Redskins didn't look interested in tackling any Steelers players on Monday Night Football, are they really going to be interested in trying to take down guys like Dez Bryant and Ezekiel Elliott? I don't think so, especially if Zeke runs like he did in the preseason against Kam Chancellor and the Seattle Seahawks.
On the bright side, at least we can expect Norman to keep trash talking with Dez while the Cowboys receiver goes off for 100-plus yards and two touchdowns. That's almost a guarantee.
If their defense can't slow down a rookie quarterback who looked just ok last week against the Giants, then it's going to be a long season for the Redskins and Gruden. Actually, it's probably going to be a long season for the Redskins because Kirk Cousins is their quarterback, but I digress.
1. John Fox – Chicago Bears
Poor John Fox. Not only did the man get to coach Peyton Manning for three seasons without winning a Super Bowl ring, but he also had to coach a 6-10 Chicago Bears squad last year while watching the Denver Broncos win a championship in their first season without him.
All of the Papa John's pizza and Budweiser beer from Peyton isn't going to heal that wound, especially knowing that Gary Kubiak has a ring instead of him.
Now, Fox is stuck with Smokin' Jay Cutler as his quarterback on a team that looks like it's going to finish last in the NFC North even with the Minnesota Vikings losing Teddy Bridgewater for the year. Having Cutler as your QB is like having a teenager arguing you with about his curfew and why he wishes he had cool parents.
Both sides of the ball have their problems, but the Bears have to be able to beat a Philadelphia Eagles team that has a rookie quarterback under center, right?Maybe not. Eagles quarterback Carson Wentz looked surprisingly sharp in Week 1 against the Cleveland Browns. That's not to say that Wentz is the future franchise QB in Philly, but it's not like the Bears defense is much better than Cleveland's.
It's definitely a winnable game for the Bears, but another loss could spell the beginning of the end for Fox in Chicago.
This article originally appeared on