Eagles' Jon Dorenbos makes magic with footballs in latest 'America's Got Talent' trick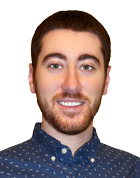 Jon Dorenbos has been double-dipping this offseason between his time with the Philadelphia Eagles and his second "job." During training camp, Dorenbos has moonlighted as a magician on "America's Got Talent," and he's made it all the way to the semifinals.
His previous magic tricks have absolutely stunned the judges, but he didn't use a deck of cards on Tuesday night. He used footballs and a gigantic map of the U.S.
Rather than explaining the trick, it's better if you just watch it and see for yourself.
This is arguably his best performance yet, seeing as he had absolutely no control of where the judges were going to throw the ball. Simon Cowell even missed the board completely with his first snap.
With tricks like this one, it's hard to imagine Dorenbos being eliminated. He could very well win this thing.