NASCAR: Five Drivers Most Likely To Win At Chicagoland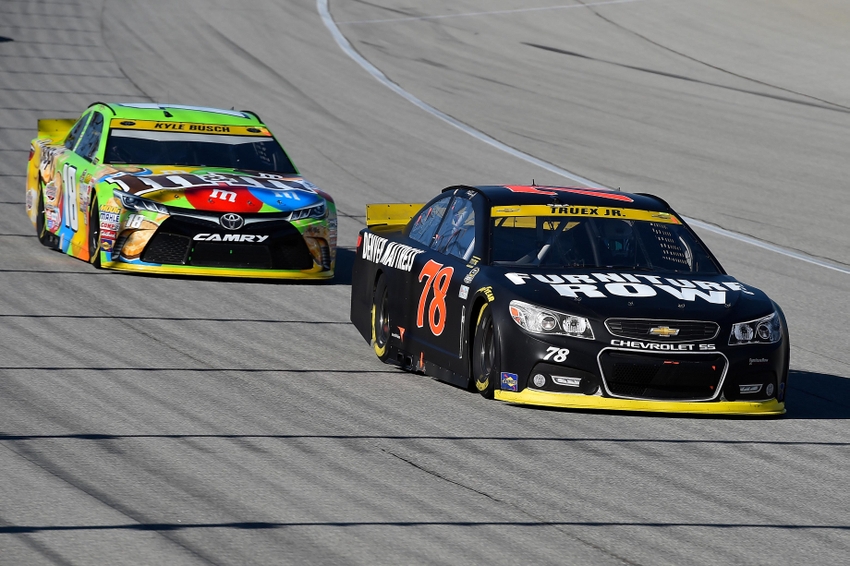 The Chase is finally here and the first test of the Challenger 16 comes in the form of Chicagoland Speedway. Here's five drivers who could win on Sunday.
---
After 26 regular season races, NASCAR's Chase for the Cup is set to begin on Sunday afternoon at Chicagoland.
The Cup Series only visits the track once every season and it always serves as the first race of the Chase. It's the typical 1.5-mile track with the first ever race there coming back in 2001. Just seven drivers in the race on Sunday will be able to say they have made it to Victory Lane there.
Last weekend, we saw a wild race at Richmond featuring driver tension, late-race wrecks and overtime. In the end Denny Hamlin pulled off the win while Chase Elliott, Austin Dillon and Jamie McMurray secured spots in the Chase.
They joined Kyle Busch, Brad Keselowski, Denny Hamlin, Kevin Harvick, Carl Edwards, Martin Truex Jr., Matt Kenseth, Jimmie Johnson, Joey Logano, Kyle Larson, Tony Stewart, Kurt Busch and Chris Buescher–drivers who had secured their spots with a win.
This week, points reset for the Chase and every driver will enter Chicagoland equal. Pay close attention to any Chase driver who is involved in an accident as it likely means they'll go into an early hole in the Chase standings.
With that in mind, let's take a look at five drivers who could win this weekend.
The Favorite: Brad Keselowski
Stats at Chicagoland:
Wins: 2
Top-5's: 3
Top-10's: 5
Laps Led: 144
Average Finish: 10.3
Besides tough rough races in 2009 and 2010, Brad Keselowski has been money at Chicagoland.
Since 2011, he's been on a streak of five straight finishes in eighth or better, which has included two wins and 144 laps led.
His first win came back in 2012, after he led a career-high 76 laps at the track. Then in 2014, he made a late pass on Kevin Harvick to secure his second victory at the track and the first win of the new Chase format. His average finish of 10.3 is third best among active drivers.
Keselowski is currently tied with Kyle Busch for the most wins in 2016. His current numbers–including four wins, 12 top-5's and 17 top-10's–are comparable to the other good seasons he had in 2012 and 2014.
As one of the leading drivers in the Cup Series this season, he'll look to cap off a great 2016 campaign with another championship. Watch for him this weekend as he will try to get off to an early start in the Chase.
Brad Keselowski is your favorite heading into Chicagoland.
Contender No. 1: Denny Hamlin
Stats at Chicagoland:
Wins: 1
Top-5's: 2
Top-10's: 4
Laps Led: 10
Average Finish: 17.1
Denny Hamlin will be entering the Chase with more momentum than any other driver. He has three wins on the season, as he earned his third last weekend at Richmond in an overtime thriller.
His stats at Chicagoland aren't as impressive as the other Chase drivers, but he definitely knows what it takes to get to Victory Lane. Last season, he won there after winning a late restart and controlling just nine laps in the race.
After a disappointing ninth-place finish in the final standings last season, Hamlin will be looking to make his way back to the Championship 4, as he was one of the final four drivers back in the 2014 season.
It's been all about opportunity for him this season. He sneaks into the mix late and either captures wins or earns good finishes. That's what he did at Chicagoland last year and that's what he'll do again this year. Look for Denny Hamlin to be a major contender on Sunday.
Contender No. 2: Martin Truex Jr.
Stats at Chicagoland:
Wins: 0
Top-5's: 0
Top-10's: 2
Laps Led: 67
Average Finish: 16.3
By taking a look at the stats above, you can tell that Chicagoland certainly hasn't been a great track for Martin Truex Jr. over the years.
He's never finished in the top-5 and has just two top-10's as he finished ninth in 2008 and 2012. But last year we saw a change in Truex and the No. 78 team. They were much more competitive and we even saw him lead 39 laps at Chicagoland.
However, the reason why he'll be in contention this weekend is because of how good he is at 1.5-mile tracks.
In 2016, Truex has earned four top-10 finishes out of six 1.5-mile races this season and has an average finish of 8.2 at those tracks. In those six races, he's led a total of 785 laps, with laps led totals of over 100 at Texas, Kansas and Charlotte. That dominating performance at Charlotte earlier in the season saw him stay out front for 392 of 400 laps.
Both this season and last season, we've seen Truex rise as one of the top 1.5-mile racers in the Cup Series. Look for him to earn a career-best finish at Chicagoland on Sunday.
Contender No. 3: Kyle Larson
Stats at Chicagoland:
Wins: 0
Top-5's: 1
Top-10's: 2
Laps Led: 22
Average Finish: 5.0
It's hard to think of Kyle Larson as a weekly contender now, but in the past few weeks, he has proved himself as a worthy candidate.
Coming off of a win at Michigan, a third-place finish at Darlington and a second-place finish at Richmond, Larson is having the best run of his season at the best possible time.
He's only had two Cup Series races at Chicagoland, but he's looked very good in both outings. In 2014, he finished third after leading 20 laps and being passed by Brad Keselowski and Kevin Harvick late. Then last season, he had another solid finish, coming in at seventh.
This is the perfect situation for Larson as he will look to get off to a great start in a Chase that is open for the taking. We've seen dominance from Keselowski and Kyle Busch this season but there's no real front-runner at the moment, and Larson will have the chance to add another great finish to his recent streak of top-5's.
With the streak that he's been on lately and his history at Chicagoland, there's no doubt Kyle Larson is going to be a hot pick this weekend.
The Underdog: Tony Stewart
Stats at Chicagoland:
Wins: 3
Top-5's: 8
Top-10's: 10
Laps Led: 434
Average Finish: 10.4
You don't normally consider a race-winner to be an underdog in the Chase, but Stewart has had some rough outings in his last four races.
However, theres no way you can take him out of the conversation at a track like Chicagoland, where he has the best résumé out of any driver heading into the weekend.
He's won three races at the track, which is the most of all-time. In 2004, he led a career-high 160 laps en route to victory. He won again in 2007 and then one last time in 2011–when he began his stretch of five out of ten wins in the Chase.
From 2002 to 2012, he finished in the top-10 in ten out of 11 races and led 434 laps, which is his career total.
Stewart was able to get to victory lane at Sonoma–another great track for him–earlier in the season. We know he has what it takes to make a run in the Chase and there's a chance we could see more of that magic throughout the final ten Cup Series races of his career.
This article originally appeared on