Rory McIlroy: Apart From Majors, 2016 Was A Pretty Good Year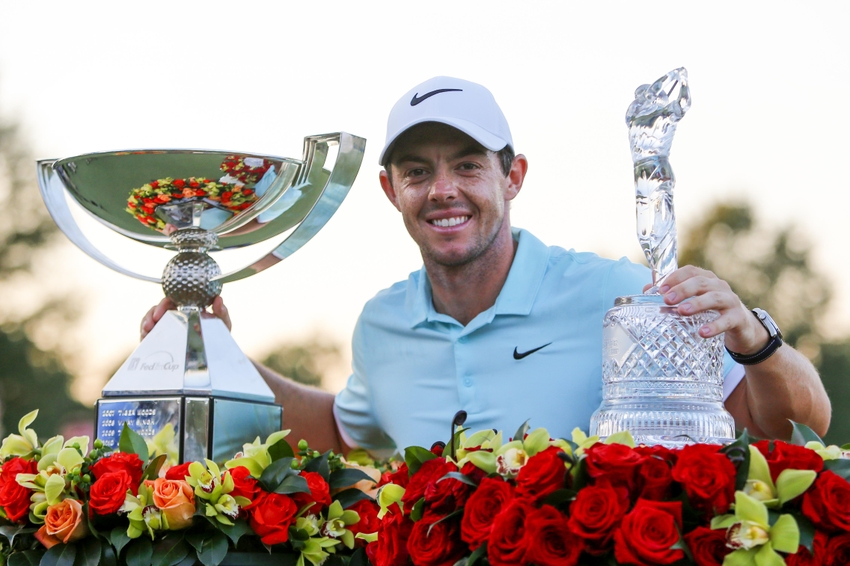 Although he doesn't have a major to show for 2016, Rory McIlroy believes that he had a good year overall.
"I've won a couple of things that I hadn't won before. I won The Irish Open, which, a huge thing personally for me," Rory McIlroy said to media prior to the DP World Tour Championship. "It mightn't be the biggest tournament in the world, but personally to me, in my mind, it is one of the biggest I play all year."
The obvious reason for its importance is that it's in Ireland. However, it's also important to him because his charity (The Rory Foundation) is the host of the event and is also the beneficiary of the tournament. McIlroy donated his winnings to the foundation.
While the Dubai Duty Free Irish Open victory has a special place in his heart, his other big victory this year has a special place in his bank account: The FedExCup and Tour Championship.
"To win the FedExCup, as well, was big. That was something that I hadn't won before, and to win that, and in the fashion that I did, and winning two of the last three Playoff events over there, that was very satisfying," he said.
McIlroy defeated Ryan Moore in a playoff at the Tour Championship. However, he had no major victories, and he missed the cut at the U.S. Open and the PGA.
"I had a top five at The Open but that was soon forgotten because of what Henrik and Phil did," he admitted.  "Going into next year, I'd like to think that my performances in the majors are going to be better."
As far as 2017 goes, McIlroy said he will play a lot of golf prior to the Masters.  Then he will take a few weeks off before The Players.
"I'll play a pretty similar schedule to what I played this year," he noted.
The Irish and Scottish Opens will be played back-to-back in 2017, leading up to The Open Championship. McIlroy likes the schedule.
"It gives guys an incentive to maybe play a little bit more on this side of the pond leading up to The Open Championship, and hopefully that's the case to get some great fields leading up to, in June and July and leading up to The Open," he added.
McIlroy believes he is out of contention for the Race to Dubai because he is now in fourth place in points. However, there is one big prize left for him if he wins the tournament. Until a late withdrawal from Russell Knox reduced the world ranking points on offer at this event, a win would have guaranteed McIlroy of a return to the top spot in the world. While that's no longer the case since McIlroy's time of speaking, a win would narrow the gap between him and Jason Day to leave them virtually neck and neck.
"It's a big incentive for me. It's been a while since I've been in that spot," he said. "The last few years, I knew if I won this tournament, I would win the Race to Dubai. Now I know if I win this tournament, I'll finish the year at world No. 1. So it's a big incentive for me to try and get that back."
As far as the Race to Dubai is concerned, McIlroy thinks Henrik Stenson, who is currently in the lead, and Alex Noren, now in third, are both playing well.  Danny Willett. Masters champion, is in second and has complained of fatigue in recent weeks.
"The three guys that are ahead of me are playing very good golf, especially the two Swedes, Henrik and Alex — Alex with what he's done over the past few weeks — Henrik has had a fantastic year, and so has Danny, obviously," McIlroy said.
"I don't expect those guys to play badly this week. You know, so I'm just concentrating on trying to win the golf tournament and if I can do that, I'll be very happy."
This article originally appeared on