Graeme McDowell Opens Second Nona Blue Restaurant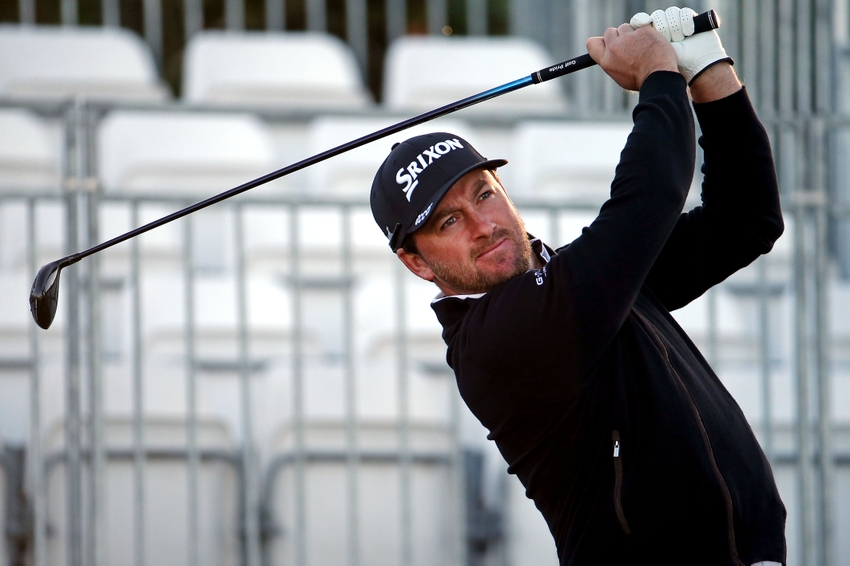 Good food and good times are on the menu at Graeme McDowell's second Nona Blue restaurant in Ponte Vedra Beach, Florida.
Graeme McDowell and his partners, Joe Davi and Billy Bona, were joined by NFL coach Tom Coughlin at the ribbon cutting of his second Nona Blue restaurant in Ponte Vedra Beach, Florida. According to McDowell, the theme for this new establishment will be Portrush.
While the walls are not quite as up to the gills in memorabilia in Ponte Vedra as they are at Lake Nona, they opened the doors by making a $15,000 donation to Tom Coughlin's Jay Fund, which helps families with a child battling cancer.
"It's a wonderful thing to come into the community and give," said Coughlin. The funds were raised by serving the restaurant's pre-opening meals.
"It was practice with a purpose," McDowell said about the fundraiser. However, they hope it shows that they want to be a part of the fabric of the community, not just another business in it.
The original Nona Blue in Orlando is close to where McDowell lives at Lake Nona. He is often seen hanging out, dining and occasionally tending bar.
The name Nona Blue came to the partners by accident while McDowell was playing in the Tavistock Cup. McDowell had just won a point or a match, depending on who is telling the story, and it might or might not have been Tiger Woods that McDowell beat — it goes on kind of like Irish folklore. Regardless of the actual facts, McDowell raised his hand and said, "Go blue," for the Nona Blue team, which was facing the Isleworth team in red.
The trio of McDowell, Davi and Bona had already tossed around 75 names they didn't like, according to Davi, and McDowell's statement on the course just clicked. Nona Blue. Everyone agreed.
If you are wondering — we were — what McDowell likes to eat in his own restaurant, he said he is likely to order a filet with what he calls a "nice red," but he also enjoys the Kansas City strip.
Some menu items were suggested by McDowell based on past experiences. The G-Mac and Cheese with Maine lobster and applewood smoked bacon and cheese sauce was inspired by a dinner McDowell had once in his travels. Ditto for the Banoffee Pie, which includes bananas, toffee, whipped cream and shaved chocolate in a pecan-graham cracker crust.
McDowell said he "borrowed" the dessert from the one invented at The Hungry Monk in England in 1972.
He was also instrumental in working on the Irish coffee recipe.
"It's got to be strong coffee, because the taste of the whiskey and coffee don't want to overpower each other. They have to be balanced," McDowell explained to media before opening the original restaurant. "Little brown sugar in there for sweetness, and the key element is it has to be hand whipped, real whipping cream, and you layer that on top of the coffee. It's awesome. Dangerous!"
Davi said he likes everything on the menu, but is partial to the prime rib, bone-in or the Kansas City strip.
Bona often orders the appetizers and a salad. He is also partial to their guacamole and enjoys the pork tenderloin with a Thai chili sauce.
The menu, according to Joe Davi, who, along with Billy Bona, are the restaurant experts, is mainly American. Their intent is to execute plate-to-plate and cup of coffee-to-cup of coffee.
"Don't fail at the table," Davi said is their motto.
While Davi has worked in management at high-end restaurants like J. Alexander's and Houston's, the prices at Nona Blue are more modest. Appetizers range from $6 to $17, while sandwiches are from $12 to $16. Prime rib is $29, baby-back ribs $26 and 22 oz. Kansas City bone-in strip $42.
Does McDowell offer restaurant advice other than bringing in new menu items?
"They don't give me a lesson on the range, so I don't give them advice in the kitchen," he quipped.
Graeme McDowell will start his 2016-17 season in Las Vegas. He also said he was thinking of playing the CareerBuilder Challenge, because it reminds you of the need to go low.
What would you order at Nona Blue? Let us know in the comments, and keep it here at Pro Golf Now for more updates on the goings-on of your favorite stars like Graeme McDowell.
This article originally appeared on