Davis Love III: Ryder Cup Trophy More Popular Than Captain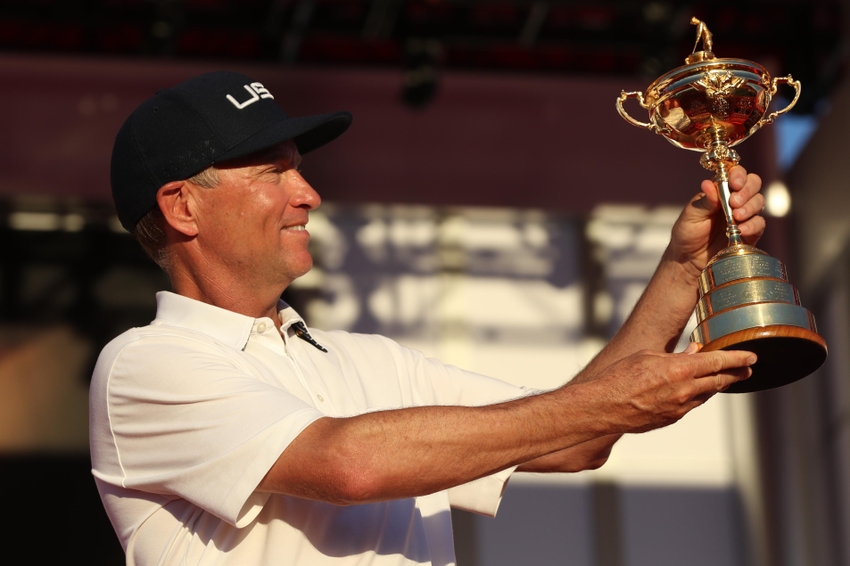 It seems like everybody wants their picture with the Ryder Cup, even when the captain Davis Love III is close by.
Like a new baby in the family, the Ryder Cup is making the rounds with winning captain Davis Love III at the RSM Classic.
"It came in this weekend," Love explained." I didn't take it out on the course with me on Monday or today, but I've had it with me pretty much everywhere else.
It's been in the back of his pickup truck, riding around on Sea Island and St. Simons Island. But when his granddaughter grabbed it, took it to her play tent and put the top of the cup on her head like a hat, that was his favorite.  He posted a picture on social media.
"Amazing, at our house last night, hundreds of people there for the pro-am draw party, and everybody wanted their picture with the cup," he said.  "They've all had their picture with me but they wanted their picture with the cup."
He said he couldn't put it down anyplace because as soon as he did, people were taking off with it for more photos. It was more popular than he was, and he's the tournament host, was just named a Hall of Fame inductee, is a former PGA Champ and has 20 PGA Tour victories, a number that gives him lifetime exemption..
The Ryder Cup victory was kind of a big deal. Even now, six weeks after the team victory at Hazeltine, Love gets choked up about it.
"I could be talking to you guys or to friends or watching it on TV, I still get emotional," he admitted. "I can't tell a Bubba Watson story or a Ryan Moore story without the emotion coming out. It's still exciting."
He has yet to watch the entire telecast.  Just the end of it.
The pressure of not having success in so many years was getting to the U.S. players, he said.  The joy of having success with the recent team seems to have turned things around for the U.S.  Importantly, they are not going to throw away their success playbook from 2016.
"In years past there was a captain, as Phil (Mickelson) said several times, there was a captain that did his own thing," Love explained. "Then you play the matches and you get another captain. He would do his own thing."
They've now agreed to combine their collective knowledge and the knowledge of former players.
"We have a system, and we frankly sat down and said, this is what Tom Kite did well, this is what Lanny Wadkins did well. This is where David screwed up, and here's what we need to do to build on that," he continued. "Paul Azinger really started something of kind of a system of getting his players prepared and ready, and we really didn't grab ahold of that and use it year after year.  That's what Phil was basically saying.  We need continuity and consistency."
Next time, Love assured , the group that selects the next captain will hand off the combined knowledge of past captains to the next one and say this is what we want to keep doing.
They've already had one conference call to discuss the successes and failures of the 2016 Ryder Cup. Another one is scheduled in the weeks ahead.
"We've been watching Europe," Love added. "Darren Clarke's been around for a long time.  He was very prepared as a captain. He knew their system, and he's going to hand that off to the next guy, and I'm sure help out whoever the next guy is on their side. So we learned from them a lot."
What is Love going to do now that he has much more free time without the Ryder Cup organizing to occupy him?  He's on the PGA Tour Players Advisory Council again. And he'll serve for a while as new commissioner Jay Monahan takes over.
"I think I've got this year and next year on the board," Love sad. "Tim (Finchem) really wanted me to run again just because he knew he was going out and Jay was starting over, and again, a little continuity and consistency.   A guy who's been to 50 board meetings is nice to have in the room, so it would be nice to help Jay out."
And, he insisted, he owes a lot of time to his family.
This article originally appeared on