Tennessee Lady Vols Thumped by Baylor: 5 Takeaways from their 88-66 Loss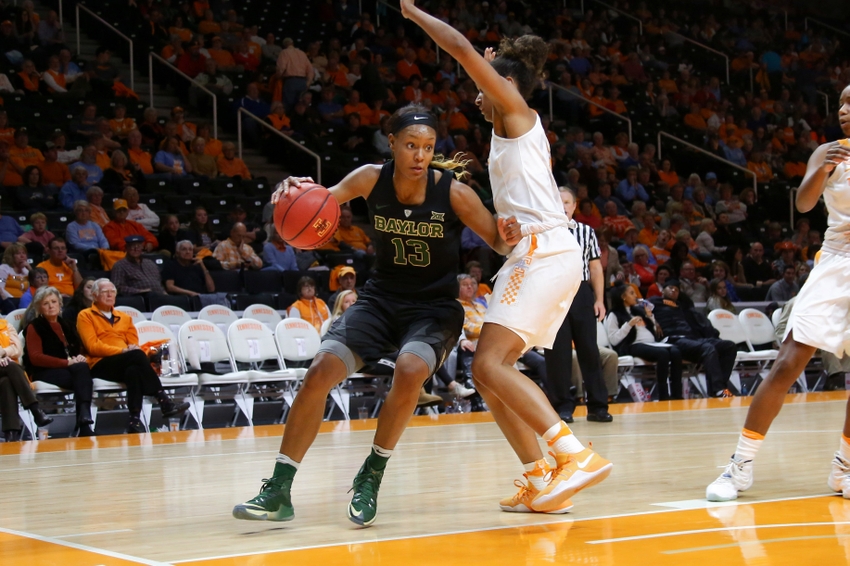 The Volunteers women's basketball team got destroyed by the Lady Bears Sunday. Here are five takeaways from the Tennessee Lady Vols' loss.
Well that was embarrassing. With a chance to right the ship in front of their home crowd Sunday afternoon, Holly Warlick's Tennessee Lady Vols got destroyed by another elite team.
This time, it was the No. 4 ranked Baylor Bears in the SEC vs Big 12 challenge. The Lady Bears marched into Thompson-Boling Arena and had their way with the Lady Vols from start to finish.
Despite double-doubles from Mercedes Russell and Jaime Nared along with Diamond Deshields scoring in double-figures, this team looked overmatched in every way.
Currently ranked No. 22 with a 4-3 record, this time is likely to fall right out of the Top 25 once again with losses to two unranked opponents and now a blowout loss at home.
They get a week to regroup, but the No. 14 ranked Texas Longhorns are next on the schedule. Warlick's group travels to Austin in a week for that game.
But before moving onto that, here are five takeaways from the Tennessee Lady Vols' embarrassing loss to the Bears.
1. Mercedes Russell has major issues on defense.
It's hard to harp on Mercedes Russell as the biggest star on the Tennessee Lady Vols when she comes through with 22 points and 12 rebounds. But despite racking up stats, she got abused in the paint. At one point, the Lady Bears were outscoring the Lady Vols 30 to 8 in the paint. They had 50 points in the paint going into the fourth. Sure, Russell had four blocks, but she was gambling too much and not getting actual stops most of the time.
Meanwhile, the three forwards for Baylor had 38 points. That included 20 points from Nina Davis and an impressive 10 points from Khadijiah Cave, who came off the bench to go five-for-five from the field. But the interior defense wasn't the only problem on Sunday.
2. Perimeter defense remains a huge issue.
This is something that dates back to last year with this team. If the ever face a unit that can go up-tempo and shoot from the outside, they get into serious trouble. Baylor had 22 assists to only eight turnovers in this game, and they shot 39 percent from three-point range, making seven of them.
The star of the day for Baylor was senior Alexis Jones. She had 30 points on 11-of-25 shooting, including going five-of-nine from the three-point line. Jones added 10 assists and three steals and had only one turnover. But she also outplayed the Vols in the paint as a guard, getting nine rebounds.
3. Offense is developing its scoring identity.
This is one small bit of good news from the game. Despite the Tennessee Lady Vols' terrible defense, they are going back to playing Pat Summitt's style on offense. Using the inside-out method, Mercedes Russell is living up to her superstar billing on offense. And on Sunday, while she was scoring in the paint, she had help on the outside from Jaime Nared. And Diamond Deshields still provides the scoring diversity.
So the Tennessee Lady Vols do have the potential to have a complete offense. However, with these three scorers, one thing has to improve.
4. Passing looks awful.
It's a basic part of basketball, and the Tennessee Lady Vols aren't doing it. This team finished the game with 12 assists to 15 turnovers. Despite being a team meant to go inside-out, they can't get a rhythm doing it on offense because they can't make the right pass.
This is something that does come down to coaching. Holly Warlick has to make sure her that Mercedes Russell can kick it back out if she is contained under the basket. Meanwhile, Diamond Deshields has to play calmer. She is looking like a young Russell Westbrook out there with her reckless attacking of the basket. And that hurts the ball movement even more.
5. There is still no depth.
This is the exact opposite of the men's basketball team right now, even if the talent is not on the men's team. The Lady Vols just can't run too many players. Holly Warlick has only been able to go eight-deep all year, and it continues to be a problem. She is clearly banking on her new crop of recruits coming in next year.
And she'd better. Because if they don't work out, she'll be in serious trouble. It looks like this year could be a loss, though, while the Tennessee Lady Vols wait.
More from All for Tennessee
This article originally appeared on