Notre Dame vs Bryant: 5 Things We Learned in Irish Victory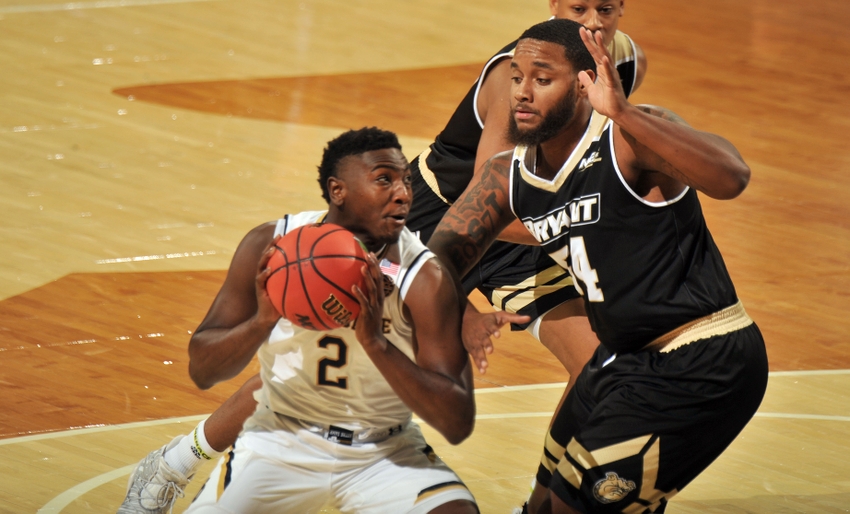 Notre Dame defeated Bryant in the first game of the season. Here's what we learned.

89

64
1. Expect frustrations
Grab the stress ball, bring out a pillow to punch or scream into because watching the Irish will not be for those who struggle with high heart rates.
The Irish will play similar to how they have in the past. There will be some good win that makes you think this team is the real deal, and there will be some horrible losses that will get you questioning if they can even make the tournament.
The most frustrating factor that will come with this season is that you will see the potential of this team, you will see just how special they really are, when they want to show you. In the first half against Bryant we saw what made this team look deadly but only flashes of it every so often. The second half showed us more of what the Irish want to look like outscoring Bryant 46-33.
2. Ball movement is key
When Notre Dame looked their best was when the ball was swinging all around and through the arc. For this team to be special they will have to feed off of the talent on the roster, and what better way to do that than recognizing the speed and court awareness they possess?
V.J. Beachem, Steve Vasturia, Matt Ferrell, Bonzie Colson, these guys all know each other and have created a team chemistry that's hard to match. Not to mention, every one of them is a shooter, Colson even knocked down the first points this season for the Irish with a three.
3. V.J. Beachem is the man
We all knew he would be good, but we didn't know he would be a star. Earlier he was listed on the Preseason Naismith top 50 watch list, and he showed why.
Beachem will be that go-to player when you need a bucket, he will be that player who goes out and guards the best offensive opponent, he will be that player who Notre Dame will rely on and will keep the Irish in close games. In short, V.J. Beachem will be that player.
Want your voice heard? Join the Slap the Sign team!
4. Beachem and Bonzie Colson can score at will
The other high scorer against Bryant was Bonzie Colson. 23 points shooting 8-11 and of course, the three to start off the game, it was evident Colson found his rhythm. He still plays like that of an old man at the local YMCA, but it works. He's got a little bit of grit or chip on his shoulder mentality and if he feeds off of that Colson will have a season to remember.
Beachem was the guy to go to for many offensive possessions, racking up 22 points. He could do it from anywhere. He knocked down a three-pointer that we will see much more of as the season goes along, his drives to the rim always resulted in a smooth transition and a solid finish with benefit from his crazy wingspan.
The shot we saw today could be the most deadly in college basketball. His mid-range pull-up is as smooth as it gets. Beachem is going to be tallying up points all season at either elbow. When he adds his little fade-away to it, there's not a player in the NCAA who can block it.
5. Questions remain about the big men
The same question everyone had going into this game is the same question we have now. Does Notre Dame have a solid big man?
Colson played well and also had nine rebounds, bu Colson is not a true big man. Also, Bryant doesn't have a good enough big man to see how Colson could stack up with on both ends.
The man we heard so much about his improvements and of Brey simplifying his position was Martinas Geben. With five defensive rebounds four points and only 12 minutes, it was evident Geben did not have a game to remember.
This might not have been a problem against Bryant, but it will be against future opponents.
Extra: Trust the process when it comes to Temple Gibbs
Today we got to see Notre Dame's standout recruit, Gibbs. Gibbs didn't do anything special against Bryant, but we did see some good things.
The most important thing we saw was that he fits into Mike Brey's system. He is going to find his place on this team, and he is going to have some great games. As this season goes along and as he gets more comfortable at the college level, Gibbs will prove to be a valuable player.
The most exciting thing to take out of this is that we will not have to wait to see Gibbs true potential until next year. He already is a solid enough player that this season will hold some special moments for the freshman.
This article originally appeared on