Michigan State Basketball: Gavin Schilling suffers non-contact knee injury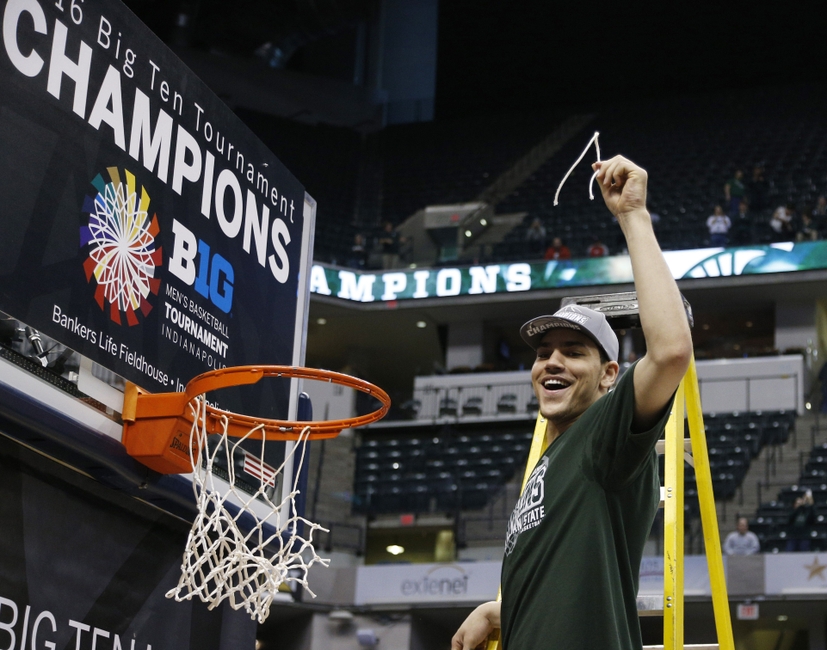 Michigan State basketball has lost two forwards to knee injuries this off-season.
Ever since Michigan State's devastating loss against the Middle Tennessee State Blue Raiders in the first round of the NCAA Tournament, it seems like nothing has been going Tom Izzo's way. Losing their most promising front court player in Deyonta Davis to the NBA Draft is one thing, but losing their two veteran big men to injuries suffered during practice is another.
We already knew that UNLV graduate transfer Ben Carter is out an extended period of time with a knee injury that requires surgery. But now, senior big man Gavin Schilling will be down for an indefinite amount of time due to a non-contact injury that happened last Friday.
Schilling's injury (the specifics are not mentioned in Michigan State's release) will require surgery.
"This is certainly an unfortunate setback for Gavin, as he had been practicing very well," Izzo said in a statement. "He had an incredible summer and was in excellent shape as he was ready to make his senior season his best one yet."
We won't speculate on the timetables regarding both injuries, but this will be awfully difficult for the Spartans to overcome. Four-star center Nick Ward, who Izzo has been raving about this off-season, will have to step in immediately as a likely starter and Kenny Goins will also be heavily involved in the team's game plan.
More from Busting Brackets
Beyond Ward and Goins, Michigan State has no forwards or centers that are expected to be in the team's rotation. That means Izzo will play a lot of small ball with small forward Miles Bridges playing hefty minutes at the four and five positions. A lineup with Bridges at center and four guards flanking him on the perimeter would create a five-out style of offense that would pose major mismatches.
The problem would lie on the defensive end, where experienced teams who know how to slow the pace of the game down and take advantage of Michigan State's lack of size in the paint will be able to overcome the Spartans' speed and quickness.
Also, would this team wear down over the course of the season? They will have to play faster, plus battling more physical players in the post every night could be a cause for concern for Bridges.
On top of trying to fluctuate lineups, Michigan State also has a beyond brutal non-conference schedule. Their first two games are against Arizona and Kentucky, while they also compete in the Battle 4 Atlantis tournament over Thanksgiving break and play at the Cameron Indoor Center against Duke. That's all before Big Ten play tips-off!
Michigan State could miss out on opportunities to build their resume with victories, but if Carter and Schilling are back for conference play, or even March Madness in general, the Spartans will be a dangerous team to watch out for.
With Izzo as the head coach, there is no need to panic right now. The Spartans are not dead in the water just yet.
This article originally appeared on