Men's Tennessee Basketball Dominates Presbyterian 90-50: 5 Takeaways from Vols Win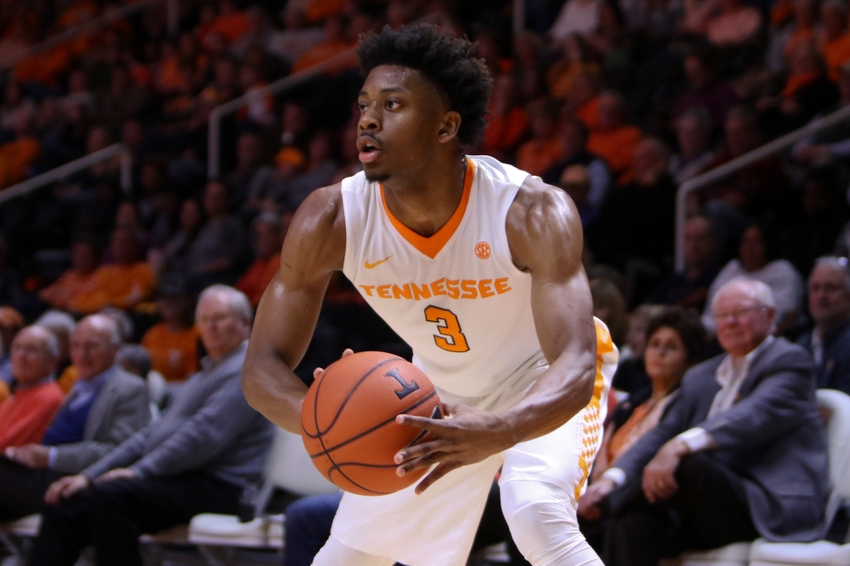 The men's Tennessee basketball team scored its third straight blowout by beating the Blue Hose 90-50. Here are five takeaways from the Volunteers' victory.
Tennessee basketball has moved to 4-3 and has a winning record for the first time this season. The Vols did it in dominating fashion with a 40-point blowout victory over the Presbyterian Blue Hose on Tuesday night.
Tennessee dominated from tipoff and kept its offensive firepower going all night. Two Jordan Bowden free throws put them up 2-0 early, and they never lost the lead after that.
Rick Barnes's team did not let up after a 40-28 lead at halftime either.
As the win moved the Vols to 4-3 on the year, the loss dropped the Blue Hose to 3-5 on the year. The young Vols are clearly beginning to find a rhythm in the midst of this brutal December stretch.
Here are five takeaways from their win.
1. Lamonte Turner finally showed his potential as Kevin Punter's replacement.
Rick Barnes's long-term goal was always for Lamonte Turner to be his next combo-guard that replaces Kevin Punter. That looked like a pretty good plan on Tuesday night. Turner finished the game with 24 points, going 8-of-12 shooting the ball and 7-of-11 from the three-point line. But that's not all he did.
Turner also had three rebounds, three steals, and three assists off the bench. His efficiency shooting the ball hasn't been there all year, but it really came through Tuesday. If that keeps happening, Barnes will have a plethora of guards to choose from to score. That brings us to our next guy.
2. Jordan Bowden is very aggressive in a good way.
This has not been paying off over the past few games with the exception of his 11-point performance against Chaminade, but Jordan Bowden is showing aggression as an off-guard that Tennessee basketball has been trying to get from Robert Hubbs III for three years. It paid off again Tuesday night.
The 6'3″ freshman scored 21 points on the night. He went 7-of-13 shooting the ball, including going 5-of-10 from the three-point line. He also had five rebounds, two assists, two steals, one block, and no turnovers. Bowden loves to be all over the court, and if he can control that aggression, his future is extremely bright. But speaking of Hubbs…
3. Robert Hubbs III is finally showing scoring aggression consistently.
Entering his senior year, we might be seeing a new Robert Hubbs. And it's a long time coming. The guy had his sixth game in double-figures this year, and Tennessee basketball has only played seven games. He is finding ways to get to the basket, and the best part is he is doing it efficiently, shooting 49 percent from the field.
This is all happening despite the fact that his three-point shot has not begun to fall yet. He's only shooting 14 percent from beyond the arc, and the law of averages combined with his skills says that's bound to go up. Already averaging 13.8 points a game, he could up it to 15 if he can get that three-point average up. And that's huge.
4. Tennessee basketball guards will sometimes have to make up for lack of inside scoring.
None of the Vols' forwards scored in double-figures Tuesday night against the Blue Hose, but it did not matter because of how Turner, Hubbs, and Bowden went off. That might have to happen a few times this year given the fact that the real big guys on the inside are raw or soft for Tennessee and the point-forwards can be inconsistent.
If that happens, it will be up to the guards to carry the scoring. The good news is they can due to the fact that the inside players don't lose other assets. Kyle Alexander had three blocks Tuesday, and Grant Williams had eight rebounds. Admiral Schofield added three rebounds in his return off the bench. And their defense should help the guards carry them if they're off because of this last takeaway.
5. Tempo is paying off.
Rick Barnes wanted to emphasize tempo for Tennessee basketball the minute he arrived in Knoxville. It's really working right now. We're not going to read too much into the Vols' low turnover numbers this game because of who they were playing.
But they did force 22 turnovers. They have now forced at least 18 turnovers in every game except for the opener against the Chattanooga Mocs.  And in this game, they also had 18 assists. This is exactly what Barnes was going for from the start. If the offense can stay efficient and under control, his chaos-based system could do wonders for this young team.
This article originally appeared on