ASU MBB: The Wait is Over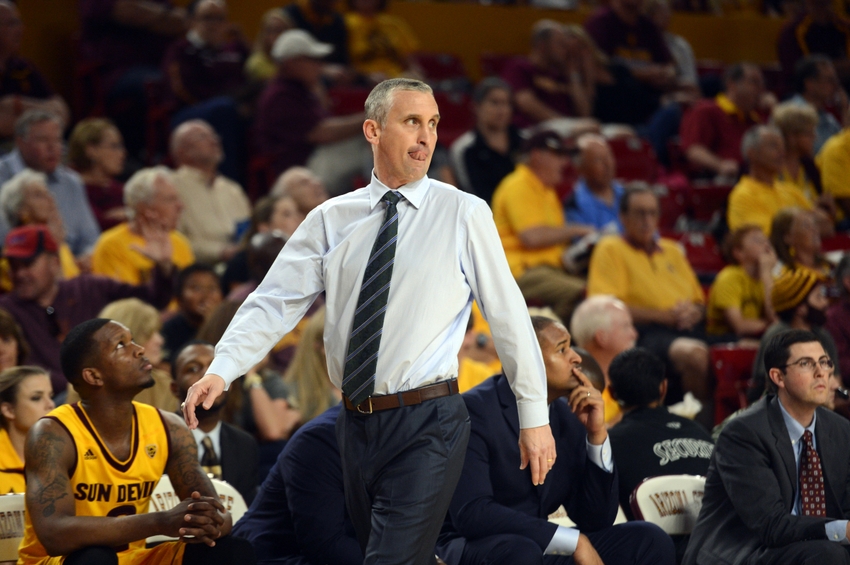 With much anticipation, Year Two of the Bobby Hurley regime begins but this is Hurley's first team in Tempe.
After a blazing 10-4 start to what was expected to be a rebuilding year, the Sun Devils lack of depth and skill caught up with them as they trudged to a 5-13 record in Pac-12 play and missed out on the postseason altogether.
In the months since the 2015 season came to an end, Buffalo transfers Shannon Evans and Torian Graham regained their eligibility while Hurley put together a top-20 recruiting class headlined by four-star prospects Sam Cunliffe, Jethro Tshisumpa and Romello White.
In his first season, Hurley was left with Herb Sendek's pieces following the former head coach's firing.
From Sendek's team, forward Obinna Oleka and guards Tra Holder and Kodi Justice have proven to be pleasant surprises and earned increased roles in Hurley's system.
More from Devils in Detail
In an exhibition game against UC-Santa Cruz, Hurley put out a new-look starting five of Holder, Evans, Justice, Cunliffe and Oleka suggesting that the Sun Devils will play a lot of four-guard small-ball with Oleka used as somewhat of a tweener.
There will be vulnerability on the offensive glass, but Hurley runs an up-tempo system with Holder and Evans at the point, who can both push the ball very quickly and give the Sun Devils the capability to score often.
ASU has some depth in the frontcourt but the reason for small-ball comes more from a lack of experience. Tshisumpa along with Ramon Vila and Andre Adams provide much-needed size but all three are still considered raw talent with Tshisumpa lacking an offensive game while Adams is still not at 100 percent after sitting out with a torn ACL.
To open the season, ASU will face Portland State out of the Big Sky. The Vikings are coming off of a 13-18 season and lost their top three scorers from 2015.
Former Sun Devil guard Caelen Robinson leads the team offensively while forward Braxton Tucker returns from a knee injury that kept him out after a promising sophomore campaign two season ago.
Players to Watch
The Vikings possess a lot of size in true freshman forward Brendan Rumel (6-10, 235 pounds) and Incarnate Word transfer Traylin Farris (6-8, 225 pounds). Both are fairly polished in the low post, which will force Hurley to use his big men or use the speed of his guards to stretch the floor and get them out of the game.
For ASU, Torian Graham could prove to be the x-factor this season. Once a top-75 recruit out of high school, Graham has had a bumpy road to Tempe but has shown why he was once so highly regarded.
Graham recorded 23 points in the exhibition, notably with an accurate three-point shot and high drive to get to the rim. He can provide instant offense off the bench and could be a difference maker tonight and going forward.
As a proven champion, losing will not be accepted with Hurley and tonight is an opportunity for him to make a statement.
ASU will tip-off its season against Portland State at 7 p.m. tonight. The game can be viewed on Pac-12 Networks.
This article originally appeared on