WWE SmackDown Live Results: Highlights, Analysis, and Grades for November 8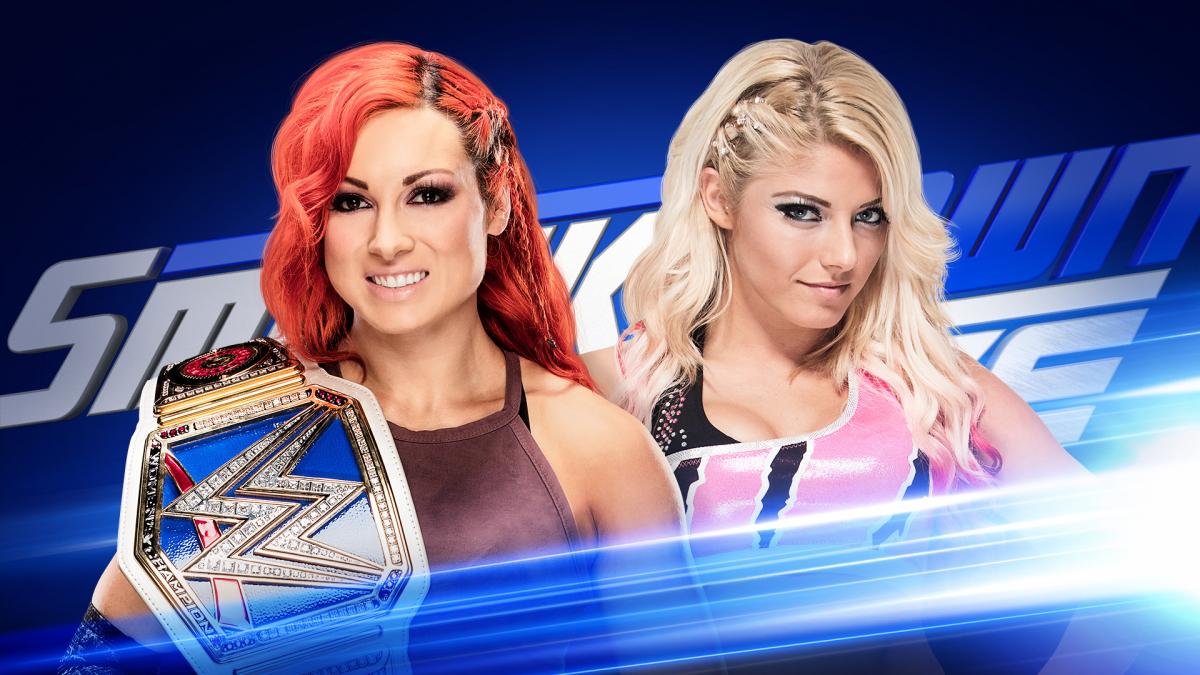 For the first time in history, SmackDown will emanate from Glasgow, Scotland. Here is everything you need to know heading into the November 8 episode.
On Tuesday, the much-anticipated Women's Championship match between challenger Alexa Bliss and the champion Becky Lynch will take place. By far the most hyped match of the night, both women will look to create a classic which rivals their competition on RAW.
Following the decimation of Kane last week, Randy Orton and the Wyatt Family continue to explore their newfound alliance. Both Orton and Bray have been announced as members of Team SmackDown at Survivor Series, so expect them to have some interaction here tonight.
With only twelve days left until Survivor Series, SmackDown finds itself in need of one more tag team to represent the brand. Currently, the only teams left to compete are BreezeDango and the Vaudevillains, and both are rather low on the card. A big win here tonight could do wonders for either team, and with Survivor Series on the horizon, the SmackDown roster needs to look as strong as possible.
As for the Miz, everything seems to have run afoul for the former Intercontinental Champion. This past Monday Raw's Sami Zayn became the number one contender for the Intercontinental Championship. Last week Miz found out that he was left off team SmackDown as well. The Awesome One has been an integral part of the SmackDown roster as of late, so hopefully tonight his direction will become clearer.
Now in possession of the coveted number one contender spot, Dean Ambrose has finally shaken off his recent string of bad luck. Thanks to an inadvertent assist by James Ellsworth, Ambrose is set to battle AJ Styles at the TLC event this December. Before they get to that match, however, Ambrose and Styles will be part of Team SmackDown at Survivor Series. With tensions at an all-time high between the two, will they even be able to co-exist?
So without further ado, here is the coverage for the November 8th episode of SmackDown Live.
AJ Styles Kicks Off SmackDown Live
Before AJ Styles kicks off the show, it's announced that the Women's Championship match will be the main event. Also, commentator Tom Phillips was introduced as part of the SmackDown commentating team. Phillips has excelled in his commentating role in NXT, so if this is a permanent change it's certainly a welcome one.
The show begins with AJ Styles fuming over his controversial loss in the main event last week. Belittling Dean Ambrose before focusing his rage on James Ellsworth, Styles threatens to beat up both men. He states that Ellsworth wasn't worthy of being flown out to Scotland, and then informs the crowd that he is restricted from getting physical with Ambrose. He transitions to the match at Survivor Series, talking about leading his team before Baron Carbon comes out to the ring. Corbin announces his intentions to deliver at Survivor Series, and then Randy Orton and The Wyatt's come out as well. Ambrose isn't far behind, and he brings out everyone's favorite jobber James Ellsworth.
Styles threatens Ambrose with the numbers game, but Corbin makes his way to the back. Before the other men come to blows, SmackDown Live commissioner Shane McMahon makes his way to the ring. He hypes up both Team SmackDown and James Ellsworth, sharing his belief that cohesion and passion will be their key to defeating RAW. Shane also makes Ellsworth's night when he tells him that he will be SmackDown's mascot at Survivor Series. Finally, Shane announces that Ambrose, Ellsworth, and Corbin will face off against Orton and the Wyatts later tonight.
Breezango vs The Vaudevillians
Result: Breezango defeated The Vaudevillians via pinfall.
Rating: 3.0 Out of 5 Stars
The cameras cut to Becky Lynch preparing for her match tonight before it's announced that Breezango vs the Vaudevillains is next.
Backstage, Shane McMahon approaches Corbin about the match tonight. Things quickly turn sour when the Lone Wolf states that he doesn't want to compete in the match. Shane complies, but now Corbin will face a returning Kalisto tonight.
On a side note, I enjoyed Breezango's entrance immensely. I hadn't seen it prior to this episode of SmackDown, and I'm surprisingly upset about that. This team has the potential to be a solid lower-card act for the Blue Brand.
The Vaudevillains went for the quick win, but Tyler Breeze managed to outlast the onslaught and tagged in Fandango. Shortly thereafter the former Ballroom dancer picked up the win to make BreezeDango the final team to represent SmackDown.
Naomi vs Natalya
Result: Naomi defeats Natalya via pinfall.
Rating: 3.0 out of 5 stars
A teaser for the new Network-exclusive show 205Live aired during the commercial break. If this show is produced correctly, it'll be a great way to introduce the new cruiserweights to the current fanbase. Also hyped is the return of Edge and The Undertaker for the 900th episode next week.
Out next is Natalya for her match against Naomi. SmackDown Team captain Nikki Bella is on commentary for this match, and she brings up the importance of team cohesion at Survivor Series. Before long Carmella comes out to confront Nikki and things get physical quickly. This distraction allowed Naomi to roll-up Natalya for the win. While this match served as a way to promote the female match-up at Survivor Series, it was too short to really ignite anything. Hopefully, next week's episode will allow the female team to form at least some form of a united front.
Following the commercial break, a confident Ellsworth attempts to encourage Ambrose, who isn't happy about losing Corbin. Daniel Bryan approaches both men and tells them that Kane will be their replacement partner tonight. Kane then makes his presence felt, telling Ellsworth not to tag in at all during the match.
Baron Corbin vs Kalisto
Result: No Contest
Rating: 2.5 out of 5 stars
Up next is Baron Corbin versus Kalisto. Before the match even begins, the Lone Wolf assaults the former Lucha Dragon. With little effort, he tosses Kalisto outside the ring, but before he can continue the assault Corbin slips on the apron. This damages his left knee, and Kalisto intentionally attacks the injured body part as revenge for Corbin's previous actions. An angry Kalisto then leaves the ring while Corbin nurses his new injury.
With the limited time they had, Kalisto and Corbin managed to get fans invested in their reignited feud. The "injury" by Corbin appeared legitimate due to both the fall itself and the selling the Lone Wolf provided. As for Kalisto, he looked great during the brief time he spent in the ring. Now that both men seem set to collide again down the road, it's likely that Survivor Series will host their next encounter.
SmackDown Women's Championship Match
Becky Lynch (c) vs Alexa Bliss
Result: Becky Lynch retains against Alexa Bliss via submission.
Rating: 4.0 out of 5 stars
After the commercial break, a video package airs which highlights the rise of Becky Lynch and the emergence of her challenger Alexa Bliss. It also highlights their feud up to this point, and if the quality of the video is anything to go by this match will excite. Bliss then makes her way down to the ring, which is surprising given that this match was announced as the main event. Backstage, it's announced that Corbin's injury will necessitate him being replaced at Survivor Series.
Once the cameras transition back to the ring, the SmackDown Women's Champion Becky Lynch makes her entrance. Although this championship match was slated to be the main event, I guess time constraints or a last-minute change reversed that decision. This didn't stop either woman from putting on one of the strongest female showing on SmackDown in recent memory. Both played their roles perfectly, with Bliss displaying her aggressive tenacity and Lynch playing the resilient champion. There were several times throughout the match where it seemed Bliss was going to win, but each time the champion managed to kick out. Ultimately Lynch would come back and lock in the Disarmer, securing the tap out win. However, it's shown that Bliss had her foot on the bottom rope, which in turn ensures a rematch down the road.
Apollo Crews vs Curt Hawkins
Result: Curt Hawkins defeats Apollo Crews via pinfall.
Rating: 2.0 out of 5 stars
In the backstage area, Bryan and Shane are once again discussing the upcoming Survivor Series event. Both men announce their intention accept Stephanie McMahon's invitation to RAW this Monday before the Miz and Maryse arrive. Bryan then announces that for allowing Sami Zayn to compete for the Intercontinental Championship, Kalisto will have the opportunity to fight RAW's Brian Kendrick for the Cruiserweight Championship. This match will take place at Survivor Series as well, but a match is also added to next week's show. Maryse accepts an Intercontinental Championship match for next week on behalf of the Miz, who didn't appear too happy with the decision.
SmackDown's historic 900th episode is already forming into a must-see event, and this title match showcases WWE's attempt to raise the brand's significance.
Out next is Apollo Crews, who is set to go one on one with Curt Hawkins. Throughout the past several weeks both men have seen their stocks fall in the company, so a win tonight would've been beneficial for either man. Surprisingly, tonight saw Hawkins gain the win over Crews, and now he has managed to regain at least some of the momentum he lost last week.
Randy Orton, Bray Wyatt, and Luke Harper vs Dean Ambrose, Kane, and James Ellsworth
Result: The Wyatt Family defeated Ambrose, Kane, and Ellsworth via pinfall.
Rating: 4.0 out of 5 stars
When we come back from commercial break, Renee Young is interviewing Dolph Ziggler backstage. He hypes up his upcoming title matches against Miz and Zayn before the interview concludes.
Up next is our main event, and a united Wyatt family make their way down to the ring. This is the first time all three men have made their entrance together on television, and Orton seems to have meshed well with his new brethren thus far.
During the closing moments of the match, Kane and Harper battled to the backstage area, which gave Ellsworth the opportunity to make the hot tag. At that moment, the Glasgow crowd came unglued, but a Sister Abigail courtesy of Bray quickly ended his night. After the match, it appears Ambrose was going to receive a post-match assault, but Bryan and Shane made their way to the ring. Bryan then made the announcement that he would like Shane to be the final member of Team SmackDown. While he appeared hesitant at first, Shane accepted the offer and will now compete in his second match this year. The crowd then joined Shane and company in a Yes chant to close out the show.
All in all, this a strong end to an above-average episode of SmackDown. While this week highlighted the potential of the Blue Brand, it'll be next week's show to look forward to. Big returns by both Edge and The Undertaker, as well as the Intercontinental Championship match, will be sure to draw a huge audience for next week's show.
This article originally appeared on