The Undertaker returns to WWE SmackDown Live (Video)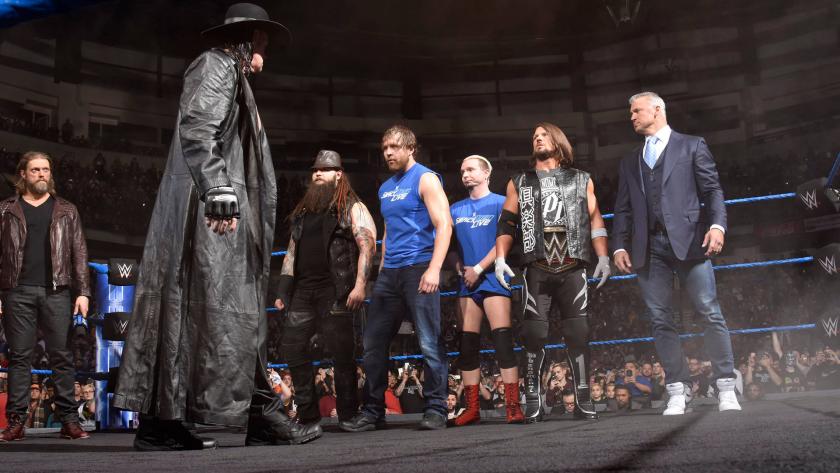 The Undertaker delivers two messages to the entire WWE roster and the WWE Universe, with long-term and dramatic implications .
The Undertaker returned to WWE Television Tuesday night on SmackDown's historic 900th episode, as imposing and charismatic as ever. This was the first time he has been seen since his Hell in a Cell match with Shane McMahon on WrestleMania 32.
Speculation has run rampant as he has been photographed on crutches and spending some time with the Cleveland Cavaliers on their opening night, but no one has been able to figure out the Deadman's true intentions until Tuesday night. Not only did he tip his hat to Shane McMahon and pledge his allegiance to the SmackDown brand, but he also delivered two messages to the WWE Universe with potentially massive implications.
For his first message, his quote speaks for itself, "WrestleMania will no longer define who I am. I'm back, taking souls and digging holes." His entire appearance was met with an overwhelmingly positive reaction from the Pennsylvania crowd, but hinting at his return to part-time work was met with even more thunderous approval. He left his message cryptic, but it certainly seems as though he has more than one WrestleMania match left in him, as many have speculated. WWE fans can be excited at the prospect of seeing the Undertaker much more than they had previously dreamed.
His second message, however, has more clear ramifications. In reference to Survivor Series, he addressed Team SmackDown LIVE with the following, "There's no reason to fear failure, but if you fail, you will have reason to fear the Deadman. Team Raw better…rest in peace."
His words are loaded with implications for Survivor Series and beyond. It seems evident that if Team Smackdown loses, which it is seeming increasingly probable that they will, someone is going to have to answer to the Phenom inside the ring.
What can the WWE Universe learn from the Undertaker's enigmatic messages? It seems like plentiful possibilities have opened up. Involvement from Undertaker during the Survivor Series match itself seems feasible. Potential mega-matches with AJ Styles or Dean Ambrose could lay in wait as soon as the Royal Rumble should Team SmackDown falter. A retirement match with John Cena has been rumored for over a year, and that feud could be built with both stars on SmackDown Live.
Regardless of whatever ends up coming out of the Undertaker's return last night, and his appearances in the near future, it surely will be entertaining to see how it all unfolds on the road to the legend's retirement.
This article originally appeared on