UFC Released Chuck Liddell and Matt Hughes to Ease Debt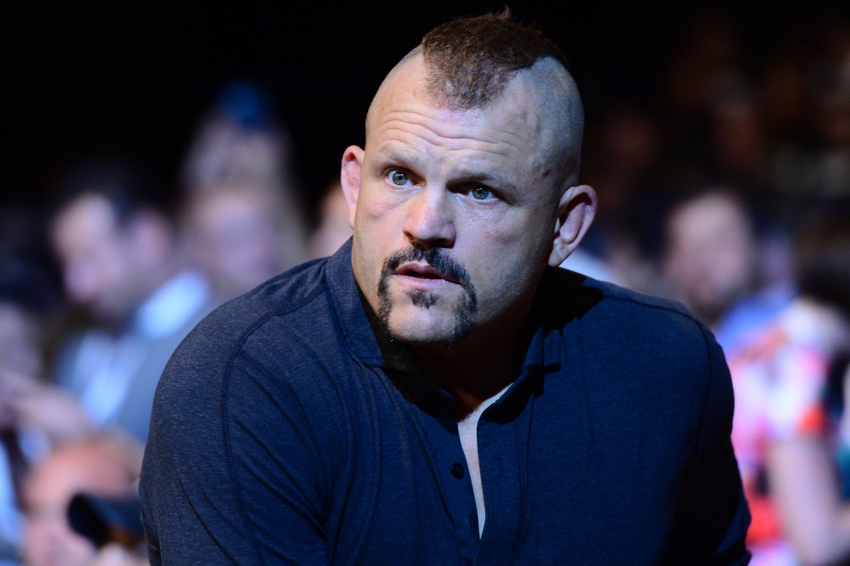 Two UFC Hall of Famers, Chuck Liddell and Matt Hughes, have had their 'lifetime' contracts terminated by WME-IMG this week due to UFC company financials.
Two UFC Hall of Famers, Chuck Liddell and Matt Hughes, have had their 'lifetime' contracts terminated by WME-IMG this week in a move that is sure to sink company morale. Loyalty and pre-existing contracts don't mean anything to the new owners – money is the bottom line, and if it isn't profitable, it's gone.
When the $4 billion deal went through, WME-IMG found themselves in massive debt. Some reports even list the number as high as $1.8 billion. In order to make up to pay off such a massive amount of money, employees, announcers, fighters, and suits were all placed on the chopping block.
"Less than 15-percent of our workforce," is the line that company officials gave to reporter Ariel Helwani.
As of October, it was widely reported that WME-IMG had let go 60-80 employees. These numbers include roughly 4/5 employees in the UFC Canada offices, as well as half of the UFC Asia division. Offices in Europe, Brazil, and Latin America were also impacted by the cuts.
If Ariel Helwani's figures of 60-80 employees cut by October are accurate, then the UFC had already cut their workforce by at least 17-percent by the end of that month.
With the termination of Liddell and Hughes' contracts, what many journalists and fighters have been saying for some time is now as clear as day – Ari Emanuel and WME-IMG don't care about fighting, or the history of the UFC.
A decade ago, the landscape of MMA was very different. If a UFC champion was offered more money to fight elsewhere, they left – most often to fight for PRIDE in Japan. Randy Couture, Jens Pulver, Murilo Bustamante, and even BJ Penn left the UFC in search of more lucrative contracts.
Chuck Liddell and Matt Hughes were different, and arguably, as a result they became bigger stars than the fighters who flip-flopped organizations.
Want your voice heard? Join the Cage Pages team!
Liddell was a one-time UFC Light Heavyweight Champion, in a reign that saw him defend the belt four times. Liddell was the company's biggest start of the 2000s and his vicious style and post-fight victory celebrations became synonymous with MMA marketing. Dana White even brought Chuck Liddell as a 'UFC representative' to fight in the PRIDE 2003 Middleweight Grand Prix – Chuck Liddell literally went to war for Dana White against the competition.
"The Iceman" retired in December of 2010, and announced that he would still work for the UFC as the Vice President of Business Development. This was supposed to guarantee that Chuck had a job for life, as a favor for years for commitment to the company.
Matt Hughes on the other hand, would be known as the best welterweight in history had GSP not fought at 170 pounds.
Hughes made his organizational debut in 1999 and first won the welterweight championship in 2001 when he defeated Carlos Newton via slam – snatching a victory out of the jaws of defeat. As it turns out, Newton locked Hughes in a triangle choke, and in turn led to Hughes posting Newton up against the top of the cage – about five-feet off the ground. Hughes slowly faded from consciousness, and in the process slammed Newton's head off the canvas, leading to a TKO. Hughes woke up to discover he had become the welterweight champion of the world. He'd spend about six years (2001-2007) fighting for the title, which he ended up capturing twice.
Get the FanSided App
At one point, Matt Hughes – like Conor McGregor is now – was the PPV king of the UFC, setting the PPV buy record at the time with UFC 60: Hughes vs Gracie, which drew 620,000 buys in 2006. The fight saw Hughes defeat a returning Royce Gracie in a catchweight bout. UFC 60 also grossed over $20 million in PPV sales, which was unprecedented.
Hughes was a company man who had remained loyal at a time when many didn't, similar to Liddell. When he retired in early 2013, he was named Vice President of Athlete Development and Government Relations. That position too was supposed to be guaranteed for life as a reward for his contributions towards making the UFC a global brand.
If Liddell and Hughes, as Hall of Famers, don't have permanent positions with the company, then nobody does.
Multiple sources have described the morale at UFC HQ in Vegas as "very bad." One equated it to "a morgue." Lots of uncertainty these days.

— Ariel Helwani (@arielhelwani) October 18, 2016
The employee morale in December much be must worse that it was earlier in the year there were 15 employees who had their contracts terminated this month, including Liddell and Hughes. This means in terms of percentage; WME-IMG have let go between 21 to 27-percent of employees since October. (350 employees total)
Prior big names to leave on their own terms following the ownership change were Joe Silva and Dave Sholler, who both held key roles in the company as matchmaker and PR executive.
Rumors are that Joe Rogan and Mike Goldberg will be next on the chopping block, as the company is looking to hand off production duties to the networks rather than the "do-it-yourself" approach they currently have.
This article originally appeared on