UFC Hidalgo Results: Derek Brunson Cleans Uriah Hall's Clock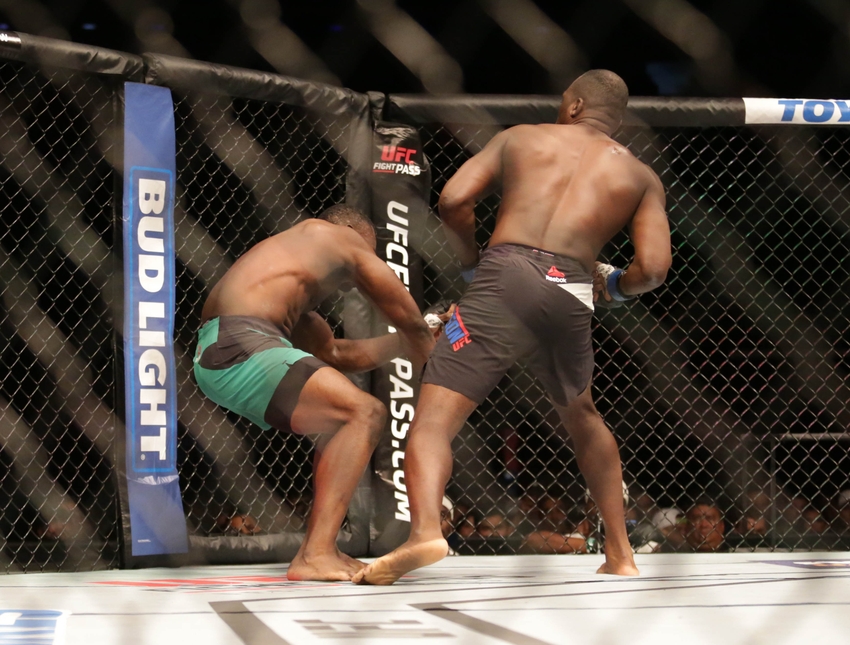 UFC Hidalgo's co-main event was a quick one, as Derek Brunson floored Uriah Hall with a huge left hand.
Derek Brunson has been tearing through the UFC's middleweight division. He was set to fight veteran Gegard Mousasi in July, but had to pull out with an injury. He is riding a three-fight knockout streak into Hidalgo.
Uriah Hall was incredibly hyped when he was on The Ultimate Fighter, but could not live up to it in his promotional debut against Kelvin Gastelum. That's been the story of his career really. He's either the amazing fighter he could be, or he doesn't show up. One thing is for sure though, his highlight reel is fun to watch.
Derek Brunson came out looking for the takedown as expected, but Uriah Hall stuffed it along the fence. This could have shaken a lesser fighter, but Brunson still came forward.
Brunson lunged in as he usually does, and plastered Uriah Hall with a left hand that dropped him. Hall curled up and Brunson landed a couple punches before Herb Dean stopped the fight.
Uriah Hall protested the stoppage, but it was stopped before Hall began to collect his wits. He did bounce back up almost immediately, but was reaching at air during the stoppage.
Afterwards, Derek Brunson called for a title shot. His lone loss in the Octagon was against Yoel Romero, so that might be a bit of a roadblock to his goal. Perhaps the originally scheduled battle against Gegard Mousasi (who looked excellent against Thiago Santos) could be next.
Where does Uriah Hall go from here? Yet another disappointing performance against a high-level opponent. The potential is still there though. I'd personally still like to see that Silva fight
This article originally appeared on