UFC Fight Night: Rockhold vs. Philippou Crystal Ball Predictions
It'€™s time for fights 11 through 22 in what is going to be close to a 500-fight year in the UFC.
The Octagon is set up in Duluth, Ga., for the first Wednesday night event of 2014, headlined by a showdown between Luke Rockhold and Costas Philippou, a pair of middleweight contenders looking to get back into the win column.
Laced with under-the-radar talent and fringe contenders aiming to make a name for themselves to start the New Year, this is a competitive 12-fight lineup that should produce some quality scraps.
And hopefully a few more ticks in the win column for your friendly, neighborhood prognosticator.
These are the UFC Fight Night: Rockhold vs. Philippou Crystal Ball Predictions.
Luke Rockhold (10-2) vs. Costas Philippou (12-3)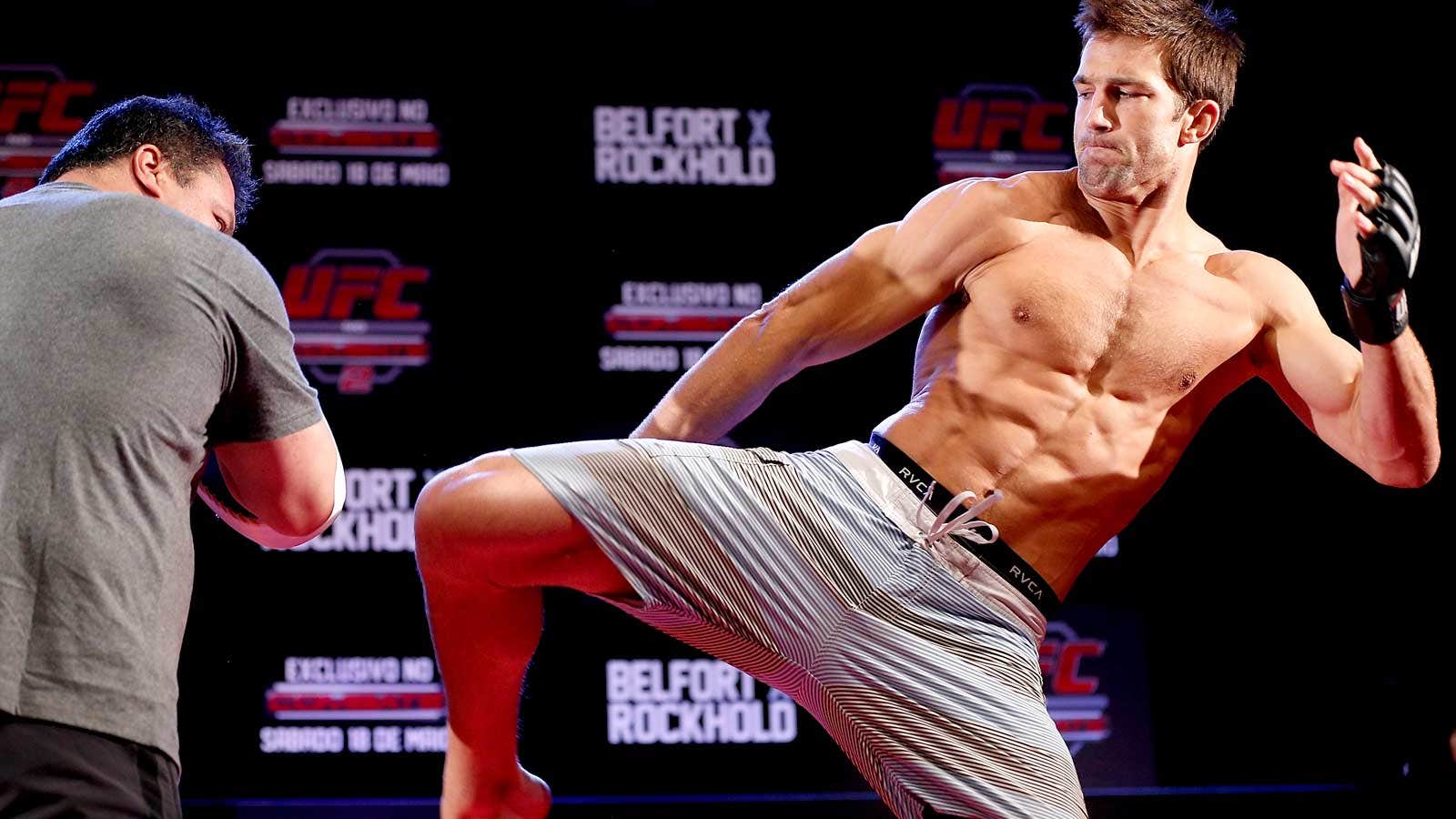 After climbing into the Top 10 in the middleweight division on the strength of five consecutive wins, Philippou fell flat last time out, coming away on the wrong side of a lopsided decision against Francis Carmont.
That said, Rockhold was on the business end of spinning heel kick from Vitor Belfort midway through his first round in the UFC.
Clearly, both men are hungry to return to their winning ways, but only one can, and it is going to be Rockhold.
Philippou is a grinder, who had success in fights where he could stuff takedowns and pick his opponents apart with his crisp, technical boxing. But it will be hard for him to do that here, as Rockhold is the superior athlete and should be able to work from the outside with diverse striking, blending in timely takedowns to sway rounds in his favor.
Looking bad (awful, really) against Belfort was a common thread in 2013, but before that, Rockhold looked capable of being a legitimate contender in the UFC middleweight division, and one loss doesn't change that. Philippou is a tough out and won'€™t go quietly, but the former Strikeforce champ should get it done in this one.
Prediction: Luke Rockhold by unanimous decision
Lorenz Larkin (14-1) vs. Brad Tavares (11-1)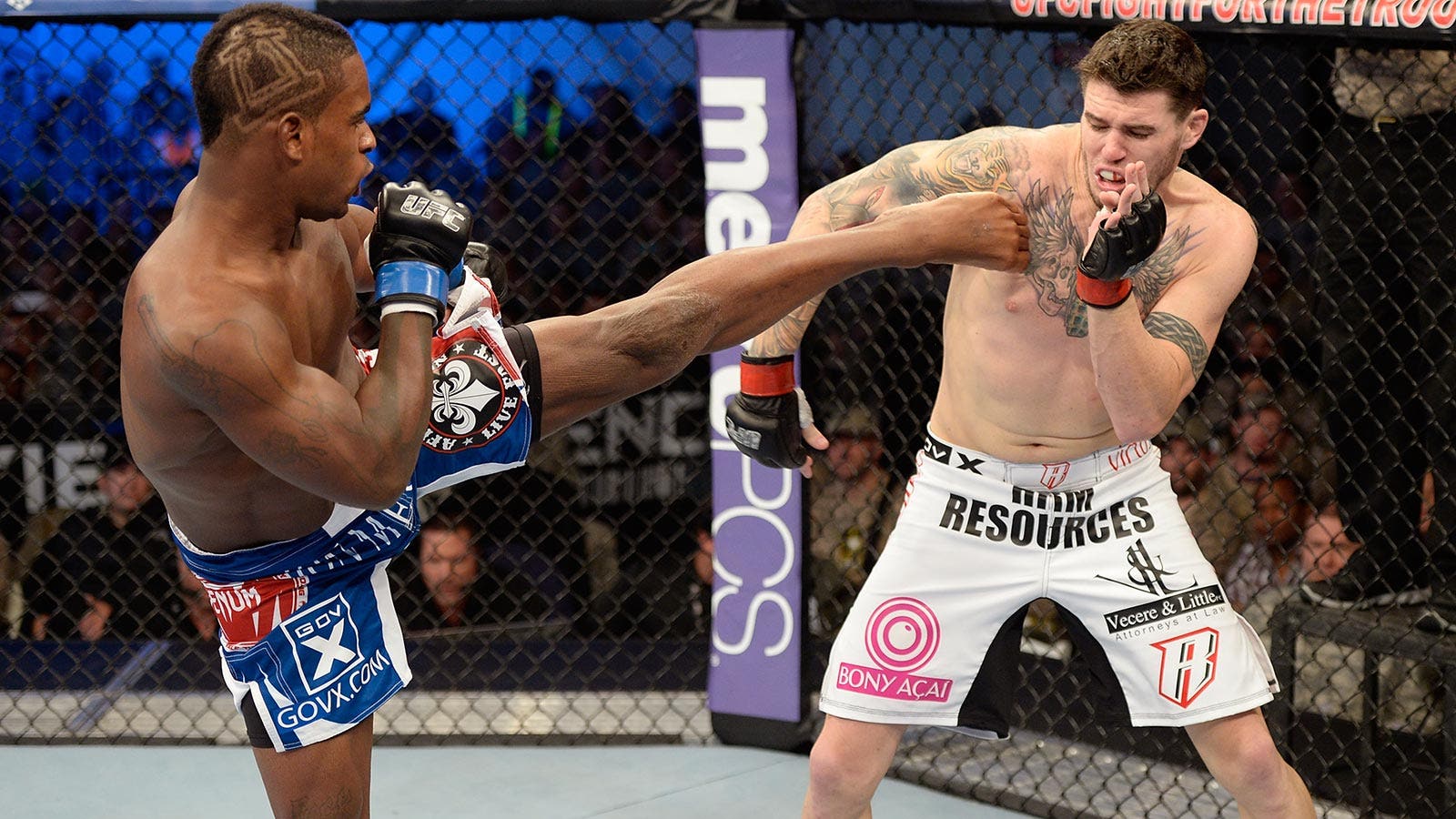 While the main event is the marquee middleweight contest on the card, this one is a fun little scrap between two guys that have been on impressive runs without much recognition in the deepening 185-pound ranks.
Larkin rebounded from a sketchy decision loss to Carmont with a dominant win over Chris Camozzi last time out, while Tavares has won five straight and quietly gone 7-1 in the UFC. Whoever wins here is likely going to receive a serious step up in competition next time out and a greater share of the spotlight going forward.
As solid as Tavares has looked over his last five, showing improved takedown defense and technical striking, Larkin is a faster, more diverse striker with greater power, and should emerge with the win.
The Riverside, Calif., native had a solid run at light heavyweight before moving down in weight, and has maintained his speed advantage while no longer being at a serious disadvantage in the size department. He'€™ll out-quick Tavares, darting in and out to land and stay out of danger, winning on the cards.
Prediction: Lorenz Larkin by unanimous decision
T.J. Dillashaw (8-2) vs. Mike Easton (13-3)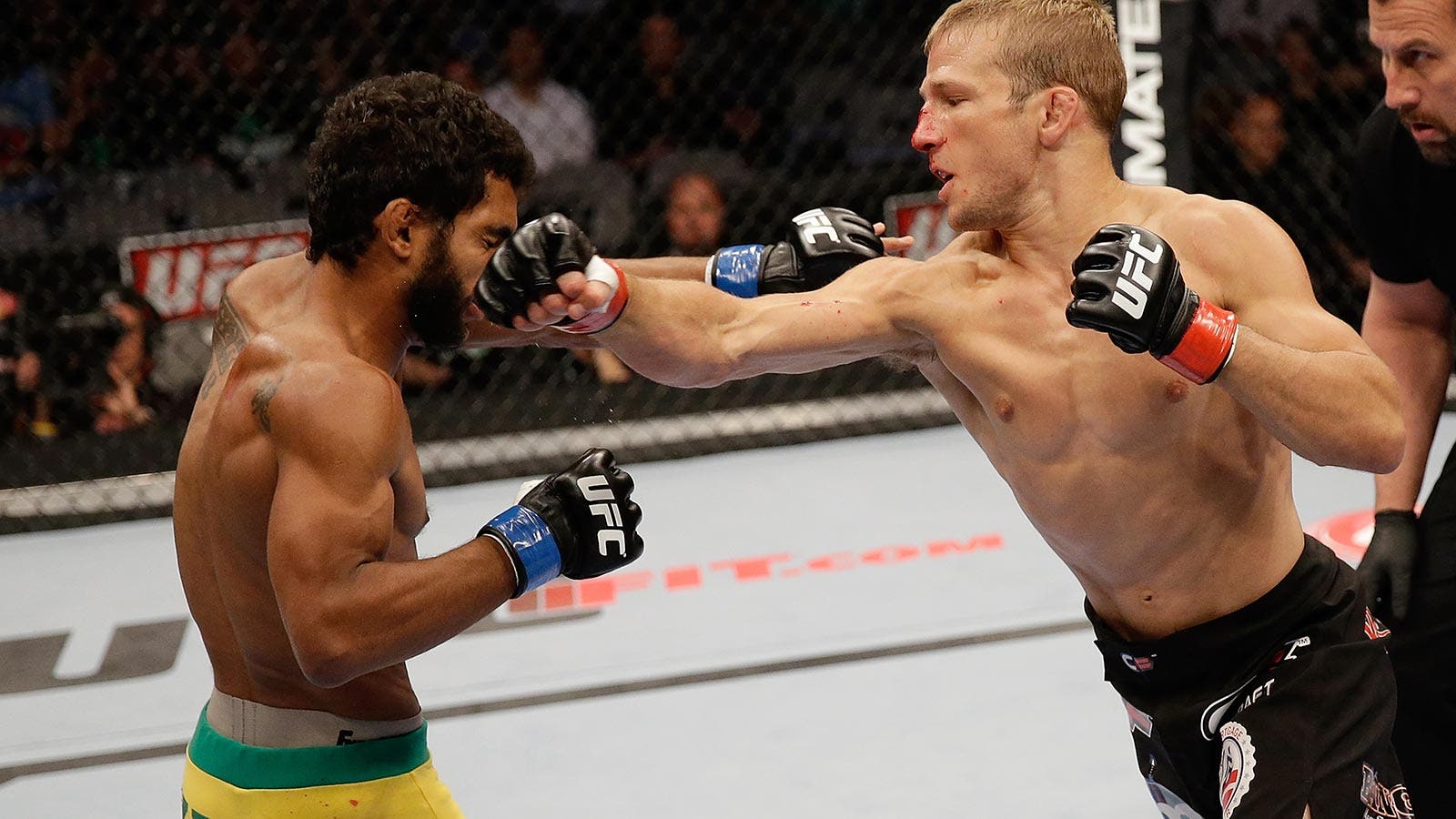 Given the latest shake-up at the top of the bantamweight division, this one has gained added importance, as both Dillashaw and Easton are ranked inside the Top 10, and either one can move closer to contention with a victory here.
Look for Dillashaw to make a statement in this one.
The Team Alpha Male representative dropped a close decision to Raphael Assuncao last time out, and won'€™t put himself in a position to do the same here. Easton is a patient, careful striker with a strong ground game that he rarely uses, but Dillashaw has shown the superior finishing instincts thus far.
After feeling each other out and establishing his range, Dillashaw will start to put together two-, three- and four-strike combinations that back up Easton. With "œThe Hulk"€ on his heels, the former Ultimate Fighter finalist will drive through a takedown, and finish from top position.
Prediction: T.J. Dillashaw by TKO, Round 2
Yoel Romero (6-1) vs. Derek Brunson (11-2)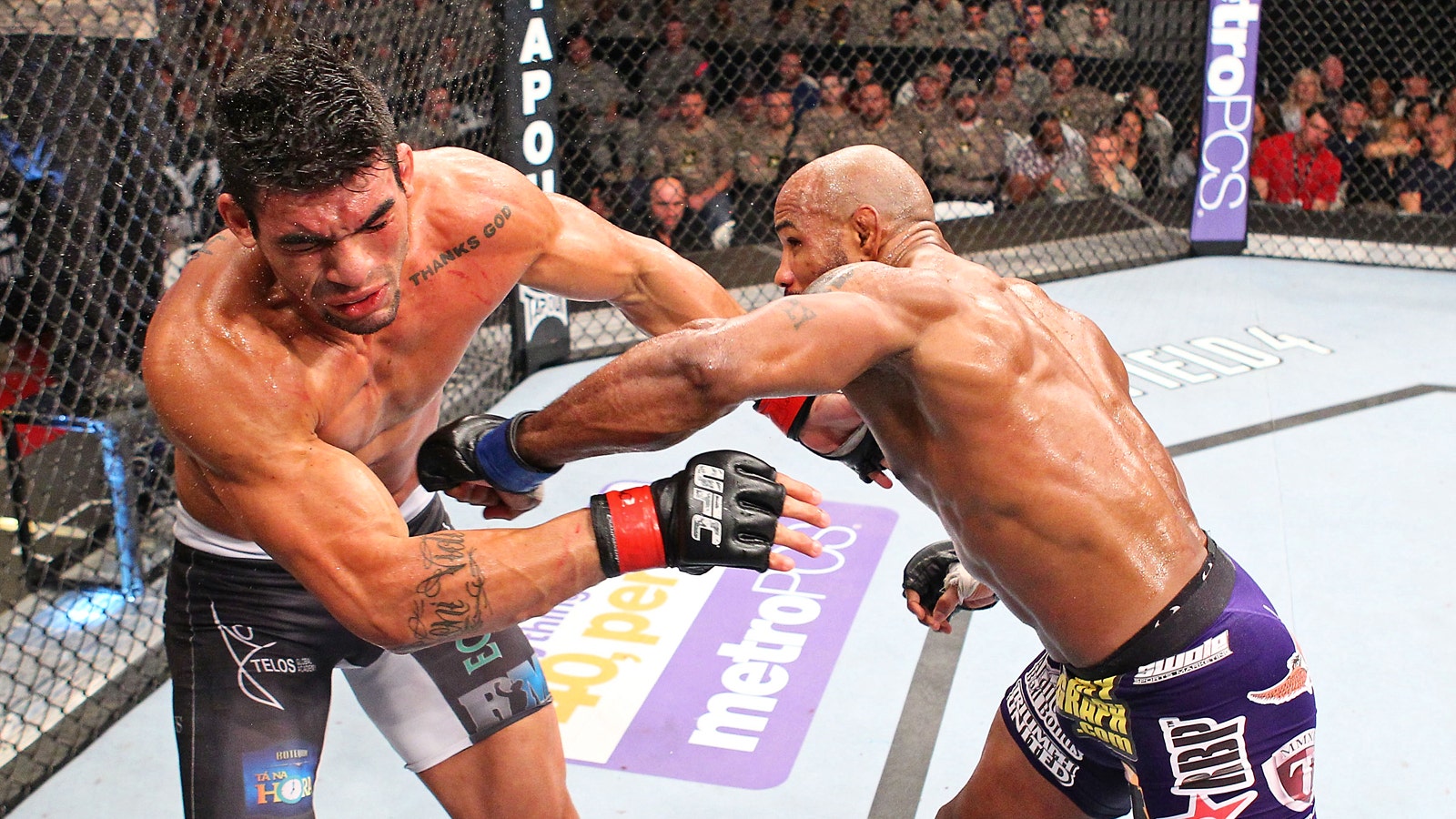 The third middleweight contest on the main card is a battle between two fighters looking to take the next step up the divisional ladder. With each having garnered a pair of victories inside the Octagon thus far, whichever one collects his third here will establish himself as a darkhorse contender as 2014 jumps off.
Remember where you heard it first: Romero is going to be a title contender by the end of the year.
A silver medalist in freestyle wrestling at the 2000 Olympics, the Cuban "€œSoldier of God" is a different kind of athlete, and it has started to show now that he'€™s landed in the 185-pound weight class. He'€™s lightning quick and loaded with power, paired with a legitimate world-class wrestling pedigree –€" what's not to like?
Brunson is a solid all-around talent, but this is just a bad match-up for him, as Romero is better in every category and will show it here.
Prediction: Yoel Romero by TKO, Round 1
John Moraga (13-2) vs. Dustin Ortiz (12-2)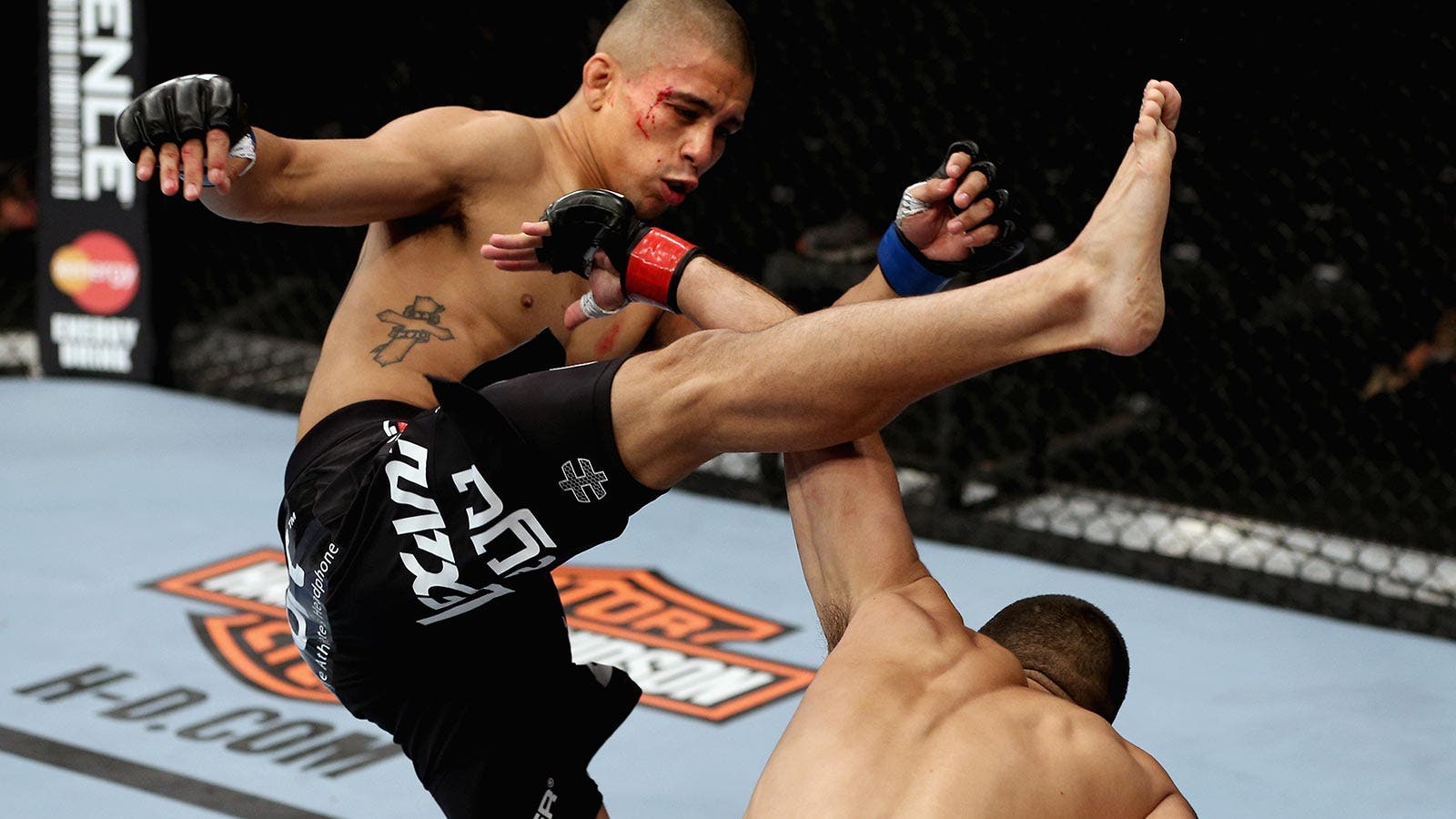 Returning for the first time since his championship loss to Demetrious Johnson, Moraga doesn't get an easy assignment, squaring off with Duke Roufus student Dustin Ortiz, who won his UFC debut by going to Goiania, Brazil, and finishing Brazilian Jose Maria Tome.
This one is going to come down to who can dictate the terms of the fight, as Moraga will likely look to keep it standing in order to put his superior power to best use, while Ortiz will look to grind out a win from top position.
Power is the great equalizer, and Moraga has shown himself to be a finisher in the past, and he should be able to get the job done here. While Ortiz will hang tough and give him everything he can handle, look for the former title challenger to clip him late and find the finish before the third round comes to a close.
Prediction: John Moraga by TKO, Round 3
Sam Sicilia (12-3) vs. Cole Miller (20-8)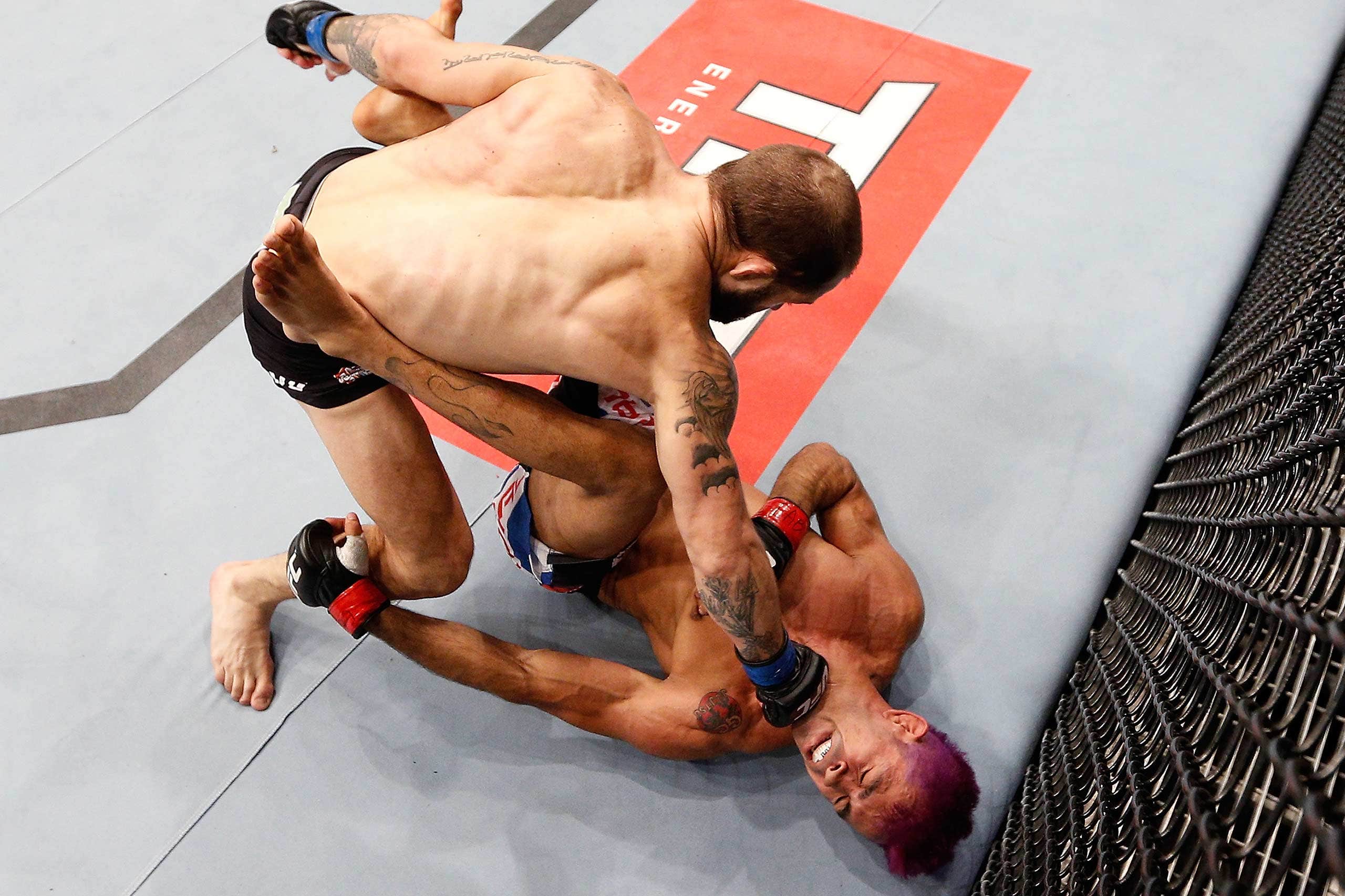 It took him longer than most expected, but it appears that Miller has finally turned the corner in his career, and is blossoming into a legitimate threat in the featherweight ranks.
His decision loss to Manny Gamburyan two fights back is highly questionable -€" Gamburyan appeared to be out at the end of the first round, and then got extra recovery time before the second round began – and the victories that surround that performance were impressive affairs.
Sicilia is a brawler and a headhunter with legitimate knockout power, but a significant reach disadvantage in this one. Miller has learned how to use his length and play to his strengths over his 8+ years in the cage, and will keep Sicilia on the end of his jab (and kicks) before exploiting an opening and finishing with a choke.
Prediction: Cole Miller by submission, Round 2
Ramsey Nijem (7-4) vs. Justin Edwards (8-3)
Nijem has lost back-to-back outings, and Edwards is 2-3 in the UFC to date, which means these two TUF 13 alums square off in what looks to be a "Loser Leaves Town"€ match.
In what really feels like a coin-flip fight, preparation feels like it will be the deciding factor, and in that regard, Nijem gets the nod. Though he'€™s looked bad getting finished in consecutive outings, he'€™s readied for this fight with the team at Pit Elevated, as well as Jake Shields and his crew in the Bay Area.
While Edwards has always looked middling at best, Nijem showed promise to start his post-TUF time in the Octagon, and should revert back to that form here.
Prediction: Ramsey Nijem by unanimous decision
Isaac Vallie-Flagg (14-31-) vs. Elias Silverio (9-0)
Silverio makes his lightweight debut here after looking good in his UFC debut back in September, while Vallie-Flagg is unbeaten in his last 12, including consecutive victories over Yves Edwards, Gesias Cavalcante and Brian Melancon.
As solid as Silverio looked last time out, dropping down for the first time is always a interesting experience, and "Ike"€ is not the type of guy you want to encounter in your first fight in a new weight class.
The veteran Team Jackson-Winkeljohn fighter is as durable as they come, and will find a way to turn this into an ugly grind where he does enough to get the nod.
Prediction: Isaac Vallie-Flagg by unanimous decision
Brian Houston (4-1) vs. Trevor Smith (10-4)
Houston's record looked great on paper heading into his UFC debut in November, and then, 48 seconds later, his unbeaten record was a thing of the past.
Smith is coming off a split decision loss to Ed Herman that earned him praise from UFC President Dana White, and is simply the more well-rounded, more experienced member of this tandem.
Though he'€™s just 1-3 over his last four fights, he should be able to sting and submit Houston in this one.
Prediction: Trevor Smith by submission, Round 1
Alp Ozkilic (9-1) vs. Louis Smolka (6-0)
Smolka is a solid prospect -€" and Hawaiians are 3-0 inside the Octagon so far this year -€" but this should be another chance for Ozkilic to further establish himself as an up-and-coming contender in the flyweight ranks.
The one really interesting element here is that "€œThe Turkish Delight"€ fought 32 days ago, earning a victory in his UFC debut over Darren Uyenoyama at the UFC on FOX event in Sacramento, Calif., last month. Doubling up in such a short time frame is tough, but Ozkilic looked great last time out, and should be able to outlast Smolka here.
Prediction: Alp Ozkilic by unanimous decision
Vinc Pichel (7-1) vs. Garett Whiteley (7-1)
These two guys have identical 7-1 records and are both coming off the first setback of their respective careers -€" first-round technical knockout losses in each case. Pichel was suplexed around the Octagon by Rustam Khabilov, and Whiteley was put on roller skates by Alan Patrick.
As much as that sounds like the set-up to a bad fight, it'€™s actually what makes this one really fun, because these two dudes throw smoke, and someone is getting knocked out.
Though Pichel has the greater name recognition from his time on "The Ultimate Fighter," look for Whitely to be the one that lands the finishing blow in his one.
Prediction: Garett Whiteley by TKO, Round 1
Charlie Brenneman (19-5) vs. Beneil Dariush (6-0)
Brenneman returns to the UFC on short notice to take on the newcomer Dariush, a Wand Fight Team representative with very good grappling credentials. While he exited the Octagon with consecutive losses, "The Spaniard"€ has looked very strong since moving to lightweight, and should get the job done here.
Part of this pick comes simply from knowing what Brenneman brings to the table; the other part comes from Dariush having faced exactly one opponent with a winning record.
Competing at '€™55, Brenneman is a more aggressive fighter, and should be able to outwork Dariush here.
Prediction: Brenneman by unanimous decision