UFC Fight Night: Brown vs. Silva Crystal Ball Predictions
Before getting into the predictions for Saturday's UFC Fight Night event in Cincinnati, a quick show of hands: anyone else feel like it was just a couple weeks ago that Alexander Gustafsson beating the breaks off Jimi Manuwa on Fight Pass was the hot topic around the MMA water cooler?
That was already two months ago and there have six events between that one and this one. Time flies when you're having fun.
For the people of Cincinnati, it undoubtedly feels like forever since the UFC was last in town, but this weekend, their seven-year wait comes to an end with a 13-fight event that should keep the good times rolling inside the Octagon.
Loaded with high output, action-oriented fighters, this is one of those cards that slip under the radar because of its lack of major names only to produce some of the best performances of the year.
And who will be the turning in those standout showings? Glad you asked — these are the UFC Fight Night: Brown vs. Silva Crystal Ball Predictions.
Matt Brown (18-11) vs. Erick Silva (16-4)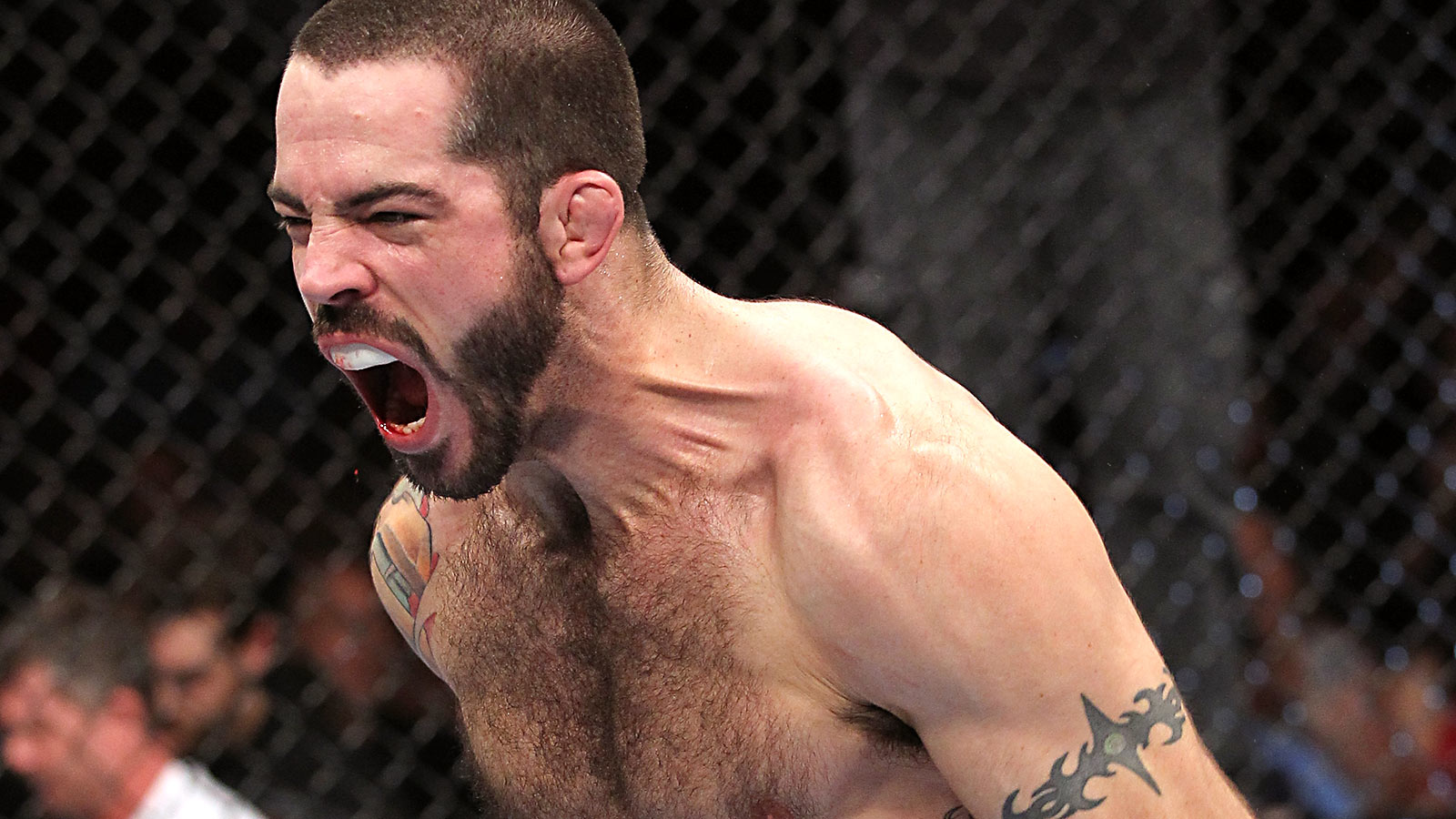 If this fight were taking place six months ago, Brown would be the easy selection, as the hometown welterweight has been on a roll, winning six straight in violent, impressive fashion.
But in the time between his August win over Mike Pyle and Saturday night's main event, "The Immortal" has been sidelined by a herniated disc in his back that was thought to require surgery and coming in a little rusty against a talented fighter with something to prove like Silva seems like a rough assignment.
Both men employ a balls to the wall approach in the cage, coming forward with reckless abandon and staying on the gas from the word "Go." While Brown has proven to be the more durable of the two, Silva is the more opportunistic and creative fighter, and this has the feel of a bout where the Brazilian lands or catches something in a flash to get the victory.
Remember: prior to his current impressive run, Brown was on the brink of being released, suffering through a 1-4 stretch. Back injuries can be killers and Silva has to know he's running out of chances to take the next step.
Look for him to come out swinging and get the finish before Brown has time to rediscover his rhythm.
Prediction: Erick Silva by TKO, Round 1
Lorenz Larkin (14-2) vs. Costas Philippou (12-4)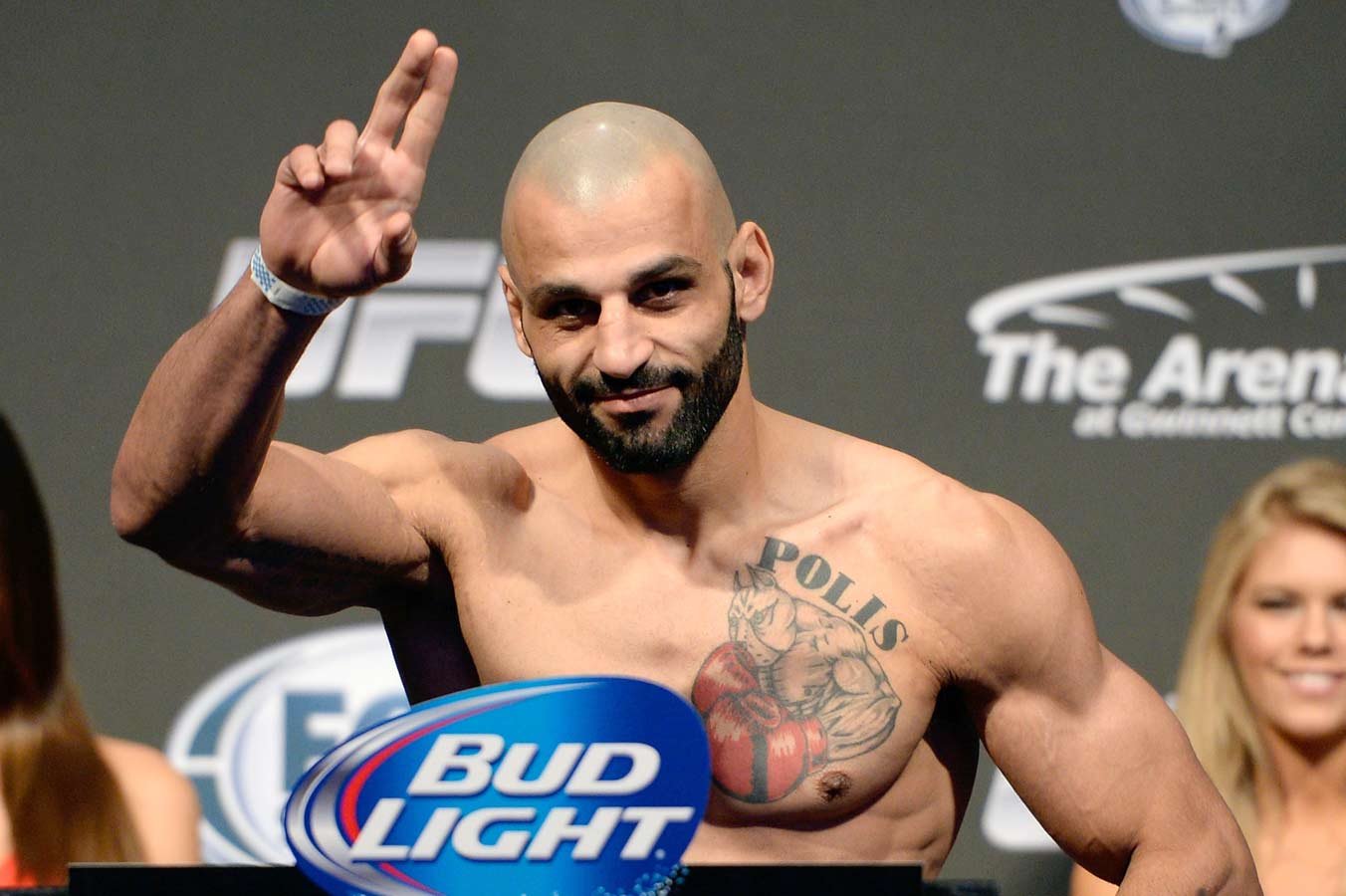 Larkin was unbeaten when he arrived in the UFC, but he's gone 1-2 since, dropping a unanimous decision to clean, technical striker Brad Tavares last time out. After making a surprise run into contention on the strength of five straight victories, Philippou has fallen back in the rankings, losing two straight.
As much as Larkin has the athletic advantages working for him, this fight profiles a lot like his bout with Tavares, as Philippou is a clean, technical striker with good enough wrestling to control things in the clinch if needed.
Expect the Long Island native to employ a high volume strategy, initiating the attack in order to keep Larkin from getting comfortable with his striking.
Prediction: Costas Philippou by Unanimous Decision
Erik Koch (14-3) vs. Daron Cruickshank (14-4)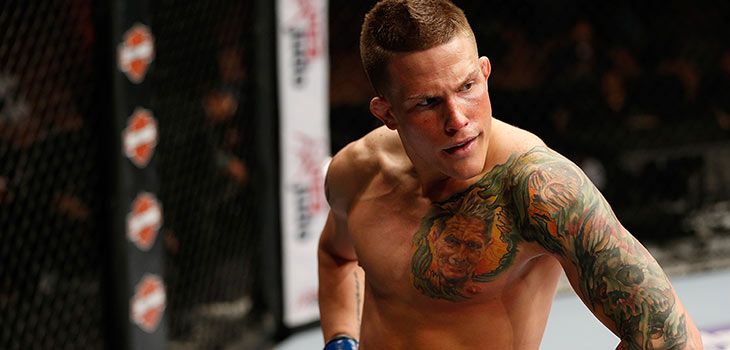 This is a litmus test for Koch, who looked great in his UFC lightweight debut last time out, but needs to show he can duplicate the performance against better competition.
While Cruickshank isn't a world-beater, his off-balance striking approach is capable of giving opponents fits and he moves well, which will force the former featherweight title hopeful to work angles, cut off the cage and close the distance if he wants to be successful.
If Koch is going to be a contender in his new weight class, these are the type of fights he needs to not only win, but also dominate. The interesting wrinkle here is that Koch is better wrestler than he gets credit for at times, and he should be able to dictate the action on the canvas if he's so inclined.
Rather than trade with the unorthodox kickboxer, don't be surprised if "New Breed" makes this a grappling match and ends up catching a submission to get the win.
Prediction: Erik Koch by Submission, Round 2
Magny had the best showing of his brief UFC career last time out, earning a unanimous decision win over Gasan Umalatov at UFC 169, but this is a bad matchup for the former Ultimate Fighter contestant.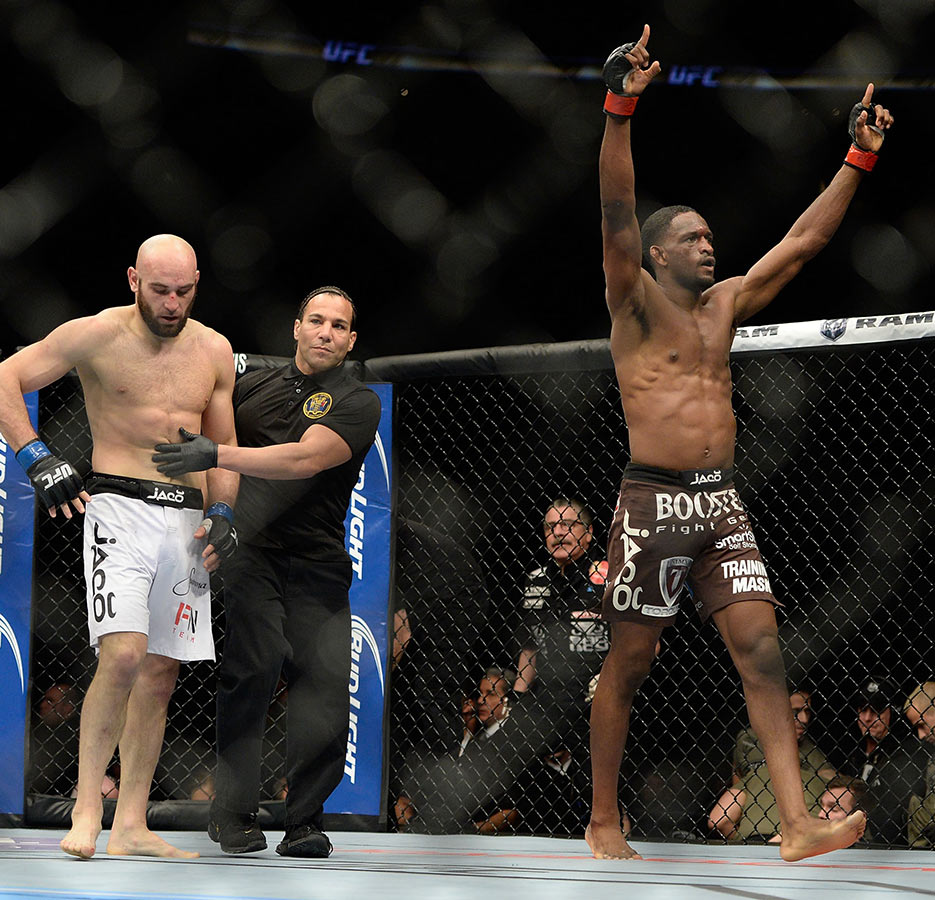 Back after two fights (and two first round finishes) on the regional circuit, Means returns to make his first appearance in the Octagon as a welterweight. Though the size advantage he enjoyed competing at lightweight is now a thing of the past, he should have better power and stamina (and less likelihood of knocking himself out in the sauna) now that he's not shedding a ton of weight to make the 155-pound limit.
While knockout wins over regional staples Pete Spratt and Artenas Young don't make him an immediate contender, they do make him the pick here. Means is the more aggressive, more diverse striker of the two and looks to attack from all positions. Somewhere along the way, Magny eats an elbow that puts him on roller skates and "The Dirty Bird" finishes the job inside the distance.
Prediction: Tim Means by TKO, Round 2
Soa Palelei (20-3) vs. Ruan Potts (8-1)
With all due respect to Palelei, it is astounding that a fighter that entered the UFC off back-to-back wins over Bob Sapp and Sean McCorkle is looking to make it three-in-a-row inside the Octagon.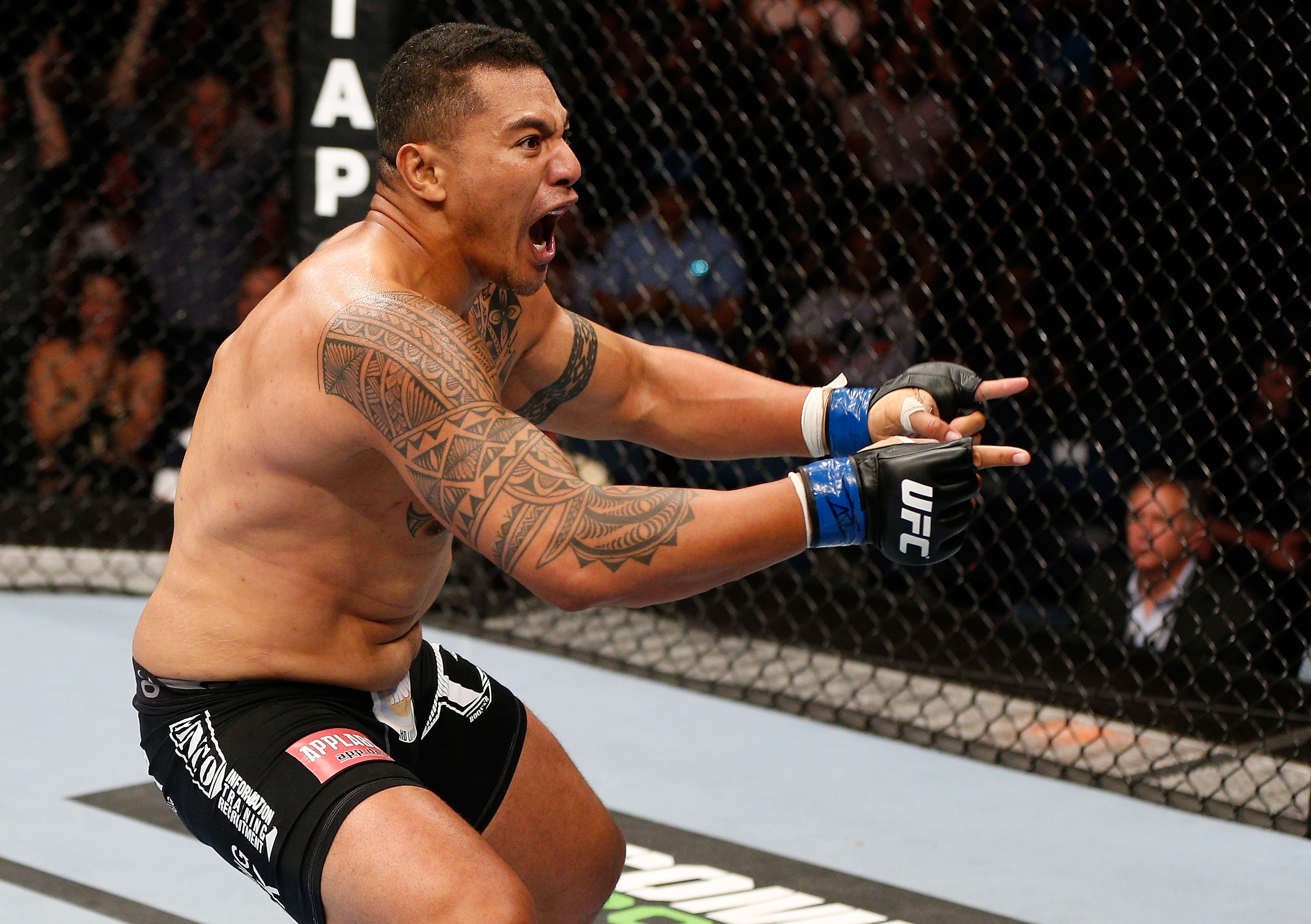 He very well could too, as Potts makes his UFC debut after a dominant run in Johannesburg-based Extreme Fighting Championship, where he claimed championship gold and avenged the only loss of his career with a first-round submission win in the rubber match.
This could come down to how well Potts can take a punch, as "The Hulk" can smash and given the mediocre competition he's faced and ease with which he's run though them, it's hard to say up front if Potts will be able to deal with the Australian veteran's power.
Until the newcomer proves that he can hang in the UFC, the safe play is picking the established entity.
Prediction: Soa Palelei by TKO, Round 1
Chris Cariaso (16-5) vs. Louis Smolka (7-0)
This flyweight scrap hasn't gotten the attention it deserves heading into Saturday's event, but chances are people will be talking about it afterward because the winner will be within arm's reach of a title shot in the Demetrious Johnson-dominated division.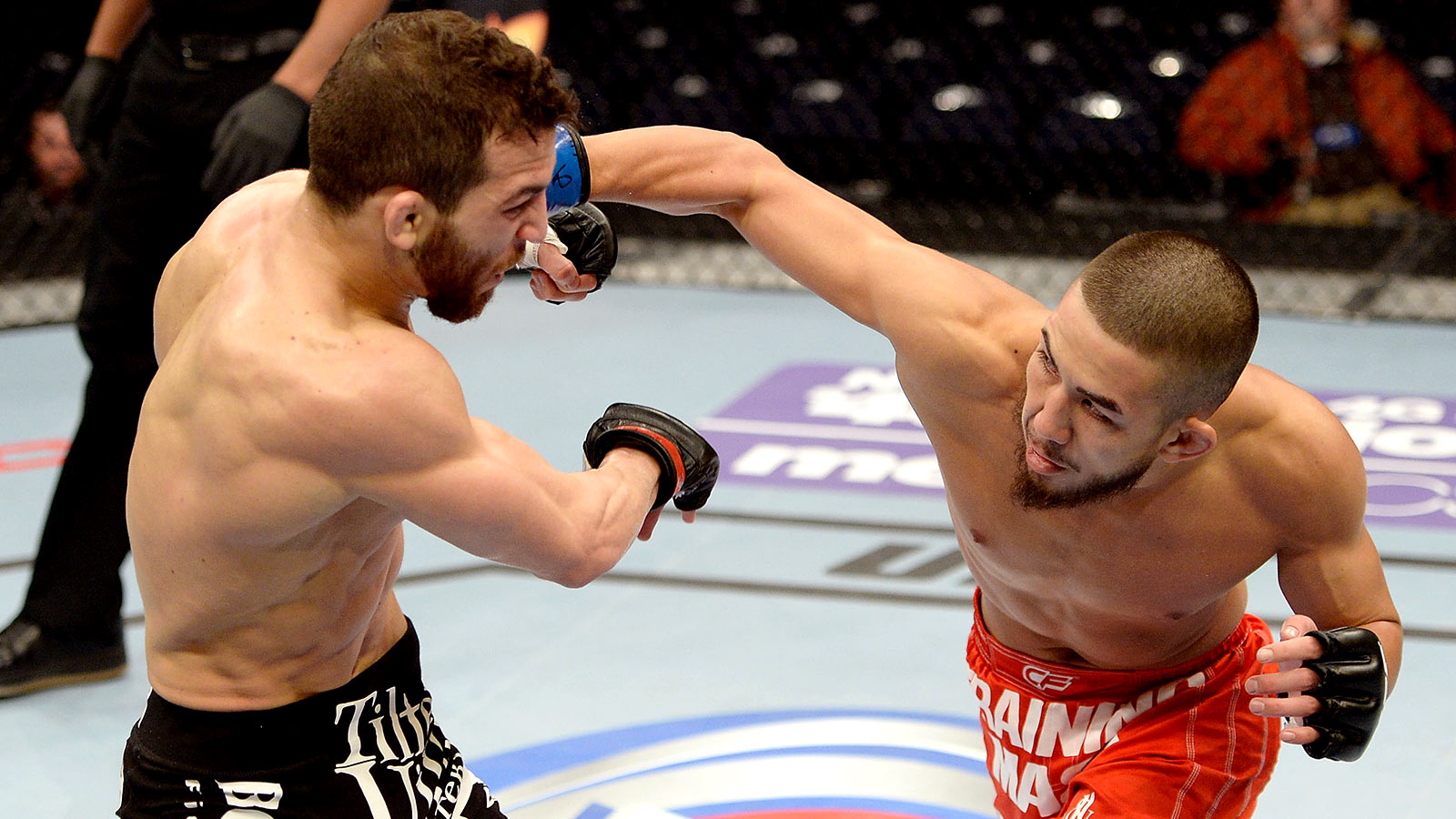 Cariaso is a well-rounded veteran and a great measuring stick for the undefeated young Hawaiian Smolka. Three of Cariaso's four UFC setback have come against elite competition, but he's not a guy that wows you with any one skill.
Smolka impressed in his organizational debut, using his rangy striking to outwork Alp Ozkilic and he should be able to do the same here against Cariaso, who is giving up a significant amount in the height and reach department.
Prediction: Louis Smolka by Unanimous Decision
Ed Herman (21-10) vs. Rafael Natal (17-5-1)
Herman rattled off three straight impressive wins following his two-year injury hiatus, but has fallen on tough times since, earning just a single victory in his last four outings. Natal, meanwhile, had his best run in the Octagon brought to a crashing halt last November by Tim Kennedy and looks to rebound here.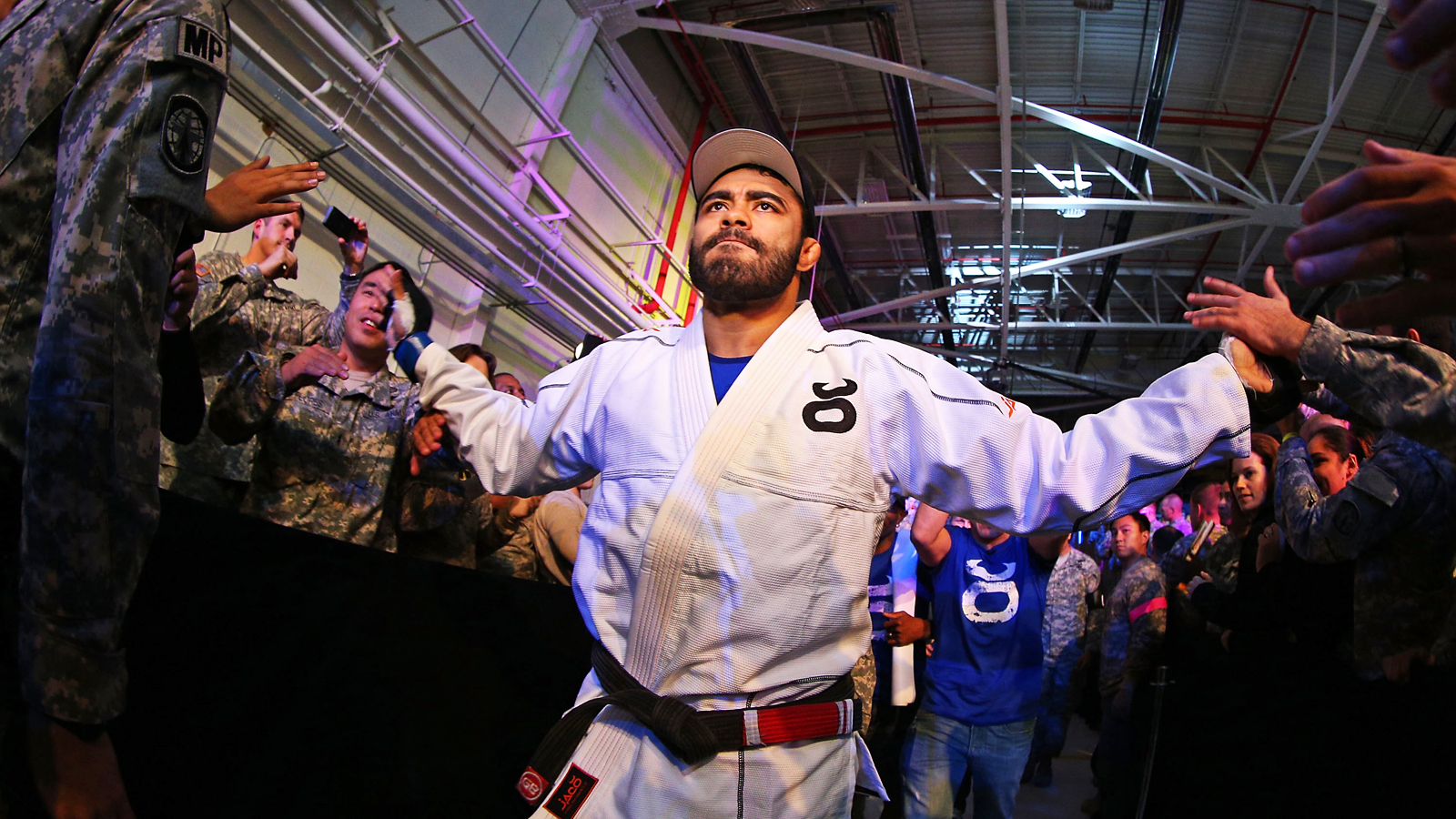 This one comes down to what approach Natal takes on Saturday night. If he looks to strike, Herman has superior power and a more diverse arsenal, but in the clinch and on the ground, the Brazilian should be able to control the action and get the better of things.
As long as "Sapo" doesn't look to trade for 15 minutes, he should get back on track in this one.
Prediction: Rafael Natal by Unanimous Decision
Kyoji Horiguchi (12-1) vs. Darrell Montague (13-3)
Not to over-simplify things, but Horiguchi looked great dominating Dustin Pague at bantamweight in his initial UFC appearance, while Montague couldn't move his face out of the way of John Dodson's heat-seeking missiles during his debut.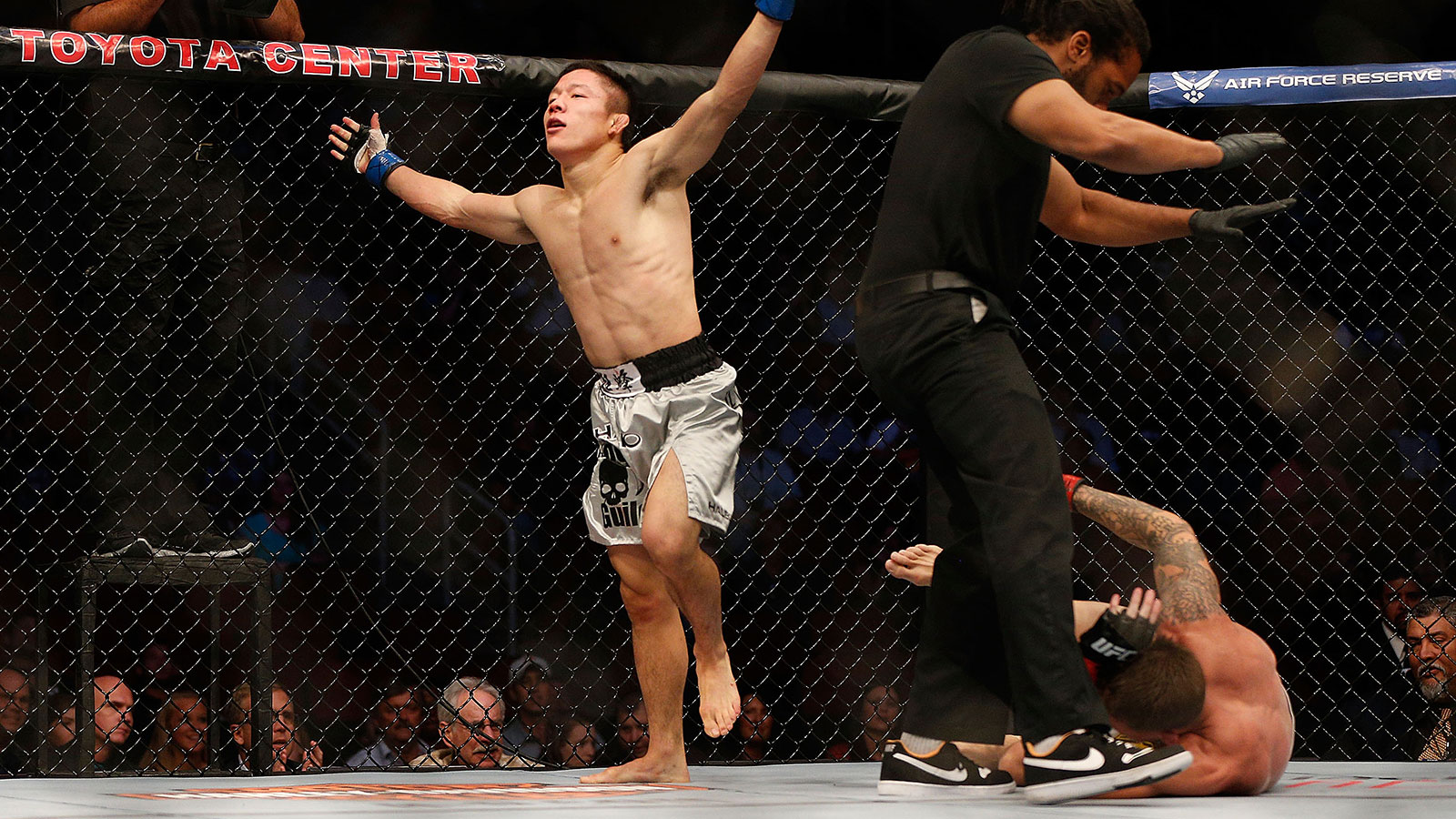 Unless that was a serious case of the "OMG this is really happening" jitters, the Team Krazy Bee student Horiguchi should announce his presence as a fighter to watch in the flyweight ranks in this one.
Yan Cabral (11-0) vs. Zak Cummings (16-3)
Cabral is brilliant on the ground and while Cummings is a veteran that will do his best to defend and avoid getting caught in his clutches, the Brazilian will close the distance, get this to the canvas and get another submission win.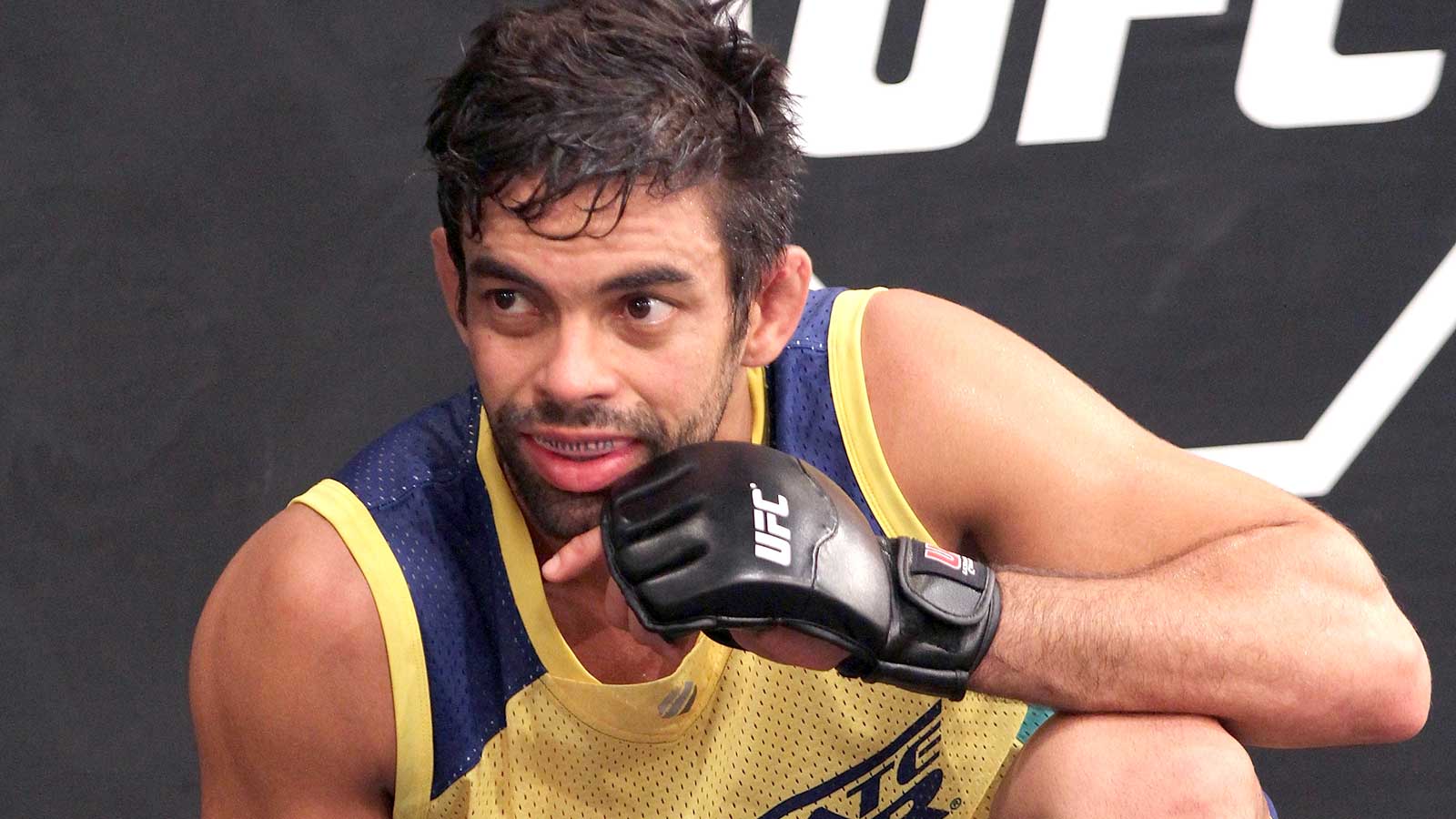 Prediction: Yan Cabral by Submission, Round 1
Eddie Wineland (21-9-1) vs. Johnny Eduardo (26-9)
One of these guys is a former bantamweight title challenger and coming off an impressive second-round stoppage win in January. The other hasn't fought in nearly two years and the last time he did compete, he went the distance against an aging veteran on the downside of his career.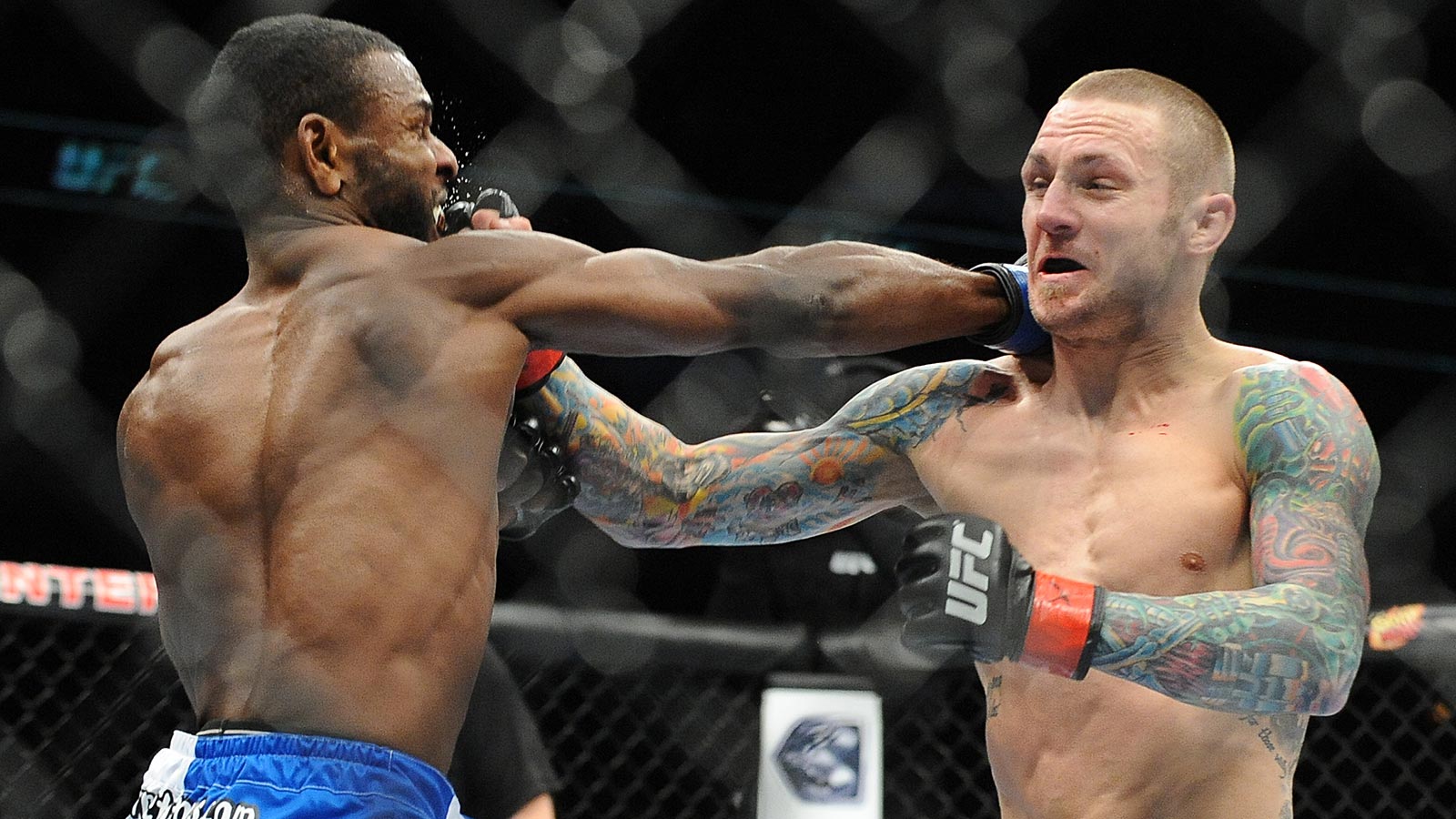 Wineland rolls.
Prediction: Eddie Wineland by TKO, Round 2
Nik Lentz (24-6-2) vs. Manny Gamburyan (13-7)
Lentz plummets down the fight card after a hard-fought loss to the man who will likely challenge for the featherweight title later this summer. While Gamburyan is a tough out every time he steps into the cage, "The Carny" has been impressive since moving down to the 145-pound weight class and should get into the win column in this one.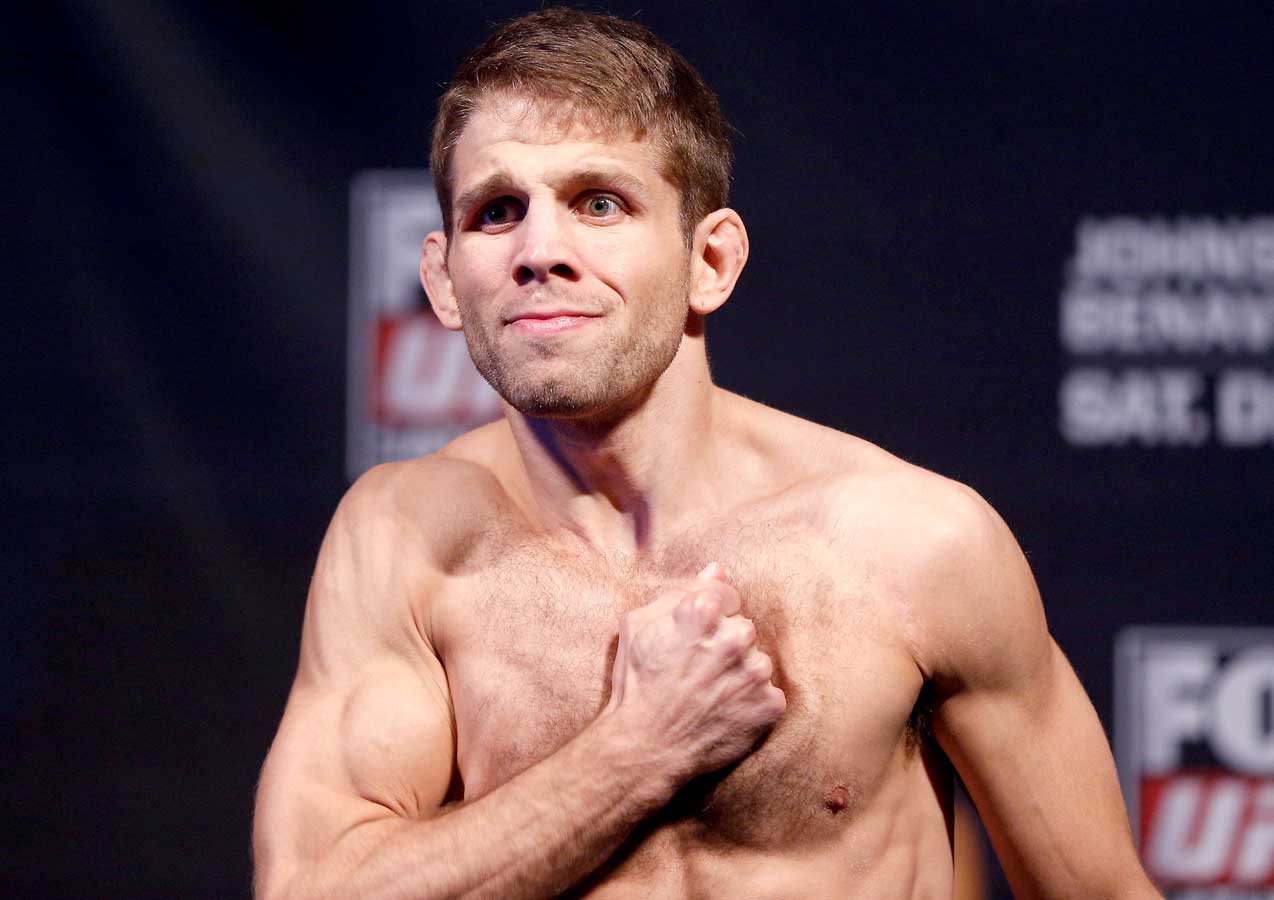 Prediction: Nik Lentz by Unanimous Decision
Ben Wall (7-1-1) vs. Justin Salas (11-5)
The only memorable moment of Wall's UFC career is going to be his ridiculous walkout when he fought Alex Garcia last December. He got smoked in that one on short notice and while Salas isn't a powerhouse like "The Dominican Nightmare," he's a more experienced, well-rounded fighter than Wall and should get the job done here.
Prediction: Justin Salas by Unanimous Decision
Anthony Lapsley (23-6) vs. Albert Tumenov (12-2)
There is a 12-year age difference between Lapsley (34) and Tumenov (22), yet they both arrived in the UFC at roughly the same time. In a battle between the regional veteran that is finally getting his chance on the big stage and the young newcomer with some upside, always go with the newcomer with upside.
Prediction: Albert Tumenov by Unanimous Decision