UFC 205: Tyron Woodley Gets Trolled By New York Fans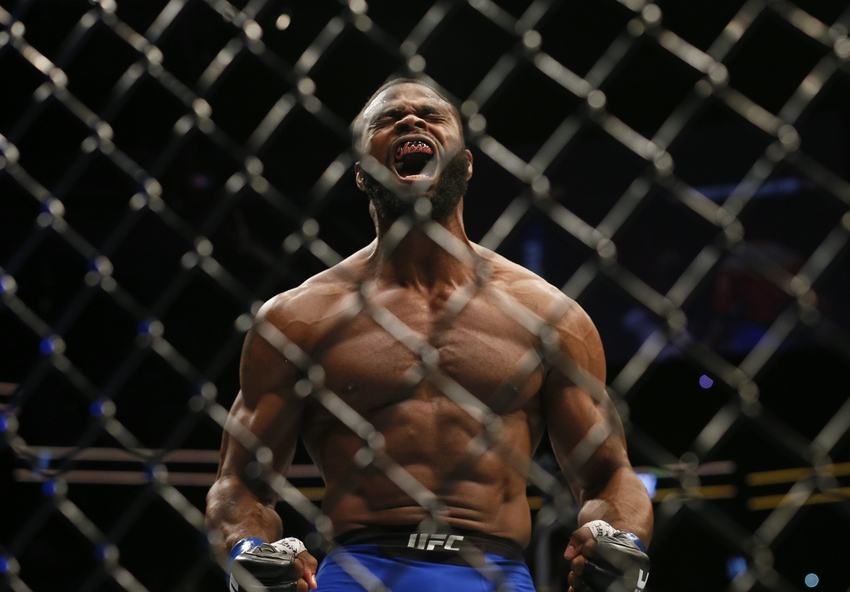 Tyron Woodley's drive to becoming a marketable UFC champion has seriously not been swinging in his favor recently.
Poor Tyron Woodley. Typically after being crowned champion, a fighters following will go through the roof. That is definitely not the case with the new Welterweight champion Tyron Woodley, who has been suffering from lack of support leading up to his UFC 205 title defense against Stephen Thompson.
At the UFC 205 press conference, Woodley was startled to hear the boos that came his way and it clearly did not sit well with him in the lead up to the fight. So it's no surprise he has attempted to rally some fans his way. His most recent attempt came at the UFC 205 open workouts.
"And one thing guys…" Woodley said to the crowd after the open workout. "Hey, you guys are coming to the weigh-ins and during the fight, we're gonna do a chant real quick. So, when I say, 'Who got my back!?' I want everyone to scream, 'I got your back!' You guys got it? Don't leave me hanging and make me look stupid. Y'all ready?
Get the FanSided App
"Who got my back!?" Woodley chanted into the mic.
The crowd, however, replied with a somewhat broken mix of "Wonder-boy!" and "I got your back!"
Woodley once again shouted, "Who got my back!?"
"Wonder-boy!" The crowd replied again, this time much clearer.
"And still…" Woodley states, looking displeased with the outcome, then left the workout floor.
Credit has to be given to Woodley for at least to attempting to market his upcoming fight. He was scrutinized prior to UFC 201 for not really trying to market himself at all. But ever since he won the title and expressed that he wanted either Nick Diaz or Georges St.Pierre instead of Thompson, it has been an uphill battle to win back the favor of the fans. He will certainly look to rejuvenate some interest in his championship run with a decisive victory over Stephen Thompson this Saturday.
Tyron "The Chosen One" Woodley will face Stephen "Wonderboy" Thompson this Saturday, Novermber 12 in the co-main event of UFC 205 at Madison Square Garden. A superfight between newly crowned lightweight champion Eddie Alvarez and Irish superstar and current featherweight champion Conor McGregor will headline the historic event.
This article originally appeared on