To become a true superstar, Jose Aldo needs to move to the USA
Linked together by champion status, nationality, and gym identity, Jose Aldo and Renan Barao are the wrecking ball and magical technician in two divisions right now. They are also UFC stars. More in the Octagon, than outside it, unfortunately. In a sense, they are interchangeable. Aldo, one suspects, is a potential megastar.
But there is a failing which needs addressing. And for me, it is not that five of Aldo's last eight title fights have gone the 5-round distance in the WEC and the UFC. You can't blame UFC president Dana White for his assessment that Aldo needs to refrain from 'sitting back'…the promoter, as is his right, will always say that.
When Anderson Silva moved to the United States to train, his English improved, and each and every time he has given interviews in English, it has endeared him to another swathe of fans. There's no disputing that. Silva's fame and legend has grown exponentially with his embracing the English-speaking market.
Arguably, Aldo and Barao are No 2 and No 3 pound for pound in the sport of mixed martial arts now, with Jon Jones at No 1.
The skills of Aldo are sublime. Remember the moment in the Ricardo Lamas fight when Aldo floated, mid-air, out of a takedown attempt … ? It was like watching The Matrix, or like something out of an old martial arts movie. The kid is blessed. He makes it look so easy.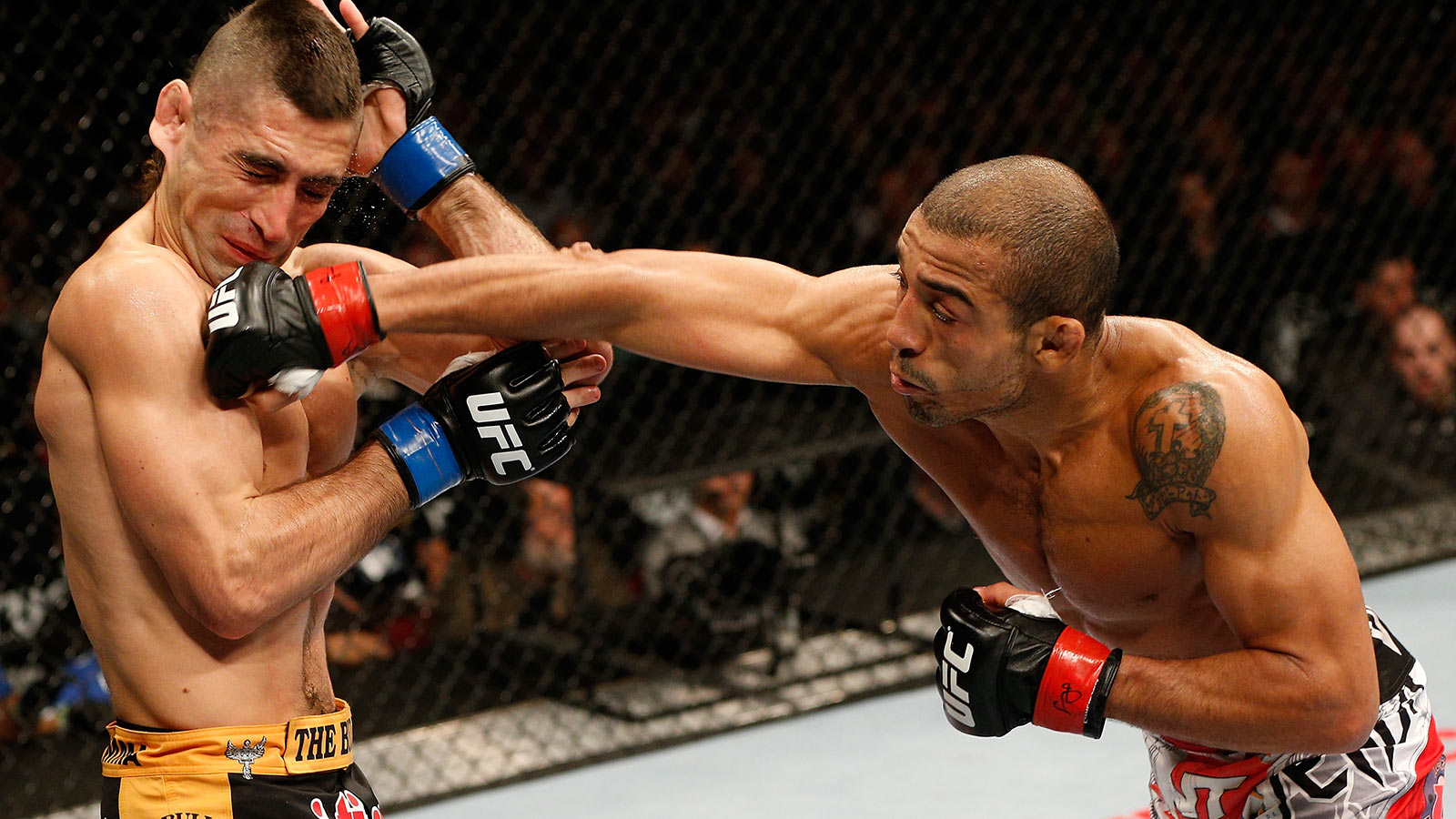 He is masterful. Economy, efficiency, uber-technique, and timing. He wins rounds by seeing openings (ref: RD 1 versus Lamas) then attacks brutally: the leg kicks, the counter hooks, the combinations to the head and body (ref: Rd 2 versus Lamas). It's a privilege to watch the man at work. Whisper this, but from this seat, I take pleasure in the fact he fights the distance.
He's the equivalent of Floyd Mayweather Jnr in boxing, in the mastery of his art.
But what he needs to do now, like Barao, is learn English and move to the United States. It will make him a much, much bigger star.
Boxing's multi-million dollar prize-fighter Manny Pacquiao came to America, learnt the language, and has become an enormous crossover megastar and there is little doubt that his standing in the US helped to create the platform for his political motives and propelled him into a position to be voted in as a Congressman in The Philippines.
Or, even more salient, Julio Cesar Chavez Jnr. He has become a major crossover star in the United States, and he possesses so much less all round ability than his father and namesake, one of boxing's greats. Chavez Jnr's rise is his use of the English language, charisma, looks and some ability.
When Anthony Pettis comes back from knee surgery on his posterior cruciate ligament, the contest with Aldo will be the UFC's first genuine super-fight since BJ Penn and Georges St Pierre at UFC 94.
The fight could go anywhere in the Octagon, and it probably will, all at world class level. Pettis could yet be to Aldo what Chael Sonnen was to Anderson Silva. The flame that ignites his stardom.
The good news, we hear, from Brazil, is that both Aldo and Barao are taking English courses, and are being sponsored by the course. That's stage 1. Stage 2 is taking the jet to America. Then the dreams really begin.
Renan, Jose … e hora de aprender Ingles. And then some.
It might be painful to uproot their camp at Nova Uniao for the sake of growing their fan base, but it may be necessary if Barao is to rise beyond his paltry basic fight fee. But right now his lack of fan appeal plays a huge part in his earning potential. Or lack of it.
For Aldo, moreover, there is the sense that we are not seeing the true layers of the man who is still swathed in shadow and is yet to have his real X-factor moment as a fight personality in the English speaking world. A champion as yet, incomplete.