Rockhold ready for Philippou but says Belfort still on his '€˜hit list'
The kick. Oh, the damn kick. To those of us watching, it was a thing of beauty, TRT be damned. Vitor Belfort was a human tornado, twisting, spinning, devastation in his wake. Of course, there is always the victim, too, left to pick up the pieces.
To Luke Rockhold, eating that kick was just part of a disastrous year, but maybe the part that haunts him the most. It was only a year ago when Strikeforce shuttered its doors and its fighters were absorbed by the UFC. At the time, Rockhold was Strikeforce's middleweight champion, and by virtue of his standing, he transitioned right into the thick of the action upon arriving in his new home. That move, however, was the professional highlight of his year.
The rest of it was filled with setbacks (two injuries), and a knockout loss that made every year-end highlight reel. It's Rockhold's hope to change the direction of his narrative on Wednesday, when he headlines a UFC Fight Night card opposite Costas Philippou. The matchup is a battle of top 10s — Rockhold is still ranked No. 6 while Philippou is at No. 10 — and in a middleweight division that has finally been shaken up after Anderson Silva's historic reign came to a close, there is opportunity to be taken.
The octagon is no place for split focus, and Rockhold insists he's not one to try it, even though he can't help but occasionally look elsewhere around the landscape of the division. When he does so, his eyes inevitably wind up on Belfort.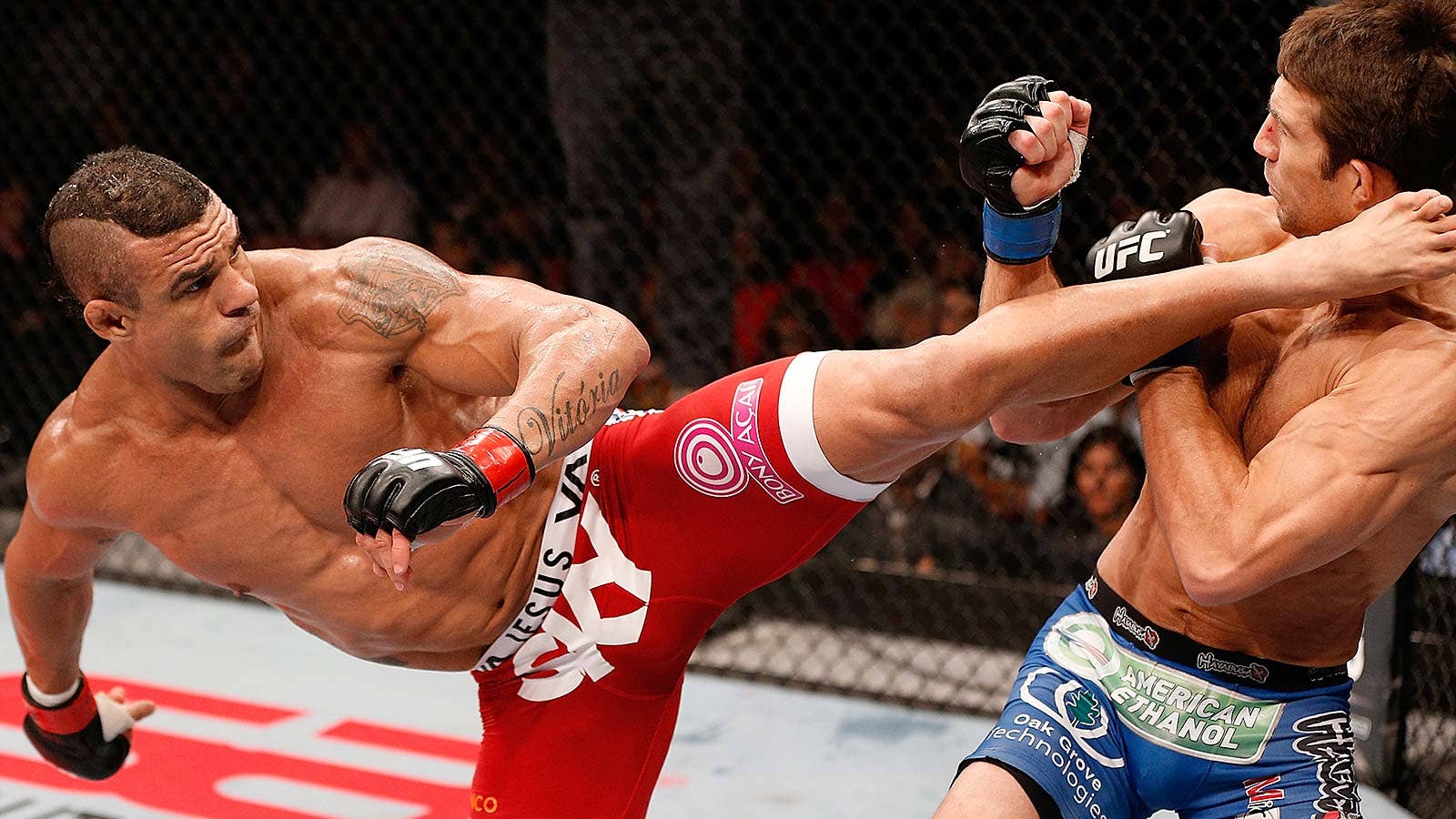 It was in May when Rockhold met the Brazilian after a strong camp, only to see his night come to an end in just 2:32. Since then, he's been outspoken in his feelings on testosterone replacement therapy, calling it a "joke," but his interest in rematching Belfort is less about the PED criticism and more about righting his own mistake. It's a matchup that Rockhold wants so badly that when you ask him if he'd rather have the pairing as a non-title match or a bout with Chris Weidman for the UFC championship, he takes a moment before answering.
"I always think about who I'm going to fight and how I would fight them, and I know I can fight anybody anywhere but if anyone's on my hit list it's going to be Vitor," he told FOX Sports in a recent interview. "I'd love that rematch. You've got to beat the top guys before you get to the champ and I'd like to redeem myself for that one and get that one.
"It depends on where we're at," he continued. "I definitely want that Vitor fight sooner than later. It's not just about revenge. There's a lot of things. I want to prove myself and beat him. It's not ever going to sit well with me until I return the favor. I just know I'm better than that, and I know I can beat him. I'm a fighter. I believe I can beat anybody."
It's the setbacks that have always fueled the Californian. After losing to Belfort, for example, he reexamined his diet and training and made some changes that he believes will have an impact on getting him to peak performance on fight night.
And fight night is the important part, because Rockhold knows in order to get to Belfort or Weidman, or whoever is at the top, he has to rediscover or perhaps improve upon the form that brought him to the top of Strikeforce.
I'm going to be launching punches and kicks at his head, and he's going to be throwing bombs at mine. But if we get to the ground, it's going to be hell for him, no doubt.
He does have several built-in advantages in the matchup. He's younger (29 to Philippou's 34), longer (77-inch reach vs. 73), has statistical advantages in striking accuracy and defense, and is considered to be the far superior grappler.
"I think Philippou is a legit force," he said. "He's going to be a tough test. It's an intriguing and fun matchup, and one that I think is going to bring fireworks. I'm going to be launching punches and kicks at his head, and he's going to be throwing bombs at mine. But if we get to the ground, it's going to be hell for him, no doubt. I'm not messing around when it comes to the ground game. I'm at a different level."
Rockhold insists he's feeling healthy and fine despite the two injuries that plagued his 2013. Late in the year, he tore an MCL, an injury that necessitated an 8-week recovery period and kept him out of a proposed fight with Tim Boetsch.
Since then, the division has changed, and the list of contenders have seen some movement. After the fall of Silva, there is a feeling that anything is possible, and Rockhold expects to seize his chance to put 2013 behind him and break through.
"I want a nice, sharp, clean performance, and to kick some ass," he said. "As long as everything goes well, I'm right back in the mix. I know I'm capable of beating the guys I've already beaten, and anyone else in the division. Right now I don't want to look past what's in front of me, but I know what I'm capable of, and that's beating anyone in the division. I'm ready to make my own highlight and be on the right side of it."