Alexander Gustafsson rocks London, Michael Johnson furious at Guillard's running
For all of the complaints about the UFC Fight Night London airing on Fight Pass, it sure felt as big as any other major card. A sold-out crowd of 14,604 packed London's O2 Arena to see if Alexander Gustafsson could work his way back into a title shot against wild-card Jimi Manuwa.
Gustafsson also came off like a star. He got a champion's reception and was showered in adulation upon becoming the first man to separate Manuwa from the winner's circle. This despite the fact that Gustafsson was a Swede while Manuwa was fighting about 15 miles from his house.
That moment — Brits cheering on a Swede who'd vanquished one of their own — perfectly encapsulated the point of the UFC's often debated strategy of running events that cater to local markets. This was about a global experiment.
American might have been watching on Fight Pass, but British fans were watching on free television for the first time and Swedes were watching on a major sports channel for the first time. In Europe, this was an event. So if and when Gustafsson and Jon Jones rematch later this year, it will be a bigger match as a result.
Of course, Gustafsson had to do his part to make that happen, and he did so with a vicious Muay Thai knee from the clinch that staggered Manuwa and led to a second-round knockout.
After focusing on wrestling and ground work in the first, Gustafsson returned to his normal focus and beat Manuwa at his own game. It was as if you could see him abandon a tactical approach for what he truly believed in, and the results were immediate, the stoppage coming just 78 seconds into the second round.
And no sooner had Gustafsson dispatched Manuwa than his attentions turned to his true target, Jones, the guy who stole his dream just as soon as he'd tried to steal Jones' belt.
"Well, I just want to fight him," Gustafsson said. "That's all I want. I want to fight him and I want to finish him."
That's all he had to say and that's all we had to hear. We wanted the rematch from the get-go, so does the fact that he fought across the Atlantic and on a web stream change that any? No. And for European fans, he's a bigger star than he was before. Assuming a Jones' win, it sounds like a big win for both Gustafsson and the UFC.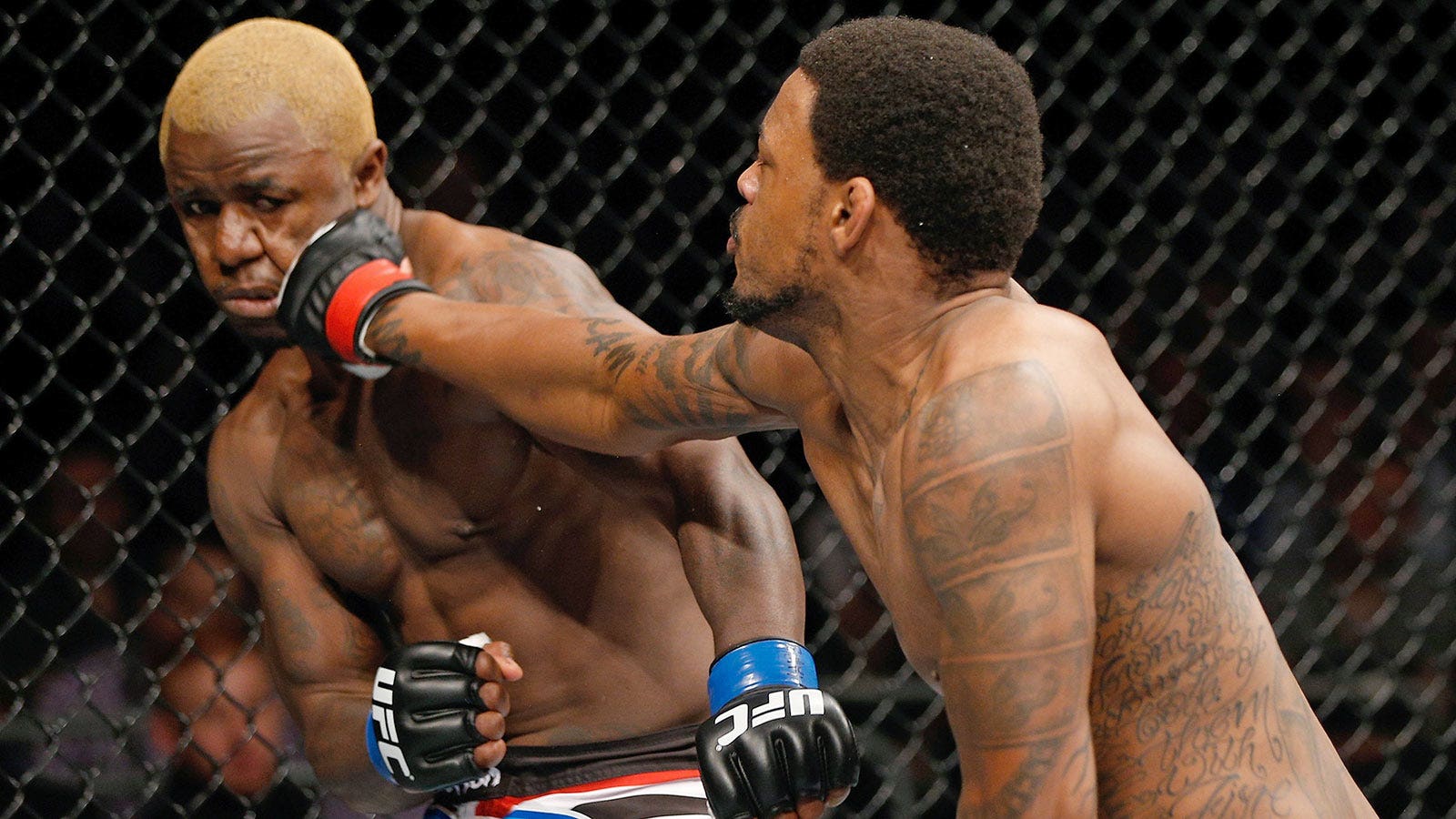 Johnson tops Guillard in co-main event
In the early part of his career, Michael Johnson was best known for his inconsistency. He started his career alternating wins and losses, and it seemed as though he may go on to be another divisional journeyman. But the 27-year-old former Ultimate Fighter contestant continues to progress and impress.
On Saturday, Johnson extended his win streak to three, out-pointing the dangerous Melvin Guillard in a unanimous decision by 30-27, 30-27, 29-28 scores. While the fight didn't deliver the explosive moments that many anticipated, there were several sparks as Johnson pulled away late with sharp striking. Guillard, mostly known for his aggression, instead played a counter game, allowing Johnson to steal the momentum.
"I'm extremely frustrated," said Johnson (15-8). "For all the BS'ing he talked for the fight, I expected him to come out and finish me, but he pretty much ran the whole fight. I wasn't going to leave myself exposed so I just fought a smart fight."
Johnson had his best round in the third, drilling Guillard with left hand, scoring with a knee and adding a takedown for good measure.
Guillard has been an exciting fighter throughout his career, but has only won in two of his last seven fights. White wouldn't comment on his future, but he didn't sound impressed with what he saw.
"There's no doubt that Melvin ran the entire fight and was incredibly passive, the complete opposite of how he used to fight," he said.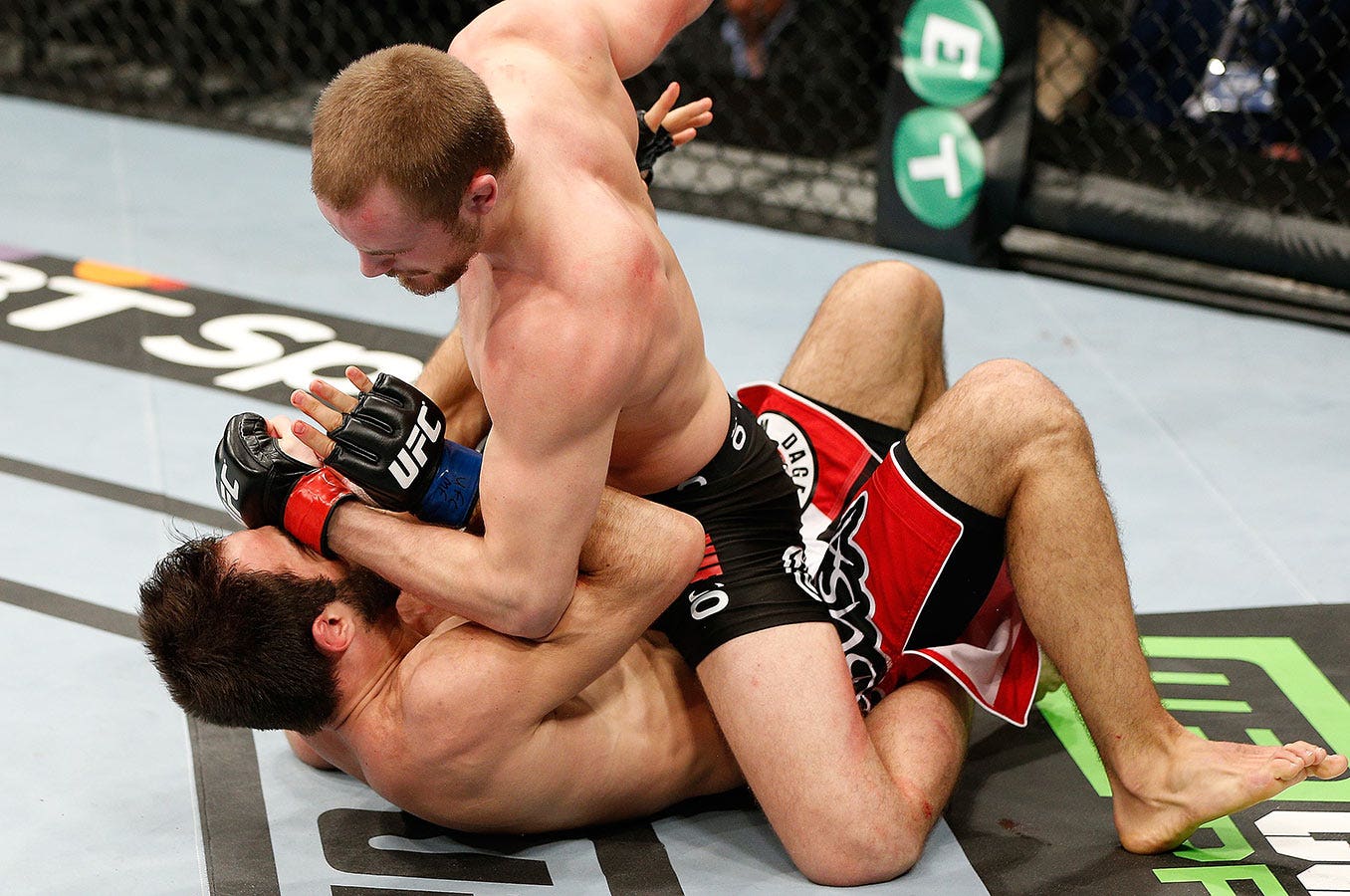 Gunnar Nelson stops Omari Akhmedov
Gunnar Nelson walked into the UFC with big expectations surrounding him, and he continues to live up to expectations. The 25-year-old's forward progression marches on, dominating Dagestani Omari Akhmedov en route to a first-round submission choke at 4:36.
Nelson dropped Akhmedov with a straight left and showed his grappling pedigree with a brilliant top game, first slicing Akhemdov open with repeated elbows, then transitioning to a guillotine choke.
"Like always I don't really have a strict game plan," he said afterward. "I take the fight where it goes and make it up as I go."
Nelson remains unbeaten in his career at 12-0-1 while Akhmedov saw his own 11-fight win streak snapped, falling to 12-2.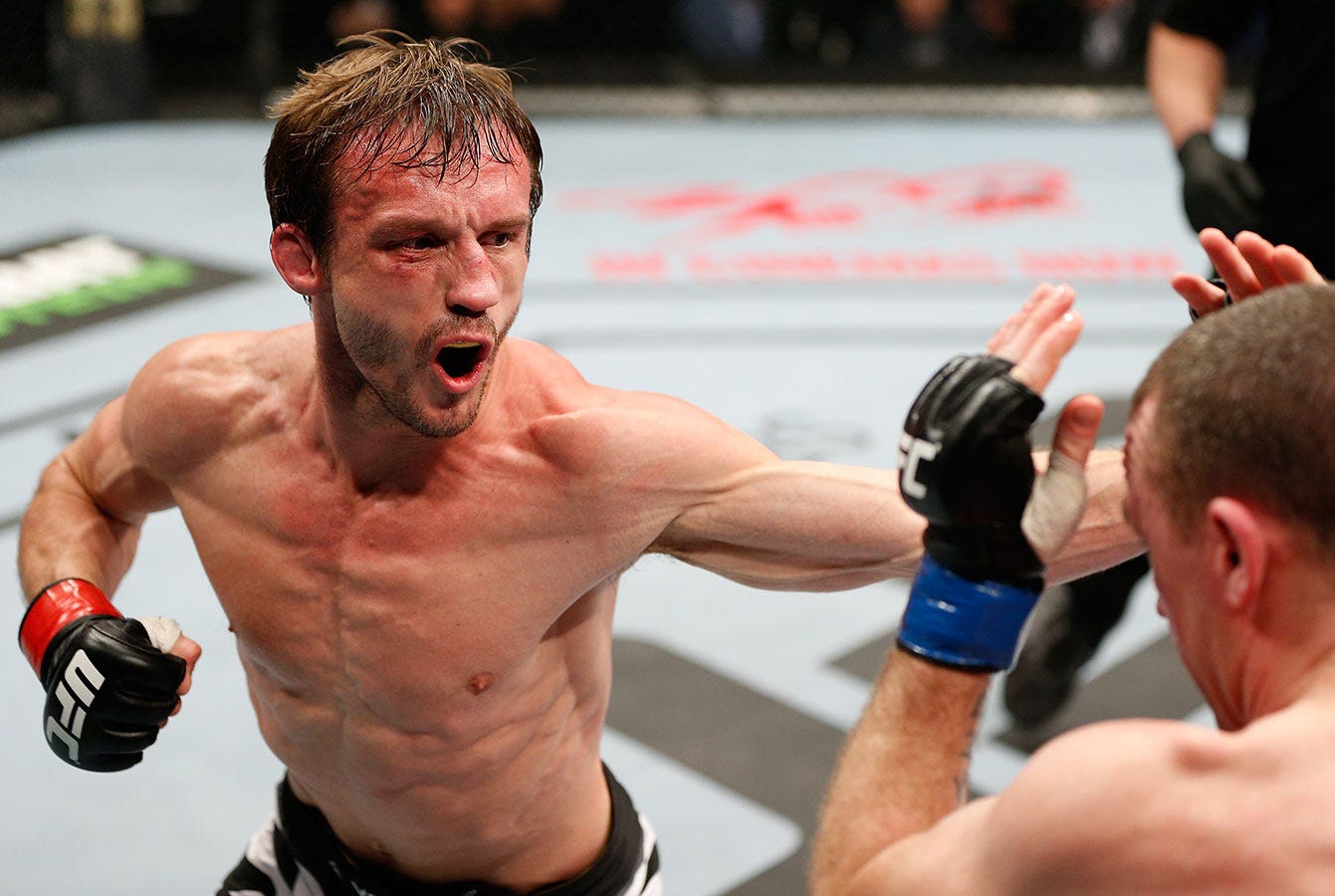 Pickett wins, calls out Demetrious Johnson
Brad Pickett had only one reason for moving down to flyweight: chasing the belt. On Saturday, he made those intentions publicly known, asking for a title shot after defeating Neil Seery in a unanimous decision.
It's unlikely that a single win will be enough, given that Seery was a late-notice replacement, but you can't blame him for trying. In the fight, Pickett's wrestling was the key as he frustrated Seery's technical striking plan by putting him on his back four times in the fight. That allowed Pickett to out-land him 69-48 overall.
"He's obviously in a great position," White said. "Tonight's win, he's in a great spot. I love the kid. He's a great guy and he's an awesome fighter. He always brings it and we'll see what happens.
Undercard Notes
Ilir Latifi, last seen filling in for Gustafsson on three day's notice against Gegard Mousasi last April, earned his first octagon win, defeating Cyrille Diabate with a neck crank/choke combo. The 40-year-old Diabate said afterward that he was likely to retire.