Gray Maynard: 'A lot' on the line when he closes trilogy with Nate Diaz
Following a start to his career that saw him work to a perfect 10-0 record, Gray Maynard finally saw how the other half lived in the fight game that is very often an unforgiving beast that can pump you full of adrenaline just as easily as rip your heart out.
The first bump in the road came when Maynard finally landed a title shot against Frankie Edgar at UFC 125. Maynard savagely beat Edgar from the time the opening bell sounded, but despite several knockdowns he just couldn't put away the tough kid from New Jersey and so the fight continued. When it was over, Edgar not only survived but found a way to battle back and earn a draw when the final decision was handed down.
10 months later when they met again, Maynard almost produced a carbon copy of the first fight when he plastered Edgar with punches in the first round and almost got another finish. Lo and behold, Edgar again gutted it out and this time he ended up catching and put Maynard down in the fourth round to win by TKO.
So Maynard picked up the pieces and returned to action almost nine months later and ended up having a bizarre fight against Clay Guida. As it turns out, Maynard essentially had to chase Guida around the cage for the better part of 25 minutes and while he got the win it certainly didn't go the way he had anticipated.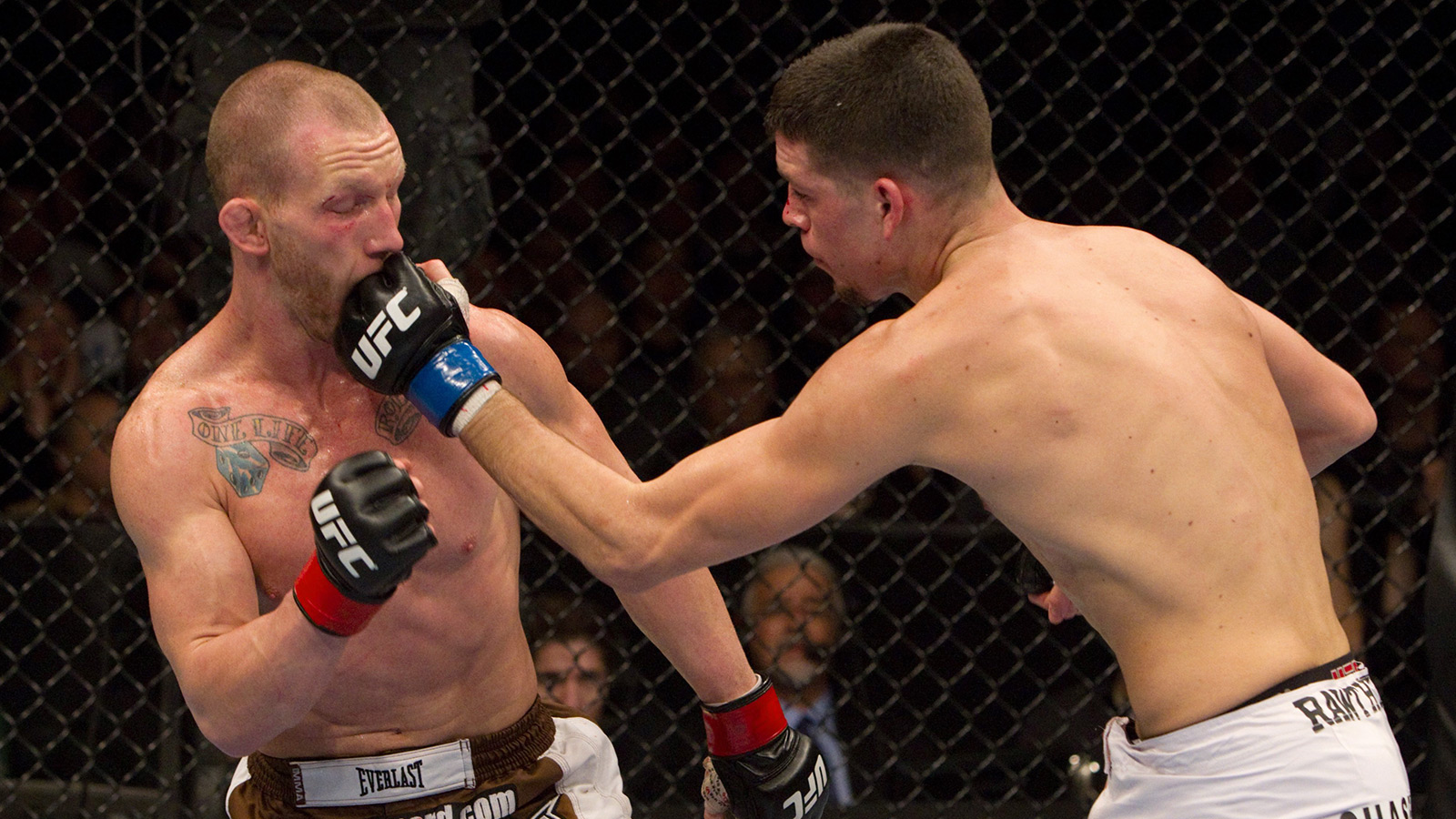 Maynard then had to sit out almost a year due to injuries and when he returned this May, his welcoming committee was Canadian brute TJ Grant, who bombarded the former Michigan State wrestler with punches, ending the fight in the first round. Now after this long strange trip over the last three years, Maynard is finally ready to not only get a win this weekend when he faces old foe Nate Diaz, but to put everything that's happened behind him and start new.
The process began for Maynard when he moved his training camp to American Kickboxing Academy in San Jose while also witnessing the birth of his first child. Maynard settled into the new team and into fatherhood, and he feels as ready as ever to get back in the Octagon to compete again.
"I last competed in May and before that it was a year off because of the injury. So I've had a little bit of time off, but it's kind of given me time to adjust to the move and the new baby and just kind of all this stuff that kind of happens in life," Maynard told FOX Sports.
While Maynard's goal is to move forward, he's going to be dragged back into the past for his upcoming fight where he meets Diaz for the third time in just over six years. Maynard and Diaz first crossed paths when they were both living in the house while competing on The Ultimate Fighter, and back then they were as friendly as any two competitors could be.
Once they moved out of the house and into the thick of the lightweight division, the slight friendship that developed as roommates faded away as the fire of competition boiled over in both fighters.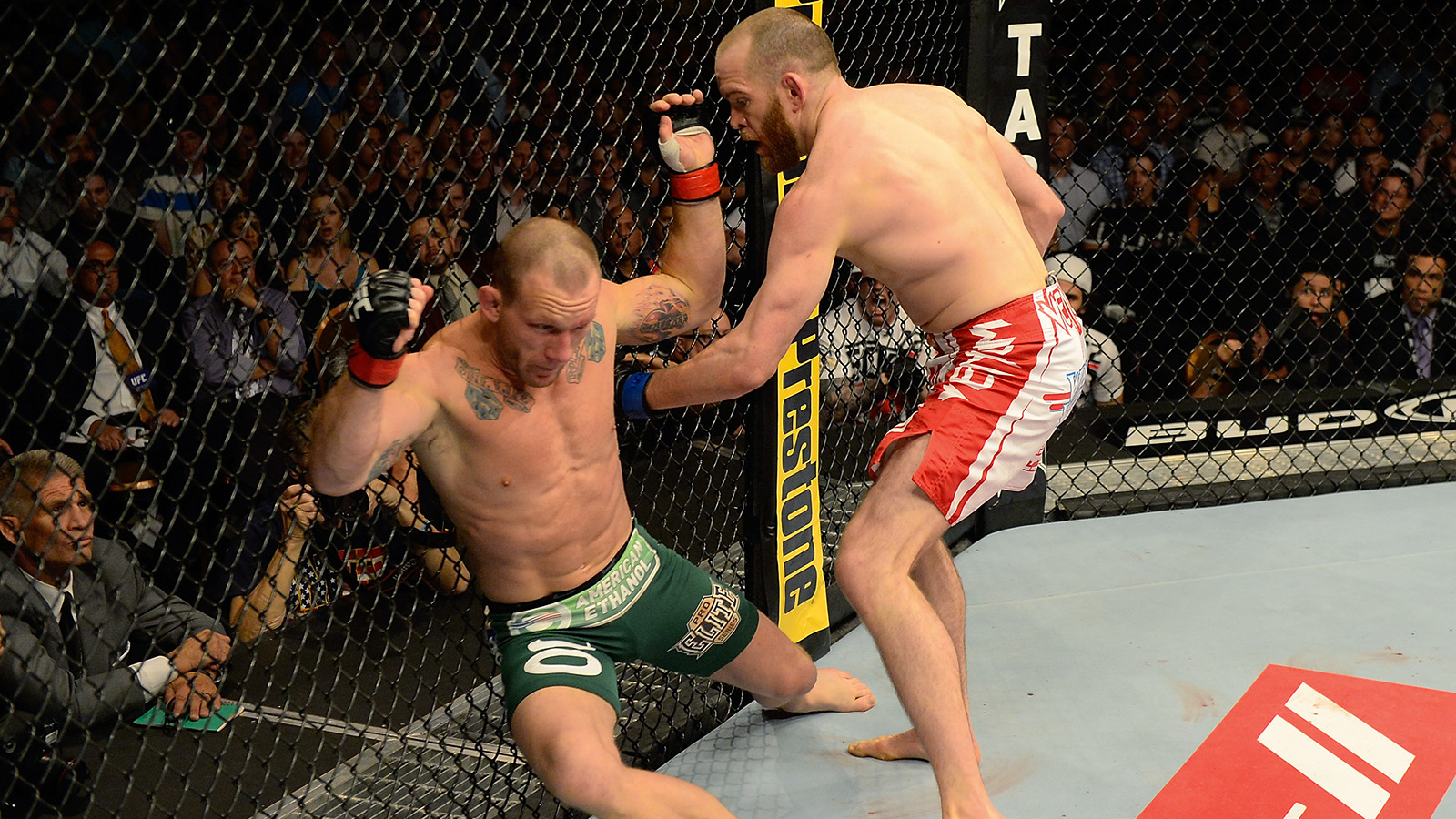 "We were cool in the house, you kind of have to be. Just because we're two type of people that if you're not cool we'll probably just go at it there in the house and get kicked out of the house. We were cool in the house, but kind of after the TV show we knew what we wanted and that's the belt. We kind of knew that we'd have to meet up one day," Maynard said.
The first meeting while in the house ended with Diaz submitting Maynard by guillotine choke. The rematch went Maynard's way after he pulled off a split decision victory in 2010. The third fight will close out the rivalry, but Maynard believes this fight is just as much about his own personal redemption as any kind of closure with the series of bouts against Diaz.
He knows Diaz has been chomping at the bit to get another shot at him ever since the judges scored him as the winner in their last fight. Maynard's focus goes beyond Diaz, however, because after feeling the sting of defeat in two out of his last three fights, he wants to get back in the winner's circle more now than ever before.
"I kind of knew it would come. He asked for it a couple of times but I was going up against Frankie Edgar, and then he had the title bout and then we both lost so let's do it now," Maynard said.
"It's more of the trilogy and just kind of climbing the ladder again. I'm amped up now, the loss that kind of amped me up back in May. It's just a lot of stuff that's on the line that I'm pumped about."