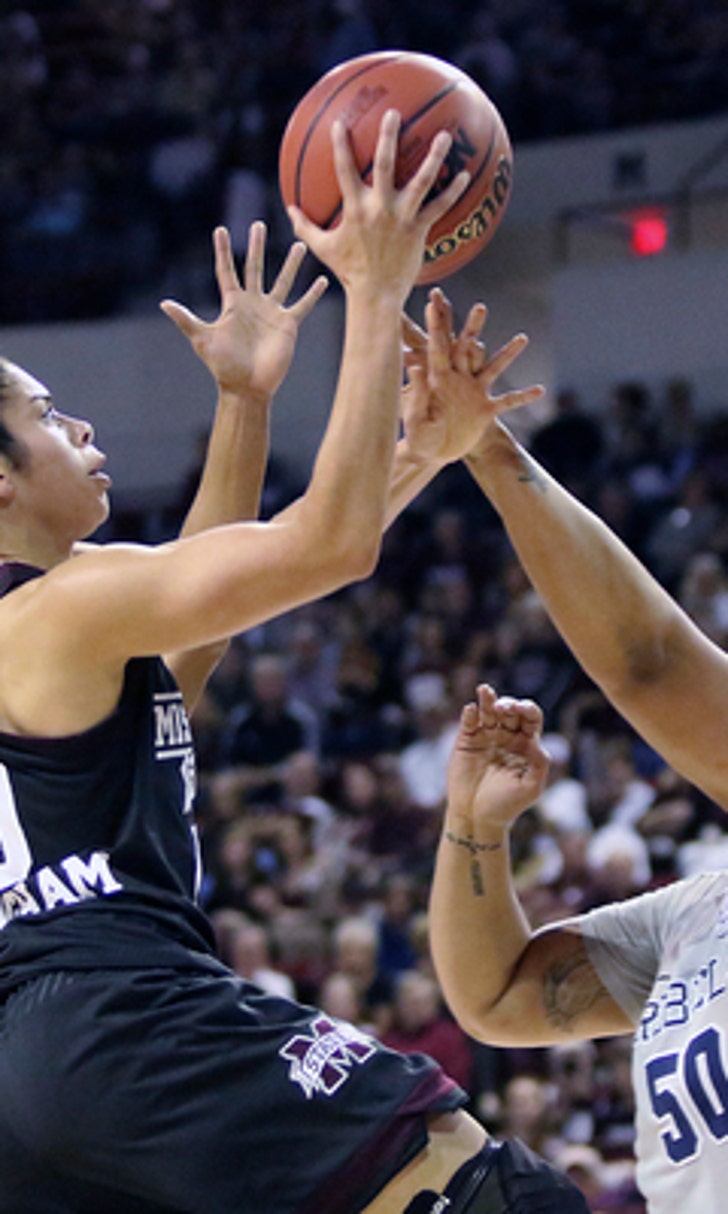 No. 4 Mississippi St beats Mississippi 73-62 (Jan 16, 2017)
BY AP • January 16, 2017
STARKVILLE, Miss. (AP) Mississippi was fighting with its all its might during the third quarter on Monday night, sprinting around the court and diving for loose balls, all in an effort to pull within striking distance of No. 4 Mississippi State.
That's about the time Mississippi State's Victoria Vivians caught a pass, squared up from 22 feet and let a 3-pointer fly. Swish. Fifteen seconds later after a scrum for a rebound, she emerged and sprinted down the court for an easy layup.
Just like that, Mississippi State was well on its way to a 73-62 win over rival Ole Miss at Humphrey Coliseum. It was the Bulldogs' 19th straight win to start the season, which is a school record.
Vivians scored 18 of her 23 points in the second half to help the Bulldogs keep a comfortable lead in front of 8,840 fans, which was the second-largest crowd in program history.
''I thought we pretty much controlled the game in a great environment,'' Mississippi State coach Vic Schaefer said.
Dominique Dillingham scored 16 points, including 13 in the first half when Vivians was struggling. The 16 points were more than her previous five games combined since she returned to the lineup following knee surgery.
But the star - as usual - was Vivians. The 6-foot-1 junior guard's ability to score in bunches once again proved invaluable for the Bulldogs. She shot 6 of 10 from the field in the second half, including 3 of 5 from 3-point range.
''I see it every day in practice, so it doesn't surprise me,'' Dillingham said. ''She's a player.''
Mississippi State (19-0, 5-0 Southeastern Conference) jumped out to a 22-8 lead by the end of the first quarter, though Ole Miss gained a little ground to pull it within 36-25 by halftime.
The Rebels (13-5, 2-3) kept hanging around throughout the third quarter, but the five aforementioned quick points from Vivians extended the Bulldogs' lead to 16 and ended any realistic hope of an Ole Miss upset.
Shandricka Sessom led Ole Miss with 16 points. Allisa Alston added 14. The Rebels struggled to take care of the ball with 22 turnovers.
''The first quarter really killed us,'' Ole Miss coach Matt Insell said. ''Got us up in a hole and when you get in a hole against a team that's ranked fourth or fifth in the country - you can't do that.''
BIG PICTURE
Ole Miss: Fresh off a win over Tennessee, the Rebels were competitive with one of the best teams in the country. Ole Miss is trending in the correct direction, but is in the midst of a tough week with road games against the Bulldogs and No. 5 South Carolina.
''We lost, but we'll get better from it,'' Insell said.
Mississippi State: It wasn't one of Mississippi State's best games, but the Bulldogs pushed through for their 19th straight win. Dillingham's offensive outburst is a welcome sign for a team that's always looking for different ways to score outside of leading scorer Vivians.
UP NEXT
Ole Miss: The Rebels stay on the road and face No. 5 South Carolina on Thursday.
Mississippi State: The Bulldogs travel to face Alabama on Thursday.
---
---