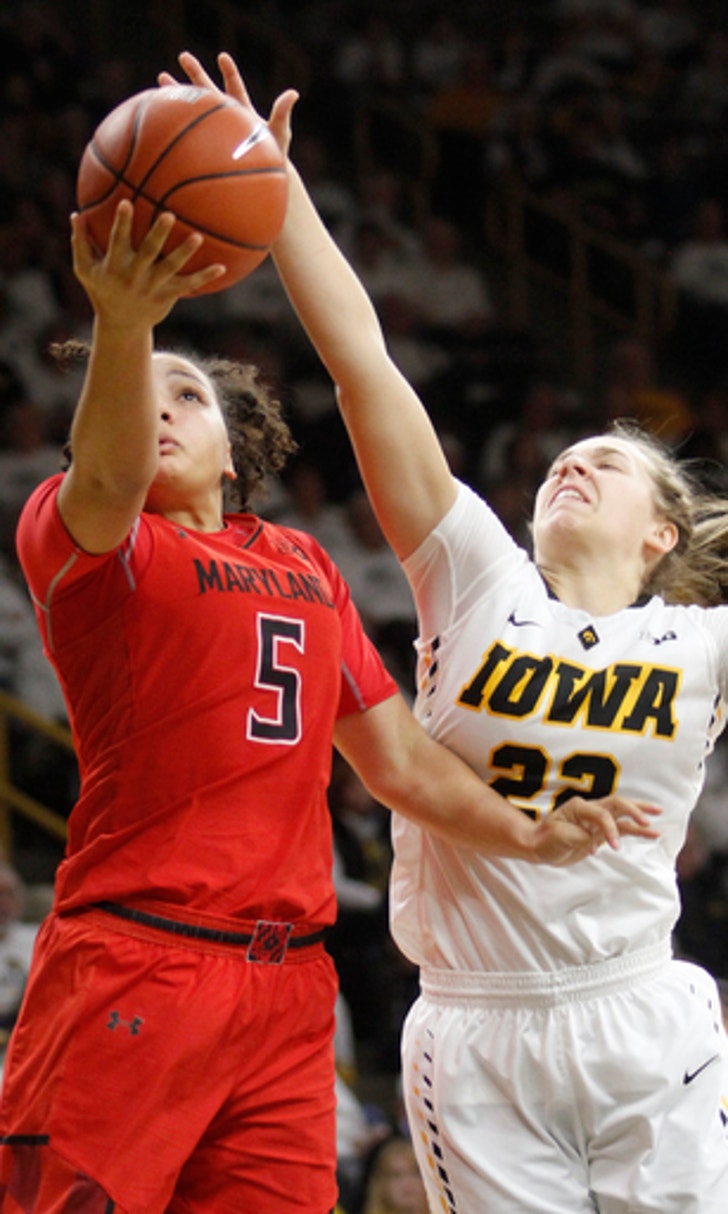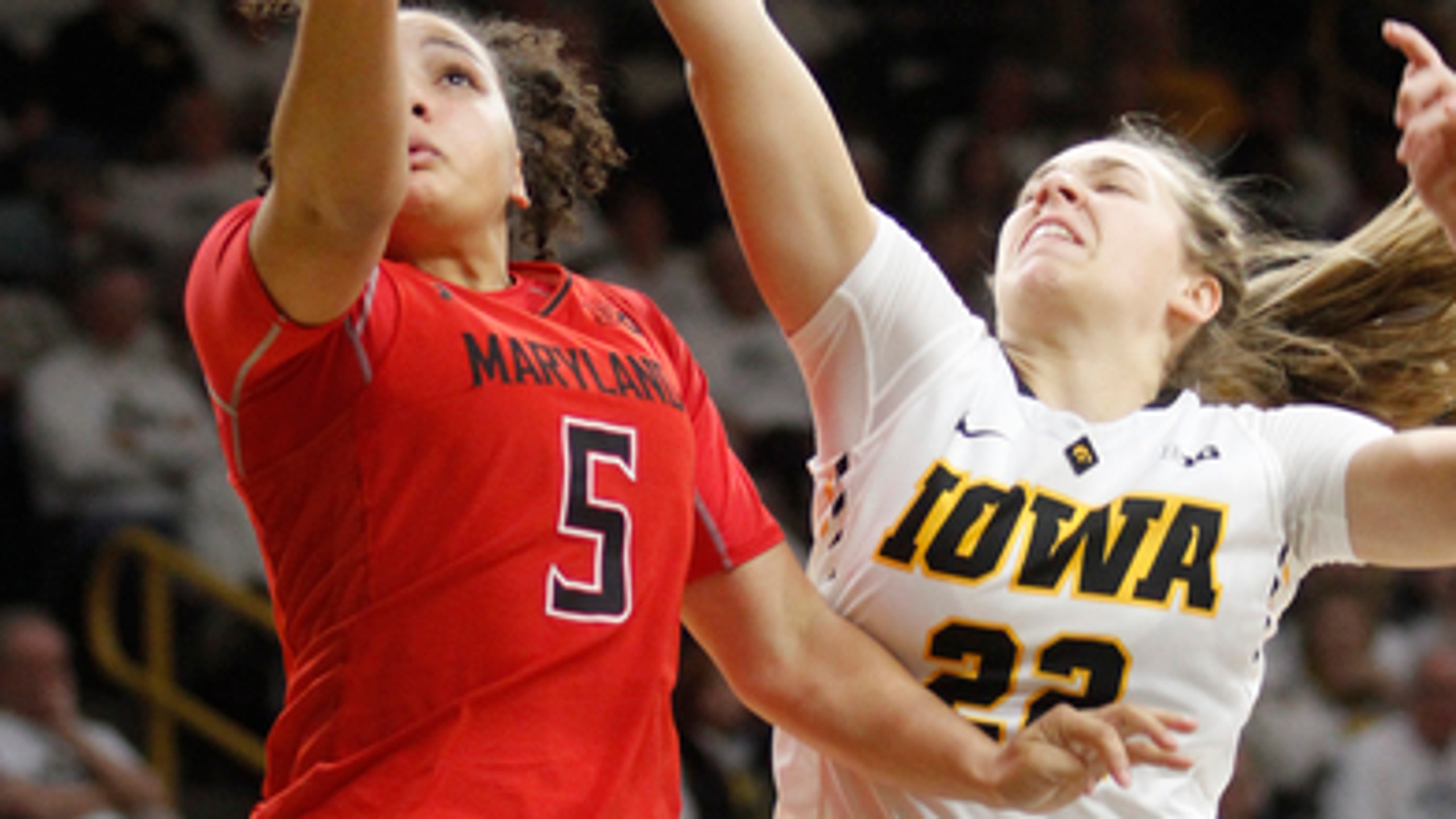 No. 3 Maryland women beat Iowa 98-82 (Jan 14, 2017)
BY AP • January 14, 2017
IOWA CITY, Iowa (AP) In a flash, third-ranked Maryland found itself trailing on the road to an average Iowa team.
The Terrapins steadied themselves at halftime and blew past the Hawkeyes over the final 20 minutes.
Brionna Jones had 25 points and 10 rebounds to help Maryland beat Iowa 98-82 on Saturday.
Shatori Walker-Kimbrough came off the bench and scored 20 of her 22 points in the second half for the league-leading Terrapins (17-1, 5-0 Big Ten). They outscored Iowa 55-35 in the second half.
''I thought we regrouped at halftime (and) really buckled down defensively,'' Maryland coach Brenda Frese said. ''We played much better defense in the second half.''
Maryland struggled in the first half after Jones picked up two quick fouls, falling behind by four at the break after a quick 20-3 Hawkeyes run.
The Terrapins finally got untracked with a 13-0 run in the third quarter, and Walker-Kimbrough's 3 near the end of the third quarter made it 69-59.
Walker-Kimbrough's 3 early in the fourth put Maryland up by 20 to cap a 39-15 spurt - fueled by pressure defense - that gave the Terrapins their expected result.
''We fought back,'' Walker-Kimbrough said. ''We had to match their intensity.''
Tania Davis scored a career-high 25 points for Iowa (11-7, 2-3), which rallied from an early 15-2 hole but couldn't sustain that momentum.
''We got down big, and I'm proud of the way our team battled back,'' Iowa coach Lisa Bluder said. ''Tania did a great job of getting the fire going.''
POLL IMPLICATIONS
No. 2 Baylor and the third-ranked Terps both have one loss - to No. 1 Connecticut. Maryland should expect to be third again next week, although unbeaten and fourth-ranked Mississippi State is now 18-0.
THE BIG PICTURE
Maryland: The Terrapins let Penn State hang around their last time out at home and they needed three quarters to get past Iowa. Don't be surprised if Maryland drops a game or two in league play, especially if Jones gets into foul trouble again. Ieshia Small started over Walker-Kimbrough because Frese said Maryland wanted to work on its depth. ''What I love is how they responded. They show great character,'' Frese said.
Iowa: The Hawkeyes could have boosted their fledgling NCAA Tournament hopes by giving one of the nation's elite teams a game. They did, but for only about 20 minutes. Iowa still has a lot of work to do if it wants to make it to the tournament for the ninth time in 10 years.
THE NUMBERS
Ally Disterhoft scored 18 for Iowa, and Megan Gustafson had 14. ...Destiny Slocum had 14 points, six assists and five rebounds - and four turnovers. ...Maryland outscored Iowa 54-38 in the paint and 21-6 in second-chance points. ..Jones eventually fouled out late in the fourth quarter.
DOUBLE TROUBLE
Jones and Walker-Kimbrough, both seniors, combined to shoot 17 of 26 from the field and 10 of 12 from the line. Jones picked up her 12th double-double of the year, while Walker-Kimbrough had five assists and four rebounds. ''Every time we go on the road, they continue to show great leadership,'' Frese said.
D'OH!
Slocum took a 3 to open the second half - and it got lodged between the glass and the rim. Luckily for the Terrapins, it wasn't a sign of things to come.
UP NEXT
Maryland hosts Michigan on Thursday. The Wolverines entered Sunday's game against Minnesota at 14-4 and 3-1 in the Big Ten.
Iowa plays at Rutgers on Tuesday.
---
More college basketball at www.collegebasketball.ap.org
---
---