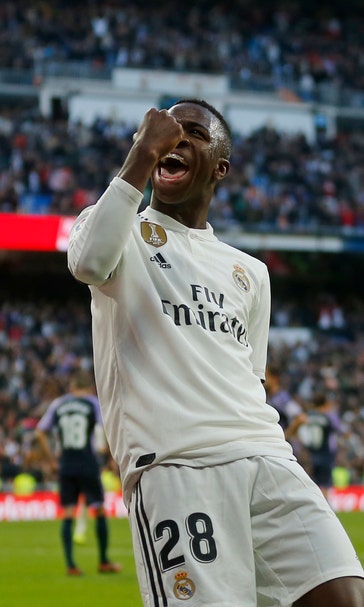 Madrid needs late own-goal, penalty to end league slump
November 3, 2018
MADRID (AP) — Real Madrid needed a late goal by Brazilian teenager Vinicius Junior to beat Valladolid 2-0 and end its slump in the Spanish league as interim coach Santiago Solari made his home debut on Saturday.
A shot by substitute Vinicius took a deflection off defender Kiko Olivas in the 83rd minute and caught goalkeeper Jordi Masip out of position. Masip touched the ball but couldn't keep it from going in. The league credited the 18-year-old Vinicius with the goal.
Sergio Ramos added a second goal from the penalty spot in the 88th after Karim Benzema was fouled by Fernando Calero.
Until then, Valladolid threatened to extend Madrid's winless run. Ruben Alcaraz and Toni Villa hit the woodwork for the visitors with long strikes in the second half.
Madrid's first win in six rounds lifted it from ninth to sixth place.
Madrid's fans jeered its players when Valladolid went close to scoring, and especially when ineffective forwards Gareth Bale and Marco Asensio were substituted at 0-0.
"We understand how our supporters feel," Ramos said. "We, as players, are the ones who are responsible (for the poor run) and we are the ones who have the opportunity to turn this around. These three points are important to boost our morale."
Solari was named Madrid's caretaker coach on Monday, when predecessor Julen Lopetegui was fired a day after a 5-1 loss at Barcelona. Madrid won 4-0 at third-division Melilla in the Copa del Rey in Solari's debut on Wednesday, with Vinicius setting up two goals in his first start for the European champions.
"I would have liked to win 7-0 with three goals from bicycle kicks," said Solari, a former Madrid midfielder. "But that's not football, which is hard. There are moments when you have to have order, commitment, a serious attitude, effort and a competitive spirit, and we showed those tonight and we won."
Valladolid is exceeding expectations after winning promotion last season. Owned by Brazil great Ronaldo, it entered the match at Santiago Bernabeu Stadium on a six-match unbeaten streak. The defeat left it in eighth place.
"In the second half we played better than Madrid," Valladolid coach Sergio Gonzalez said. "I'm happy for that but frustrated by the result, which doesn't reflect the enormous effort of my players."
---
---