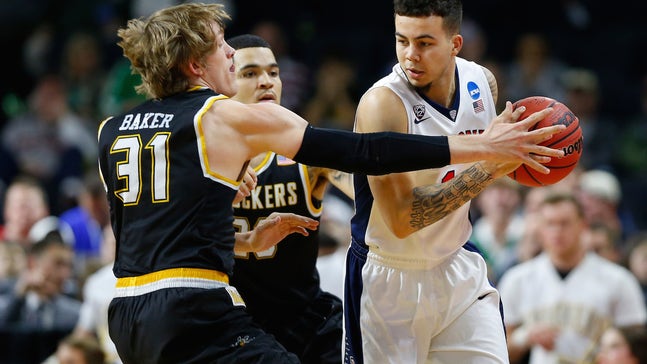 Shockers defeat turnover-plagued Wildcats 65-55
Published
Mar. 18, 2016 12:00 a.m. ET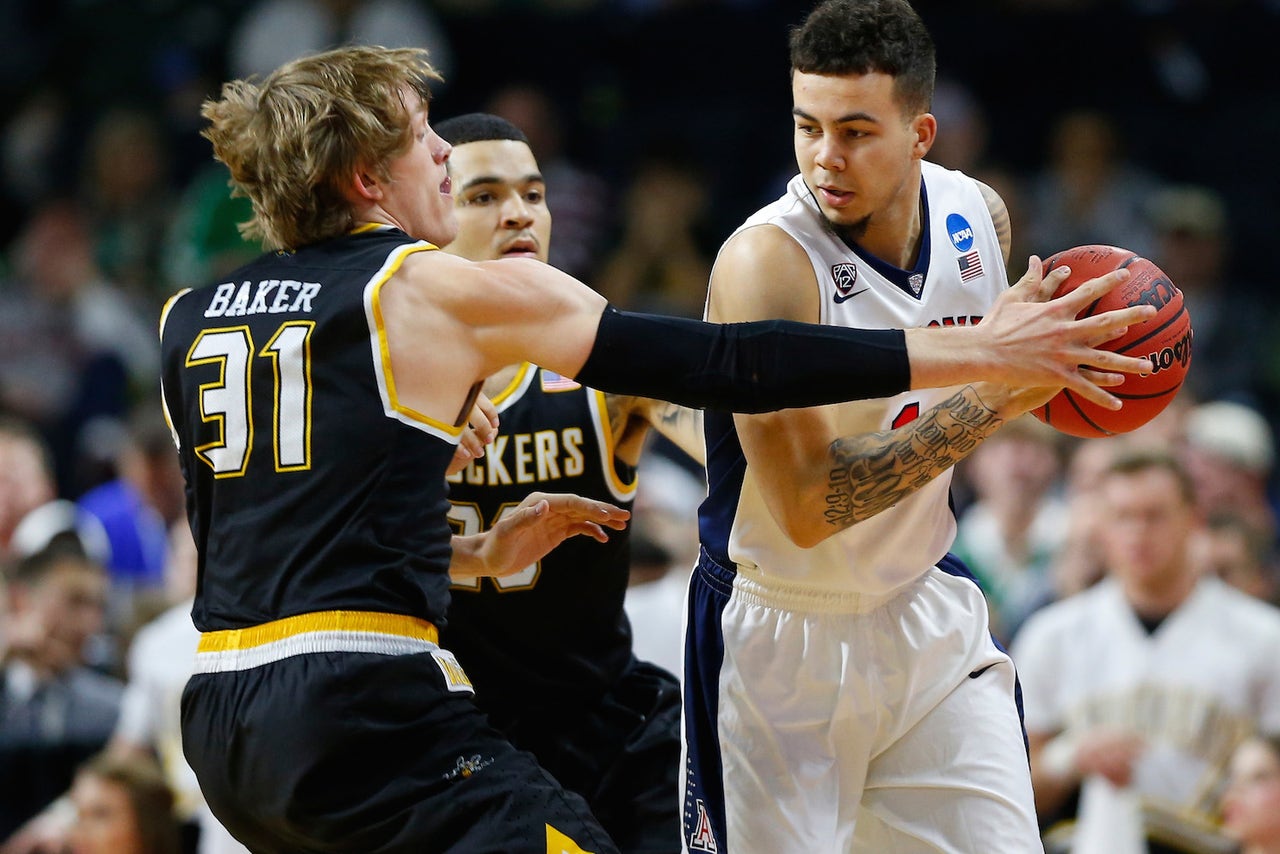 PROVIDENCE, R.I. -- It didn't take long for Wichita State to send a message to Arizona that the Wildcats were in for a long night.
After Wichita State's Fred VanVleet and Ron Baker dived to the floor for a loose ball at Arizona's end in the first minute of their NCAA Tournament game Thursday night, Wildcats coach Sean Miller called a timeout.
It was evident from the outset that Wichita State's in-your-face defense was going to be a huge factor again.
"That was kind of a statement from the go that we were going to start the game playing hard," Baker said.
The Shockers' senior duo of VanVleet and Baker combined for 29 points and Wichita State's swarming defense did the rest in a 65-55 first-round victory. Arizona entered the game averaging 81.2 points.
"Big-time effort, big-time game plan," said VanVleet, who finished with 16 points and five steals. "Obviously, I was able to have some success early."
Wichita State (26-8) will play Miami (26-7), the third seed in the South Region, on Saturday.
The Shockers forced 19 turnovers they converted into 22 points and snared nine steals. And Arizona's big three of Ryan Anderson, Gabe York and Allonzo Trier, each averaging 15 points, combined for just 28.
The Shockers didn't flinch at Arizona 7-footer Kaleb Tarczewski, limiting him to three shots. They were used to coping with big guys, using terrific team defense in the post to beat a Vanderbilt team with three 7-footers by 20 points in a First Four game in Dayton, Ohio, on Tuesday night.
"We tried to deny them (Arizona's big men) the ball as much as we could," Shockers coach Gregg Marshall said. "Our post players did a great job."
Baker and VanVleet, who were part of the Shockers' 2013 Final Four team, led the way against Vandy, combining for a triple-double (28 points, 12 rebounds and 10 assists).
It was more of the same against the Wildcats.
Wichita State built a 31-19 halftime lead behind 10 points from VanVleet and cruised behind its bench, which accounted for 28 points.
"We always try to come in and push the lead," said Conner Frankamp, who finished with 10 points in 14 minutes.
Baker, seemingly everywhere on the floor, set up Shaquille Morris for a rim-rattling slam that he converted into a three-point play for a 46-27 lead with 13:38 left.
Frankamp followed with a 3 from the left corner and drained two free throws after Arizona was whistled for a technical, boosting the lead to a daunting 22 points.
"We struggled," Miller said. "They forced the fifth-most turnovers in the nation. That's hard to do when you play man-man and you don't press. You feel it when you're out there. There's pressures everywhere."
The Wildcats staged a late rally, Gordon's 3 and a slam by Anderson moving them within 53-40 with 7:56 on the clock.
Five points from Kadeem Allen, a pair of blocks by Tarczewski, and two free throws by York moved the Wildcats within 60-51 with 96 seconds left. When the ball glanced out of bounds off York in the final minute, Baker yelled, 'Yeah!' with the victory secure.
TIP-INS
WICHITA STATE: Wichita State has reached 25 wins seven straight times, besting Cincinnati's mark of six seasons in a row from 1957-63. ... The victory over Arizona was VanVleet's 120th, tying him with Tekele Cotton for the school and conference record.
ARIZONA: Was ranked 17th in the most recent AP poll. ... The Wildcats are 54-32 in the tournament.
UP NEXT
Wichita State: Second-round game against Miami.
---
---