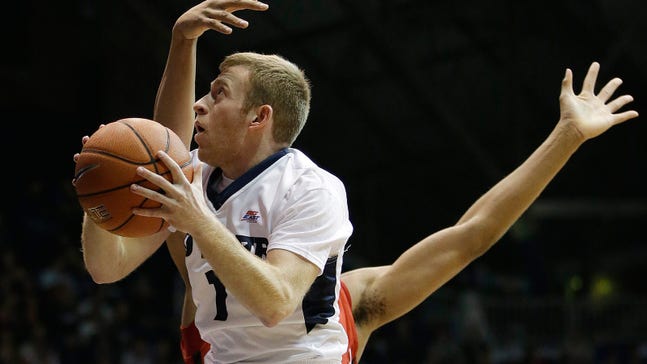 Butler celebrates return to Top 25 with 93-66 win over VMI
Published
Dec. 7, 2015 9:38 p.m. EST

INDIANAPOLIS -- Kelan Martin scored 20 points and Roosevelt Jones added 14 to help No. 18 Butler run away from VMI 93-66 on Monday night.
Just hours after the Bulldogs (7-1) moved back into the Top 25, they won their fourth straight in emphatic fashion.
The Keydets (3-5) were led by Julian Eleby with 21 points and QJ Peterson with 17 but never led and tied the score only once -- 2-2.
Butler started pulling away with an early 11-3 spurt, then went on a 12-3 run to take a 39-19 lead less than 12 minutes into the game.
The Bulldogs were just warming up. They used a 16-6 spurt to make it 55-25 with 2:31 left in the half and VMI never got closer than 26 points the rest of the way.
Kellen Dunham, the Big East's leading scorer, had 11 points for Butler.
Butler led 72-33 early in the second half and appeared headed toward topping the 100-point mark for the second time this season -- a feat it last achieved in 1990-91 when current athletic director Barry Collier was the coach.
But the Bulldogs backed off over the final 15 minutes.
They dominated every facet of the game. In addition to the lopsided score, Butler outscored VMI 42-24 in the paint and 42-3 in bench points. Plus, Butler outrebounded VMI 48-28.
Butler scored the first nine points of the second half to make it 65-31.
TIP-INS
VMI: The Keydets had won four straight games on Pearl Harbor Day. ... VMI has lost consecutive games for the first time this season after losing all of its previous odd-numbered games and winning all of its previous even-numbered games. ... Monday was the first time since December 1975 that VMI played in the state of Indiana. ... The Keydets shot nearly as well from 3-point range (33.3 percent) as they did from the field (37.1).
Butler: The Bulldogs padded their 91.1-point per game average, which was No. 2 in the nation entering Monday night. ... Butler improved to 4-0 at home this season. It was shooting 60 percent at Hinkle Fieldhouse in its first three games and was 54.5 percent Monday. ... The Bulldogs rolled despite having a season-high 14 turnovers.
UP NEXT
VMI hosts Navy on Saturday.
Butler hosts Tennessee on Saturday.
---
---