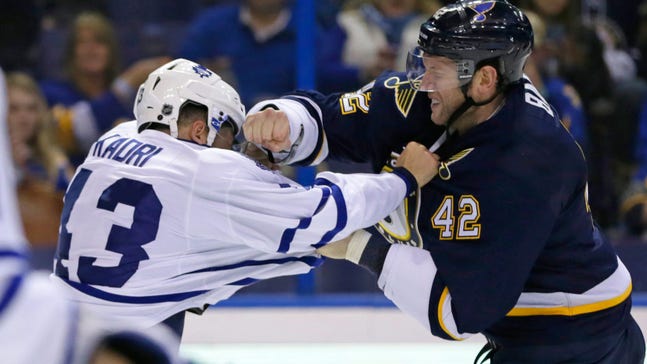 Blues suffer another listless loss, 4-1 to Toronto
Published
Dec. 5, 2015 9:53 p.m. ET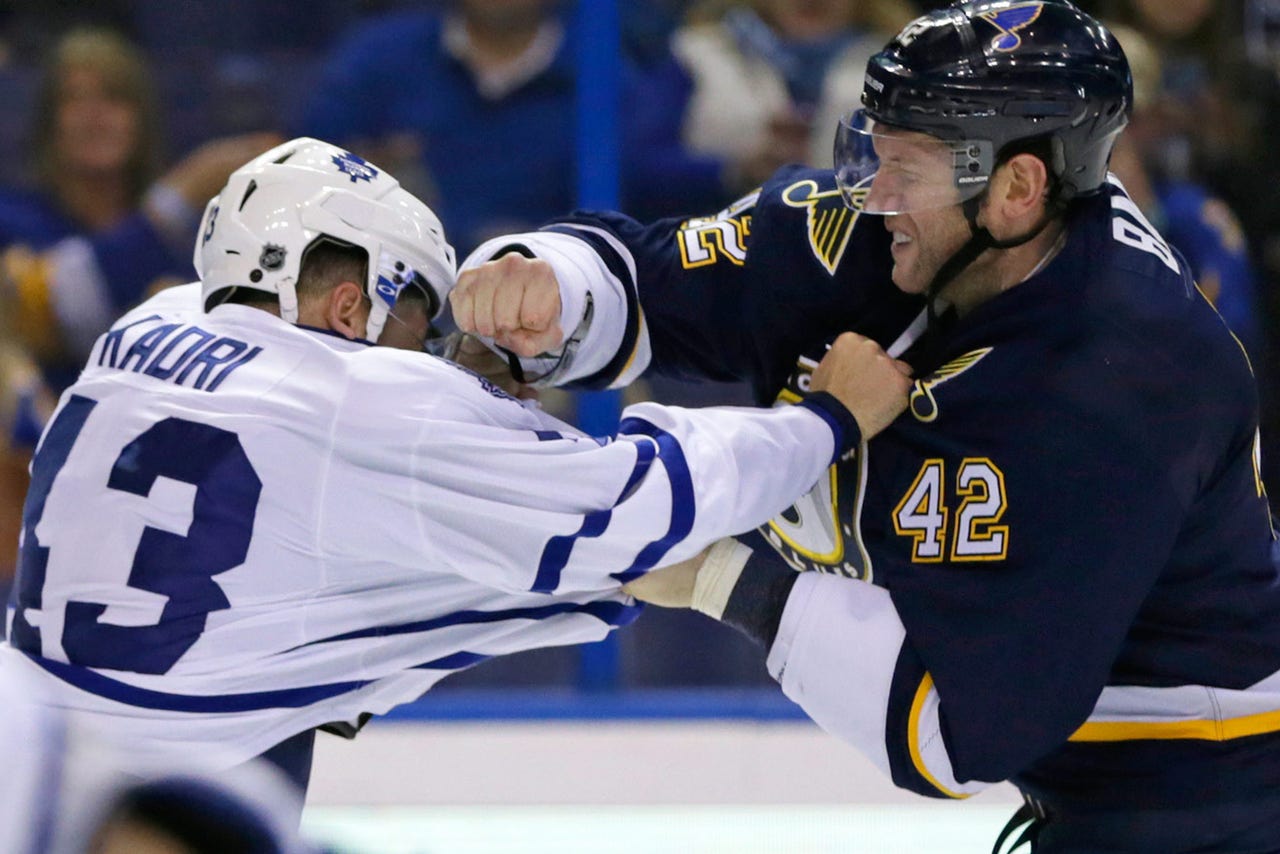 ST. LOUIS -- Toronto had lost five of its last six games and fell behind less than 2 minutes in against a tough team on the road. However, the Maple Leafs kept their focus and came back to get a needed win.
Nazem Kadri scored twice and Roman Polak had two assists against his former team to lead Toronto to a 4-1 victory over the St. Louis Blues on Saturday night.
"We're a relentless group," Kadri said. "We're starting to become better with adversity than we used to be. That's a contending team right there, they're a great team, one of the better teams in the league and we came in here and got a solid road win."
Watch the Blues Live pregame and postgame shows before and after every St. Louis Blues game on FOX Sports Midwest.
Brad Boyes and P.A. Parenteau also scored for Toronto, and Garret Sparks stopped 27 shots for his second career victory.
"We didn't have a good start but we battled back," Polak said. "That's what I like on our team right now, that we battle no matter what. ... Other than 10 minutes in the first period, we played pretty good hockey."
Vladimir Tarasenko scored his 15th goal of the season for St. Louis, while Jake Allen made 25 saves.
The Blues, who lost at the New York Islanders in a shootout on Friday night, fell to 4-5-3 over their past 12 games after starting the season 11-3-1.
"We played 15 minutes the right way and had all kinds of success and then refused to stay with it," St. Louis coach Ken Hitchcock said. "We're scoring one goal a game and we had a great start and that wasn't good enough. We decided we wanted to play a different way, and by the time we decided to catch it back up, it was way too late.
"Its not the right way to play, the players know it, especially the veteran players," Hitchcock added. "I'm not sure what it's going to take for us to get back to what we are capable of. That's why we're a .500 hockey club the last little while."
The Blues looked strong early and had several scoring chances. Tarasenko gave the Blues a 1-0 lead just 1:51 into the game after a 2-on-1 breakaway with Paul Stastny.
The Maple Leafs answered with a goal late in the first, two in the second and then another in the third.
Kadri tied the score with 1:17 left in the first period, putting home a rebound of a shot from Leo Komarov for his fourth of the season.
Polak, who also assisted on Kadri's goal, was originally credited with the next goal, on a top-shelf slap shot at 6:11 of the second period after taking a pass from Shawn Matthias. But it was later changed to Boyes' second of the season on a tip-in and that goal, which was his first against the Blues, gave him a goal against every team in the NHL in his career.
"Matty, he made a great play, he just dropped the puck there," Polak said. "I just shot it. I wanted to go high. I think Boyesy tipped it."
Polak's two assists gave him eight career two-point games, and first since Nov. 20, 2014, against the Lightning. His teams are 7-1 in those games.
Parenteau put the Maple Leafs up 3-1 at 8:57 when he back-handed a shot past Allen on a delayed penalty.
Toronto outshot St. Louis 9-2 in the second period.
Kadri got his second goal of the game at 6:47 of the third on a 2-on-1 during 4-on-4 play.
Maple Leafs coach Mike Babcock noted that with his team off Friday night he was able to watch the Blues lose to the Islanders.
"It was nice last night," Babcock said. "I had a nice dinner at some steak place in town, watched two periods there and then went home and crawled into the sheets while Hitch was working on the road and then he had a 50-minute drive to the airport. ... I love that stuff because we play every Saturday night at home after a road trip on Friday, so what goes around comes around once in a while."
NOTES: Toronto C Nick Spaling played in his 400th career NHL game. ... St. Louis scratched F Dmitrij Jaskin, F Ryan Reaves and D Robert Bortuzzo after all three played in Friday's game at New York. ... Steen assisted on Tarasenko's goal, giving him 13 points in eight games against his former team. ... Blues F Steve Ott suffered a lower-body injury late in the first period and did not return.
---
---