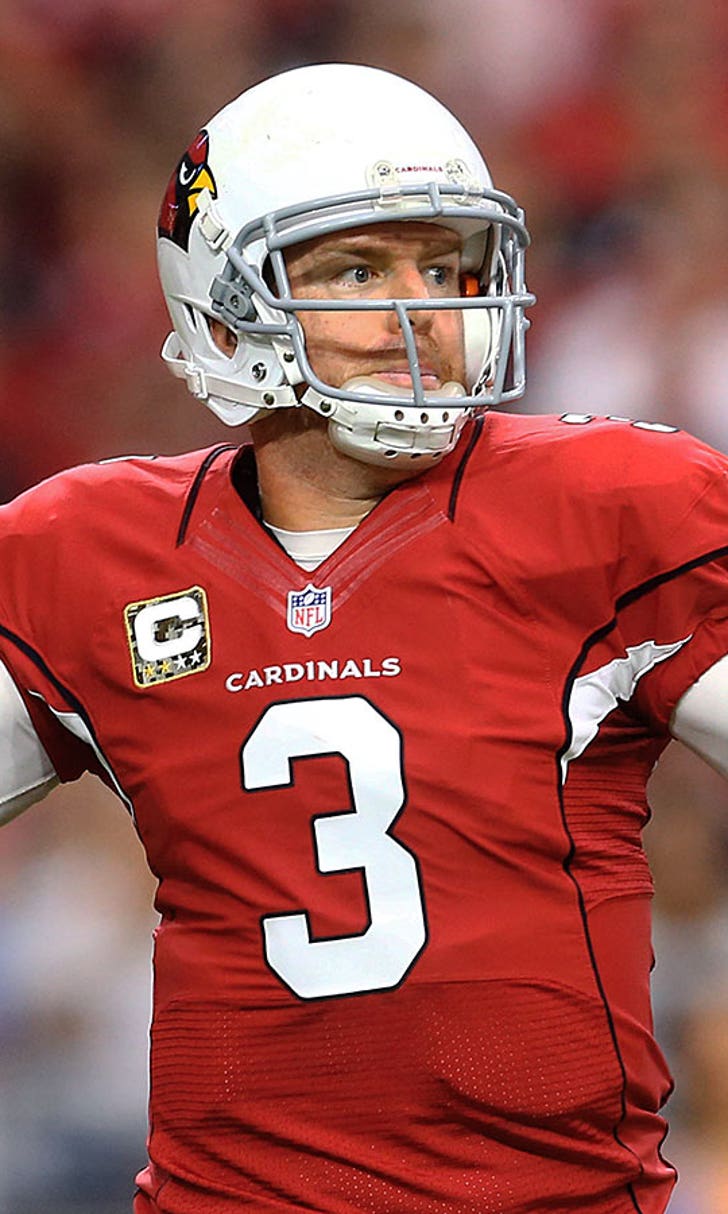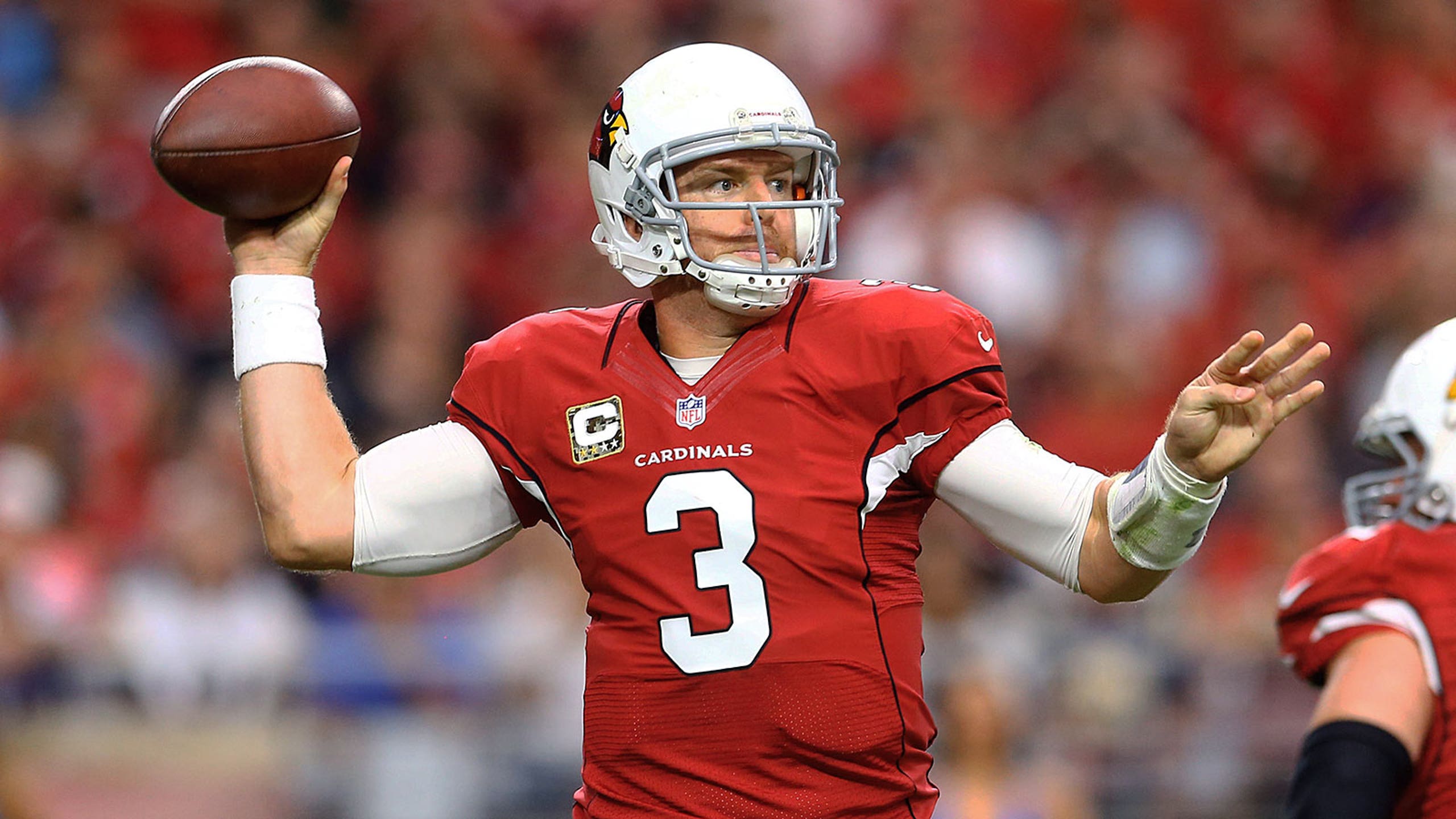 2015 Fantasy Football Team Preview: Arizona Cardinals
BY foxsports • July 31, 2015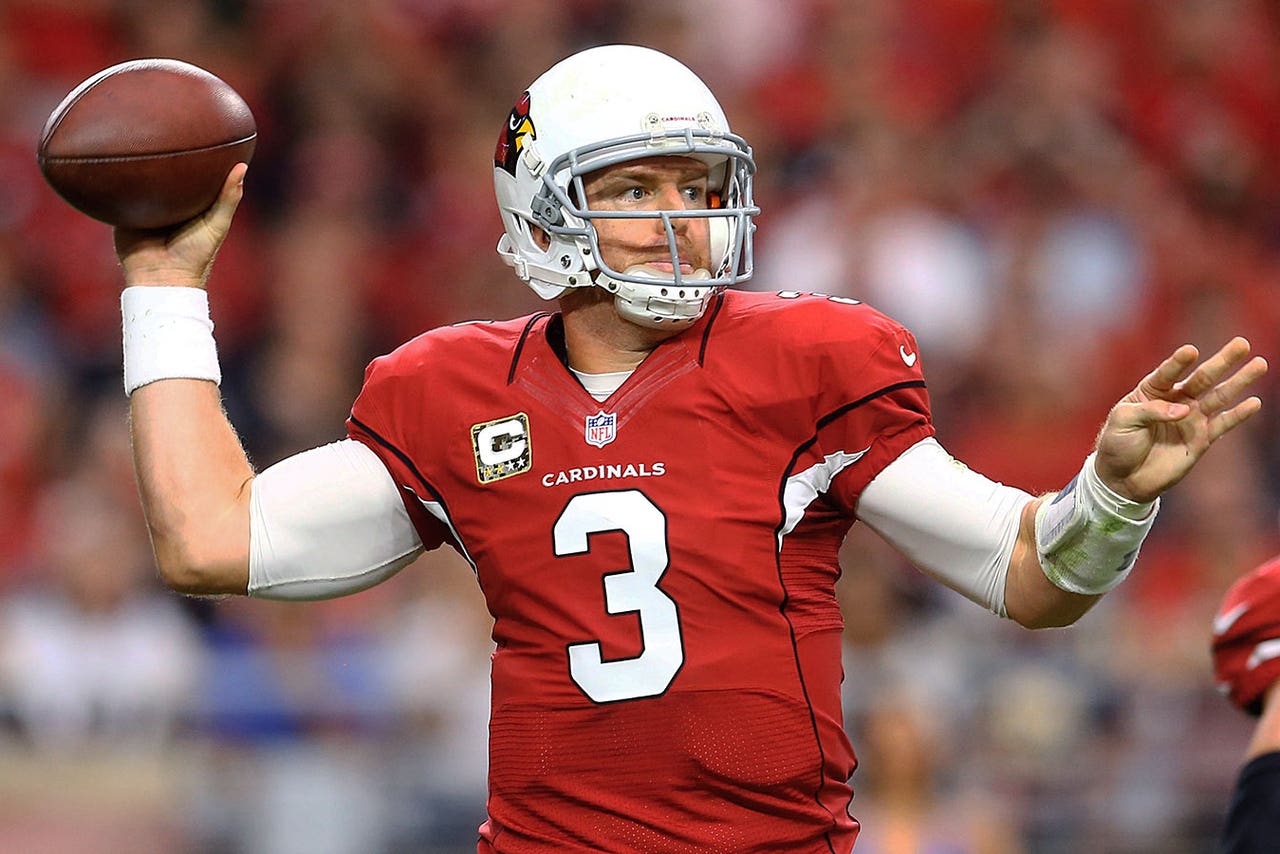 For your fantasy football draft prep and advice, continue to check on this page for updates regarding the Arizona Cardinals.
Team Outlook:
The Cardinals were one of the most surprising teams in football last season, finishing 11-5 despite having Carson Palmer for only six games. With Palmer back from knee surgery, the Cardinals are an under-the-radar fantasy team to target, as there are three legitimate fantasy options at receiver and a back who should improve in Andre Ellington. You just have to hope that at age 36, Palmer can remain upright.
Bye Week: 9
Rookie Impacts: David Johnson (RB)
Although it appears Andre Ellington has the starting job locked up, it wouldn't be shocking to see Johnson get involved and make it more of a timeshare. The Cardinals third-round pick has good hands out of the backfield and superior size to Ellington, which could give him some goal-line opportunities at some point. Ellington only averaged 3.3 YPC last season and could get less touches, which makes Johnson an intriguing pick late in drafts.
Quarterback: Carson Palmer
Palmer throws a lot of interceptions and has a troubling injury history, which is enough to scare most owners away. He's currently being drafted as a back-end QB2, which sounds about right. Palmer will rack up yards if he can stay healthy, and his affinity for the deep ball is nice for leagues that reward long play bonuses. While he's a fine QB2, don't talk yourself into him being much more: he's recorded over 25 touchdowns just once in the last seven seasons.
Running back: Andre Ellington
Ellington showed elite explosiveness and receiving abilities in his rookie season, but he struggled against defenses geared up to stop him in his sophomore campaign. Ellington's failure to succeed in a workhorse role is troubling, but the presence of Palmer and the emergence of the passing game should help quite a bit. He should safely be considered an RB2 with upside in PPR leagues, but picking up Johnson later in the draft is probably wise.
Wide receiver: Larry Fitzgerald
Fitz has entered the stage in his career where he's finally a smart buy-low candidate. After years of disappointing touchdown totals in Arizona thanks to shoddy quarterback play, Fitzgerald has burned plenty of bridges in the fantasy world and is a value play in the middle rounds. He still has great hands should see plenty of targets, so long as he looks healthier than he did last season. Don't forget him later in your draft.
Wide receiver: Michael Floyd
It seemed like everyone had Floyd pegged for a breakout season last year, but it never came. Despite his size and deep ball ability, Floyd struggled to ever really get it going, especially with Palmer out. While it's reasonable to expect something more in line with his 2013 numbers (66/1,054/5), you're once again betting on Palmer staying healthy for this to work. He'll need to drop less passes and run more than deep routes, but the talent is there.
Wide receiver: John Brown
There's a lot to like with Brown, as he possesses great speed and shiftiness despite his small stature. After a pretty productive rookie season (48/696/5), Brown is earning rave reviews this offseason and should be a serious threat to make plays on underneath routes for Palmer. This is an offense that will run a lot of three-WR sets, and it wouldn't be a surprise to see Brown once again come close to leading the Cardinals in targets. He's a sleeper pick in the middle rounds of your draft.
Tight end: Jermaine Gresham
You can safely avoid the Cardinals tight end position, especially with Gresham starting training camp on the PUP list. Behind the three receivers and Ellington, the Cardinals tight end will never be a huge factor in the offense, especially with Palmer, who likes to keep his eyes focused downfield. Let someone else get sucked in by Gresham's name value.
Placekicker: Chandler Catanzaro
He's playing in warm weather, he has a strong, accurate leg (10-11 from 40-49 yards) and he's playing for an offense that should be a little better than most think. Never draft a kicker in anything but the last round, but Catanzaro is a good choice.
Team defense (D/ST):
The Cardinals finished tied for 6th in FOX leagues last season, and the start of the season bodes well. Although Week 1 against New Orleans is one to avoid, the Cardinals get Chicago, San Francisco and St. Louis in a row right after that, which could lead to heavy turnover totals. Arizona should be a top-10 defense once again.
NEXT: Check out more of our 2015 fantasy football team previews.
RANKINGS: Top 200 (PRINT) | QB (PRINT) | RB (PRINT) | WR (PRINT) ' TE (PRINT) | DST (PRINT) | K (PRINT) | Print Draft Kit | PLAY FOX FANTASY FOOTBALL
---
---