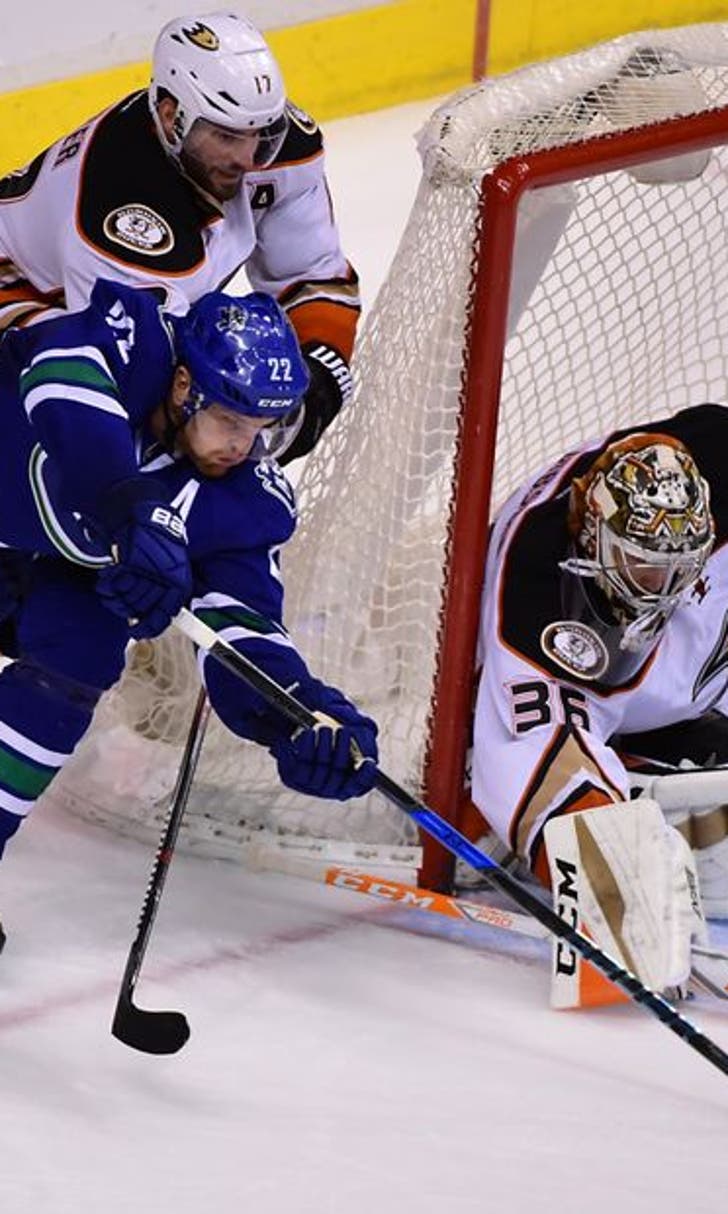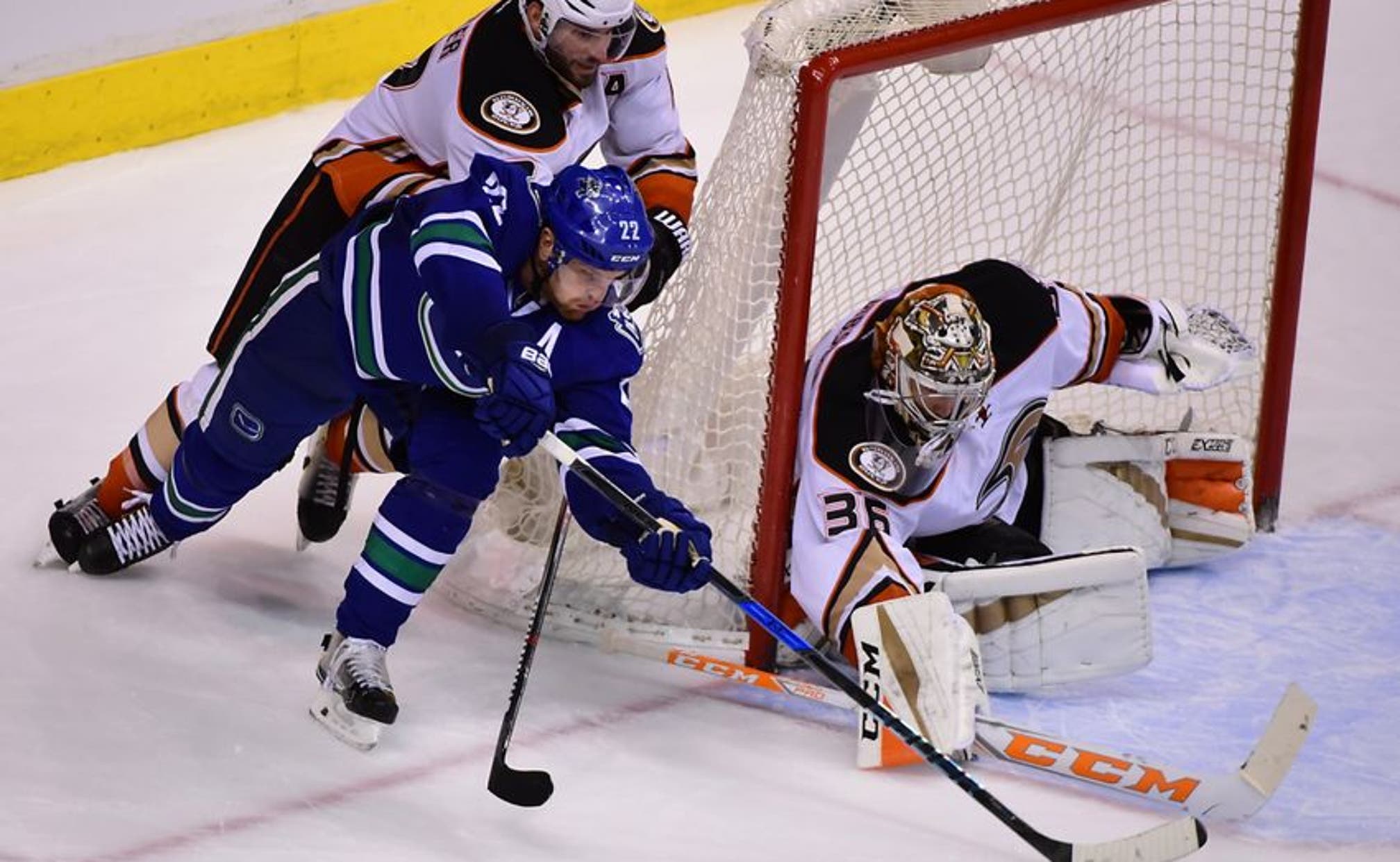 Vancouver Canucks: Week 13 Preview, Predictions
BY Fansided and Jeff Godley/FanSided via The Canuck Way • January 2, 2017
Dec 30, 2016; Vancouver, British Columbia, CAN; Vancouver Canucks forward Daniel Sedin (22) tries a wrap around attempt on goal against Anaheim Ducks goaltender John Gibson (36) and forward Ryan Kesler (17) during the third period at Rogers Arena. Mandatory Credit: Anne-Marie Sorvin-USA TODAY Sports
The Vancouver Canucks enter 2017 riding a three-game winning streak. TCW previews and predicts the first week in the new year.
Maybe, just maybe, the Vancouver Canucks have turned a corner.
The month of December wasn't going very well for them. They had managed just a 3-7-1 record heading in the Christmas break. In their final game before the holidays, they looked tired and defeated as the Calgary Flames skated circles around them.
But then, coming out the break, something changed. Out of nowhere, they managed to win three straight games. Even better, each of those games was against a Pacific Division rival.
Suddenly, the team is getting contributions from throughout the lineup. Chris Tanev and Alexander Edler are back, and healthy. Jacob Markstrom and Ryan Miller have been phenomenal in the three games since Christmas. Henrik Sedin and Loui Eriksson each have two goals, while the line of Sven Baertschi, Bo Horvat and Alexandre Burrows has combined for eight points.
So long as the Canucks were unable to win more than a game at a time, the playoffs were a pipe dream. But three wins later, the playoffs are now within striking distance. Vancouver sits three points back of a wild card spot.
There is still a lot of ground to make up, but the Canucks have shown us in the last week that they do not plan on giving up on this season. Not just yet.
Let's take a look at the games on the schedule this week:
Nov 26, 2016; Denver, CO, USA; Colorado Avalanche center Nathan MacKinnon (29) falls to the ice against Vancouver Canucks center Michael Chaput (45) in the second period at the Pepsi Center. Mandatory Credit: Isaiah J. Downing-USA TODAY Sports
Monday, Jan. 2: Canucks vs. Colorado Avalanche
Things are not rosy in the Mile High City.
More from The Canuck Way
The Colorado Avalanche sit dead last in the NHL, and have lost eight of their last ten games. In their final three games before the new year, they allowed a total of 16 goals.
When last these two teams met, Vancouver gave themselves leads of 1-0 and 2-1, only to see the Avs tie the game both times. They sailed through overtime and into the shootout, where Markus Granlund scored the winner.
Jarome Iginla also scored in that game. The 39-year-old has now played over 1500 NHL games. He has nine points in 36 games so far this season.
Predictions
Alex Hoegler:
ColoradoAvalanche2
Colorado is one of the worst teams, and the Canucks are simply a better team.
Gerald Morton:
ColoradoAvalanche1
Colorado is terrible. My fondest desire is they continue to be terrible and panic trade one of their great young players. Certainly the Canucks can put together a package worth fifty cents on the dollar for Nathan MacKinnon when great player / terrible GM Joe Sakic does something dumb.
What does this have to do with the prediction? Not much. But, as said above, the Avs are awful.
Janik Beichler:
ColoradoAvalanche4
The Canucks can win three games in a row, but four seems like a stretch. Especially against what might be the worst team in the league — do the Canucks ever beat teams that are even worse than Vancouver?
Jeff Godley:
ColoradoAvalanche1
The Canucks have already beaten the Avalanche this season, and there's no reason they can't do it again.
Nov 23, 2016; Glendale, AZ, USA; Vancouver Canucks goalie Ryan Miller (30) makes a save on Arizona Coyotes center Tobias Rieder (8) during the third period at Gila River Arena. Mandatory Credit: Matt Kartozian-USA TODAY Sports
Wednesday, Jan. 4: Canucks vs. Arizona Coyotes
The Arizona Coyotes are a work-in-progress.
They have plenty of young talent, and their future is clearly bright. Right now, however, the results are not their. The Coyotes sit second-last in the league — ahead of only the Avalanche — and have lost seven straight games.
Arizona is one of the youngest teams in the league, but they are led by a handful of veterans. Former Canuck Radim Vrbata leads them in points. Second in scoring is Swedish defenseman Oliver Ekman-Larsson. 40 year-old Shane Doan is their captain, and Mike Smith is having a solid year between the pipes.
Vancouver won both previous meetings with the Coyotes this season.
Predictions
Alex:
ArizonaCoyotes4
Hard to see the hot-and-cold Canucks keeping a hot streak going
Gerald:
ArizonaCoyotes1
The Coyotes may have officially given up on the season already. Tankapalooza 2017 is proceeds at full pace in the desert. Only Mike Smith is preventing Arizona from getting blown out on a regular basis, which is why this will be close.
Janik:
ArizonaCoyotes1
Back on the winning track against the Coyotes. The 'Yotes are like the Canucks — they're a bad team. But Vancouver is cooler than Arizona, so that's probably enough to beat them, right?
Jeff:
ArizonaCoyotes2
Vancouver has recent history on their side against Arizona. They'll parley that into their first five-game winning streak of the season.
Oct 15, 2016; Vancouver, British Columbia, CAN; Vancouver Canucks forward Sven Baertschi (47) moves the puck against Calgary Flames goaltender Chad Johnson (31) during the third period at Rogers Arena. The Vancouver Canucks won 2-1 in a shootout. Mandatory Credit: Anne-Marie Sorvin-USA TODAY Sports
Friday, Jan. 6: Canucks vs. Calgary Flames
The Flames have climbed back into a playoff spot after a successful December.
More from The Canuck Way
Calgary went 8-4-0 last month, thanks in large part to their special teams. They converted on 33.3% of their power plays, which was tops in the league for the month — better even than the red-hot Columbus Blue Jackets.
Their penalty kill was effective as well, killing at an 87.5% rate.
At one point, the Flames had climbed into the top three in the Pacific Division, before falling slightly into the first wild card spot.
Still, for a team that began the year 1-4-2, it's a remarkable turnaround, and something the Canucks hope to duplicate.
Predictions
Alex:
CalgaryFlames2
The Canucks will win in overtime. This seems like a trap game for the surging Flames, who usually have troubles leaving Vancouver with a W.
Gerald:
CalgaryFlames4
Why? Because three games in a row seems unlikely. Plus, Johnny Hockey is back and the Flames have a good young core, with two real stars emerging.
Janik:
CalgaryFlames3
Losses against the Flames are always tough, but they are realistic right now. The Flames have young stars like Sean Monahan and Johnny Gaudreau that the Canucks wish they had. Oh, and Calgary has Matthew Tkachuk (but he won't score).
Jeff:
CalgaryFlames3
The Canucks will avenge their pre-Christmas loss against Calgary, and extend their winning streak in the process.
Dec 23, 2016; Calgary, Alberta, CAN; Vancouver Canucks goalie Jacob Markstrom (25) guards his net as Calgary Flames left wing Johnny Gaudreau (13) tries to score during the third period at Scotiabank Saddledome. Calgary Flames won 4-1. Mandatory Credit: Sergei Belski-USA TODAY Sports
Saturday, Jan. 7: Canucks at Calgary Flames
Earlier in the year, the core players in Calgary were underperforming, and the team suffered as a result.
No surprise, then, that the Flames' success in December came on the heels of some great individual performances.
Johnny Gaudreau was a force to be reckoned with, scoring 14 points in 11 games. He was also big reason for their dynamite power play; seven of his points came with the man advantage.
Mikael Backlund finished 2016 on a tear, scoring five goals and eight points in their final four games.
Want your voice heard? Join the The Canuck Way team!
Matthew Tkachuk (11 points), Sean Monahan (10 points), and Dougie Hamilton (nine points) also had an excellent December.
Finally, goaltender Brian Elliott looks as if he has fully recovered from his early season struggles. The 31-year-old goaltender carried a 2.09 goals-against and .919 save percentage in the final month of 2016.
With Chad Johnson stumbling in his last few games, Elliott might just regain the starter's job in Calgary.
Predictions
Alex:
VancouverCanucks2
Sorry, but the Canucks aren't quite gifted enough to sweep the home-and-home.
Gerald:
VancouverCanucks2
CalgaryFlames3
Back to back wins, followed by back to back losses. Why? Mostly because symmetry is beautiful. And the Canucks still aren't good. If they can play .500 hockey until the end of the year we will all be lucky. A fully armed and operational Flames team will beat the Canucks often.
Janik:
VancouverCanucks4
After losing to the Flames at home, the Canucks find a way to win on the road. Why? Because they can. Bo Horvat scores twice and shows them how it's done. Most likely, anyway.
Jeff:
VancouverCanucks2
All good things must come to again. I predicted a six-game win streak for Vancouver. What more do you want?
---
---