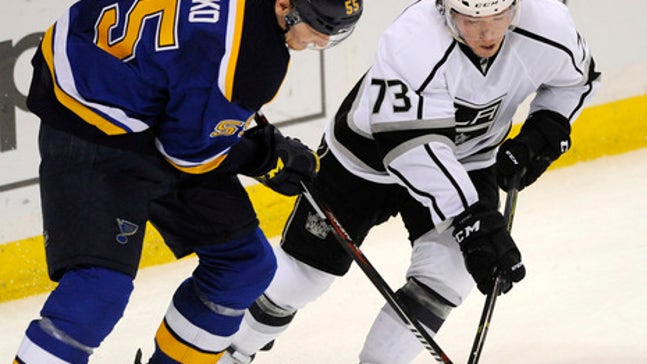 Schwartz scores in OT as Blues beat Kings 2-1
Published
Feb. 19, 2016 12:33 a.m. EST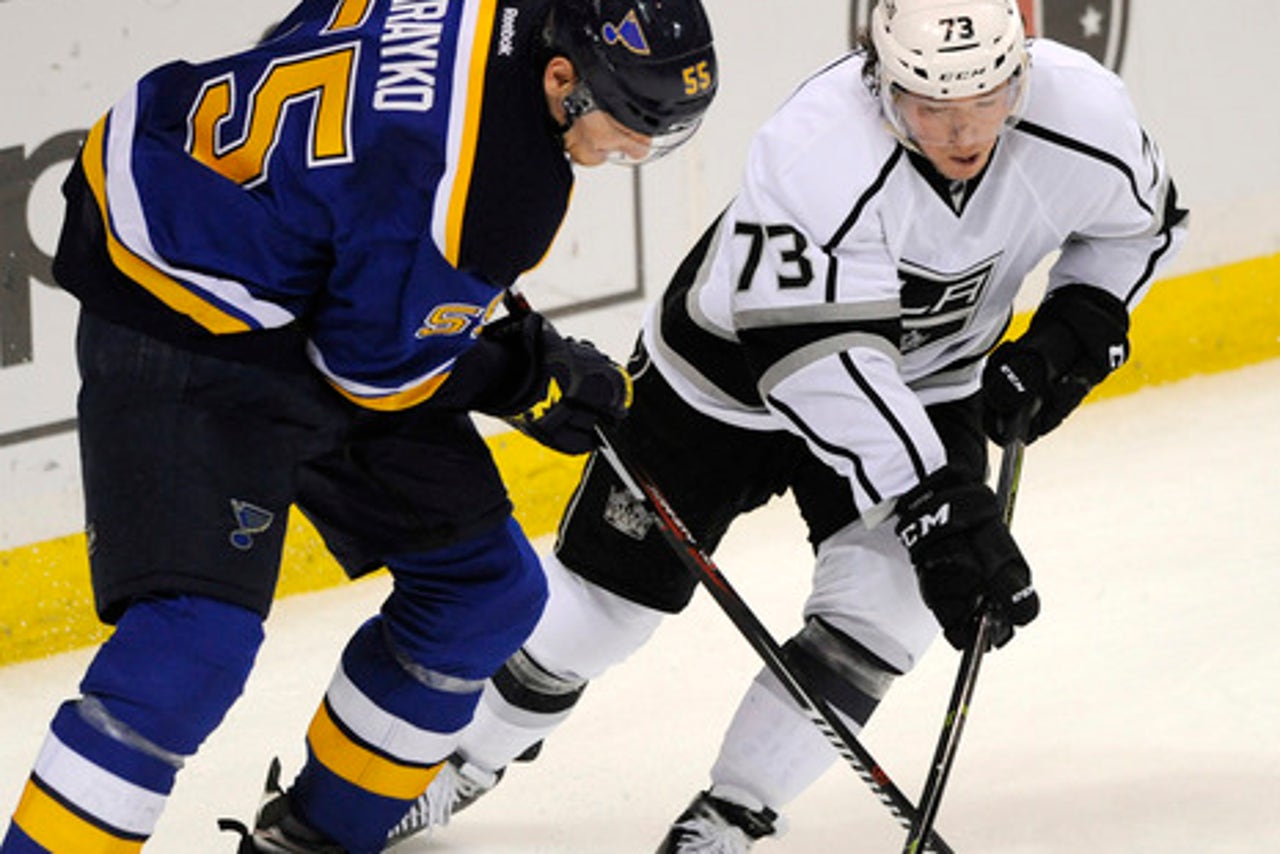 ST. LOUIS (AP) Jaden Schwartz has wasted no time making an impact for the St. Louis Blues.
Schwartz, in his fourth game back after missing 49 with a broken ankle, scored 1:40 into overtime as the Blues beat the Los Angeles Kings 2-1 on Thursday night. It was Schwartz's third goal and the Blues are undefeated since his return.
Schwartz showed no ill effects from the injury, corralling a loose puck in front of his own net and racing the length of the ice to score on a breakaway.
''It was kind of a little bit of a scramble in front and the puck just kind of bounced and it was a race from there,'' Schwartz said. ''(Vincent) Lecavalier was chasing me and I just tried to get the puck on net and I think it hit the post then bounced off (Jonathan) Quick's back and in. That's probably the longest breakaway I'll ever have.''
Robby Fabbri scored a power-play goal in the first period for St. Louis and Brian Elliott made 34 of 35 saves as he improved to 11-3-3 since Jake Allen was injured on Jan. 8.
Tyler Toffoli scored for the Kings, who have lost three straight.
The Blues improved to 9-2-1 against teams from the Pacific Division, have won four straight and have points in their last six games.
Elliott, making a career-high 16th consecutive start, made several big saves including a sprawling glove save on Milan Lucic moments before Schwartz's goal. He is 3-0-1, with a 0.48 goals against and a 98.2 save percentage in his last four games against the Kings.
''Kind of 3-on-3 mentality is that you have to have one big save to win,'' Elliott said. ''That's what you are trying to do is say, `This is your opportunity to make it' and then obviously Schwartz was the last man back and went the other way on the next play.''
Fabbri scored on a give-and-go with Jori Lehtera with 10 seconds left in the Blues' first power play at 11:32 of the first period. The man advantage was created when Quick was called for tripping.
The Blues have scored power-play goals in five of their last six games. Fabbri (2 goals, 3 assists) has been a part of five of the Blues' last six power-play goals.
Fabbri, a rookie, got a preview of a playoff-like intensity in a game that featured 72 combined hits.
''I think down the stretch all the games are going to feel like that,'' Fabbri said. ''Everyone's pushing, everyone wants to get into a good spot and wants to get into the playoffs. That's playoff hockey and we're trying to match that right now.''
The Kings lost Anze Kopitar to a lower body injury late in the first period. There was no update on his condition after the game.
Drew Doughty found the back of the net for the Kings midway through the second period, but the goal was waved off as Jordan Nolan was called for a cross-checking penalty in front of Elliott a moment before Doughty let the shot go.
''Obviously wasn't the outcome we wanted, but that was a man's game out there tonight,'' Doughty said. ''That was a hard fought game.''
Toffoli's power-play goal early in the third tied the game 1-1.
It was just the second time in 38 chances since the All-Star Break that the Blues' top-ranked penalty kill unit surrendered a goal.
The Kings killed off a 5-on-3 power play that lasted 1:53 early in the third after Toffoli's goal.
''Both teams power plays and penalty kills were a big part of it,'' Kings coach Darryl Sutter said. ''We play each other like playoff games.''
Quick, playing in just his second game back after missing three with a lower body injury, saved 30 of 32 shots.
NOTES: The Blues assigned F Dmitrij Jaskin and G Pheonix Copley to Chicago of the American Hockey League and recalled G Jordan Binnington from Chicago. ... The Kings assigned G Peter Budaj to Ontario of the AHL. ... Thursday night's game against the Kings concluded a stretch in which the Blues played division leaders in three of four games.
---
---