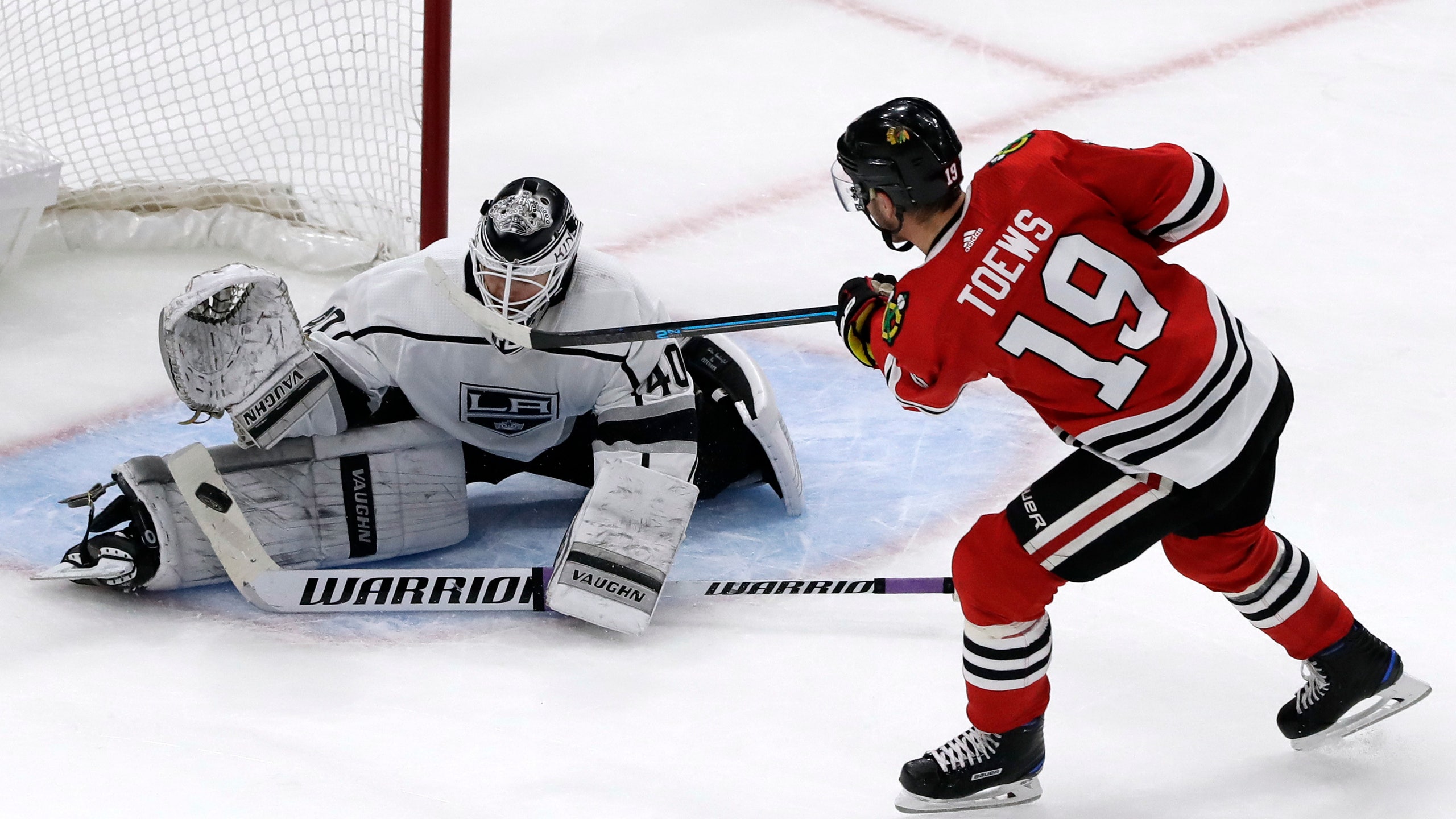 Petersen, Kings defeat Blackhawks 2-1 in shootout
November 17, 2018
CHICAGO (AP) — Cal Petersen returned to Chicago for a memorable first NHL start.
Petersen made 34 saves and stopped Jonathan Toews and Patrick Kane in a shootout, leading the Los Angeles Kings to a 2-1 victory over the Blackhawks on Friday night.
"Best feeling in the world," the 24-year-old Petersen said. "Obviously, the boys really battled hard for me.
"Just for it to end like that is really special. Probably the most fun hockey game of my life."
Ilya Kovalchuk and Anze Kopitar converted the Kings' first two attempts in the tiebreaker against Corey Crawford as Los Angeles ended a three-game losing streak.
Tyler Toffoli scored his fifth goal in the second period for the Kings, who have the worst record in the league (6-11-1) and had been outscored 9-2 during their three-game skid.
Petersen, a native of Waterloo, Iowa, attended his first NHL games at the United Center, and played with the Chicago Young Americans of the Midwest Elite Hockey League when he was 16 and 17. He was on the United Center Ice with Notre Dame in the Frozen Four in 2017, although the Irish lost to eventual NCAA champion Denver 6-1 in the semifinal.
Brandon Saad was the only Blackhawks player to beat Petersen in this one though, scoring his fifth goal early in the third period to tie the score at 1-1.
"I've been to quite a few games here," Petersen said. "To be on the other side of it was kind of awe-inspiring at first. Once I got a few shots and settled in, it kind of felt like just another hockey game, trying to get a win"
Petersen made his NHL debut on Tuesday against Toronto, stopping 15 of 16 shots in relief of Peter Budaj after being recalled from the Kings' AHL affiliate in Ontario, California, on Monday. With his parents in the stands, Petersen was tested in spurts by Chicago, but was sharp when needed and came up with several close-in saves, outdueling Crawford.
The Kings are without their two top goalies, Jonathan Quick and Jack Campbell. Both are recovering from surgery to repair meniscus tears in one of their knees
Crawford blocked 31 shots through overtime, but the struggling Blackhawks lost for the ninth time in their last 10 games (1-6-3).
Although the Blackhawks came on late, they didn't test Petersen hard enough throughout the game, Kane said.
"All goalies are pretty much the same," Kane said. "They're big. If they see the puck, they're probably going to stop it.
"(We needed to get) those side-to-side passes, especially against a guy who hasn't really played in the NHL before, getting him uncomfortable and getting some traffic in front."
Carl Hagelin played his first games with the Kings. The 30-year-old forward was acquired in a deal that sent Tanner Pearson to Pittsburgh on Wednesday.
The Kings picked up the tempo near the end of scoreless first period and got a few good chances. Crawford stopped Toffoli point-blank with 5:30 left in the period, then denied Nate Thompson, who skated in with 1:20 to go.
Toffoli finally opened the scoring at 10:29 of the second following a Chicago turnover.
Chicago's Erik Gustafsson fell and lost the puck at the Los Angeles blue line. Toffoli picked it up, powered into the Chicago zone and beat Crawford between the legs when his shot from the slot deflected off defenseman Duncan Keith.
Buoyed by three power plays in the second, Blackhawks started to test Petersen late in the period. He preserved the 1-0 lead with a quick save on Nick Schmaltz's one-timer from the slot during a Chicago power play with four minutes left in the second.
"I thought we got some energy off the power plays," said Chicago coach Jeremy Colliton, who is 1-2-2 since taking over for Joel Qunneville on Nov. 6. "We had some chances but it didn't go in."
Saad crashed into the crease and tied it 1-all at 2:39 of the third on Chicago's 21st shot, redirecting Jonathan Toews' feed from the side of the net past Petersen high on the glove side.
Crawford made a toe save on a shot by Jeff Carter from the right circle with 1:21 left in regulation to keep it tied.
Petersen stopped Gustav Forsling's tip-in attempt 2:21 into overtime. Anze Kopitar's shot hit the post about a minute later.
NOTES: Petersen was drafted by the Kings in the fifth round, 129th overall in 2013. He once started 90 consecutive games for Notre Dame. ... Blackhawks C Marcus Kruger returned after missing three games with left leg injury. Chicago C Brandon Davidson was placed on injured reserve, retroactive to Nov. 13, with a right leg injury. ... Budaj was the Kings' backup goalie, but his availability was a game-time decision because of an illness. ... Quick has been out since Oct. 28, with a projected recovery period of four to six weeks. ... Campbell was injured last Saturday in a 1-0 loss to Calgary and his recovery also is expected to take four to six weeks.
UP NEXT
Kings: At Nashville on Saturday night.
Blackhawks: Host Minnesota on Sunday.
---
---