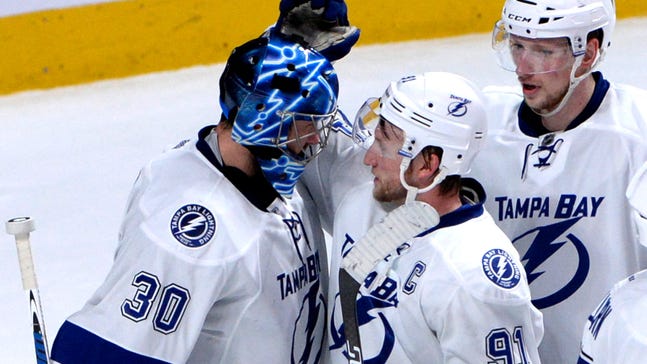 Bolts define rules for when 'it's OK to take a punch in the face in the playoffs'
Published
May. 5, 2015 10:40 a.m. ET

Tampa goalie Ben Bishop has taken a beating so far in this second-round series against the Montreal Canadiens. In Game 2, the Canadiens could not catch up with the Lightning on the scoreboard, so they punished Tampa instead by running the goaltender. Canadiens Torrey Mitchell and Brandon Prust both took third-period penalties for contact to the goaltender -- Mitchell's was an goaltender interference call, while Prust earned a tripping the goaltender call and subsequently fought Tampa's Braydon Coburn once Coburn jumped to Bishop's defense.
But the Lightning said they aim to keep their cool despite the increased contact to the goalie.
"They have been falling on him and hitting him — I think last night was obvious," Lightning forward Brian Boyle told the media Monday. "Mitchell and Prust slew-footing him, those are penalties and they're going to get called and they're going to go in the box. We're going to try and stay disciplined. We'll protect our goalie as we see fit. But sometimes it's OK to take a punch in the face in the playoffs if you're going to go on the power play."
The Canadiens have experience with excessive contact to the goalie in the playoffs, but they were victims -- not aggressors -- last season. Montreal lost the Eastern Conference finals last year after New York Rangers forward Chris Kreider skated into Carey Price and knocked the star goaltender out of the playoffs with injury.
(h/t Pro Hockey Talk)
Photo by Eric Bolte-USA TODAY Sports
---
---