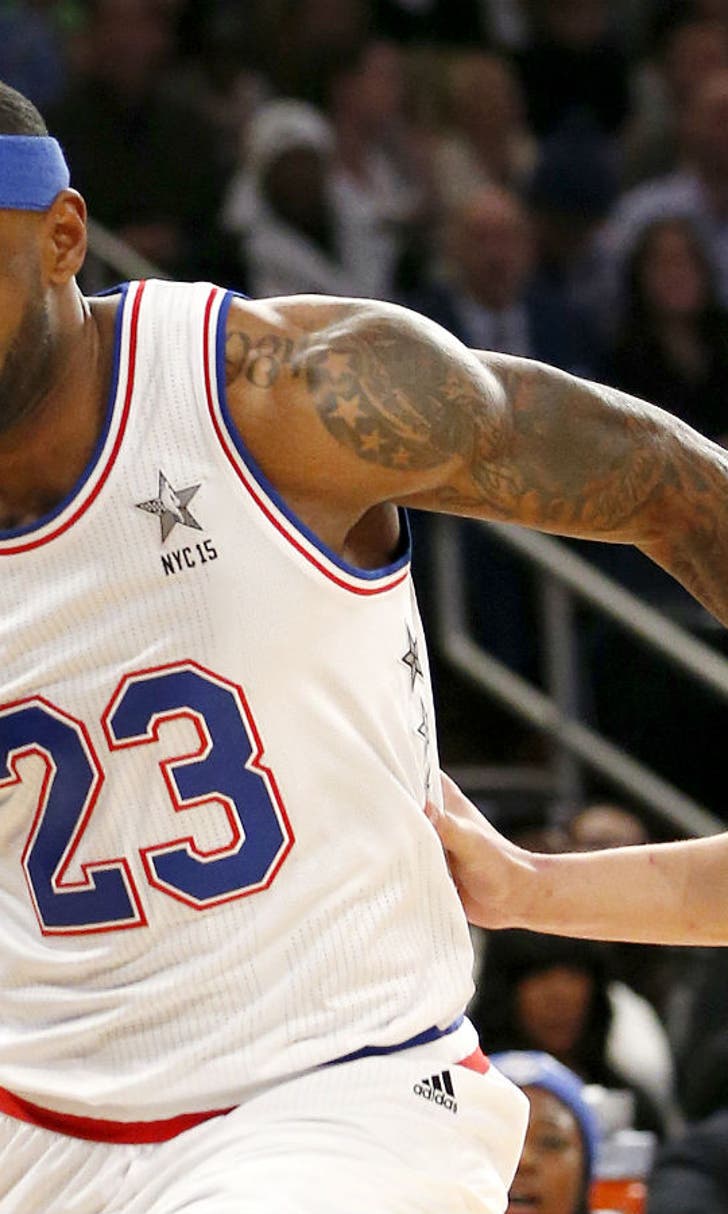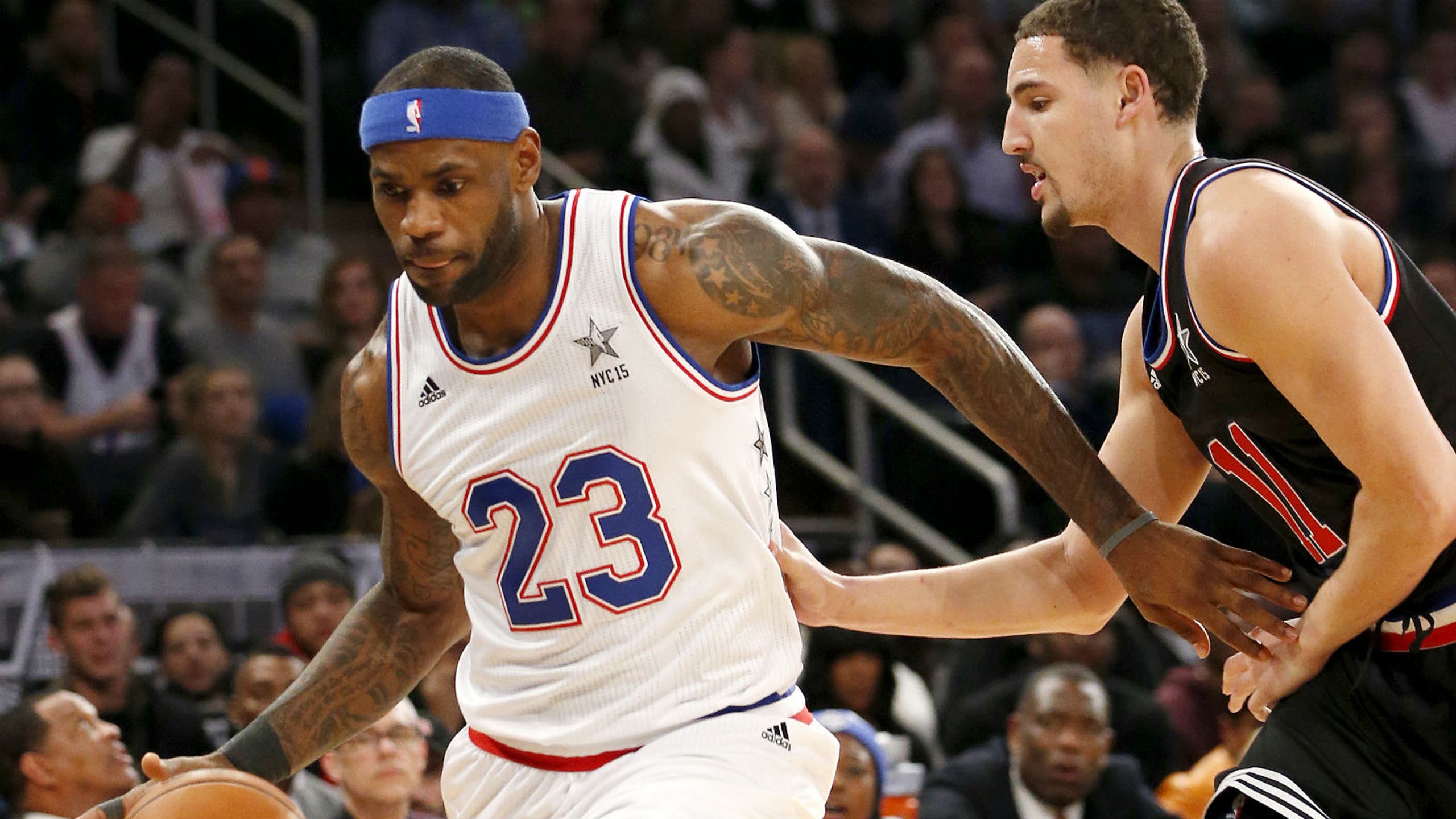 West's All-Stars still considerably better than East's
BY Jovan Buha • January 28, 2016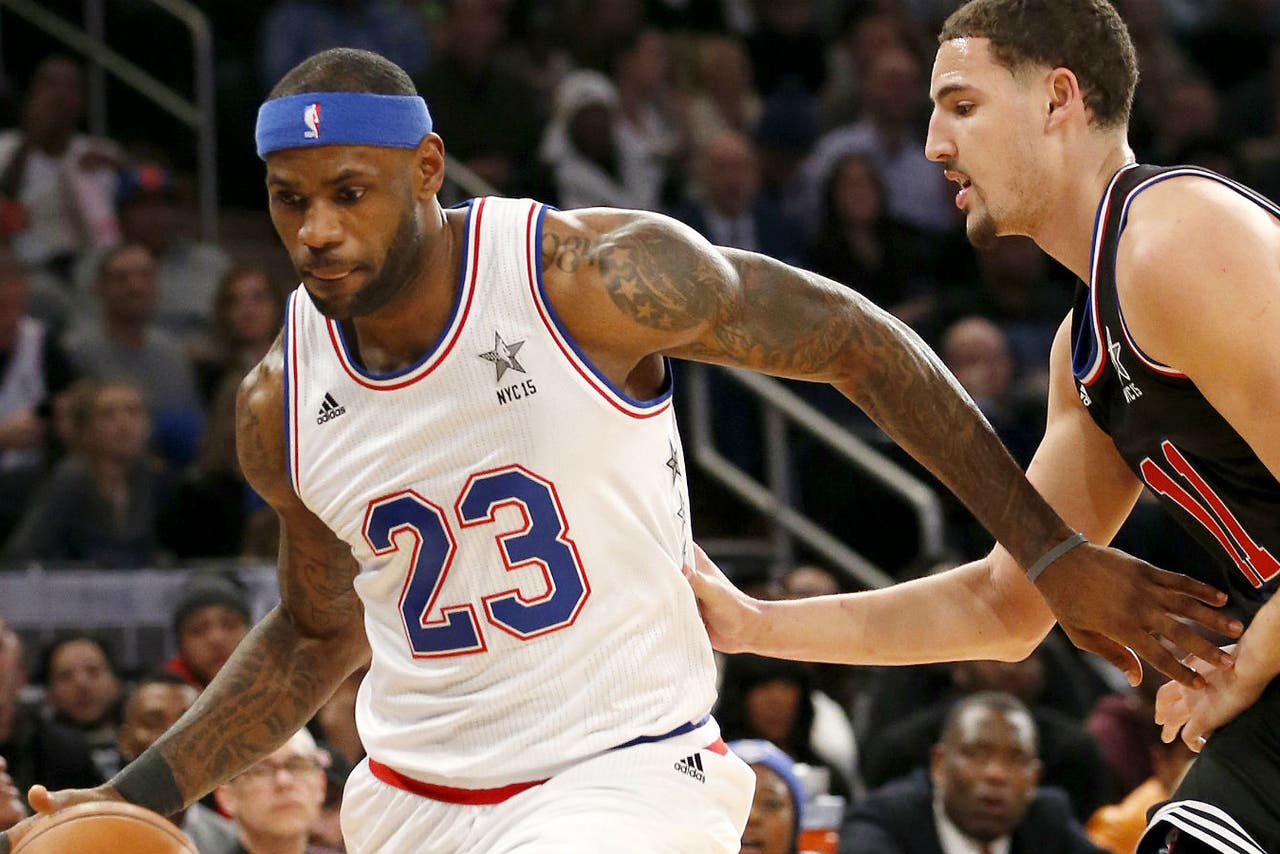 The results are in, and the Western and Eastern Conference All-Stars are set for Feb. 14 in Toronto:
To recap: The West All-Stars are Kevin Durant, Kawhi Leonard, Kobe Bryant, Russell Westbrook, Stpehen Curry, Chris Paul, James Harden, Anthony Davis, DeMarcus Cousins, Draymond Green, Klay Thompson and LaMarcus Aldridge.
The East All-Stars are LeBron James, Paul George, Carmelo Anthony, Dwyane Wade, Kyle Lowry, John Wall, Jimmy Butler, Andre Drummond, Chris Bosh, Paul Millsap, DeMar DeRozan and Isaiah Thomas.
It's fun to discuss snubs and players who probably shouldn't have made the team, but that's a futile exercise. These are the 24 players selected. That can't be changed. There's really one question to ask at this point: Who's going to win this glorified pick-up game?
The West's starters are better. It's not even close. Ignore Kobe Bryant -- indisputably the worst starter -- and the West has four of the five best players in the All-Star Game. Period.
But how do the benches stack up? Do they shift the power one way or another?
At first glance, it seems that this is the closest the coaches have gotten to getting it right in recent memory.
One can argue Damian Lillard and Dirk Nowitzki should replace Thompson and Aldridge, respectively, in the West, and they'd have a case. But the Golden State Warriors and San Antonio Spurs are winning at historical clips, and subsequently earned multiple All-Stars.
Out East, it's also tough to have any major qualms. Kevin Love had a legitimate claim to make the team -- the Cleveland Cavaliers have only one All-Star, yet have dominated the East -- but it's not a stretch to suggest Thomas should make the team over him.
With that said, which roster is better?
Well, similar to the analysis of the starting lineups, it's the West. By a landslide.
If you were drafting among only the reserves, Davis, Harden, Paul, Green and Cousins would probably be your top five selections in some order. Then, and only then, you would think about taking Wall, Butler or Drummond with your next pick.
The order can be dissected and discussed but, essentially, the West's bench is a lot deeper and more suited to an All-Star Game. The three best teams in the league are probably in the West, and those teams have a combined seven All-Stars -- that should explain enough.
The East is better than it's been in about a decade or so, but don't get it twisted: The West is still the better conference with more stars. That hasn't changed.
For argument's sake, though, let's assume this will be a competitive game -- which is certainly reasonable -- and analyze the various funky and effective lineups both teams can roll out, as there are a slew of interesting combinations.
For the West, there's no denying that the most intriguing lineup would be recreating the Warriors' Death lineup with Curry, Green and Thompson, and then replacing Andre Iguodala and Harrison Barnes with Leonard and Durant. Imagine how devastating that five-man combination will be. You literally cannot stop it.
The West can also throw a bunch of shooters around Paul, arguably the best passer alive, and bend the East's defense until it breaks. Slot Curry, Harden, Thompson and Durant around Paul in an ultra-small lineup and the West will wreak havoc in Paul-Durant and Curry-Durant (Paul-Curry?!) pick-and-rolls.
Or, if the West needs a stop, they can deploy an intimidating defensive lineup of Paul, Thompson, Leonard, Green and Davis. If they're feeling funky, a freakishly long and athletic lineup of Westbrook, Leonard, Durant, Green and Davis would satisfy a lot of basketball nerds.
Really, the West roster is a like a giant piece of fine clay just waiting to be molded in whichever way Gregg Popovich chooses. The lineup possibilities are endless, and quite fascinating given the group's versatility.
The West's best lineup overall, though, is likely the four non-Kobe starters (Curry, Westbrook, Durant and Leonard) with Davis as the fifth cog. It has the perfect mix of shooting, passing, defense and small-ball versatility. Frankly, it's the apex of modern basketball. And it should be the group we see at the end of the game (Harden, Paul and/or Green could easily replace Leonard or Davis, which shows the West's immense depth).
The East has fewer options to choose from.
Wall, Thomas, Butler, George and James is a fun, fast small-ball lineup that could run the West out of the building. If that lineup struggles on the glass or protecting the rim, you can put Drummond or Bosh in for Butler or Thomas and adjust.
The East can also take the opposite approach and try to pound the West with its size, playing Drummond, Bosh and Millsap together with some two-man combination of James, Butler and George -- it's a massive five-man combo that can actually hold its own defensively.
Those reminiscing on the Big 3-era Miami Heat can see James, Wade and Bosh play with an actual point guard (Wall or Lowry) and second big man (Millsap or Drummond). Or the East can throw out a freakishly athletic lineup of its own with Wall, DeRozan, Butler, George and James (or Drummond).
With only three big men, the East will have no choice but to play a ton of small ball. The questions for the East come on the defensive end and with the group's lack of 3-point shooting. Only George, Lowry and Bosh are above-average shooters from deep, while the West boasts six such players: Curry, Thompson, Green, Paul, Durant and Leonard.
The East's best closing lineup is likely James, George, Butler, Lowry and Bosh or Drummond at the 5, depending on the matchups. This way they have three two-way wings (James, George, Butler) who can check the West's unguardable options (Curry, Westbrook, Durant), and Lowry can "hide" on Leonard or whoever the fourth non-big is.
This isn't to say the game won't be close, or the East can't steal a win. Anything is possible when stars are involved -- especially if someone gets hot. The East has LeBron, and in the past that's been enough at times.
Since 2000, 12 of the 16 All-Star Games have been decided by 10 points or fewer. Chances are this game is going to be decided in the final possessions. And, on paper, the West has a decisive advantage.
Prediction: West 166, East 157
All-Star Game MVP: Stephen Curry, 39 points
Jovan Buha covers the NBA for FOX Sports. Follow him on Twitter at @jovanbuha.
---
---