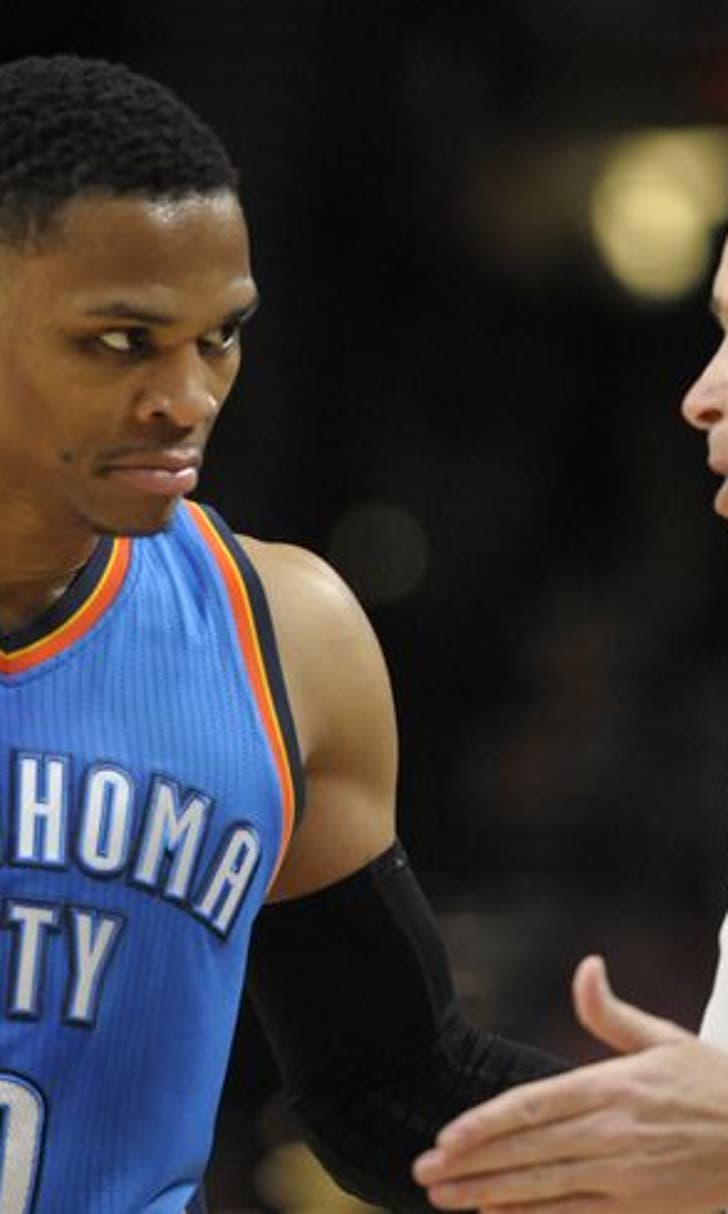 Views from OKC: Two Games Without Oladipo, Two Losses
BY Fansided and Tony Heim/FanSided via Thunderous Intentions • December 15, 2016
Dec 14, 2016; Salt Lake City, UT, USA; Oklahoma City Thunder head coach Billy Donovan reacts during the second half against the Utah Jazz at Vivint Smart Home Arena. The Jazz won 109-89. Credit: Russ Isabella-USA TODAY Sports
Welcome to Views from OKC, Thunderous Intentions' daily roundup of the best OKC Thunder news across the web.
New to Views from OKC? Glad to have you here, and I hope you'll make this a daily destination. Well, let's get started!
Thunder get dismantled for second night in a row
"Utah jumped out to a 7-0 burst right out of the gates, and the Thunder never was quite able to catch its Northwest Division rivals as the night wore on. Head Coach Billy Donovan's club was able to cut a 19-point first half disadvantage to just 11 points with 10 seconds to go in the half, but Shelvin Mack hit a three-pointer at the half-time buzzer to push Utah's lead back out."
You could have turned last night's game off after the first four minutes and you would have seen enough to know what happened. Simply put, Utah is a much better team. The records are similar, but that's because the Thunder are blessed to have a player like Russell Westbrook. The Jazz play so well together, and I could see them as a legitimate threat in the West if fully healthy.
Want your voice heard? Join the Thunderous Intentions team!
Russell Westbrook is tired of the triple-double talk
"'Honestly, man, people and this triple-double thing is kind of getting on my nerves, really,' Westbrook said after a 109-89 loss to the Jazz at Vivint Smart Home Arena. 'People think if I don't get it, it's like a big thing. When I do get it, it's a thing. If y'all just let me play – if I get it, I get it. If I don't, I don't care. It is what it is. I really don't care. For the hundredth time. I don't care. All I care about is winning, honestly. All the numbers s*** don't mean nothing to me.'"
More from Thunderous Intentions
I feel for Russ. I really do. Every night Russ has to deal with a new group of reporters who don't truly understand how/why he plays the game, and they ask the same stupid questions. And he gives the same answers. Hopefully this story grabs the attention of other reporters and they finally stop asking him about it. TI will do our best to talk about it as minimally as possible.
Oladipo injury update
"There's no question Russell Westbrook is the leader for Oklahoma City moving forward, but if the Thunder want to remain a strong playoff threat in the Western Conference, Oladipo has to continue the development he showed over his first three seasons."
This article has nothing new as I type this. But I provide it to you readers so you can keep refreshing the page, hoping to get news that Dipo will be back on Saturday. I know I have the page bookmarked,
---
---