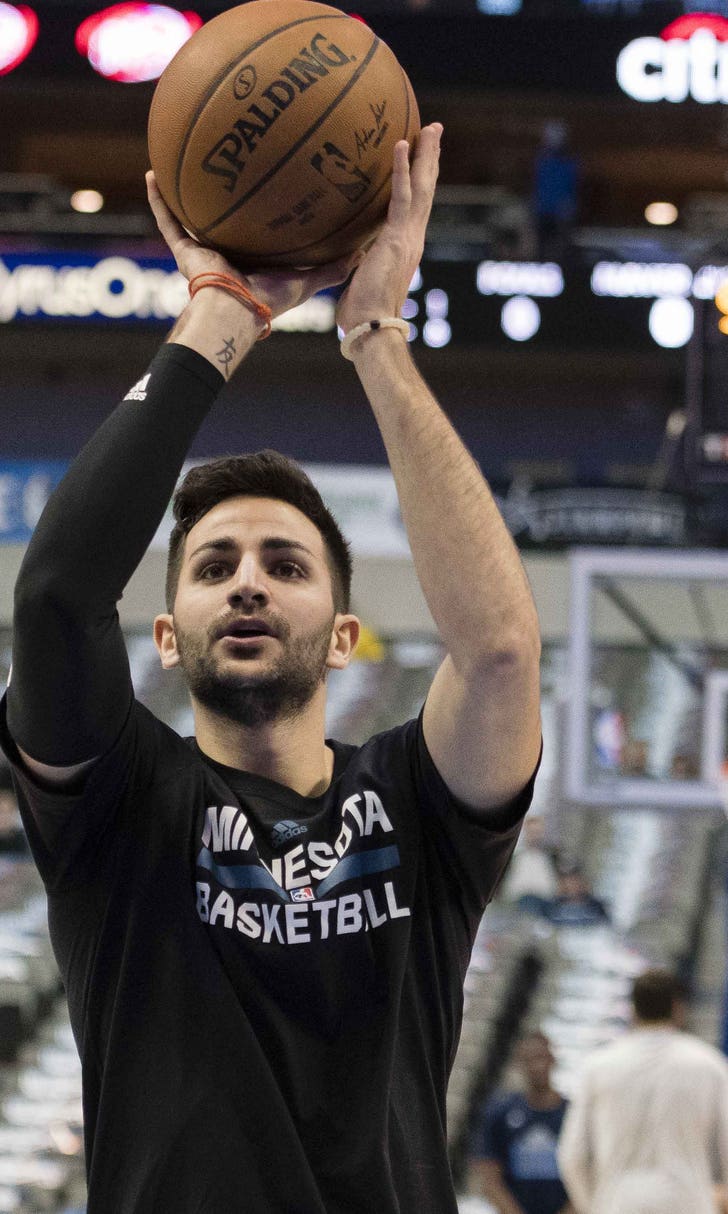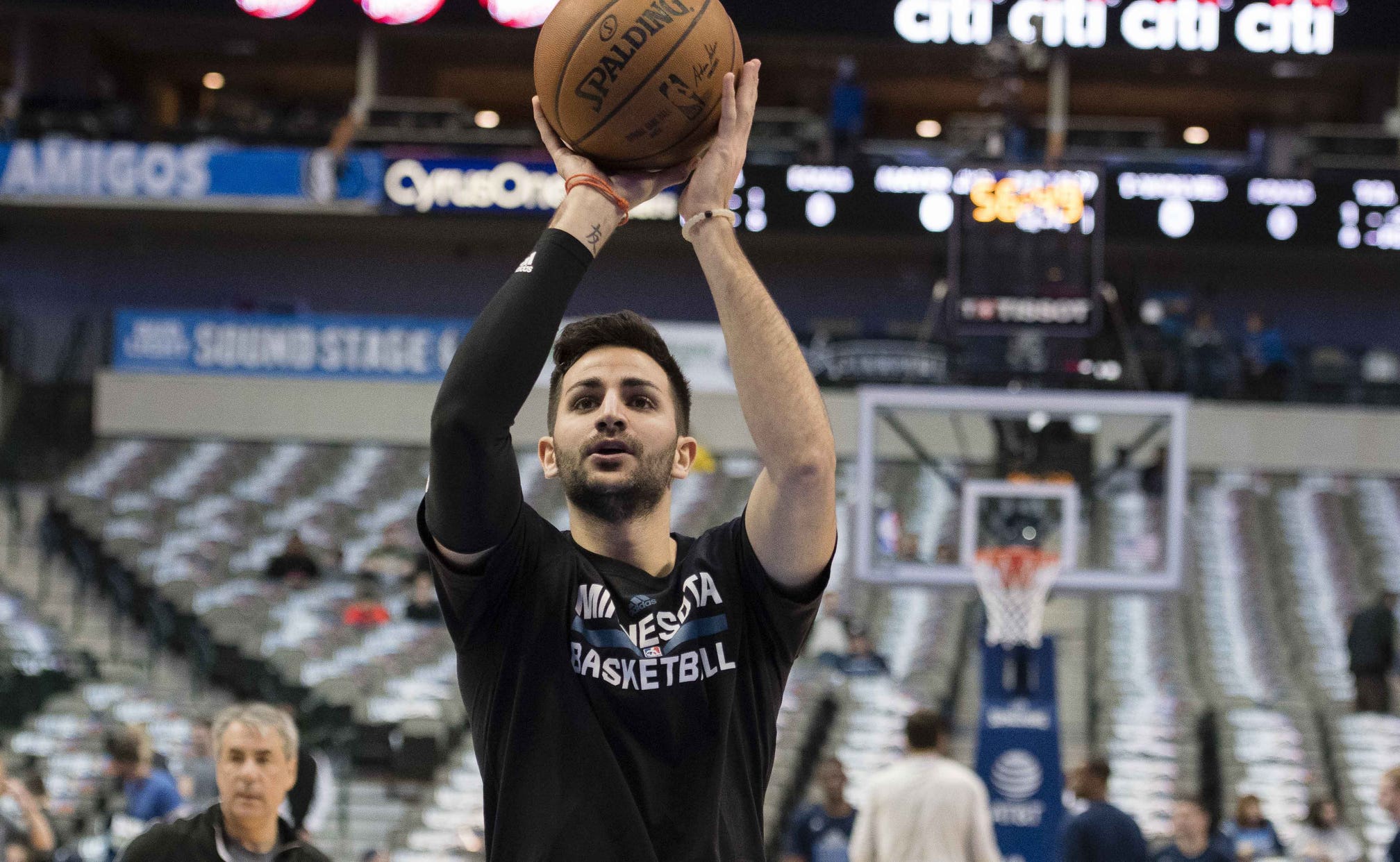 Timberwolves Rumors: Potential Ricky Rubio destinations
BY Fansided and Ben Beecken/FanSided via Dunking with Wolves • June 30, 2017
Jan 15, 2017; Dallas, TX, USA; Minnesota Timberwolves guard Ricky Rubio (9) warms up before the game against the Dallas Mavericks at the American Airlines Center. Mandatory Credit: Jerome Miron-USA TODAY Sports
The Ricky Rubio trade rumors have been ongoing ever since Tom Thibodeau was hired as Timberwolves head coach and president of basketball operations back in April, but they've reached a fever pitch of late.
We've covered the more recent Ricky Rubio rumors at length, from Adrian Wojnarowski's initial report back a couple of weeks ago, to the much more specific Rubio-for-Reggie Jackson rumor reported by ESPN, to the reports that the Chicago Bull and New York Knicks are emerging as contenders to land the Spaniard via trade.
Earlier in the week, Michael Rand of the Star Tribune took a stab at five potential Rubio landing spots, as well as what the Timberwolves might expect to receive in return. Some were fair, others…not so much.
The Orlando Magic are the first team that Rand lists, although it's tough for me to see a match. The Magic already have Elfrid Payton, who is in his age-22 season and already does many of the things at which Rubio excels, albeit not quite as well. But their backup point man is veteran D.J. Augustin, so the "veteran presence" angle doesn't really work, either.
And Rand suggests that the Wolves could ask for Nikola Vucevic in return. While Vucevic, in a vacuum, is a good player, he doesn't really fit the Wolves' current roster or style of play, and doesn't add a rim-protecting element that the Wolves could use more of — Rand himself identifies this in the article.
Other players on the Magic that the Wolves could ask for could include Bismack Biyombo; a straight-up swap for Rubio would work from a salary perspective, and Biyombo could provide a dynamic interior presence that Minnesota has been lacking to this point. There may need to be a couple additional pieces involved: perhaps Tyus Jones is shipped to Florida while taking back Thibodeau favorite D.J. Augustin to help mentor Kris Dunn.
On to some additional scenarios…
Jan 11, 2017; Minneapolis, MN, USA; Minnesota Timberwolves guard Ricky Rubio (9) passes around Houston Rockets guard Patrick Beverley (2) during the third quarter at Target Center. The Timberwolves defeated the Rockets 119-105. Mandatory Credit: Brace Hemmelgarn-USA TODAY Sports
The Denver Nuggets have been an oft-mentioned landing spot for Rubio, and it makes sense. They have a lot of average-y, young talent but no true point guard to help mesh the pieces together and little in the way of star power.
The Nuggets have both Nikola Jokic and Jusuf Nurkic, and they can't play together, as noted by Rand in his article. Jokic isn't going anywhere, however, and a straight swap for Nurkic isn't likely to be attractive from Minnesota's perspective.
Yes, the Nuggets have Emmanuel Mudiay, but he's been dreadful in his first season-and-a-half in the NBA. Rubio would be added to steady the team as they make a playoff run and likely start for the next couple of years.
If I was in the Wolves' front office, I'd aim much higher than just Nurkic: Will Barton. Add in Shabazz Muhammad and/or Tyus Jones, or maybe even Gorgui Dieng if you're still able to get Nurkic back as well, and this trade suddenly makes some sense. (Good time for another disclaimer: I would not trade Rubio unless blown away with a crazy offer, but we're operating under the premise that he will be moved.)
If Minnesota trades Rubio and Muhammad for Barton, Nurkic, and Jameer Nelson…let's just say that they could do worse. The bench rotation would change drastically for the Wolves, but as with any Rubio trade, the Wolves' success moving forward would hinge on the development of Kris Dunn.
Jan 3, 2017; Philadelphia, PA, USA; Minnesota Timberwolves guard Ricky Rubio (9) dribbles past Philadelphia 76ers guard T.J. McConnell (1) at Wells Fargo Center. The Philadelphia 76ers won 93-91. Mandatory Credit: Bill Streicher-USA TODAY Sports
The idea of Rubio going to the Cleveland Cavaliers was mentioned in the 'honorable mention' portion of Rand's piece, but it is, in my opinion, more realistic than some of the other scenarios that he mentioned.
The Cavaliers have basically been using a combination of second-round draft pick and rookie Kay Felder and journeyman shooting guard DeAndre Liggins to backup Kyrie Irving. They been missing the defense + hustle dynamic in the back court since Matthew Dellevadova left for Milwaukee via free agency, and Rubio would provide that and more.
Cleveland is a middle-of-the-pack defensive team, and they need someone to get the ball to the likes of Kyle Korver, Kevin Love, and Iman Shumpert when they spot-up on the perimeter. Felder has been okay and Liggins mediocre at best, but Rubio would relieve much of the burden Irving and their other miscast point guards.
What would the Wolves get in return? This is a bit tougher, but veteran stretch-four Channing Frye could be an option. He would be a steadier hand than Nemanja Bjelica and has one more year on his contract. Outside of that, the Cavs would probably have to find a third team to help facilitate such a move.
Lastly, let's gloss over a few of the more unrealistic options that Rand suggested…
Dec 30, 2016; Minneapolis, MN, USA; Minnesota Timberwolves guard Ricky Rubio (9) talks to referee Tony Brown in the second quarter against the Milwaukee Bucks at Target Center. Mandatory Credit: Brad Rempel-USA TODAY Sports
Rand's article at the Star Tribune also suggests Brooklyn, Sacramento, and Chicago as potential landing spots for Ricky Rubio.
We've heard the Bulls song and dance before, and it seems unlikely that a) Chicago could send requisite pieces back without giving up Jimmy Butler (which they aren't doing in a Rubio trade without Zach LaVine), and b) that their front office would even deal with Tom Thibodeau.
Sacramento has coveted Rubio for a long time, and head coach Dave Joerger is reportedly a fan as well. The problem is that the Kings don't have much to send back. Arron Afflalo? No thanks. Darren Collison? Nope. Rudy Gay? Out with an Achilles' rupture, and probably not a fit anyway.
Brooklyn is intriguing, although they hardly have any NBA-caliber players. Trevor Booker is a nice player, but this side of Brook Lopez, that's about it. And it's doubtful they'd trade their star center in a Rubio deal.
At the end of the day, Thibodeau may roll the dice that Rubio stays healthy and continues his strong play throughout the rest of the 2016-17 campaign. Then, a trade over the summer could net something of more value as teams strike out in free agency or don't land the draft selections they might covet.
Remember, Rubio has a couple of years left on his deal, and he's entering his prime years. If the Wolves are truly seeking a "bridge guard" as reported by Wojnarowski, well, Rubio could be exactly that.
Provided that Kris Dunn lives up to what Thibodeau and the Wolves' brass is expecting of him, that is…
More from Dunking with Wolves
This article originally appeared on
---
---