The Thunder looked like veterans in Game 5, while the Spurs just looked old
May 11, 2016

This is the Oklahoma City Thunder team we've been waiting for.
Yes, they got a pretty big assist from a blown no-call at the end of Game 5. Let's be honest, though -- the Thunder were probably going to win this game anyway. Oklahoma City took control down the stretch by out-Spurs'ing the Spurs. Now, Kevin Durant and Russell Westbrook are one win away from a likely Western Conference finals matchup with the Golden State Warriors.
Few people gave the Thunder much of a chance against the Spurs, and with good reason. Oklahoma City struggled in the clutch this year the same way a small child would struggle to operate a bulldozer. Coach Billy Donovan wasn't doing his team any favors; the offense was stagnant when games got close, and he failed to stagger his two stars so that one was on the floor while the other rested, rather than taking both off at once and leaving the Thunder weaker than an Andre Roberson jumper.
In the playoffs, and in this series specifically, the Thunder have started to fix those problems. Now that either Durant or Westbrook is on the floor at all times, the team doesn't have massive lulls from which it has to claw back. That consistency allows players like Dion Waiters to flourish. Waiters has been impressive on defense in the past few games, and his passing and decision-making were both fantastic with the game on the line on Tuesday.
Waiters looks like a player on the upswing of his career, in a "hold your horses" small sample size; the Spurs, on the other hand, are starting to look like death warmed over. Of course, Kawhi Leonard was his MVP-caliber self in Game 5, especially in the first half, when he scored 17 points. He couldn't carry the team to a victory, though, not with so much dead weight weighing him down.
We'll excuse Tim Duncan; while it was depressing to see Enes Kanter reject all of the fundamentals right out of the Spurs big man in the fourth, Duncan played well when he didn't have the ball. He was an effective screener, and his defense was excellent -- all that boring stuff we expect from Duncan. He even had a dunk. No, really!
He couldn't grab a rebound to save his life, though. Neither could the Spurs, as they allowed the Thunder to grab 15 offensive rebounds to San Antonio's 26 defensive boards.
All those second-chance opportunities added up, but it was a defensive board that truly told the story of the game. With just over eight minutes remaining in the fourth, David West had a chance to corral a LaMarcus Aldridge miss. Instead, the terrestrially-rooted West watched helplessly as Westbrook came crashing in to snag the board and start the Thunder offense in the other direction. Five seconds later, a Durant triple was on its way through the net.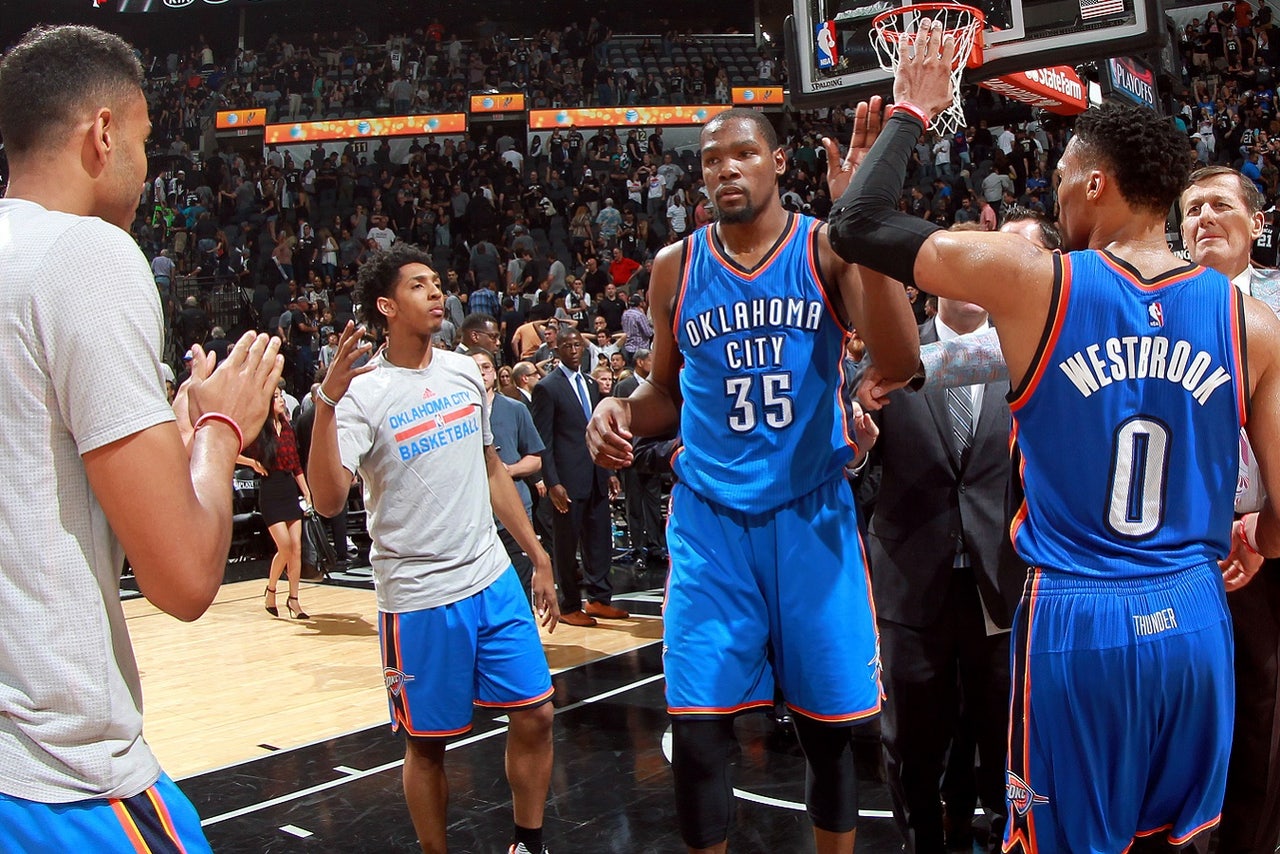 Playoff victories are just a little sweeter on the road.
West is an auxiliary piece for these Spurs, and his success or failure shouldn't determine how far this team can go. That burden is on the likes of Tony Parker and Manu Ginobili. Along with Duncan, they combined for just 17 points. Total. They also had eight assists and nine rebounds.
Westbrook had 35 points, 11 boards and nine assists by himself. Just, you know, for what it's worth.
Parker and Ginobili look spent. If they and Duncan can't summon some deep source of inner strength over the next two games, the Spurs are going to be in trouble. They're not doomed; a titanic effort from Leonard and Aldridge could very well knock off the Thunder and deliver the Warriors-Spurs matchup we anticipated.
We've seen the Spurs demonstrate their resilience time and again. At this point, with their stars so aged, it seems like asking for a lot for them to do it once more. 
Should they fail, though, this could very well be the end of the line for this generation's original Big Three. Parker has two years left on his current deal, and with how he's played this year, it's hard to imagine there will be much of a trade market for his services at $14 million and $15 million in the next two years. Ginobili and Duncan, however, have player options for next season. They'll reportedly come to separate conclusions about retirement, but an unceremonious dismissal at the hands of the Thunder after last season's first-round loss to the Clippers would undoubtedly weigh heavy on the scales.
Let's not consider such depressing thoughts for now. Like the Spurs and Thunder, we're taking it a game at a time.
---
---