Steph Curry showed once and for all he has surpassed LeBron James
BY Andrew Lynch • June 11, 2016
For those waiting for the MVP to show up, Game 4 was a welcome sight. For LeBron James, it was the end of an era, as Stephen Curry decisively seized the throne as the NBA's very best.
The battle for supremacy has gone back and forth to some extent this season, but it's not really been much of an argument. Curry is the back-to-back MVP and defending champion. He's the one who broke the record for most 3-pointers in a season. Does he have the better team? Absolutely. That's not the point.
If we're defining "best" player as the one who gives you the best chance to win — which is really the only argument that makes sense in a competitive league — it's Curry. He's the most valuable offensive player in the NBA by a mile, and he's a better defender than people like Russell Westbrook give him credit for being. That's before we even get to how he impacts the geometry of the court with his gravity, drawing defenders toward him unlike any player we've seen since Shaquille O'Neal.
Yet whether Curry had surpassed James as the league's top player was one of the biggest storylines of the year. Despite Curry's unanimous MVP award this season, there were still those who claimed LeBron was No. 1. And thus far this postseason, there was an argument to be made that Curry's ascent was a bit premature.
He was awful through the first three games of the Finals. Fans and talking heads alike had pitchforks in hand, ready to roast every bit of good will the Warriors point guard had built up in a record-breaking season. Like LeBron before him, the thinking went, Curry was coming up short when it mattered most. In fact, many argued that if James were having the kind of series Curry had heading into Game 4, we never would have stopped criticizing the King.
The unanimous MVP who's supposedly revolutionizing the game was playing more like a haggard rookie before Friday night. And Game 3 was the closest LeBron has come to reclaiming his title. While Curry continued to flail in the Finals, James led his team to victory in the biggest game of the year. He played like the best player in the series on Wednesday; if he could muster up that kind of effort again in Game 4, the Cavs would have a chance.
But James is 31 years old. He's been in the league for 13 years. He'd played 46,684 total minutes heading into Friday night's contest: more than Larry Bird or Magic Johnson played in their entire careers, and more than Michael Jordan played in his time with the Bulls.
LeBron played 40 minutes in Game 3 — why he played so deep into a 30-point blowout remains unclear — carrying the load for the Cavs on both ends of the floor. With only one night between games, he didn't have time to recuperate. He very obviously ran out of energy on Friday, which ended with him getting frustrated in a way we've rarely seen from LeBron.
Worst of all, as LeBron watched his chances at a third title start to fade away, there was his nemesis staring him back in the face. The one thing Curry was missing in his argument as the NBA's top player was a signature showing in the Finals. That's certainly no longer the case after Friday.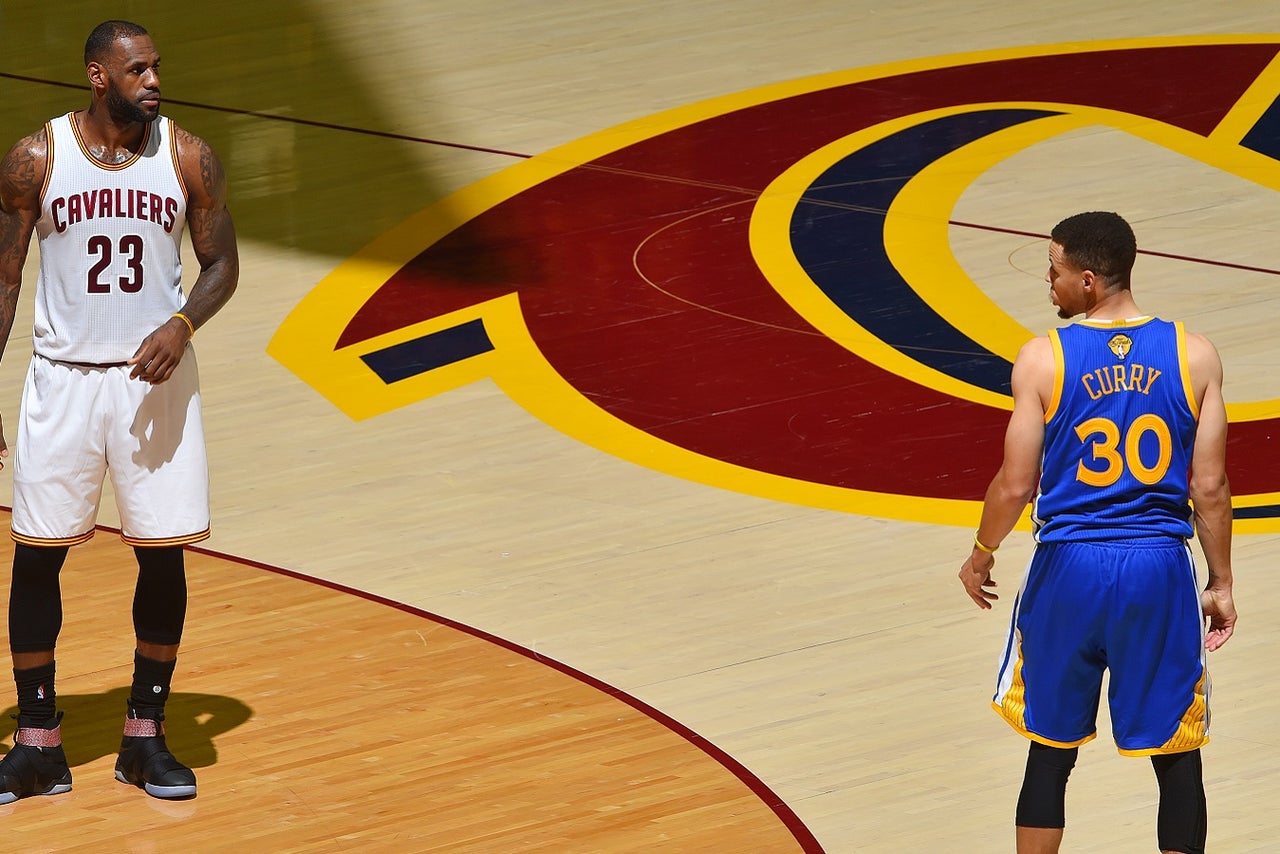 Curry saw James' clutch Game 3 effort and raised it in Game 4, a ruthless display of confidence and bravado from a player who needed to dig deep and show us what he was truly made of. He poured in backbreaking 3-pointers on his way to 38 points, as the Warriors broke an NBA record for most 3s in a Finals game (17). He responded as only a superstar can, taking the very best his opponent has to offer and one-upping it just for good measure. Like no other star before him, Curry is personally derailing LeBron's championship legacy before our very eyes.
His cold-blooded Game 4 was the purest display yet this series of how much the Warriors are pushing the league forward. The Cavs were a great 3-point shooting team this season. Yet Golden State had 33 more points from deep than Cleveland. The Warriors caught fire, like we knew they would. And the Cavs had no response, which we also probably could have guessed.
The truth is that no one has an answer for Golden State — not over a full series — and it's thanks to Curry. The Thunder looked close to a solution in the Western Conference finals. The Cavs showed glimpses of promise in Game 3 and the first half of Game 4. But Curry won out, as he always does.
You can rough him up and try to fight through the neverending (and at times illegal) screens set by his teammates. You can hound him up and down the court. Eventually, though, he's going to get loose. And when he does, he will bury you and everything you dream about. 
That Curry has affirmed his status as the game's best isn't an indictment of LeBron. He's still one of the greatest ever. Perhaps he can even extend this series beyond Monday night, although it seems unlikely. If not, he'll be back in the Finals before long, likely next year. Either way, though, he's no longer a player who can will his team to a series win against a vastly superior opponent. Those days are gone. Time catches up to us all — even the gods.
These days, Curry's the player who dictates how a series will play out. He is the unstoppable force that has overtaken LeBron's immovable object, the MVP on the cusp of equaling James with two rings.
It's your move, LeBron. But it's Curry's league. There's no longer any question about that.
---
---