San Antonio Spurs
San Antonio Spurs
Spurs try to keep feasting on weak vs. Magic
Published
Nov. 4, 2018 12:01 a.m. ET
The San Antonio Spurs have made its money in the early season with a series of victories over teams that have sub-.500 records and hope to continue that trend Sunday when they host the reeling Orlando Magic.
The Spurs play their first back-to-back of the season after beating New Orleans 109-95 on Saturday. San Antonio (6-2) had five players with double-figure scoring in the victory, led by DeMar DeRozan's 26 points.
LaMarcus Aldridge added 22 points and 12 rebounds to help the Spurs win their fourth straight and fifth in their past six games. Dante Cunningham and Patty Mills scored 15 apiece for San Antonio and Marco Belinelli hit for 14 points.
"I was trying to figure when the last time was that I had a back-to-back at home," DeRozan said before Saturday's game. "I couldn't even remember. I didn't even know things like that happened."
DeRozan said there is still plenty that the Spurs need to work on despite the team's successful start.
"There are a lot of things we need to tighten up on," DeRozan said. "With everything being so new, so many new guys every single day learning something new, as long as we continue to grow every single game, every single practice, we're going to be fine."
The Magic head to San Antonio after a 120-95 home loss to the Los Angeles Clippers on Friday. The defeat was the fourth straight for Orlando (2-6) and came despite 22 points and 11 rebounds from Nikola Vucevic, 19 from Evan Fournier and 13 points by D.J. Augustin.
Orlando got to within single digits in the third quarter on three separate occasions but could not get over the hump.
Magic coach Steve Clifford, who is in his first year with the Magic after coaching Charlotte the past five seasons, said his team would need a "change of attitude" if it's going to get on track.
"We have a team that, I still believe, is good enough to be one of the stories in this league," Clifford said. "But we have to have great attitude, great readiness and great fight and we had none of that (in the loss to the Clippers).
"Effort level, body language, purpose of play -- that was not even close to being acceptable, not for a professional basketball team. This is really disappointing. Maybe this is going to be harder to do than I thought."
Vucevic said after the loss that team heard Clifford loud and clear.
"He wasn't like yelling or anything. He just said the right things, what we need to do -- normal tone really, just very direct," Vucevic told the Orlando Sentinel. "He's always like that. He's straight up with us and he knows what he's talking about, so it's on us players to respond and figure this thing out. We have to be better."
The Spurs and Orlando split their two games last season. San Antonio owns a 42-17 all-time edge on the Magic, including 25-5 in games played in the Alamo City.
---
---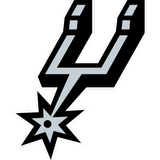 Get more from San Antonio Spurs
Follow your favorites to get information about games, news and more
---