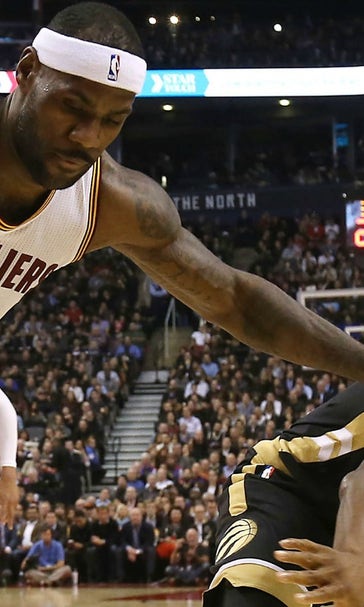 Ranking the 10 most important players in the Eastern Conference Finals
May 17, 2016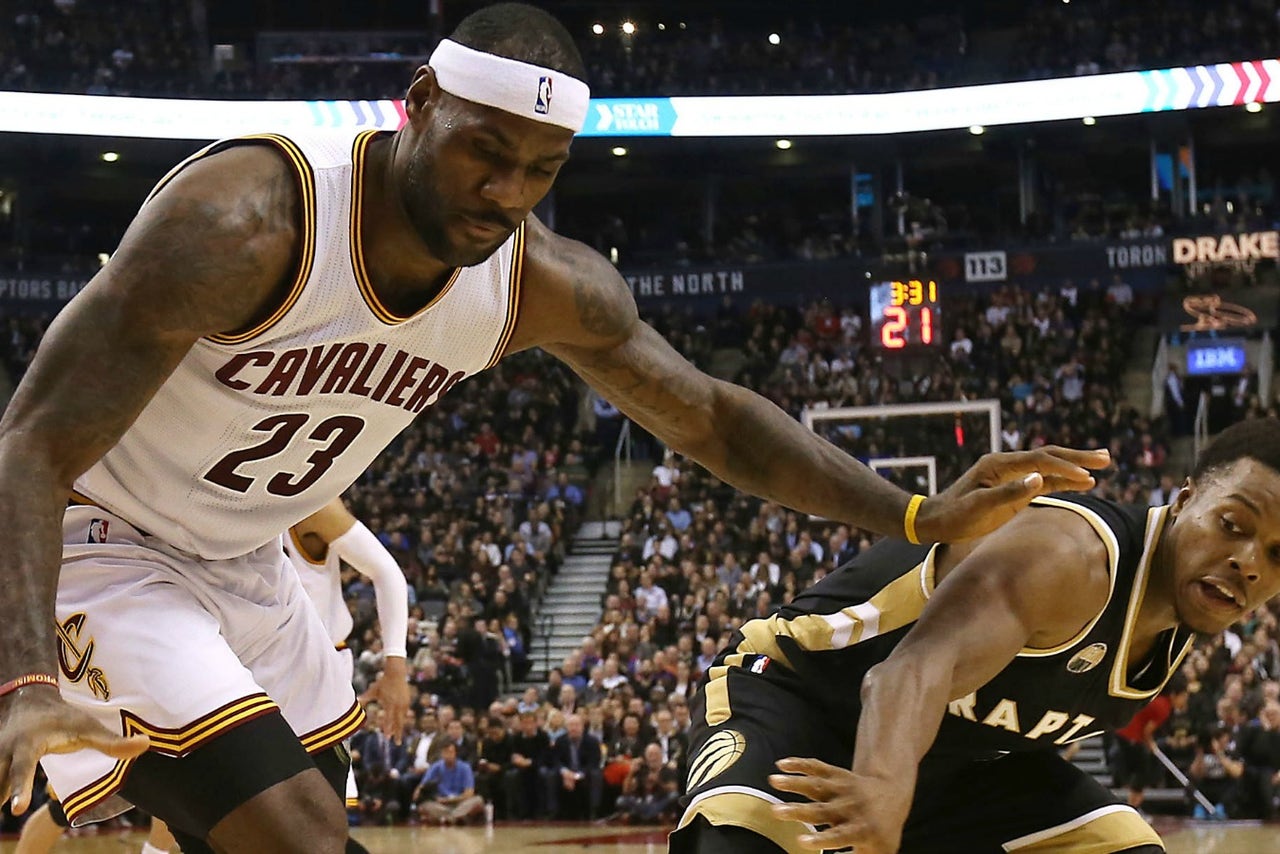 For good reason, nobody expects the Toronto Raptors to topple the Cleveland Cavaliers and advance to the NBA Finals. One team is undefeated it the postseason, healthy and firing on all cylinders with one of the best players who ever lived enjoying the tail end of his prime. 
The other is banged up after barely scraping past the Indiana Pacers and Miami Heat. It hardly looks like a worthy participant.
Listing the 10 best players in the series is a monotonous and predictable exercise that doesn't tell us too much that we don't already know about either squad. So, instead, we decided to pool every participant and then rank the 10 most important players. Yes, it's still totally subjective. But it also makes for far less depressing analysis if you're a Raptors fan trying to talk yourself into thinking Toronto has a chance. 
And with that, we're off:
Acquired in a three-team deal at the trade deadline for Jared Cunningham, Anderson Varejao and a 2018 first-round pick, Frye has become one of LeBron's favorite toys during these playoffs. The Cavaliers average 123 points per 100 possessions when he's on the court (a team high), in large part because he takes a ton of threes and never misses. 
Frye's .794 effective field goal percentage leads the postseason, and he's shooting a hilarious 60 percent on long balls deemed "open" and "wide open" by SportVU. James is really good regardless of who's on the floor with him, but when Frye is Cleveland's center, the King's field goal percentage rises from 47.2 to 55.6 percent. 
Arguably the best stretch five left, Frye opens everything up for an offense that already has more weapons than it knows what to do with. When/if Jonas Valanciunas plays in this series, it'll be interesting to see how he deals with being on the perimeter when Toronto doesn't have the ball and Frye's in the game.
With Valanciunas likely out for the series' opening two games, Biyombo must become a hurricane beneath the basket. Against the Miami Heat, he did a great job protecting the rim and switching out onto the perimeter. 
There were hiccups here and there, but Biyombo's overall impact on the glass and as a relentless rim-running presence was huge in a larger role than he's accustomed to. The Raptors don't even need to show up if Biyombo can't neutralize Tristan Thompson on the boards and provide at least a tiny bit of resistance on drives to the basket from a team that hasn't really needed to do anything but jack up threes so far. 
The Cavaliers never saw Patterson in the starting lineup during the regular season. Him being there now is a huge upgrade over Luis Scola, but, more important than that, Patterson may need to weather the storm as Toronto's backup center, too. 
With Valanciunas hobbled, the trickle-down effect can't result in minutes for Jason Thompson and Lucas Nogueira. It just can't. Those two are terrible pick-and-roll defenders who regularly botched coverages in the conference semifinals against a vastly inferior offense. 
Patterson can at least move his feet and make threes (even though he's down to 28.9 percent in the playoffs). 
The LeBron/Love pick-and-roll was a guillotine over Atlanta's neck in the second round, and there's no reason why it'll be less effective now. Defenses have the option to trap James and force a pass -- usually resulting in a wide open three -- €"hedge or switch. 
The slightest hesitation gives James enough room to barrel downhill and force help defenders to collapse off three-point shooters on the perimeter. A switch creates a mismatch for Cleveland's two best players. Love can back down a smaller wing and wreak havoc on the block, and LeBron can drive past a slower, bigger defender on the perimeter. 
The partnership everyone thought would materialize overnight is finally starting to cook; when Cleveland surrounds these two with three-point shooters they're virtually impossible to stop. 
Yes, DeRozan is an important part of Toronto's success and a meaningful reason why it finished with a top-5 offense. But DeRoZan's shooting just 35.5 percent, and is the second-least efficient iso-scorer (minimum 10 possessions) in the playoffs, according to Synergy. 
The Raptors are noticeably better when DeRozan isn't jacking up rough, contested shots that could be better distributed elsewhere throughout the roster. If he plays well, great. But his individual achievements are hardly a barometer for Toronto's success. 
"Who's guarding LeBron?" is a critical question in any series against the Cavaliers. If the answer is a capable wing defender who can handle James without too much assistance, help defenders can stay on the outside and form a chain-link fence around the three-point line. 
The Raptors will likely throw Carroll on James a ton. If he can stay out of foul trouble, force LeBron to rely on his jumper, hit open shots, finish in transition and provide the type of on-ball defense Toronto desperately needs to keep this series competitive, well, the Raptors may survive longer than four games.
Kyrie Irving is quietly having a brilliant postseason. He leads the Cavaliers in scoring and PER with a true shooting percentage of 59.9. He's been one of the most efficient scorers in both iso situations and as the ball-handler running a pick-and-roll. Heading into the playoffs, Cleveland was slightly better with Irving on the bench, but as a devastating shot creator who doesn't need any help to put the ball in the basket, he's suddenly become invaluable. 
Against Toronto, he's especially important as long as he can make Kyle Lowry expend energy on the defensive end. It's here the Cavaliers have an advantage that Miami and Indiana did not. 
It looks like Valanciunas won't play in the series' opening two games. That's a definite shame because he has the power to force Cleveland out of its comfort zone. By dominating space around the basket, tipping out offensive rebounds and creating extra possessions for DeRozan and Lowry, drawing fouls on whoever is guarding him and settling Toronto's attack down with a few efficient post-ups here and there, Valanciunas (when healthy) will potentially prevent the Cavaliers from going small and really opening up their offense. 
The series' second-best player, Lowry averaged ungodly numbers against Cleveland in the regular season: 31.0 points, 8.3 assists, 4.0 rebounds, 3.3 steals and 66 percent shooting in two wins and a loss. If the Raptors are to have any chance in this series, these are the numbers Lowry needs to average over the next couple weeks.  
The second-best player in the world is the most important player in any series he's involved in unless Steph Curry is on the other side. He's the center of everything when the ball is in his hands, and that won't change against a depleted Raptors squad that will be tempted to overhelp on his drives and post-ups. 
They'll throw Carroll and Patterson on him, but in all likelihood it won't matter. LeBron will get to his spots, attack in the open floor, find shooters and bring the Raptors to their knees. There's a reason he's been to five straight NBA Finals.  
---
---